AGE Gold Commentary is our regular report analyzing trends in precious metals and rare coins. We monitor domestic and international markets and extrapolate from our 30 years in metals to place current events into a hard asset perspective. View archives.
---
6/20/2007: Precious metals in summer 2007
Source:
Greetings from American Gold Exchange. In this issue of Gold Market Update, we will review the price history in precious metals over the last few years in order to put recent events into historical perspective. We've received many calls and emails over the last several months asking, "Why haven't precious metals set a new high this year, like they did for five straight years, and what are the prospects for more gains in the future?" In this issue, we'll do our best to answer these important questions.
Gold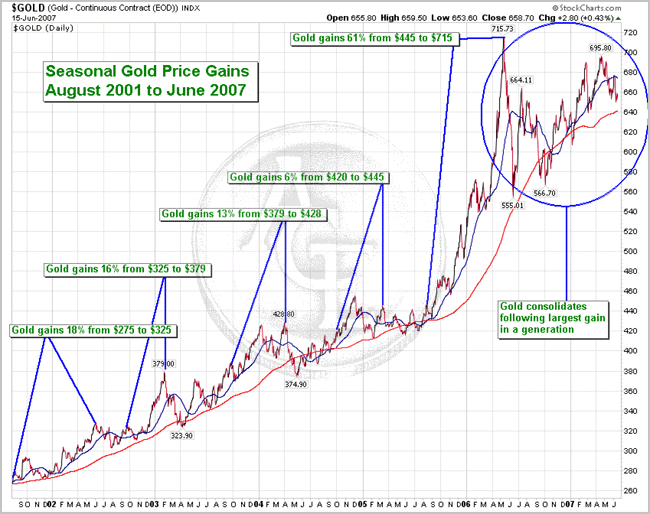 As this six-year chart shows, gold advanced steadily between 2001 and 2005 before surging dramatically from fall 2005 to spring 2006. The blue lines identify gold's upward movements during five out of the last six buying seasons. Between 2001 and 2005, as you can see, gold rose in an orderly fashion, mainly on the back of weakness in the U.S. dollar. Beginning in summer 2005, as we've explained in detail in earlier updates, the U.S. bull market in gold blossomed into an international bull market, with gold surging dramatically in U.S. dollars and in most other currencies around the world during the following fall and spring.
In typical years, gold makes its most aggressive price movements during the months from September to May, its primary international buying season. Afterwards, during the summer, it tends to consolidate these gains before beginning the cycle again in September. Last year, however, following its supercharged run up to $730 in May, gold entered an extended consolidation phase that continues today.
Why did the gold market accelerate so much during last year's buying season? With hindsight being 20/20 (as always), it seems pretty clear that the U.S. presidential election of 2004 had much more impact on precious metals than was apparent at the time. Once the world fully understood that U.S. policy would continue along the same path for another four years (including the costly and almost unilateral prosecution of the war on terror, an escalation of the very expensive war in Iraq, and the continuation of tax cuts, all financed through record-shattering deficit spending), precious metals became extremely attractive to investors everywhere as protection from growing U.S. fiscal irresponsibility. Couple this exploding safe-haven demand for precious metals with a similarly exploding global appetite for all commodities, especially in China and India, the world's fastest growing and most populous economies, and it's no wonder gold skyrocketed during the 2005 to 2006 buying season.
Now let's take a closer look at this chart. Between 2001 and 2005, the gold price increased by 6% to 18% per year. Based on these steady gains, it was reasonable to assume that gold would see similar gains during the 2005 to 2006 season—and it did. Gold's move from about $450 to $550 an ounce between September 2005 and March 2006 equaled about a 20% gain, above average but within previous parameters. But then the gold price just kept climbing until it reached its new generational high of $730 an ounce on May 12.
Underlying the increased global demand mentioned above, three causes are notable in gold's dramatic second surge from $550 to over $700 in the late spring of 2006. First, the U.S. dollar plummeted from 90 to 84 on the U.S. Dollar Index chart, which underscored the troubling weakness of the greenback. Second, the price of oil jumped from $58 to $78 a barrel in a few short months, hitting its highest price in a generation. Third, the strong price momentum in all three of these sectors created enormous short-term profit opportunities for large professional trading houses around the world. The flooding of huge waves of institutional capital into the precious metals markets when prices rise, followed by a flooding out after they've reach a top, have helped to create the peaks and subsequent valleys that all three of these markets have experienced since.
If gold had stalled at $550 in March 2006, postponing its movement into the $650 range until spring 2007, the chart would show a fairly uniform stair-stepping pattern over six years of growth, with steady annual gains of 6% to 20%. In our opinion, gold is now about where it should be with regard to price and time-line, at about $650 an ounce in the summer of 2007. If the gold market had gained less dramatically in the 2005 to 2006 buying season, achieving only its typical gains rather than doubling up, the market would perhaps be a bit healthier psychologically than it is today, but its fundamental outlook would be the same—excellent.
It is precisely because of gold's strong gains through 2005 and stunning 61% surge in 2006 that investors are disappointed about its performance over the past twelve months. But in reality, on an annual basis, this glorious bull market has lost no momentum. Last year's surge over $700 was simply too much, too fast; and despite some real volatility in the interim, gold continues to hold just about all of its gains since 2001. If you toss out the high and low scores for the gold price in 2006, like judges do in the Olympics, the gold chart would still show a steady climb from $450 to $550 to $650 to $695. Many of today's investors who are disappointed in gold's performance over the past few months would then be thrilled, and rightly so, at the progress of their investments.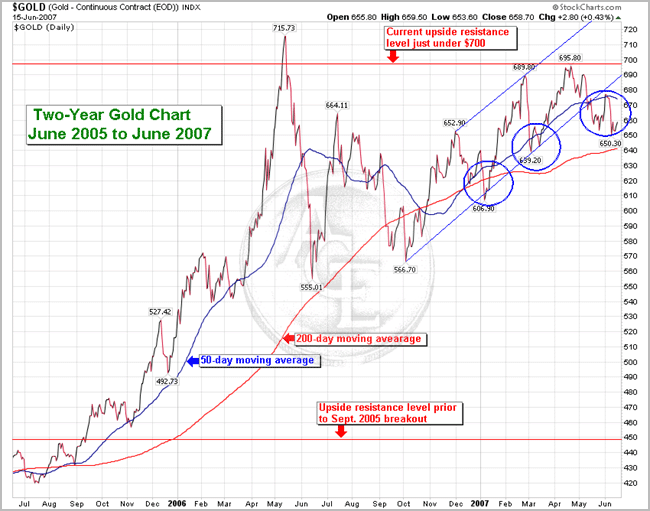 Now let's look at the latest price action. As we move into summer 2007, gold is range-bound but holding above its 200-day moving average of $640. The thin blue lines are the trading channel we have identified in our past several updates. Gold is currently experiencing typical summer weakness and has fallen below these trading bands. In addition, it's now below its 50-day moving average of around $675. Since the September 2006 low of $566, each time gold has fallen below its 50-day moving average (identified by the blue circles on the chart) it has proven to be one of the best entry points in the price cycle.
Because we've entered the months of summer consolidation, gold may move moderately lower before the peak buying season resumes in September. As you can see on the 2-year chart above, technical support levels are at $650, $639, and $606.
Nonetheless, we expect gold to hold over $640 this summer before climbing over $700 during the next buying season and perhaps challenging its previous all-time high of $850. If gold falls below $640 this summer, we'd view the event as an enormous buying opportunity that will probably be short-lived. If you go back to the six-year gold chart at the start of this issue, you'll see that gold has offered two major buying opportunities almost every year since 2001. The first came in the correction following the seasonal high and the second occurred during the period of summer consolidation.
We continue to believe that gold is now setting the stage for another major surge in price, and the time for that surge seems to be approaching. Remember, gold quadrupled in price from between 1971 and 1974, rising from $50 to $200 an ounce before consolidating around $125 in 1975 and 1976. Many investors thought the party was over but it was only starting. In the next three years, from 1977 to 1980, gold multiplied seven times in price, rising from $125 to a peak of $850.
So far in the 21st century, gold has almost tripled in price from $252 to $730, fallen back as low as $555, and now seems to ready to begin the next leg up. Because the mega-trends that have propelled gold to its highest price level in a generation remain firmly in place, we see no reason why it shouldn't eventually double or even triple its current price, and trade in a range between $1,200 and $1,800, when all is said and done.
Silver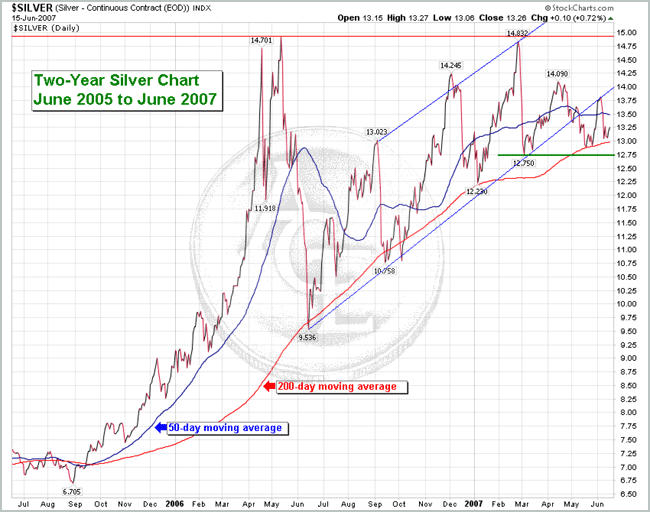 Silver has been mirroring gold's price movements over the last two years, as the chart above clearly shows. Like gold, silver has been in a steady up-trend (indicated by the thin blue lines) since its last real low, set in the summer of 2006. Trading action over the last 45 days shows typical seasonal weakness following the March 2007 challenge of the May 2006 high, both just under $15 an ounce. Silver is now trading below its latest trend line and below its 50-day moving average of $13.50. The green line indicates major support at $12.75. While silver could drift below its 200-day moving average of just under $13.00, we expect it to remain above the major support level of $12.75 on the chart.
Silver trailed gold from 2001 through 2005 but has been playing a strong game of catch-up ever since. We now believe silver will out-perform gold in the short term. We've analyzed the charts at length and asked ourselves, if gold were to move back up to the $850 all time high from the current market price of $650 an ounce, where would that put silver? A gold gain from $650 to $850 an ounce equals a 30% increase in price. In this environment, we believe silver would move as high as $22 before consolidating back to $18. From the current trading price of about $13.50, that would means gains equal of 33% to 62%.
If your bullion holdings are mostly in gold, now would be a good time to diversify into silver while prices remain near the bottom of their recent trading range. We have some very specific recommendations for bulk silver buyers interested in the most value for your investment dollars. Please call one of our account managers at 1-800-613-9323 for details.
Platinum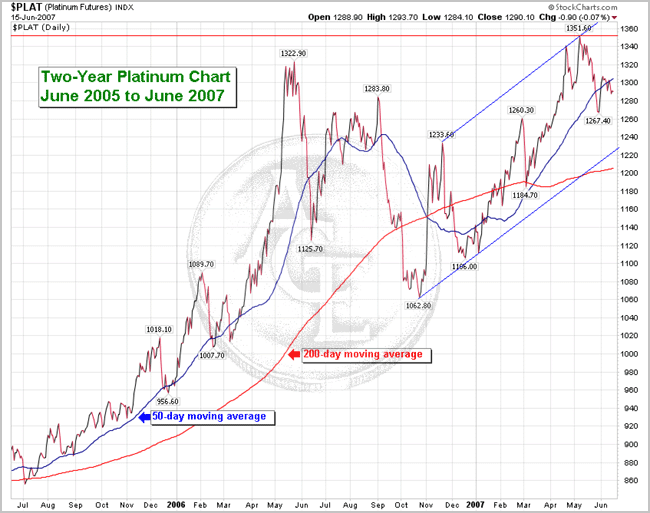 Platinum is the only precious metal to set a new trading high in 2007. While both gold and silver flirted with their May 2006 highs, platinum actually did set a new bull market peak at $1,351 an ounce last month. Inevitably, profit-taking and seasonal weakness have pulled the price lower, but it remains within its latest trading range (as indicated by the thin blue lines on the chart).
Because platinum remains the most volatile of the precious metals, we've shied away from it in favor of its safer sister-metal, palladium. Our trading strategy has been rewarded. While platinum and palladium have both moved up about 30% in price since their fall 2006 lows, palladium has been far less volatile than platinum, is far less expensive per ounce, and continues to have greater upside potential, in our opinion.
Palladium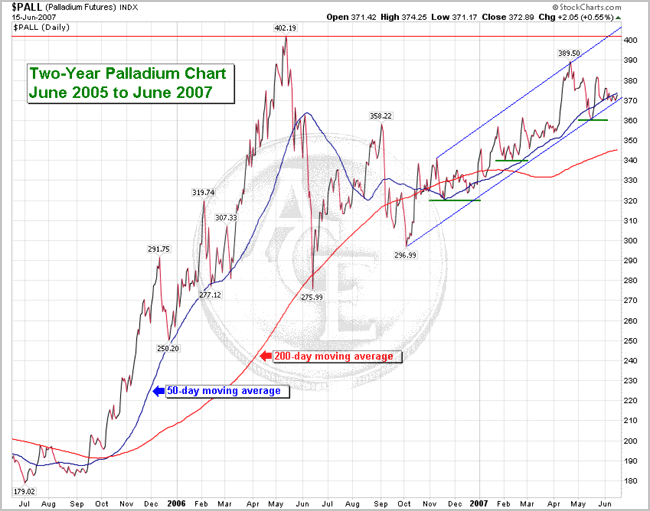 Since its low of $297 in fall 2006, palladium has been in a steady uptrend, as indicated by the thin blue trend lines on the chart above. Seldom do we see such a steady climb, and this one indicates real strength. The three green lines show support levels at $360, $340 and $320 an ounce.
We believe palladium will continue to move steadily higher, and a stronger upward spike is decidedly possible, so continue to accumulate on weakness. We are currently setting our mid-term sights for palladium in the $450 to $500 range. Ultimately, we believe palladium could easily double today's trading price of around $370.
The U.S. Dollar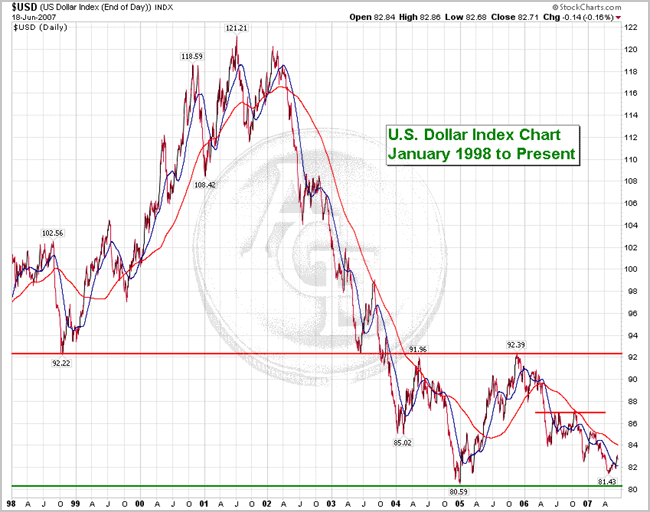 We've talked at length in previous updates about how much the dollar has fallen in value since 2002, and about how critical the support level at 80 on the U.S. dollar index chart is for the health of the greenback. As we've stated before, if the dollar falls below 80 on the U.S. dollar index, it would signal extreme weakness that could send the currency into free fall, perhaps losing as much as 20%. We've included a longer dollar index chart in this update, reaching back to 1998 to remind you how strong the dollar was in the late 1990s, and how much of that value has been lost. What had been the major bottom in 1998 (in red, just over 92) became a major top in both 2004 and 2005, one that has not been surpassed in 2006 (indicated by the short red line at 87).
So far, the dollar has managed to hold above its major support at 80 on the index chart, indicated by the green line. But given the host of scourges plaguing it, including record U.S. trade and budget deficits, the exploding money supply, the imploding housing market, the subprime mortgage crisis, the slowing U.S. economy, and growing world political tensions, we continue to believe the dollar is due for a strong plunge below 80. That event seemed likely in March and April, when it fell steadily from 84 before rebounding above 81.43 on the chart because of a (temporary) up-tick in the economy. Time will tell.
Nonetheless, the fact remains that the dollar is losing purchasing power and inflation is far worse than most people, including those in Washington, are willing to admit. In a Marketwatch.com commentary this week, Dr. Irwin Kellner of Hofstra University wrote that the annual rate of inflation has been running anywhere from 7% to 9% for the past three months. Since March, prices have gone up at a 7% annual clip at the consumer level and at an 11% pace at the producer, or wholesale, level. By contrast, last year consumer prices rose 2.5%, while producer prices inched up just 1.1%. (See Inflation is soaring, Fed will respond.) And adding injury to insult, according to the latest Economist commodity-price index, food is up 25.9% from one year ago!
Oil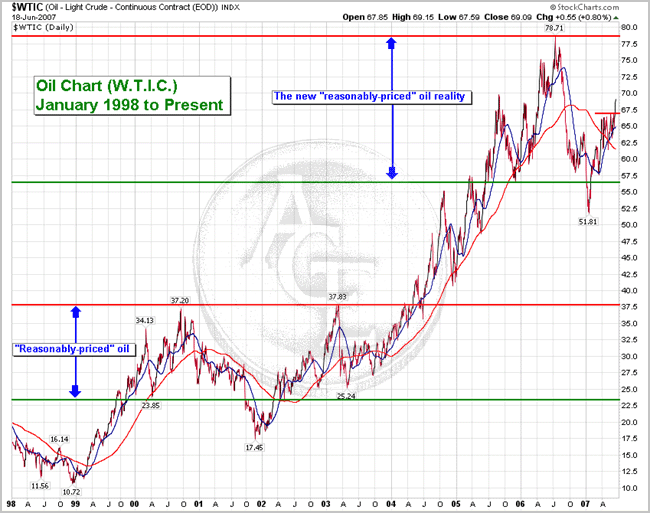 Finally, we've included an oil chart since 1998 to remind you of how inexpensive oil used to be and how expensive it has become. Oil is fully triple the price today that many Americans have lived with for a generation or longer. How oil can triple in price, yet have no material inflationary ramifications for the U.S. economy continues to baffle us—especially when filling up the gas tank in the car. It used to cost $25 for a fill up; now it costs $50 or more!
Demand building for classic U.S. gold coins
Classic U.S. gold coins are currently underperforming gold bullion and many are trading at lower levels today than would have seemed possible a year ago. This situation has created an extraordinary buying opportunity for the astute buyer. Dealer inventories remain abnormally low, so despite their lower trading prices, the coin market is not awash in available product. Our intention was to take advantage of these lower prices two weeks ago at latest major coin show, the Long Beach Coin Exposition, and buy as aggressively as possible. We were stunned by how few good coins we were able to acquire at this major show. Normally when prices fall, dealer inventories grow and sometimes dramatically. This was not the case in Long Beach.
Today's low prices for many classic U.S. gold coins today are an anomaly that will not endure. Available product in the market place remains absurdly low. With little existing dealer inventory to act as a shock absorber, coin prices should be extremely responsive to any new surges in demand. This is a superb time to add to your classic U.S. gold coin positions while prices are below normal! Please call your account manager at 1-800-613-9323 to discuss what's best for your individual portfolio in the current market environment.
Especially for bullion buyers, $10 Liberty gold coins in MS62 are one of the best values we've ever seen in the classic U.S. gold coins market. While not rare coins in the classic sense, they are still quite scarce relative to common bullion coins and typically carry a significant premium over their gold price. Right now, however, they're trading at prices so low that they're almost like buying bullion. We expect their premiums to rebound significantly when the gold price heats up again, making them a fantastic deal today.
You might have heard that the U.S. Mint just began selling half-ounce gold bullion coins featuring the images of "Presidential Wives." Today alone, in fact, the mint sold more than 80,000 of these coins at a cost of around $420 each. When you compare these pieces to our classic U.S. $10 Liberty gold coins in MS62 (which are roughly the same weight, size, and price as the new bullion coins), the classic coins are a much, much better value for investors.
Minted more than a century ago, and with a total population of only 107,000 survivors (NGC and PCGS), $10 Liberty coins in MS62 have much greater upside potential than bullion coins when the coin market gets hot because of their scarcity. In the gold coin market, scarcity usually means leverage to a rising gold price. Modern-minted gold bullion coins like these "Presidential Wives," however, are like Doritos: buy all you want and the mint will just make more, which means no premium for scarcity.
Prices for classic U.S. gold coins are probably hitting their low points in the current cycle and demand has been perking back up again in the last few days. Investors who were on the sidelines in recent months are now re-entering the market. We did not expect to see such a superb buying opportunity this summer, but here it is. We hope you will take advantage of it while prices remain oversold. This may be the last really great buying opportunity before the gold bull market starts to run in earnest again!
That's it for now. As always, thanks for your time.
Sincerely,
Dana Samuelson, President and Owner
Dr. Bill Musgrave, Vice President
Metal
Ask
Change

Gold

$1,789.48
$1.72

Silver

$18.30
$-0.11

Platinum

$849.46
$7.76

Palladium

$2,000.55
$16.71
In US Dollars
AGE Gold Commentary
AGE Investor Alert!