AGE Gold Commentary is our regular report analyzing trends in precious metals and rare coins. We monitor domestic and international markets and extrapolate from our 30 years in metals to place current events into a hard asset perspective. View archives.
---
7/17/2007: Falling dollar propels gold
Source:
In this issue ofGold Market Commentary:
Falling dollar propels gold
Precious metals moving higher
Undervalued U.S. gold coins


Falling dollar propels gold
Precious metals are moving higher once again, climbing the wall of worry created by the U.S. dollar's recent, sharp declines against most international currencies.
Many of you remember, no doubt, that a sharply falling dollar was the catalyst for turbocharged precious metals in April and early May of 2006, propelling them to their highest price levels in more than 25 years. While it may be premature to declare its demise inevitable, the beleaguered buck is once again showing its fundamental weakness and gold, silver, platinum, and palladium are rising as a result.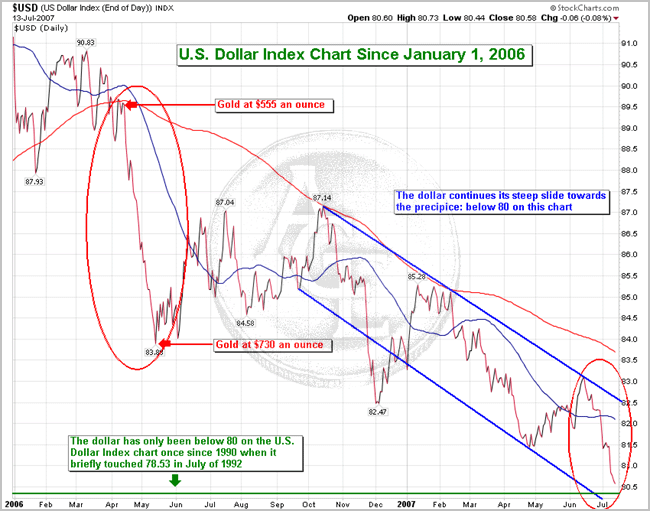 As you can see in the U.S. Dollar Index chart above, the dollar gained temporary strength in early June, peaked on June 14, and then reversed course. What was a mild decline the third week of June accelerated sharply into July, and now the dollar is once again flirting with 80 on the dollar index chart, its most critical support level (indicated by the green line). A drop below this level would suggest extreme weakness, and further losses of up to 20% would not be unexpected under these circumstances.
So far, the dollar has managed to hold above this major support level, but for how long? Given the problems plaguing it, including record U.S. trade and budget deficits, the exploding money supply, the imploding housing market, the subprime mortgage crisis, the slowing U.S. economy, and growing world political tensions, we continue to believe the dollar is due for a strong plunge below 80. That event seemed likely in March and April, when it fell steadily from 84 before rebounding above 81.43 on the chart because of a (temporary) up-tick in the economy. Time will tell.
Subprime woes, in particular, might be the final straw. As reported by MarketWatch yesterday, the dollar posted losses of more than 1% against the euro and the yen last week after Wall Street's two largest rating agencies indicated that problems in the subprime market aren't going away and will probably get worse. A government report showing retail sales fell much more than forecast last month added to pressure on the U.S. currency.
Why is the subprime mortgage meltdown such a nightmare for the buck? The primary reason gets back to something we discussed at length several months ago: interest rate differential, or the difference between the cost of dollars and the cost of other currencies on the world market. Why is it so important? Because it's the most obvious indication of how the world sees the dollar as an investment and whether foreign powers are likely to continue financing the astonishing $9 trillion U.S. public debt.
To keep our debt afloat, the Fed must appeal to foreign holders and future buyers of our Treasuries by offering higher relative yields and a meaningful interest rate differential. However, the attractiveness of U.S. rates is expected to decline in 2007 as central banks in Europe and Japan raise their rates, effectively devaluing the dollar in relation to their currencies. The Bank of England hiked rates by a quarter-point to 5.75% earlier this month—its fifth increase in less than a year; and the European Central Bank, which sets rates for the 13 countries from Germany to Slovenia that use the euro as their currency, has doubled rates over the past 19 months.
So it should come as no surprise that market sentiment is rapidly turning against the dollar. Marc Chandler, global head of currency strategy at Brown Brothers Harriman, asserted last week in a note to clients (reported by MarketWatch) that the dollar has "a downside bias against most of the major currencies, as the capital markets reel from heightened subprime woes." He concludes that "one implication the market has drawn from this is that the Federal Reserve is more likely to cut interest rates." (See full story.)
If the Fed cuts rates to boost the economy and stanch the wounds of the subprime mortgage market, it could engender a crisis by reducing the interest rate differential that currently encourages foreign investors to hold dollars. If the dollar loses too much value, these foreign holders of our dollar-denominated assets could easily abandon ship, leaving our stock and bond markets to sink along with the dollar. On the other hand, if the Fed is forced to raise rates to maintain an advantageous rate and curtail inflation, the move would support the dollar temporarily but could deal a mortal blow to an already wounded housing market, which, in turn, could cripple the dollar and the economy in the longer term. Bernanke is caught between a rock and a hard place, indeed.
If rates shift against the dollar and it plunges below 80, an international crisis of confidence in the currency could easily ensue. The results would not be pretty: substantially higher U.S. inflation, a global recession, and major financial crises as rising loan defaults cause massive losses for banks and investors pull money from the stock markets. In other words, the dollar and U.S. economy would likely sink into their own subprime swamps. Under these circumstances, gold, which is denominated in dollars, will climb right to the top of the charts.
Precious metals moving higher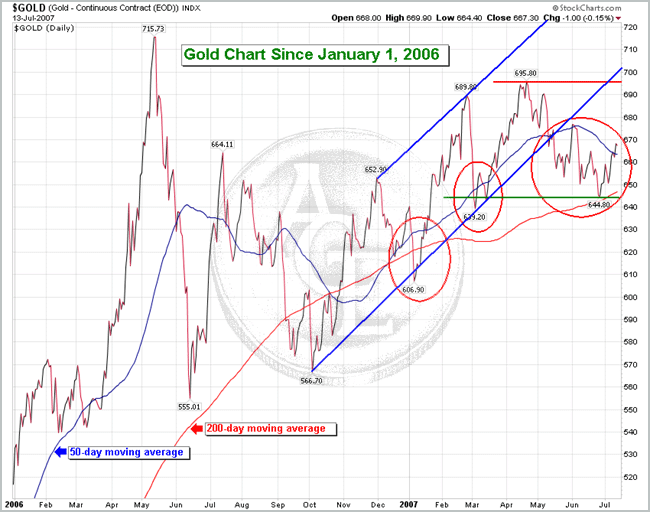 Just as the dollar has become weaker in recent weeks, gold has been gaining strength. In the chart above, the blue trend-lines indicate gold's upward channel from September 2006 through mid-May 2007. Seasonal summer weakness, coupled with a brief bout of dollar strength in late April, contributed to a mild price breakdown in late May through the end of June. While the yellow metal has fallen below its 50-day moving average (indicated by the red circles on the chart), it has held above its 200-day moving average, which is bullish.
The fact that gold held support above its 200-day moving average during its recent weakness, without retesting its previous low of $639.20, underscores its growing status as an international safe haven in troubled times. While we're not certain that gold will bust out in the very near term, we're absolutely convinced that its year-long consolidation phase is now drawing to a close—and quickly. Events are once again conspiring to propel the gold price to new generational highs. Look for upward resistance at $675, $695, and $725, and major support at the $645 mark. When international demand ramps up again this fall, gold should easily best the $700 mark and may offer a retest of its previous all-time high of $850.
With the next leg of this remarkable bull market about to begin, the summer of 2007 continues to offer a superb buying opportunity for gold, silver, palladium, and classic U.S. gold coins.
Silver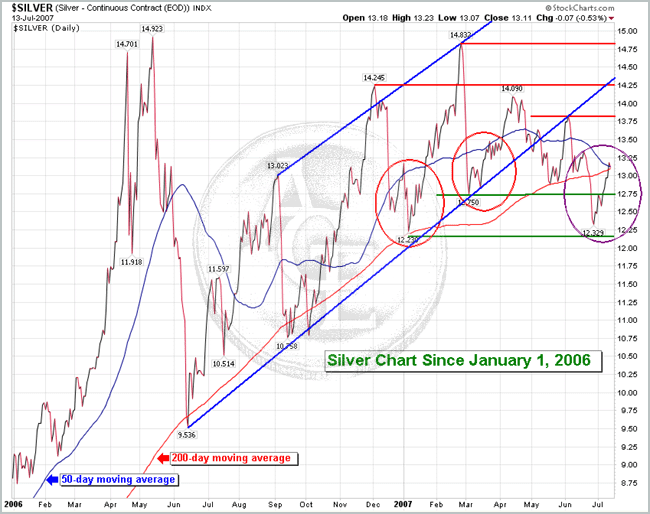 The silver chart above is quite similar to the gold chart. Like gold, silver has eroded below its blue trend-lines, but unlike gold, it has fallen below both its 50-day and 200-day moving averages. The fact that silver fell sharply below its previous support level of $12.75 to its second support level of $12.23 was discouraging; however, as many of you know, silver is more volatile than gold, especially when the market turns over.
Today silver is trading around $13.00. To confirm its resilience and the promise of renewed gains, it must hold above $13.02 (its high of September 2006, where the upper blue trend line starts). If it does, we expect to see silver trade within the $13.02 to $14.25 range in the short term. Silver now enjoys major support at $12.25 to $12.35 an ounce, and will face upward resistance at $13.80, $14.25 and $14.85.
Palladium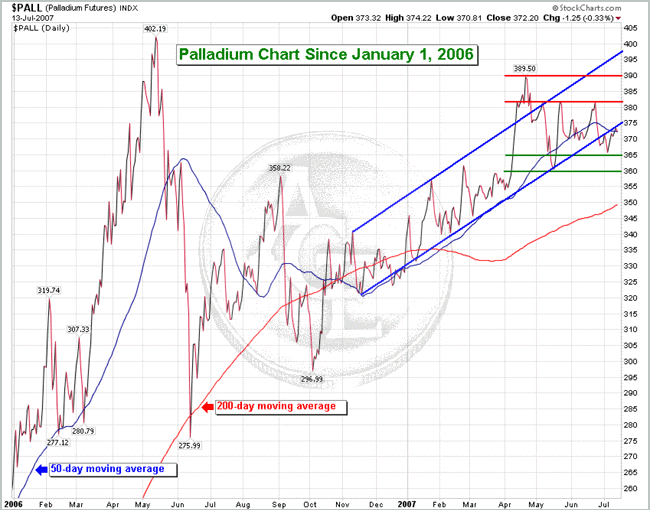 Of the four primary precious metals, palladium has the steadiest one-year chart formation. After consolidating at $320 at the end of 2006 it has climbed consistently higher. The chart continues to show extreme strength despite palladium's recent pull back below the 50-day moving average. With many of the same industrial uses as platinum and at less than one-third the price, palladium continues to be the little engine that could in this evolving bull market. We see no compelling reason why it won't continue its march towards $450, then $500, and ultimately double its current price of about $370.
Platinum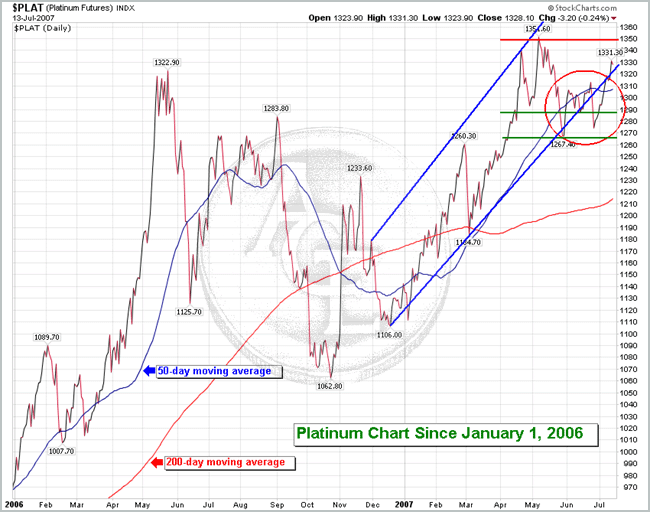 This platinum chart shows strength similar to palladium but with much more volatility. Platinum currently enjoys support at $1,265 and $1,290, and will experience upside resistance at the $1,350. We expect it to remain within the $1290 to $1350 trading range in the near term with bias towards the upside.
Because platinum remains so volatile we've shied away from it in favor of palladium, its safer sister-metal. And while we've missed some gains in platinum, our palladium strategy has been more profitable with far less risk. Platinum and palladium have each gained around 30% since their fall 2006 lows, but palladium has been far less volatile. It's also far less expensive per ounce and continues to have greater upside potential, in our opinion.
Undervalued U.S. gold coins
Many of our favorite classic U.S. gold coins are currently oversold and undervalued. Dealer inventories and demand for classic U.S. gold coins have been thin over the last three to four months. In our last update, we alerted you that prices were probably bottoming and that's proven to be the case. Most classic U.S. gold coins are now firming up in price and demand is building once again.
Supplies of our favorite portfolio-building coins, nonetheless, continue to be short on the national market. Several of our major trading partners have been attending coin shows as net buyers because their inventories are much lower than normal. This fact gives us a high degree of confidence that the price correction in classic U.S. gold coins, in effect since tax-time, is now over. When major dealers become net buyers it is a very strong sign of price support.
While $20 Saint-Gaudens in MS63 condition and higher are attainable in the market, many of our preferred coins remain hard to source in significant quantities. $10 Liberty coins in MS64 and MS65 are especially ripe for price-appreciation right now, in our opinion. Under present market conditions, we also favor $5 Indians in MS63 and MS64 as well as $3 Princess in MS63 and MS64. All of these coins are excellent values right now, have outstanding fundamentals, and should gain nicely in coming months.
We reiterate that we've never seen dealer inventories so low in our 27 years of actively trading the classic U.S. gold coin market. During gold's surge to $730 in May 2006, demand for these coins completely overwhelmed supplies and prices skyrocketed. Today's inventory levels are well below those of Spring 2006, so when gold breaks out again, which is inevitable, given the fundamentals we've been discussing today, we expect similar surges in the price of classic coins as we saw last year, perhaps greater. We urge you to stock up now while prices remain low and some availability remains in the market. You'll be glad you did!
As always, thanks for your time. We'll keep you informed!
Sincerely,
Dana Samuelson, President
Dr. Bill Musgrave, Vice President
Metal
Ask
Change

Gold

$1,788.66
$0.90

Silver

$18.25
$-0.16

Platinum

$846.41
$4.71

Palladium

$1,994.29
$10.45
In US Dollars
AGE Gold Commentary
AGE Investor Alert!