AGE Gold Commentary is our regular report analyzing trends in precious metals and rare coins. We monitor domestic and international markets and extrapolate from our 30 years in metals to place current events into a hard asset perspective. View archives.
---
8/29/2007: Gold rebounding from subprime contagion
Source:
In this issue ofAGE's Gold Market Commnetary:
Gold rebounding from subprime contagion
Liquidity and re-pricing of risk
Inflation and the Fed
China and the fall of Rome
U.S. gold coins on the rise


Gold rebounding from subprime contagion
Financial markets plunged around the world over the last few weeks as the subprime mortgage crisis spread beyond U.S. borders. Who would have thought that when a homeowner defaults on his adjustable rate mortgage in Iowa, a major German bank would declare a crisis, French hedge funds would refuse to accept redemptions, central banks around the world would turn money supplies on like fire hoses, and the U.S. Federal Reserve would abruptly change from vigilance against inflation to a rescue mission for worldwide financial markets?
In the wake of the subprime contagion, precious metals and oil fell in tandem with paper assets. Many of our customers have been asking, shouldn't precious metals be rising if paper assets are falling? If only things were simple the answer would be an emphatic, yes. The primary losers in the current debacle are speculative investors who purchased asset-backed securities that use subprime mortgages as collateral. These collateralized debt obligations have now become almost impossible to trade. The resulting liquidity crisis, fueled by banks refusing to lend to other banks, caused a selling panic that affected all markets. Precious metals, unfortunately, were caught in the down-draft, as we'll discuss in detail later in this update.
The most important thing to remember is that recent declines in precious metals are likely be short-lived, just like the ones following the Shanghai Surprise of late February, when a sharp drop in the Chinese stock market rippled through worldwide markets. On the heels of that contraction and liquidity crunch, gold fell from $689 to $640 in several trading sessions, and silver fell sharply as well. Within six weeks, however, they'd recouped all losses. (For details, please see our March 20, 2007 update.)
Gold has shown remarkable resilience in the face of the biggest international financial crisis in years. Yes, its recent fall from $685 to as low as $642 in inter-day trading was disappointing. But astute investors, immediately realizing that gold was suddenly on sale, quickly bid the price back up to over $650.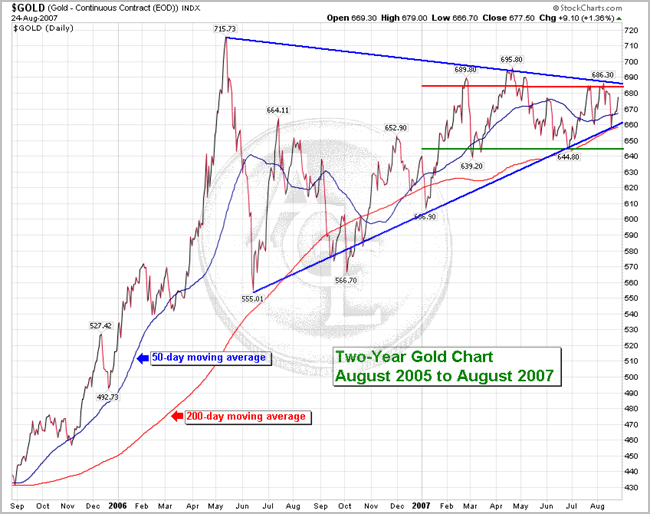 As the two-year chart reveals, gold has traded between $645 and $685 an ounce for most of 2007 and remains within its major 2007 trading range, indicated by the green support line and red resistance line. In addition, we're now able to see a much larger triangle pattern developing, as indicated by the longer blue trend lines. We've seen this type of pattern a few times before, with a flat top and a rising bottom; in each instance a higher gold price has followed. Today's triangle pattern has a rising bottom and a somewhat declining top. In the present economic environment, it's difficult to believe gold will break lower once this triangle pattern comes to a full point in the coming months.
Since setting its May 2006 high of $730, gold has remained in an extended consolidation phase. The recent financial crisis in paper assets reinforces our belief that this phase is coming to end, perhaps more quickly than we expected. Gold's positive fundamentals have not changed—they remain exceptionally strong—but fundamentals for paper assets have changed dramatically for the worse, putting precious metals in a much stronger position going forward. We believe gold is fairly valued between $665 and $685 an ounce today and any price under $665 looks cheap to us.
Time will tell, naturally, but gold's ability to hold within its primary 2007 trading range, despite the forced liquidation of hedge fund positions in metals, oil, and stocks, is a testimony to its fundamental strength and resilience in the face of extreme financial turmoil. There is simply too much fear afoot in financial markets to allow safe-haven gold to drop very far. And if these fears grow, the gold price will grow with them.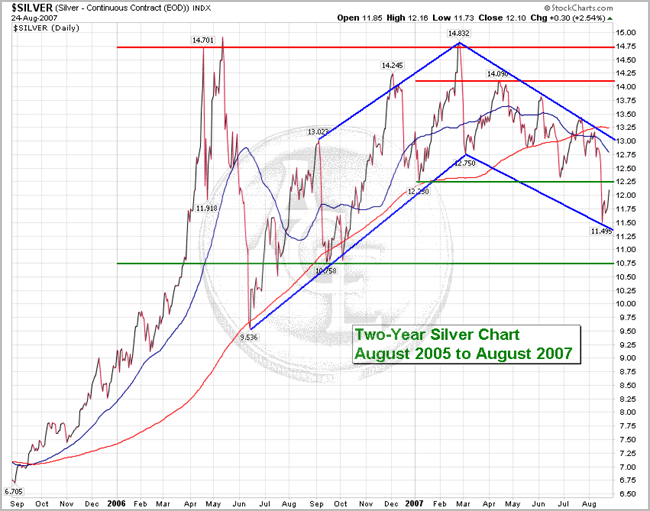 Silver has fallen more sharply than gold, just as it did during the Shanghai Surprise of last March. As we've discussed before, silver has always been more speculative than gold and subject to more volatile price swings. When silver falls, it tends to fall sharply. It failed to hold its major support level at $12.25, and then fell all the way to $11.20 in inter-day trading before recouping some losses.
Like gold, silver quickly rebounded and is now enjoying support above $11.50. Under $12.50 silver looks like an absolute steal to us. Before the events of the last few weeks, it had not been under $12.25 since November of 2006. We believe silver will outperform gold in percentage gains during the next major up-move, which could come very soon.
What is discouraging about the current silver chart is its decidedly downward turn since its peak this past spring, setting lower highs and decidedly lower lows, as indicated by the blue trend lines. We believe silver should be trading between the inner green support line of $12.25 and the red resistance line of $14.10 per ounce. Normally summer is a weaker time for precious metals as they catch their breath before the fall buying season. So while silver showed some modest weakness this summer, prior to the subprime storm, we were not ready to declare that an intermediate top had been set and that lower prices were in store for silver in the coming months.
Should silver fall below $11.50, a test of the August 2006 low of $10.75 could be in order. Keep in mind, however, that once silver stabilized in price following its May 2006 high of $14.70, the subsequent low of $10.75 in August of that year was its lowest price for the ensuing twelve months. So the big question is whether the recent low is just a seasonal one, exacerbated by the subprime sell-off, or a true price reversal. We believe it is seasonal and temporary, and that silver will move higher. But again, time will tell.
The subprime contagion affected platinum and palladium, too. Both metals slumped on fears that a global economic slowdown would reduce automobile sales, thus cutting demand for their main industrial use in automobile catalytic converters. In addition, forced liquidations of speculative long position have put further short-term pressure on both metals. Platinum enjoys strong jewelry demand in the Asia, which has helped to buoy it somewhat. Palladium does not have that luxury.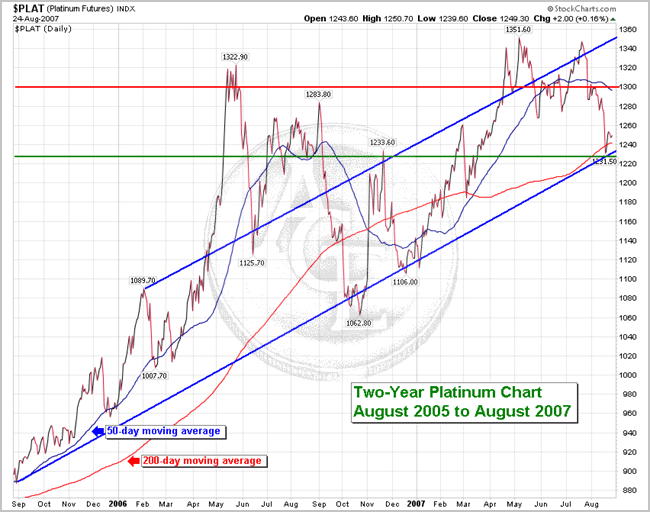 As you can see in the chart above, platinum has fallen from its recent trading range of $1,270 to $1,350 to a new range from $1,235 to $1,260. Over the past two years platinum has kept within its long-term up-trend, as defined by the blue trend lines, if we discount the frothy May 2006 top. This price trend is supported by its 200-day moving average. The green support line at $1,225 and the red resistance line at $1,300 identify where platinum should be trading in the near term, in our judgment. If platinum breaks support at $1,235, then a retest of support at $1,175 and ultimately $1,100 could be in order. If it continues to hold support at $1,235, we'd expect it to move cautiously higher in coming weeks.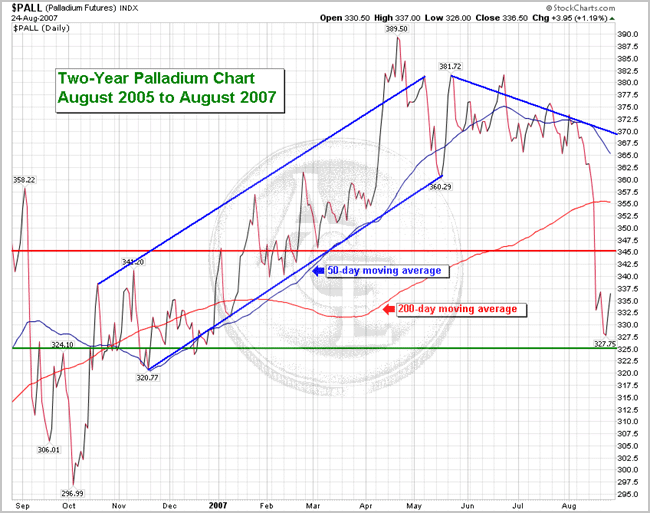 Palladium's sharp drop from $370 to around $325 has been the most dramatic development of the recent pull-back. Not only did it get swept up, like the other metals, in a general panic to raise cash, it is also without the support of jewelry demand enjoyed by platinum. Speculators have been more heavily invested in palladium futures than platinum futures recently, so liquidation hit palladium especially hard. It now looks like palladium will settle into a short-term trading range between $325 and $345.
In our opinion, palladium is fairly valued today between $330 and $350, and certainly looks undervalued at the moment with better than average upside potential due to the severity of recent sharp sell-off. Palladium, however, is tied to the business cycle because of its primary use in automobile catalytic converters, so it is likely to suffer more from an economic slowdown than gold, platinum or silver. Time will tell. Palladium will most likely remain range-bound for the short term.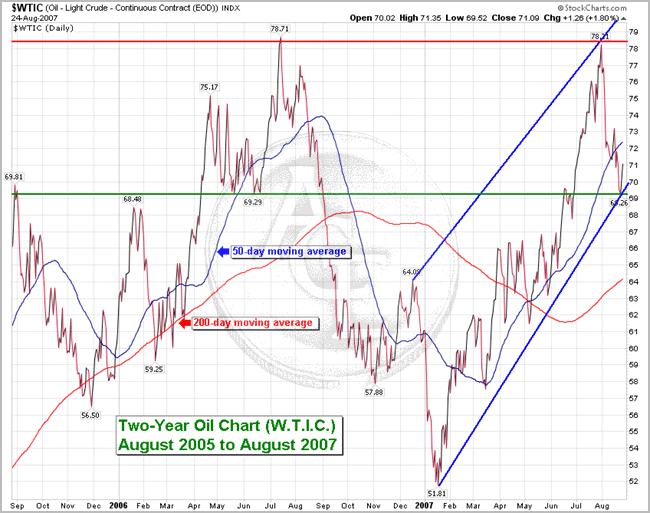 Despite the recent pull-back to just under $70, oil chart continues to look very solid. Oil should continue to trade within the green support level of $69 and the red resistance level of $78. Should oil fall below $69, it really can't move much lower in our opinion. We hate to say it but expensive oil is here to stay.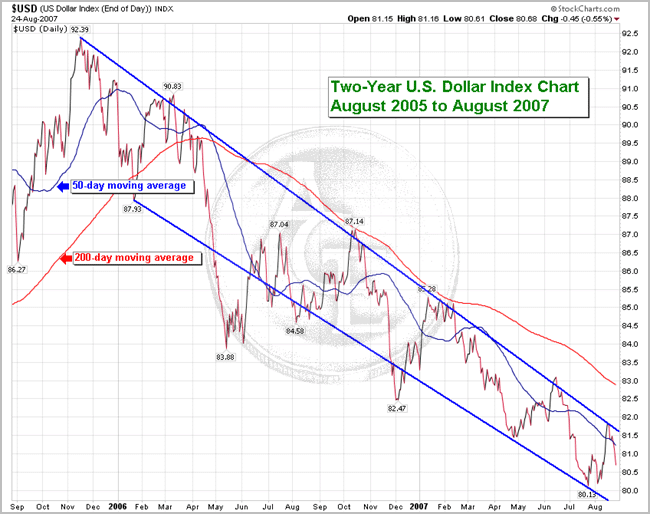 And finally, despite a recent bout of relative strength for the dollar, the two-year Dollar Index chart continues to look like a slippery slope to us, and quite vulnerable to further declines. As we discuss in detail below, a liquidity crunch precipitated by the current subprime mess is forcing a general re-pricing of risk across many markets, and will have profound consequences for the fate of the buck. Gold, of course, will benefit immensely from any major dollar declines.
Liquidity and re-pricing of risk
As we mentioned earlier, many of our readers wondered why gold did not move inversely to equities, or at least with very low correlation, as is historically the case. The main reason is liquidity: because they are among the most liquid assets in world, gold and the other precious metals were quickly cashed out in the hyperkinetic drive to raise money when the subprime meltdown struck a few weeks ago. In fact, gold showed one of its unique strengths, which is its exceptional liquidity as a currency of last resort, the go-to asset in times of economic upheaval when cash simply must be found.
How did the current liquidity crunch come about? While the answer to such a question is never simple, one way to look at is through the intensive interrelationship of markets caused by major changes in the financial system. Recent innovations in the way finance is conducted, especially the creation of mortgage-backed securities, collateralized debt obligations, derivatives, and other forms of securitized risk, have enabled almost all forms of debt to be bundled into tradable securities bought by hedge funds, large trading houses, and individual investors throughout the world. Add in the proliferation of quantitative computer models and programmed trading among hedge funds and huge institutional investors, and you have a recipe for runaway financial panic when things go bad.
At the same time, because of the rising sea of easy money that's been flooding the market for the last decade, the global appetite for risk has become ever more gluttonous. And because lenders grew accustomed to selling the risk of default so easily, they became far too loose in their lending requirements—why not, when they could simply bundle the risk in complex packages of securities and easily offload them to ravenous investors?
Subprime loans and other forms of risky debt, generally made to under-qualified borrowers, have been recombined and repackaged and resold so often that no one quite knows where those risks reside anymore. The fear is that unknowing investors have ended up with risk they don't understand—and fear, as we've seen in Wall Street's bloodbath over the past few weeks, is a potent force in the market. When the other shoe began to drop earlier this month, the largest quant-model hedge funds in some of the largest investment banks, like Goldman Sachs, were suddenly confronted by panic-driven events that, according to their computer models, would only occur once every 10,000 years. What's more, over-confidence in their models propelled these funds to incur an unprecedented amount of deeply leveraged risk, so their losses became multiplied exponentially as margin calls came due and everyone suddenly became sellers, not buyers, of risk. Bonds of U.S. investment banks have lost more than $1.5 billion so far this month, according to the Aden Sisters.
Of real concern is the effect on the global banking system. American, Canadian, and Asian banks all have significant (and hard to locate) exposure to mortgage-backed securities, especially those funded by short-term commercial paper, which has become almost impossible to move. Banks lend to hedge funds, of course, providing them with the leverage that, for years, generated such staggering returns. But risk, after all, is risky—a fact that was all but forgotten in the mad rush to high returns. The gargantuan profits of hedge funds quickly inverted into stunning losses, which were passed on to lenders just as quickly. Banking problems, in turn, became problems in the equities markets as funds and individual investors alike began dumping assets in a wild crush for cash to meet their leveraged obligations.
Of course, precious metals were also tagged with the tar baby of sudden risk-revulsion. As investors big and small awoke to the nightmare of their own excessive risk profiles, they began dumping anything and everything that smelled at all of risk. Unfortunately, precious metals became the baby tossed out with the bathwater. But gold has since shown impressive resilience; its historical role as a risk-leavener is rising to the occasion once more. As liquidity returns to the lending markets in coming weeks and months, and as real risk becomes more properly priced, we fully expect gold to regain its upward momentum on its march to $700 and beyond before the year is out.
Inflation and the Fed
Going forward, one of the big questions is whether the Fed will cut the federal funds rate at the next FOMC meeting on September 18, or even before, in order to add yet more liquidity to the market, calm investor nerves, and pre-empt the possibility of recession by stimulating the economy.
As you know, the Fed already cut the discount rate, which is the rate charged to banks by the government for short-term loans. This move was much applauded because it helped to inject needed short-term liquidity into the banking system and prevent it from seizing up entirely for want of available cash; yet it didn't offer a bail-out to investors who willfully over-extended themselves. Now pressure for a consumer rate cut—a reduction in the federal funds rate, which directly affects the prime rate—is coming from politicians like Senator Christopher Dodd, a presidential candidate clearly shopping for votes.
Cutting the fed funds rate, however, is an entirely different kettle of fish from cutting the discount rate, and Chairman Bernanke has a dangerous dilemma on his hands. He can lower interest rates, which would certainly add more liquidity and have a salutary effect on the stock and housing markets in the short term. But this move would add to the inflation pressures that he has dedicated himself to fighting, and which he has repeatedly claimed as the Fed's main responsibility. Or he can leave the rate unchanged, risking the real possibility of a deeper housing recession, continued disaffection in the stock market, and perhaps even a full-blown recession in the overall economy. The good news for gold investors is that the gold price is likely to rise in either scenario, as we'll discuss in a bit.
At the last FOMC meeting, in early August, the Fed statement was unmistakable in its commitment to controlling inflation, repeating language from June that "a sustained moderation in inflation pressures has yet to be convincingly demonstrated." It said the risk that inflation will fail to moderate was its "predominant policy concern." (See full story.) In fact, one day before the discount rate reduction, St. Louis Federal Reserve President William Poole proclaimed the central bank should not intervene short of a major calamity. And Richmond Federal Reserve Bank President Jeffery Lacker came out strongly against any lowering federal funds rate: "Financial market volatility, in and of itself, does not require a change in the target federal funds rate," Lacker stated emphatically. "I believe there are still reasons to remain concerned about the risks to the inflation outlook." (See full story.)
Indeed, inflation as measured by the CPI is currently running at 1.9 percent annually, right at the top of the Fed's stated comfort zone of 1% to 2%. What's more, a report released last week shows productivity decreasing and wage pressure increasing, both of which are clearly inflationary. The report points to a longer-term downward trend in productivity. At the same time, unit labor costs were revised higher. These costs could fuel inflation as companies try to raise prices to recover their labor costs. Nonetheless, the rapidly degenerating housing market is quickly becoming the Fed's chief new concern and could trump Bernanke's mission to fight inflation. According to a report issued yesterday by the National Association of Realtors, inventories of unsold single-family homes increased by 2.2% to 3.85 million in July, propelling unsold inventory to the highest level in 16 years. Inventories of unsold condos rose by 20%, the real estate group said."If the Fed does cut, it will be rooted ultimately in the collapse of the U.S. housing market, which we have consistently emphasized as the main force driving the U.S. slowdown," wrote Goldman Sachs economists in a note to clients. (See full story.)
Mr. Bernanke's uncomfortable dilemma is born of a global liquidity paradox. On the microeconomic level, we have a severe, if temporary, cash crunch caused by the subprime meltdown and banks refusal to lend, even to each other. On the macroeconomic level, as we've discussed in previous updates, the world is awash in liquidity and has been for many years, which is a main reason why we've gotten into the subprime mess in the fist place. Too much available money drives down the price of risk, so that individual investors and institutional funds take on increasing amounts without much thought to the consequences. Historically low interest rates are largely to blame as they may encourage investors to take on more risk in order to meet required rates of return. They also put pressure on financial institutions to seek higher yield, promoting innovation that in turn makes it easier to buy and sell securities.
While the short-term cash crunch may be eased by lowering the discount rate and infusing billions into the global banking system, the longer-term excesses in money supply will be far, far harder to control. The globe remains swamped in money, and lowering interest rates will only raise the flood. A striking example of excess liquidity is the giant current account surpluses of the oil exporters, China and other emerging markets, which represent surplus national savings. (The U.S., by contrast, is hovering around a negative national savings rate.) China's foreign-exchange reserves stand at about $1.33 trillion, the largest in the world. Another example is the staggering rate of money supply (M3) increases, both at home and abroad, over the past decade. U.S. money supply (M3) has exploded after years of accommodative Fed policies, gaining around 10% per year. What this really means is stealth inflation running around 10% rather than the 2% reported in CPI numbers. Both of these examples underscore how the unprecedented wave of global liquidity, driven by global economic growth, has driven down the price of risk and set the stage for the current drama. The good news for gold investors, as we will discuss a little later, is that either course is likely to give a boost to the gold price.
If the Fed takes the easy out by lowering rates, effectively performing a volt-face on their strict anti-inflation position, the consequences could be deeply problematic for the dollar. As you probably know, the dollar has been perched near its most fundamental support level of 80 on the Dollar Index chart, and overall market sentiment toward it has not been positive. By lowering the federal funds rate, the Fed will make the buck even less attractive to foreign investors, who could easily chose to sell dollars for currencies like the euro and British pound, which have seen rate increases recently in efforts to stave off inflation. If this happens, foreign holders of our dollar-denominated assets could easily abandon ship, leaving our stock and bond markets to sink along with the dollar. Gold, however, would shine. On the other hand, if the Fed decides to keep rates steady, the move would support the dollar temporarily but could deal a mortal blow to an already wounded housing market and a sputtering economy, which could, in turn, cripple the dollar in the longer term. Again, gold would shine.
China and the fall of Rome
As if the U.S. economy weren't fragile enough, two odd and surprising stories hit the headlines in recent weeks, reminding us that things could actually get much worse.
First, China came out with the alarming statement that it may begin to use its immense foreign-exchange reserves and ownership of U.S. assets to exact foreign policy concession from the U.S. As reported by the U.K. Telegraph, China may sell its Treasury holdings if Washington imposes trade sanctions to force a revaluation of the Chinese yuan. Xia Bin, finance chief at the Development Research Centre, said that Beijing's foreign reserves should be used as a "bargaining chip" in talks with the U.S. In other words, China might hold us hostage to our own excessive national debt. "The warning was given by two government officials, which is a reflection of how serious this threat is," said Kathy Lien, chief strategist at DailyFX.com; "China has what it takes to cripple the U.S. economy." (See full story.)
As we mentioned before, China's foreign-exchange reserves stand at about $1.33 trillion, the largest in the world. About two-thirds of them are held in dollar-denominated assets. Some economists estimate China holds about $407 billion of U.S. Treasury notes and bonds. At a time when the stability of the U.S. economy is hanging by a thread, rising bond yields and any further shocks could have widespread consequences. If China decides to dump Treasuries it could trigger a sharp drop in the U.S. dollar and a spike in interest rates. Under these circumstances, gold would become one of the few safe havens available for U.S investors.
On an even more ominous note, David Walker, the U.S. Comptroller General, issued an unusually dire assessment of U.S. prospects in a report that lays out what he called "chilling long-term simulations" if U.S. fiscal policies don't change. Walker stated that the U.S. government is on a "burning platform" of unsustainable policies and practices with fiscal deficits, chronic healthcare under-funding, immigration, and overseas military commitments threatening a crisis if action is not taken soon. Drawing parallels with the fall of the Roman empire, Walker warned there were "striking similarities" between America's current situation and the factors that brought down Rome, including "declining moral values and political civility at home, an over-confident and over-extended military in foreign lands and fiscal irresponsibility by the central government." (See full story.)
Walker's views carry weight because he is a non-partisan figure in charge of the Government Accountability Office, often described as the investigative arm of the U.S. Congress. Unless our policies change, he warns, we'll be punished with dramatic tax increases, slashed government services, and the large-scale dumping by foreign governments of holdings of U.S. debt.
Although horrifying, these predictions promise to be bullish for gold. The U.S. money supply is likely to keep expanding to cover our enormous and increasing trade imbalances, deficits, and debts. And as the sea of easy money rises, the result is likely to be massive price-inflation both at home and abroad. Gold, as you know, is a leading hedge against inflation.
Gold has returned to favor as an international currency in large part because it's not a debt, collateralized or otherwise. Rather, gold has intrinsic value and is intrinsically liquid. Unlike paper currency, bonds, or equities, gold depends for its value on no one's liability; it carries no promise of repayment. Gold is permanent, not a piece of paper with an arbitrary value printed on it. You can't make more of it by edict or printing press or financial innovation. In this era of instant global transactions, quant screens, and programmed trading, it's ironic that the favorite asset of the ancients is showing its mettle. Why? Because you can depend on gold to be exactly what it's been for millennia, a stable store of value in an unstable world. We urge you to stock up now while prices are still relatively low!
U.S. gold coins on the rise
We spent the week of August 6 to 10 in scenic Milwaukee, at the annual American Numismatic Association summer coin convention. This is the biggest coin show of the year, attracting all of our major trading partners along with many smaller dealers who only attend one or two shows a year. International dealers also attend. While we were able to acquire many great classic U.S. gold coins at this show, effectively cherry picking the national market for the highest quality coins at the fairest prices, we were disappointed with the overall availability of classic U.S. gold coins. Supplies remain dreadfully thin and prices are rising, despite the recent declines in bullion.
There are simply not enough coins to fill national demand at the moment despite the typical summer slowdown. Recent failings in financial markets have once again spurred interest in hard assets among general investors, and coin prices are quietly responding. Reduced coin inventories have created a situation in which even a modest surge in demand is quickly translated into higher coin prices on the national level. Dealer bids are moving higher as we compete with each other to restock coins. This situation bodes very well for classic U.S. gold coin values as we head into fall and winter, the annual buying season for all things gold!
Fresh from the ANA, we have an unusually good supply right now of some of our favorite portfolio builder coins: U.S. $20 Liberty gold coins in MS64 and MS65 condition, including better dates with five to fifteen times the scarcity of common dates and very modest premiums over common pricing; U.S. $10 Liberty gold coins in MS64 and MS65; some especially nice, scarcer date $5 Indians in MS64; and $3 Princess coins in MS63,MS64, and MS65 condition.
In other news, we are very proud to announce that Dana Samuelson, AGE's President, was inducted into the Professional Numismatic Guild (PNG) at the Milwaukee ANA show. PNG is the most prestigious organization in our industry, representing the top echelon of U.S. and international coin and paper money experts. This induction is a great honor. A dealer cannot apply for admission, but must be nominated by existing members, and each nominee is voted on by all members. The vetting process is rigorous: the average PNG dealer has over 25 years of numismatic experience, and each member must have proven knowledge, integrity, and responsibility within long industry service. The primary mission of PNG is to make the hobby safe for collectors and investors by maintaining rigid standards of excellence for member dealers. We heartily support this mission.
As always, thanks for your time. We'll keep you informed!
Sincerely,
Dana Samuelson, President
Dr. Bill Musgrave, Vice President
Metal
Ask
Change

Gold

$1,789.07
$1.31

Silver

$18.24
$-0.17

Platinum

$847.17
$5.47

Palladium

$1,992.79
$8.95
In US Dollars
AGE Gold Commentary
AGE Investor Alert!