AGE Gold Commentary is our regular report analyzing trends in precious metals and rare coins. We monitor domestic and international markets and extrapolate from our 30 years in metals to place current events into a hard asset perspective. View archives.
---
9/13/2007: Gold breaks out over $700
Source:
In this edition ofAGE's Gold Market Commentary:
Gold breaks out over $700
U.S. gold coins gaining in price
U.S. economic woes increasing
Gold breaks out over $700
Moving solidly over $700 an ounce this week, gold is now technically in break-out mode. After strolling through upward price resistance at $695 on September 6, it passed $700 the next day for the first time since the spring of 2006, and has remained there. Last time it broached this territory, gold's rise was driven by speculation rather than fundamentals as it surged from $550 to $720 in fewer than 60 days, largely on the back of hedge fund positions. Of course, it failed to hold those gains. This time around, however, with those large hedge fund positions largely shaken out last month by the subprime meltdown, fundamentals are in the driver's seat again. In our opinion, these developments signal the end of gold's extended consolidation phase and the resumption of its mega-bull charge toward new generational highs.
Fueling the rising gold price are surging oil and a badly faltering dollar. Oil is now at its highest price ever, flirting with $80 per barrel. U.S. dollar is once again dropping in earnest against other currencies, falling to as low as 79.454 on the U.S. dollar index chart, its lowest level since September 1992. The dollar is also touching its lowest point ever against the euro at $1.390.
Moreover, the U.S. economy is showing much greater signs of weakness and vulnerability than many analysts had previously believed. Ongoing fallout from the subprime fiasco (discussed at length in our last update and reviewed below) is damaging financial markets and crippling the already wobbly housing markets. Unemployment is rising dramatically, and inflation as measured by the exploding international money supply is moving into the red zone. The perfect storm that has been brewing for months and years is now on the immediate horizon. While news outlets worldwide are suddenly saying the U.S. may face a recession in coming months, gold is on the rise once again, resuming its traditional role as currency of last resort and inflationary hedge.
Silver, platinum and palladium are also moving higher, though, unlike gold, they're not yet challenging their May 2006 highs. With a possible recession pending, the industrial demand for silver, platinum and palladium is somewhat diminished, so these metals are lagging gold for now. While gold is rising because of its role as currency safe-haven, the other precious metals are acting more like commodities in current trading. In a world of massive debt and increasing economic instability, gold's luster as the ultimate currency with true, intrinsic value shines even brighter. While we do expect the other three precious metals to play catch up, gold is clearly leading the pack. Silver and palladium, in particular, look undervalued to us, with silver probably offering better potential than palladium in the short term. Let's look at the latest charts.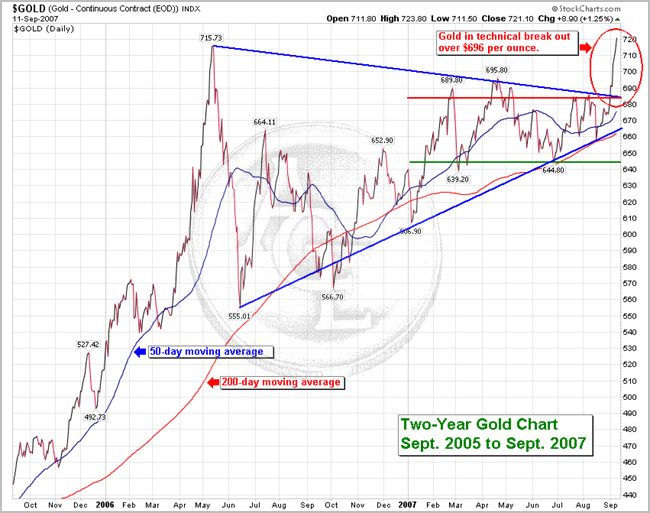 The two-year gold chart above is markedly similar to last month's. The blue trend lines indicate the rising bottom formation with a somewhat declining top; and the green and red lines indicate gold's major support ($645) and resistance ($685) levels, respectively, framing its primary trading range for 2007. What's changed is gold's strong upward surge in the last week, breaking through resistance at both $685 and the intermediate top at $695 as it moved back over $700. In the words of one of our major trading partners, "gold moved through resistance in the mid-$690s like a hot knife through warm butter." It's now ready to challenge its May 2006 peak and perhaps move towards the all-time high of $850 in the coming months.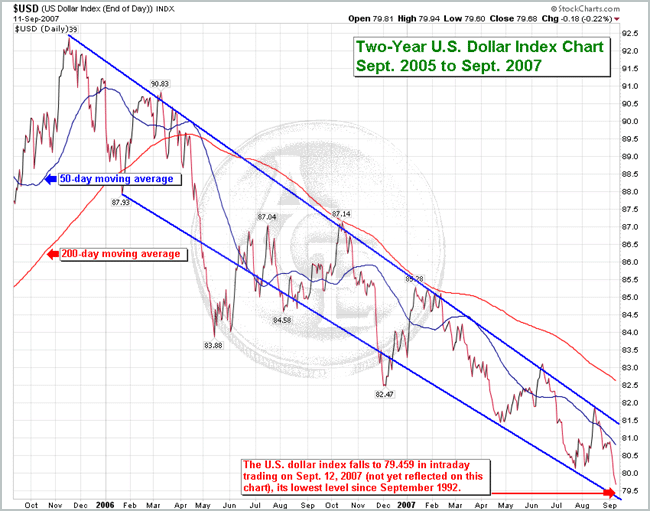 As the two-year U.S. dollar chart above shows, the dollar has been on a slippery slope for almost two years, as indicated by the blue trend lines. In recent weeks it has plunged like a stone in the sea, setting a new 15-year low on the dollar index chart and an all-time low against the euro, both on Sept. 12. As the subprime alarm reverberates, the Fed almost certainly will be forced to cut interest rates at the FOMC meeting on September 18. This expectation is putting enormous downward pressure on the beleaguered buck while other major currencies are strengthening. The dollar is now at a critical juncture and could continue to fall sharply from here, perhaps as much as another 15% to 20%. We've never seen an economic environment riper for a major drop in the dollar—and, consequently, a major rise in the gold price.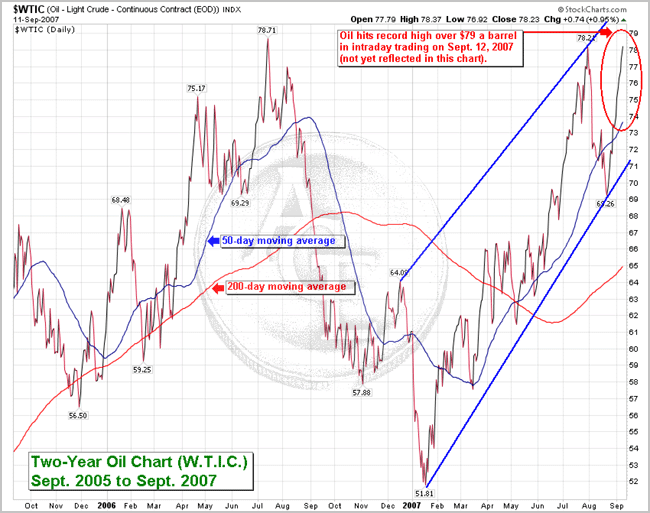 Oil is reacting to the plummeting dollar, setting a new all-time high on Sept. 12, at just under $80 a barrel. In addition, the latest report from the Energy Department says U.S. oil supplies are tightening and demand remains strong. Even OPEC's decision on Tuesday to boost crude production by 500,000 barrels per day this fall did little to stem the tide. In 1980, during our last period of peak oil, the price reached $38 a barrel. In inflation-adjusted dollars, that would equal approximately $95 to $100 per barrel today. Oil is now setting its sights on this price range. Gold, by comparison, has yet to breach its 1980 peak of $850 an ounce in constant dollars, which would equal over $2,000 an ounce today in inflation-adjusted dollars. This is just one of many reasons why we believe gold to be substantially undervalued today.
Classic U.S. gold coins on the rise
With rising gold and oil prices, and a falling dollar, classic U.S. gold coin prices are now moving higher, too. Demand is overrunning market supplies. In June we said classic gold coin prices were bottoming; in July we said they were firming; and in August we warned that they were about to spike significantly higher because of razor-thin supplies. All of our expectations have proven to be true.
Now that we're back into the prime buying season for all things gold, classic coin prices are beginning to rise rapidly. The same fundamentals that are fueling the rising gold price are going to propel classic U.S. gold coins in coming months. Nonetheless, a few sectors in this market are offering excellent values right now. We strongly urge you to take advantage of this temporary buying opportunity.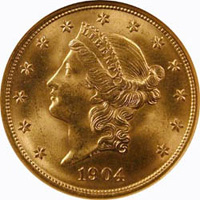 $20 Liberty gold coins in Mint State 64 condition are a best buy in classic gold coins, offering unusually good value in the current market. This is one of the few classic coins currently trading at a big discount to its May 2006 peak price. In our opinion, $20 Liberty coins in MS64 are undervalued by anywhere from 10% to 20% in the current market. This coin earns our highest recommendation for the best combination of value, price, and scarcity in the current market.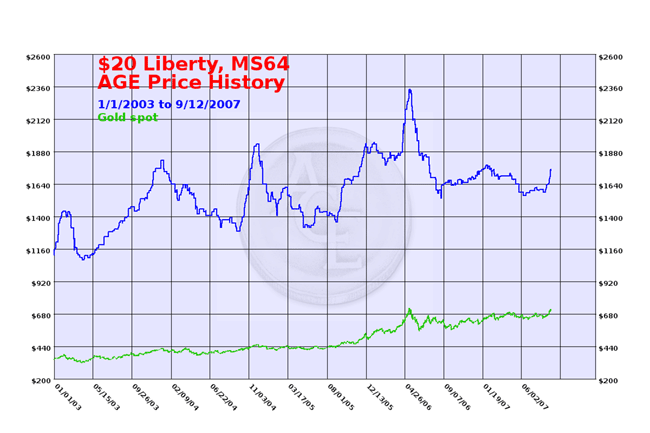 As this price history chart shows, $20 Liberty coins in MS64 are now on the rise after forming a U-shaped bottom over the summer. In each of the last four years, their lowest price has occurred during the summer slowdown; highs have followed in the winter or spring. Now is the best time of the year to stock up on these coins, while prices hover near their cyclical lows. If you compare the coin's price spikes to movements in the underlying spot gold price, you can see how small increases in spot gold can mean huge increases in the price of these coins, which offer substantial leverage.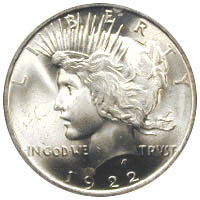 U.S. Peace silver dollars in Brilliant Uncirculated (BU) condition, without doubt, are today's best buy in silver. These rolls of 20 classic silver dollars from the 1920s are extremely cheap today, undervalued by 10% to 30% in the current market. They receive our highest recommendation as a best buy in bulk silver!
For the other classic U.S. gold coins we favor coins in today's market, please consult with one of our helpful account managers at 1-800-613-9323. And click here to see our superb inventory of classic U.S. gold coins.
U.S. economic woes increasing
Gold and rare coin prices are being driven by an ongoing spate of economic woes, many of which are tied to the subprime mortgage fiasco. Short-term liquidity remains a huge issue for banks, which have simply stopped trusting each other to make good on commercial paper, the 45-day loans that keep businesses afloat. One big problem, as we discussed at length last time, is that securitized debt has been repackaged in so many ways that no one quite knows where the risks reside any more. Understandably, few lenders are willing to extend themselves into the unknown in the current environment.
Another big problem—one that will certainly get worse before it gets better—is the fact that around 2 million ARMs (adjustable-rate mortgages) are due to reset sharply higher in the next 18 months. About $1.1 trillion of adjustable-rate mortgages are scheduled to reset for the first time in 2007 and 2008, according to First American Loan Performance. These represent about 10 percent of all mortgages outstanding. Reset activity is likely to peak in the fourth quarter of this year and the first quarter of next year, according to Moody's Economy.com.
ARMs are tied to short-term interest rates but are typically fixed for a few years before they begin adjusting. Now that short-term rates have increased dramatically, many homeowners will face severe payment shock when their rates adjust. Because most of those homeowners cannot afford the higher rates—and the softening housing market means they cannot refinance or sell for enough money to repay the loan—those resets are likely to trigger a huge wave of foreclosures unless the loans are modified.
Congress, banking regulators and President Bush all are promoting a potential way for subprime borrowers to avert foreclosure. Called loan modification or loan work out, it means changing a mortgage's terms to make the payments more affordable. Mortgage lenders have publicly embraced the concept, saying they care about "home ownership preservation" and will work to prevent foreclosures. A "loan mod" might involve freezing the interest of an adjustable-rate mortgage, for example—perhaps setting payments at 8 percent instead of letting them soar to 11 percent. But consumer advocates say it appears that few modifications are actually occurring, and lenders refuse to provide any data to show how common the practice is.
The securitization of debt has created a major roadblock for mortgage modification, pretty much dashing in advance any hope for the program's success in staving off foreclosures. Because the mortgages have been resold in pieces on Wall Street, the bank that collects consumer payments often does not have the authority to decide on loan modifications or workout a solution that could help borrowers. Literally, no one is in charge.
When ARM resets start in earnest, foreclosures, already at record-highs, will increase dramatically. According to the recent Mortgage Brokers Association survey, the number of mortgage loans entering the foreclosure process in the second quarter reached the highest level in the survey's 55-year history. If unemployment increases at the same time that ARMs reset, homeowner blood will, sadly, be on the streets. And because lenders typically lose 20 to 40 percent of par on foreclosures, the hedge funds and other institutional investors who have purchased mortgage-back securities, often on margin, will be hemorrhaging, too. It won't be pretty at all.
The consequences could easily spell recession, as many analysts are increasingly predicting. Payrolls recently dropped for the first time in four years, shocking everyone and provided the first evidence that problems in the country's mortgage market are spilling over into the wider economy. Nonfarm payrolls fell by an estimated 4,000 in August, in the first decline since August 2003. This decline showed shocking weakness, as most Wall Street economists were expecting an increase of 115,000 jobs. Adding insult to injury, payrolls in June and July were revised lower by a cumulative 81,000.
How long before the American consumer, whose spendthrift ways have fueled the global boom for the past decade or more, closes his or her wallet? With oil reaching record levels and the dollar plumbing record lows, we think it won't be long. Factor in the astonishing rise in inflation as measured by global money supply, and it's very difficult to see how we can spend our way out of this mess.
Spend, spend, spend. We've been talking for more than a year about the extraordinary rise in global liquidity in recent years, the inflationary ramifications of this sea of easy money, and the strongly bullish consequences for the gold price. The recent edition of The Aden Forecast quantifies this alarming phenomenon with some truly staggering figures. According to Mary Anne and Pamela Aden, the money supply in Russia is exploding at a 51% rate; in India at 24%; in China at 20%; and in other emerging markets at an average of 21% annually. In other words, developing markets are pouring money into the global supply at a rate of three times that of developed nations (except the U.S., which is increasing M3 at a 10% rate).
When you consider that these same developing nations now account for 60% of global GNP, and growing quickly, you begin to see the inflationary tidal wave cresting on the horizon and rapidly approaching land. These currency developments alone are enough to propel the current bull market in precious metals for quite some time. Like no other asset, gold gains momentum atop waves of inflation, and it can ride this tsunami of global liquidity like the Silver Surfer of Marvel comic book fame. Indeed, as the economic maelstrom advances, all four precious metals are positioned to become the Fantastic Four of financial instruments, glittering super heroes defending savvy U.S. investors from a host of malevolent enemies.
We're now entering gold's seasonal period of highest demand. This fact, combined with the economic factors outlined above, give us reason to believe that gold is very likely to move substantially higher this fall, almost certainly challenging the May 2006 high of $730 and perhaps making a run toward $850. We strongly urge you to act now. Stay ahead of the curve and stock up while prices remain relatively low. You'll be glad you did!
As always, thanks for your time. We'll keep you informed!
Sincerely
Dana Samuelson, President
Dr. Bill Musgrave, Vice President
Metal
Ask
Change

Gold

$1,780.89
$0.00

Silver

$18.21
$0.00

Platinum

$832.41
$0.00

Palladium

$1,973.67
$0.00
In US Dollars
AGE Gold Commentary
AGE Investor Alert!