AGE Gold Commentary is our regular report analyzing trends in precious metals and rare coins. We monitor domestic and international markets and extrapolate from our 30 years in metals to place current events into a hard asset perspective. View archives.
---
1/8/2008: Gold breaks out over $850!
Source:
In this issue of AGE's Gold Market Commentary:
Gold breaks out over $850
Classic U.S. gold coins rising
Economic outlook for 2008
Credit crisis and liquidity trap
Inflationary solution


Gold breaks out over $850
Gold began the New Year with gusto, hurdling past its previous all-time high of $850 an ounce behind the radioactive combination of a tumbling U.S. dollar, escalating oil prices, a deepening global credit crisis, a rapidly weakening U.S. economy, and an explosion of violence and civil unrest in places like Pakistan, Nigeria, Kenya, and of course, the Middle East and Iraq. In addition, the rising mega-trend in commodities that's been boosting precious metals and oil for the past few years, fueled in large part by relentless growth in emerging market economies, looks like it will continue for the foreseeable future. Taken together, these factors promise to support a rising gold price for years to come. Our target price range of $1,200 to $1,800 an ounce, which we set last January when gold was below $640, grows closer and more likely with each passing month.
After channeling between $790 and $820 for most of December, gold punched through resistance at $826 and $837 during the Christmas holidays and gained more than $40 last week. Now trading around $870, it is well above its previous all-time high of $850, achieved briefly in 1980. (The previous high, it should be noted, is equivalent to around $2,200 in today's dollars, so gold still has plenty of room to run in real terms.) Now in technical breakout mode, the gold price could easily move over $900 and perhaps over $1,000 in the next few months—or even weeks.
Responding to the same bullish fundamentals as gold, the other three traditional precious metals are following suit. Silver has moved past resistance at $14.75 an ounce and is now trading around $15.50. Platinum set a new all-time high of $1,543 an ounce after punching over resistance at $1,480 in mid-December. Palladium, too, surged strongly over $360 in the last week, rising to $375.
Let's look at the latest charts.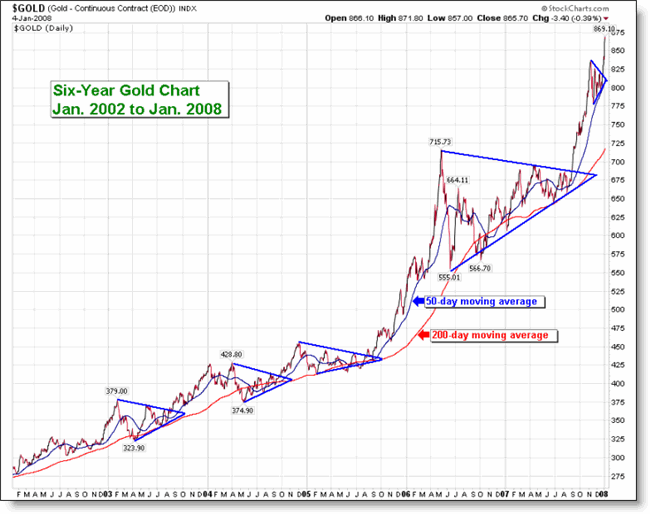 As shown in the 6-year chart above, gold was in a mini-consolidation phase, characterized by higher lows and lower highs, since setting a new high in early November 2007 at $837.50 an ounce. This consolidation creates a classic triangle pattern on the chart, one that were watching very closely during the month of December. This pattern has recurred repeatedly in this bull market, as you can see on the chart. In every previous instance it has been followed by a substantial up-move in the gold price.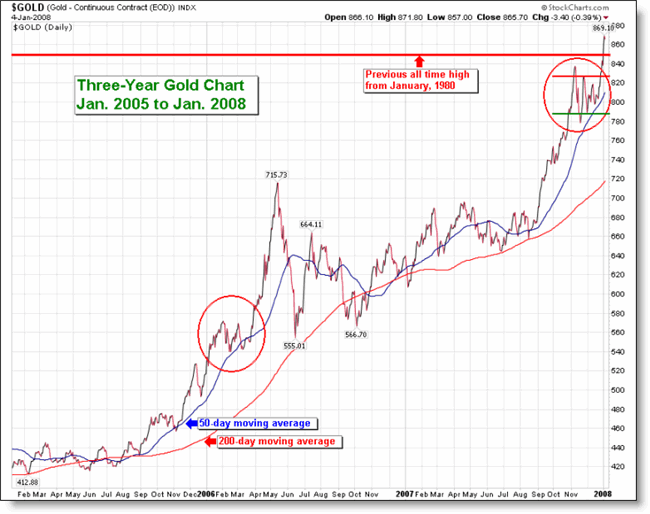 The latest 3-year gold chart shows gold in a strong upward pattern, just like it was from fall 2005 to spring 2006. During that period, gold saw a 60% increase in price, first surging then channeling for several months in the $540 to $565 range (red circle) before beginning an extremely strong second up-move. The current pattern is shaping up to look remarkably similar to that 60% surge, with the mini-consolidation period we've just completed (red circle) setting the stage for another strong up-move. While it is still too early to be sure, the ensuing surge is likely to be less volatile than the one in 2006, with smaller overall percentage gains followed by a much shallower consolidation phase. We believe gold should move easily over $900, and perhaps over $950, in this cycle. A move over $1,000 is probably too much, too fast in the current market environment—but gold has shown remarkable strength throughout this entire mega-bull market run, so it could surprise us.
What's important to remember is how resilient the gold price has been recently, especially during the last two months, when the dollar rebounded sharply and oil fell (see the charts below). Despite trading recently in a tightly inverse relationship to the dollar, gold held over $790 when it ordinarily would have fallen more, perhaps as low as $760, in the face of dollar strength and oil weakness. In effect, gold is beginning to decouple from its inverse lock-step with dollar, showing true colors as an international currency of last resort in times of economic uncertainty. This decoupling will allow gold to move much higher as this historic bull market evolves.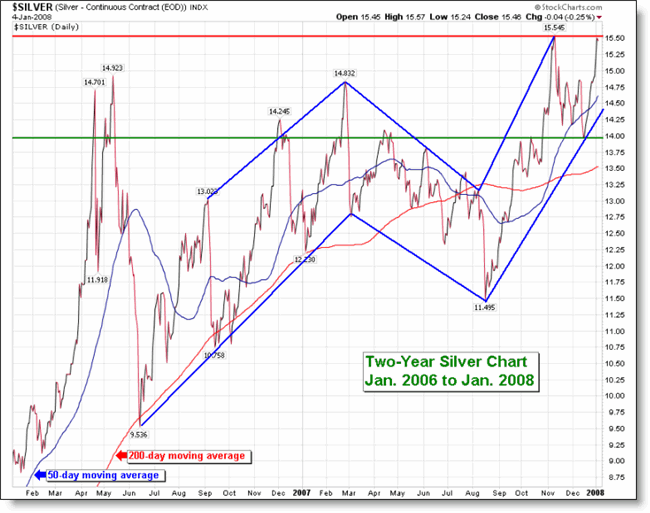 Silver has been strong since mid-December, moving from $14.00 an ounce to over $15.25. It needs to surpass its previous high of $15.45 in this cycle to move, like gold has done, into blue sky territory. As the 2-year chart clearly shows, silver has been much more volatile than gold. With both gold and platinum trading at new all time highs, silver is lagging dramatically in price. Relative to $850 gold and $1,500 platinum, silver appears to be 20% to 30% undervalued in the current market and looks downright cheap to us under $20. As we go to press, silver is surging over $15.50 an ounce, signaling a technical breakout.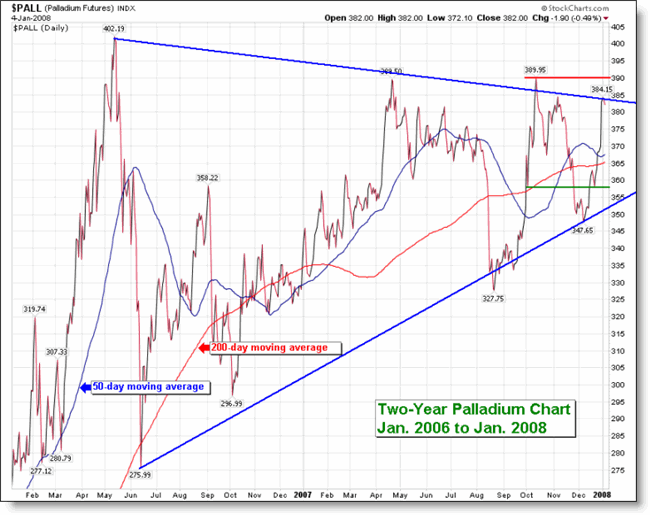 Like gold, palladium is now forming a major triangle pattern, with a flat top and a rising bottom. This classic formation normally leads to an upside breakout. If history holds, palladium could punch well over $400 in the coming months. In the meantime, we expect palladium to channel between $360 and $390 (green support and red resistance), as it did between April and July of 2007. We continue to advocate buying palladium on dips under $360.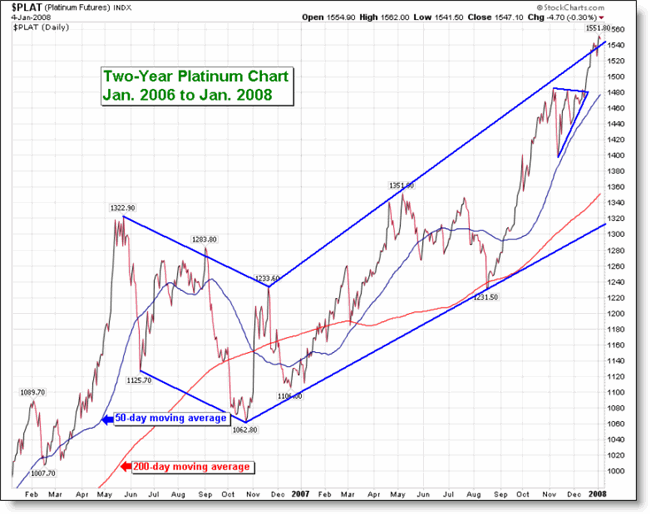 Platinum has set new all-time highs since out last update by moving over $1,500 an ounce. Our regular readers know we have been very shy of platinum due to its extreme volatility and high price, especially relative to silver and palladium. At current prices platinum looks extremely expensive to us. We believe the other precious metals are a better choice for your investment dollars.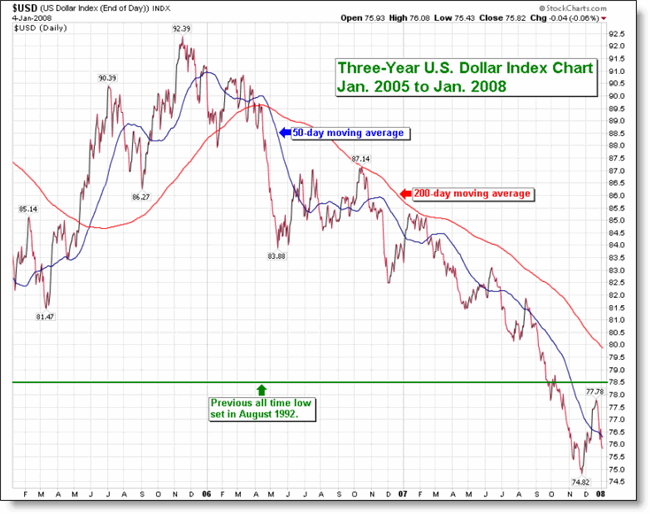 The dollar, after dropping like a stone in the ocean between September and late November, hitting its lowest level ever on the U.S. dollar index chart, rebounded strongly in the first weeks of December. As the chart shows, a rebound following a sharp decline is not unusual. Nonetheless, the greenback's downward trend remains dominant and is now reasserting itself due to a host of factors including the weakness of the U.S. economy, the growing interest rate differential between it and other currencies, the increased competition the dollar is facing from the euro as a world currency, the repatriation of foreign monies that have been buying U.S. treasuries for years now, and the inevitable revaluation of the Chinese rinimbi against the dollar. The continuing decline of the dollar will propel gold higher.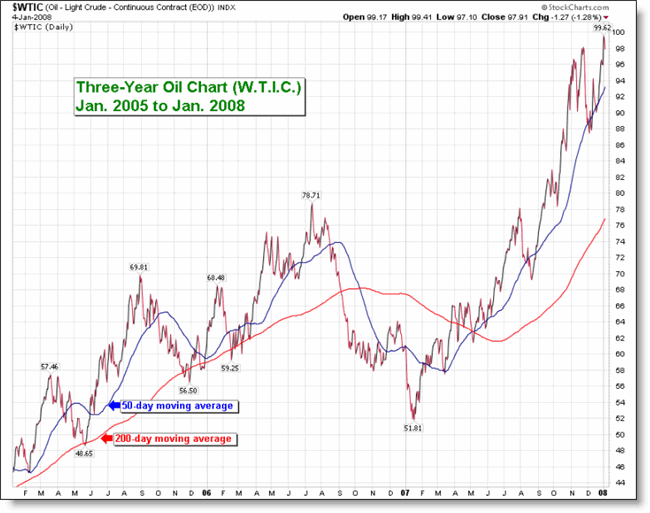 Oil has made headlines around the world in the last two trading sessions by breaching $100 a barrel for the first time ever. Oil peaked in the late 1970s at $35 a barrel, which is equal to about $100 today. Gold hit $850 in 1980, which equals over $2,000 in today's dollars. Compared to oil, gold looks severely undervalued today.
Classic U.S. gold coins rising
The start of the New Year is often a catalyst for higher prices among classic U.S. gold coins, following the traditional calm of the holiday season. Prices tend to weaken somewhat during the final weeks of the year as demand slackens and dealers reposition their inventories for year-end tax purposes. This trend typically reverses itself in January, and this year is likely to be one of the most explosive we've ever seen for classic U.S. gold coins.
Dealer inventories are at historic lows because demand has already completely overrun the coin market on three separate occasions during the last 18 to 24 months. We're now entering that phase of the bull market in classic coins during which the general public, noticing the sizable profits, begins to buy into the trend. The potential pool of buyers for U.S. gold coins is likely to grow exponentially in coming months—just as overall dealer inventories are at their lowest levels in years. This is a recipe for truly explosive price-appreciation. We urge you to stay ahead of the herd and stock up now.
Here's how our recommended classic U.S. gold coins are stacking up against the four traditional precious metals. And greater gains seem very likely going forward!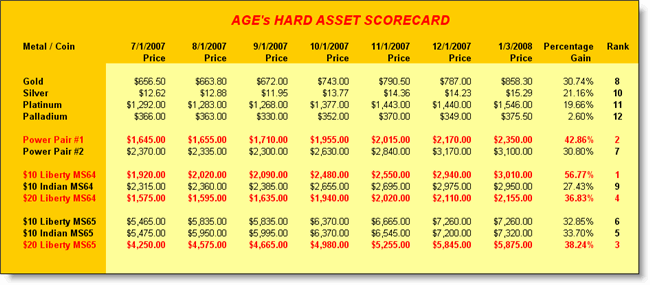 Our current classic coin recommendations in this market are:
U.S. Peace silver dollars in Brilliant Uncirculated (BU) condition — A best buy in bulk silver. These rolls of 20 classic silver dollars from the 1920s are extremely cheap today, undervalued by 10% to 30% in the current market. They receive our highest recommendation.
Power Pair #1 — Two of our best gold portfolio builders, paired for savings: Pre-1900 $20 Liberty (MS62) + $20 Saint-Gaudens (MS63). Low cost plus excellent leverage to a rising gold market. Better than bullion for bulk gold investors!
British Sovereigns in Brilliant Uncirculated (BU) condition — George V design. The most popular of all European gold coins. A great opportunity to build your core gold holdings with scarce, historic gold coins at near bullion prices. Better than bullion!
Economic outlook for 2008
Until last Friday's unemployment figures came out, most economists were divided on whether 2008 would bring a recession. Not any more. The nation's unemployment rate shot up to 5% in December as job growth stalled, a sign that the labor market is stressed and the U.S. economic slump is rapidly worsening. The Dow promptly fell 2%, capping losses of more than 4% for the week, and the Nasdaq staggered beneath its largest one-day drop in almost eleven months. Ladies and gentlemen, economic expansion has left the building.
"That stink you may smell was the jobs number; the December employment report failed at almost all levels to convince traders that the U.S. economy isn't headed for a recession," said Kevin Giddis, managing director of fixed-income trading at Morgan Keegan & Co. "Since 1949, the unemployment rate has never risen by this magnitude without the economy being in recession," said John Ryding, chief U.S. economist, Bear Stearns. "At this point the debate is not about a soft land or hard landing; it is about how hard the hard landing will be," said Nouriel Roubini, professor of economics at New York University. (See full story.)
Of course, the jobs number is not the only culprit, just the latest one to appear. Surging energy costs, falling housing prices, tightening credit, and contraction in the manufacturing sector all will punish consumers this year, putting the brakes on spending, ending the six-year expansion, and knocking hundreds of thousands of people out of work. The consensus outlook, we're sorry to say, is the gloomiest in years.
The crashing housing market and expanding credit crisis are the main drivers behind the gloom. Home values have already dropped more than 6% nationwide since the 2005 peak and accelerated losses are expected. Defaults are growing daily and spreading from subprime to near-prime and prime mortgages, to commercial real estate loans, to auto loans, credit cards and student loans, and corporate bonds. What was a once just a mortgage crisis quickly became a credit crisis, and is now moving toward a full-blown banking crisis. Indeed, banks and other financial institutions are refusing to lend money even to each other because of legitimate fears that they will not be repaid.
"A severe systemic financial crisis cannot be ruled out," said NYU's Roubini. "This will be a much worse recession than the mild ones in 1990-91 and 2001."
Additionally, the worst housing crash in U.S. history is getting worse. Home sales could hit bottom by mid-2008, some economists predict, but prices will fall at least into early 2009. At the annual American Economic Association (AEA) convention, held last week in New Orleans, a consensus emerged among academic economists that that home prices will have to fall 20% to 30% before they bottom out, most likely 30%. This means an astonishing loss of about $6 trillion in home values since 2005, an amount that is sure to have that will have powerfully negative macro- and micro-economic consequences.
"The portion of this $6 trillion in losses shouldered by banks, other financial institutions, and global investors will lead to an even more severe credit crunch," asserted Roubini. According to research by Goldman Sachs, even a modest $200 billion of losses for banks would lead to a reduction in credit of $2 trillion, as banks create about 10 dollars of assets for each dollar of capital that they hold. And of course, the consequences will be far greater if the mortgage losses suffered by banks are more than $200 billion, which is likely. (See full story.)
With losses this large, over 10 million households will end up with deeply negative home equity, giving them a strong incentive to default on their mortgages. Because most states consider mortgages to be "non-recourse" loans, meaning that once you default and are foreclosed, you're not liable for the difference between your mortgage balance and the lower value of your home. The financial consequences of these losses and defaults will be immense. With home equity wiped out, households will almost certainly stop spending. Add the effects on households' budgets of rising food and health-care costs, $100 per barrel oil with record-high gasoline prices, little or no savings, huge debts, and stricter borrowing requirements, and you have a consumer slipping ever more quickly into profound distress. And since consumer spending now accounts for a record 71% of real GDP, you have an economy slipping rapidly toward the precipice.
Credit crisis and liquidity trap
Perhaps even more important for 2008, the credit markets remain frozen. This means consumers, businesses and local governments—even banks—can't borrow needed funds. Without credit commerce will inevitably grind to a halt. Central bankers are trying feverishly to inject liquidity into the system, but they won't be able to thaw out the frosty markets until lenders have confidence that borrowers can repay their loans. And it's not just retail borrowers that banks are worried about. Increasingly, banks are distrusting each other because they have no idea where the all subprime liabilities reside.
According to Dr. Irwin Kellner of Hofstra University, the U.S. is rapidly falling into a liquidity trap that is alarmingly similar to the one that landed us in the Great Depression. Kellner believes that fear, not lack of liquidity, is what's freezing our financial markets today, and it's going to take much more than reduced interest rates and massive infusions of liquidity to thaw them. Banks are simply refusing to lend to each other because, with so much toxic waste—that is, subprime debt—hidden away in bank balance sheets, they're legitimately concerned that they won't be repaid. And if banks don't trust each other, how much are they going to trust corporate and consumer borrowers? Not much.
Kellner argues that in the 1930s, when the Federal Reserve of that era tried to force-feed liquidity into the economy with the hopes of pushing it out of its slump, they quickly learned that it did not work. Lenders were still reluctant to lend, while commercial borrowers did not want to borrow.
"Banks were struggling under mountains of loans gone sour and were in no frame of mind to throw good money after bad," Kellner tells us. "For their part, most firms were not willing to assume new debts, since falling sales and earnings led them to conclude that there was little productive use they could make out of these borrowed funds. The great economist John Maynard Keynes dubbed this phenomenon a 'liquidity trap.' It was perhaps the first realization that the Fed's powers were not as great as previously thought." (">See full story.)
The liquidity trap of the 1930s was a key contributor to the Great Depression, and the current credit crunch bears a startling resemblance to it. There's little the Fed can do at this point other than inject liquidity to push rates lower while urging lenders to lend more. But no matter what the Fed does in 2008, just like its counterpart seventy years ago, it's likely to have great difficulty in loosening credit markets so paralyzed by fear.
Inflationary solution
The mantra of U.S. fiscal policy over the past decade has been nothing if not consistent: when in trouble, pump the economy full of easy money! And that's exactly what the Bush Administration is about to do, despite the lessons (still unlearned) from the 1930s.
Last Friday, Mr. Bush convened the so-called Plunge Protection Team for its first known meeting in the Oval Office. Officially known as the President's Working Group on Financial Markets, this emergency clean-up crew was created after the 1987 crash to put a tourniquet on the financial markets' gushing arteries. Long kept secret, the group last met after 9/11. According the UK Telegraph, it appears to have powers to support the markets in a crisis with a host of instruments, mostly through buying futures contracts on the stock indexes, through key credit levers, and by flooding money into markets. The team is led by Treasury chief Hank Paulson and includes Fed chairman Ben Bernanke and the key exchange regulators. (See full story.)
But many analysts argue that the government may be powerless to prevent a recession, just as they were in the 1930s. "My sense is that even though the government wants to be seen as reactive, there is not that much they can do at this point," said University of Chicago professor of finance and former chief economist at the International Monetary Fund, Raghuram Rajan. "Monetary policy has lags of a year. It can't revive lending that isn't taking place because banks have capital constraints."
Even if these desperate measures work—and we all better hope they do—the unintended consequences are likely to be wildly accelerating long-term inflation, an exploding money supply, and a far weaker dollar. We've talked at great length in earlier updates about the sea of liquidity flooding world markets and the stealth inflation it creates. The good news for gold investors is that all of these consequences point to higher—probably much higher—gold prices in both the near future and longer term. Once again, we expect gold to reach $900 to $1,000 an ounce in coming months, and $1,200 to $1,800 before this historic bull market in precious metals hits its peak. We urge you to stock up now while gold remain relatively cheap. You'll be glad you did!
As always, thanks for your time. We'll keep you informed!
Sincerely,
Dana Samuelson, President
Dr. Bill Musgrave, Vice President
Metal
Ask
Change

Gold

$1,805.74
$-1.69

Silver

$19.10
$-0.04

Platinum

$856.11
$-5.28

Palladium

$2,045.40
$-2.63
In US Dollars
AGE Gold Commentary
AGE Investor Alert!