AGE Gold Commentary is our regular report analyzing trends in precious metals and rare coins. We monitor domestic and international markets and extrapolate from our 30 years in metals to place current events into a hard asset perspective. View archives.
---
2/12/2008: Precious metals set new highs!
Source:
In this issue ofAGE's Gold Market Commentary:
Precious metals set new highs!
Classic U.S. gold coins undervalued
Falling rates, falling dollar
Cheap money and free money
Bailouts and bankruptcy


Precious metals set new highs!
All four of the traditional precious metals have surged strongly over the past month, setting new highs. Indeed, gold just keeps on marching upward, gaining 40% in the last six months despite a small rebound in the U.S. dollar and modestly lower oil prices. In a world flooded with cheap paper money, and as the subprime debacle continues to ripple through global markets, devaluing most other asset classes, gold's status as the ultimate currency of last resort remains fully intact.
This is the most vibrant and resilient precious metals market we've ever seen—and we've trading these markets since 1980. Based on current economic fundamentals around the world, precious metals should continue to benefit from growing inflationary pressures, devalued currencies, accumulating economic imbalances, and international tension for several more years to come. This bull market shows no signs of letting up any time soon.
Let's take a look at the charts.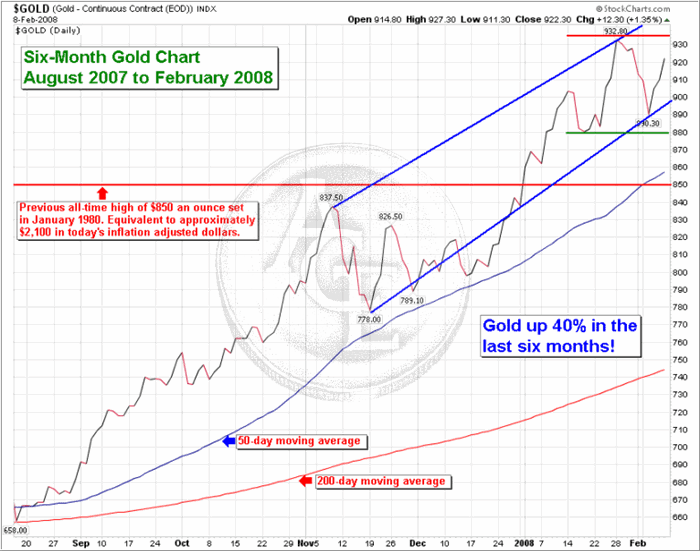 Since passing its previous all-time high of $850 an ounce at the turn of the year, gold has surged as high as $932 and continues to hold onto most of these gains. As the latest six-month chart shows, it's been trading in a range between $880 (green support line) and $930 (red resistance line) as it further decouples from the dollar and gathers fundamental strength. Increasingly, gold looks like it is readying for another surge to retest its latest high of $932.80. We continue to expect more gains in gold over the next few months, even if some volatility creeps in.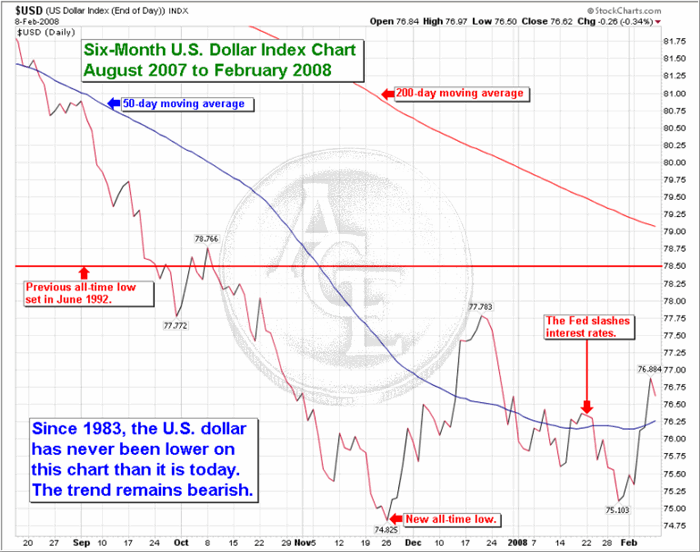 If you compare this six-month U.S. dollar index chart to the six-month gold chart, you can see that gold has been hitting new all-time highs since mid-November while the dollar has been channeling. What's unusual is the dollar's surge during the first two weeks of February, despite the Fed's massive 1.25% rate cut during this same time frame. The dollar has risen somewhat in value whereas, normally, a massive rate cut should lead the dollar sharply lower. We've probably witnessed, during the first week of February, a dollar short-covering rally and not a fundamental change of direction. Short-covering rallies are normally spiky and very short-lived, and we expect this one to follow suit. Slower growth in foreign economies like the U.K.'s has resulted in some rate-cutting, making the dollar slightly less undesirable among arbitrage traders. But this bump is unlikely to last as inflationary pressures build overseas, which will raise rates and make the dollar less attractive once again. When this minor flurry of dollar strength ends, which we expect to be soon, gold will benefit—perhaps with a vengeance.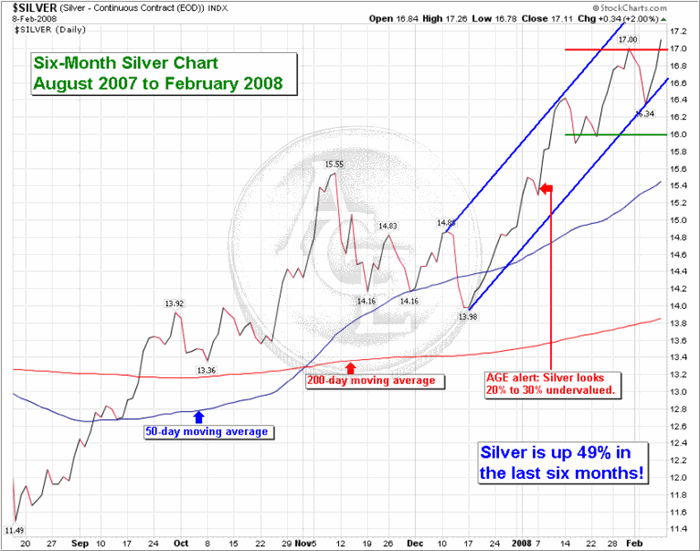 After surging to new highs in February, silver is now trading over $17.00 an ounce for the first time since this six-year bull market began. In the last six months, it's gained a whopping 49%! And momentum is increasing: in its current technical breakout, which was just beginning when we issued our last update, silver has surged 10% and is now stair-stepping its way towards $20. Remember, silver is typically more volatile than gold and tends to fall more sharply during consolidation periods; but in the current market it will probably not give back much of these recent gains. The latest chart shows solid support (in green) at $16 and resistance (which we've just passed through) at $17. We believe silver is undervalued below $20.
Sister metals platinum and palladium have been gaining, too. Platinum, in particular, has gone ballistic. Electricity problems in South African mines, which account for about 80% of the world's annual platinum production, have strained deliveries during a time when demand is already exceeding supplies. Platinum is used in automobile catalytic converters and is very popular in jewelry as well. Palladium has been gaining in sympathy with platinum; and while it does not enjoy the same jewelry demand as platinum, it's also used in catalytic converters. Just recently, technological breakthroughs have enabled palladium to be used in diesel engines as well as gasoline. Since the majority of cars in China are diesel-powered, this change bodes very well for palladium demand in the future.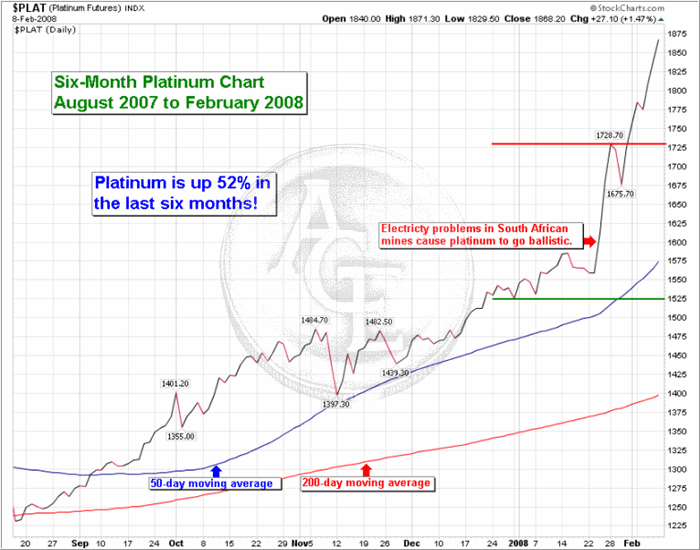 As the latest chart shows, platinum has been on a tear, gaining 52% in the last six months and leading the precious metals pack by a few lengths. We've consciously side-stepped this market due to our continuing conviction that platinum is the most overvalued and potentially volatile of the four precious metals. We continue to favor the safer, steadier gains we've realized from gold, silver, and palladium.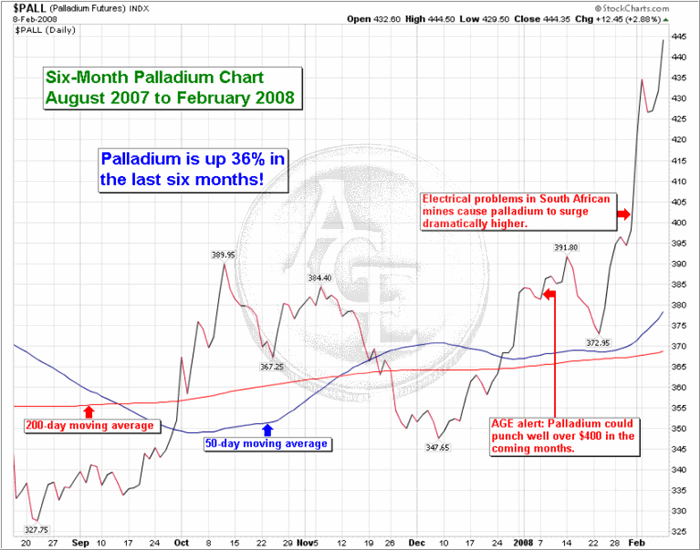 The latest palladium chart shows a similar spike in price to the one platinum has enjoyed since the South African mining problems started. When we alerted you in our last update that palladium could punch over $400 in the coming months, we did not anticipate these mining problems, so we've been handed a lucky card in the palladium market that we'll gladly play. Because gains in palladium over $395 (and platinum over $1,600) have been created by a temporary situation (although one that will not be quickly corrected), we're shifting gears towards caution in this market. Any good news from South Africa will cause palladium to fall sharply. Consider taking profits in the short term and converting to gold and silver. If you have questions, please call your account manager here at AGE.
Classic U.S. gold coins undervalued
Dealer inventories of classic U.S. gold coins around the country remain the lowest we've seen in years, despite higher prices. Ongoing instability and losses in most other asset classes (stocks, bonds, real estate) have increased demand for classic U.S. gold coins of all types, and created the conditions for explosive price appreciation. While precious metals have been surging over the last month, classic coins have been lagging in price, which has created a wonderful window of opportunity for the savvy buyer—one that will not remain open for long. As the metals continuing to gain, classic U.S. gold coin prices will follow. And even if precious metals stall or fall somewhat, coin prices should gain because of excessive demand.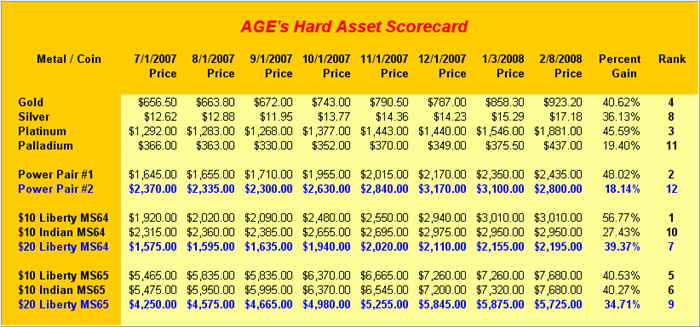 In last month's Hard Asset Scorecard, classic coins were leading precious metals in overall gains. This month, the surging metals have taken the lead, a change that underscores the excellent opportunities for coin buyers right now. Our Power Pair #2, consisting of one $10 Liberty MS63 and one $10 Indian in MS63, is now one of the best values in the classic U.S. gold coin market for conservative investors with a bias towards modest speculation. $20 Liberty gold coins in MS64 and MS65 condition are excellent values, too. These are the classic gold coins we recommend most highly right now. Silver has been flying out the door. For our best current recommendations in classic silver coins, please call 800-613-9323.
This week, we're off the Long Beach coin show in California, one of the better shows of the year. We expect to continue to find dealers aggressively competing on the bourse floor for quality gold coins of just about every type. Our new purchases will be posted to our inventory of U.S. gold coins next Monday, so be sure check them out.
Falling rates, falling dollar
In last month's update, we outlined the U.S. economic prospects for 2008, which we described as being unusually gloomy and recessionary. The intervening weeks have done little to improve the outlook. In fact, just the opposite—things looked rough then and, for all the same reasons and more, they look even rougher now. Home prices and sales continue to fall; bankruptcies and defaults are increasing; credit grows ever tighter; unemployment is rising; consumer confidence is flagging; and economic growth has all but stalled. It isn't pretty at all.
To be fair, though, a few small bright spots have appeared on the economic horizon. Insider purchases of stocks have increased over the past couple of months, which means corporate officers and directors are buying far more shares of their own stock than usual. According to MarketWatch's Mark Hulbert, corporate honchos receive so many shares in compensation that they typically sell far more than they buy. So this increase in buying is potentially bullish insofar as it shows these insiders to be quite optimistic about their company's—and, by extension, the economy's—prospects for growth. As Hulbert points out, according to the Vickers Weekly Insider Report, which tracks these sales through their required reporting to Security Exchange Commission, the sell-to-buy ratio stood at 1.39-to-1 for the eight week period ending February 1. Vickers considers any ratio below 2-to-1 to be bullish. The last time that it was actually this low was in November 2002, just after the 2000-2002 bear market hit bottom. (See full story.)
In addition, venture capital investments in U.S. startups climbed to a six-year high of $29.4 billion in 2007, raising hope that money will still be available for promising ideas even if the economy falls into recession. According to Thomson Financial, the amount of venture capital spread across 3,813 deals represents the industry's busiest year since $40.6 billion went into nearly 4,500 U.S. startups in 2001. And in 2001, VCs were actually curtailing their investments after the dot-com bust pushed the U.S. economy into its last recession. Many analysts look to venture capital funding as an indicator and engine of future economic growth. The industry's optimism stems from a belief that many of today's hottest concepts either are recession-resistant or are developing money-saving products that may have even more appeal during an economic downturn. (See full story.)
Despite these minor points of light, everywhere you turn the talk is of recession, and almost everyone is becoming anxious about their financial future. So, after months of downplaying risks to the economy, the Fed finally decided to act—and in a very big way—in mid-January with an emergency rate cut of 75 basis points before their scheduled FOMC meeting (the first such action since 2001), followed quickly by another cut of 50 basis points a week later when they convened, for a total cut of 1.25%, the largest in 24 years.
Most economists agree that lower interest rates will take some twelve months or more to percolate through the economy and provide any material relief to the credit markets. Still, the main intention behind the cuts is to bolster the plummeting stock markets in the short term by instilling confidence that someone is, in fact, in charge. But you know what they say about the best-laid plans of mice and men. Rather than bolstering faith, the emergency cut smelled of panic and the markets were hardly soothed, with the Dow dropping some 600 points in a single session within a week. The second rate cut did more to stabilize the markets, perhaps because it showed investors that the Fed would do almost anything to keep equity values high. But it's hard not to think that another 600 point drop is just one or two pieces of bad news away.
Perhaps more than any other Fed actions in the past decade, these rate cuts place the FOMC firmly in the camp of keeping asset values overly inflated, even at the risk of an ever-weaker U.S. dollar and massive price-inflation down the road. Indeed, many analysts believe these cuts are only the beginning in another round of loosening in monetary policy that will take the Fed funds rate down to 2% before this cycle is over—despite inflation running at about 4.1%, as measured by the Consumer Price Index in 2007. European central bankers, on the other hand, seem far more concerned about inflation, electing last week to hold ECB rates steady despite their own slower growth and falling equities. Of course, any increases in the difference between U.S. rates and those of other currencies will further undermine the relative strength of the dollar, and could motivate international investors to abandoned dollar-related assets en masse, which would be a very bad development for U.S. stocks and bonds.
But not every member of the FOMC is so blasé about inflation. Philadelphia Fed President Charles Plosser recently voiced real concern that an overly aggressive rate-easing campaign will undermine our future economic strength. Speaking to a group of Alabama business leaders last week, Plosser criticized what he called this "damn the torpedoes, full speed ahead" approach to easing monetary policy:
"There are those who have expressed the view that in times of economic weakness, the Fed must not worry about inflation and should focus its entire effort on restoring economic growth by dramatically driving interest rates down as far and as rapidly as possible." However, he added, monetary policy "cannot solve the bad debt problems in the mortgage market. It cannot reprice the risks of securities backed by subprime loans. It cannot solve the problems faced by those financial firms at risk of being given lower ratings by rating agencies, because some of their assets are now worth much less than previously thought." And, he concluded, ignoring inflation during times of economic weakness "risks undermining our ability to achieve economic growth over the long run." (See full story.)
After reviewing Plosser's litany of what these rate cuts can't do, you have to wonder what they can do, other than to create yet more bubbles in asset prices. The good news for gold investors is that the gold price, denominated in dollars, is almost certain to increase substantially as a result of these U.S. rate cuts.
Cheap money and free money
As if the Fed's policy of cheap money isn't enough, our political leaders have decided to go a step further and simply give cash away. Late last week, Congress and the president finalized a stimulus package that will distribute $152 billion in tax rebates to most American citizens. Under the bill, individuals with adjusted gross income of up to $75,000 would be eligible for a rebate up to $600, while married couples filing jointly with an AGI up to $150,000 would receive up to $1,200. Taxpayers would receive an additional $300 per child, with no limit on the number of child-based rebates. In other words, a couple with four children could enjoy up to $2,400, and a family with two kids could receive up to $1,800. Workers who don't earn enough to pay income tax but have earned income of at least $3,000 would be eligible for $300, or $600 for couples filing jointly. (See full story.)
The quixotic goal of this massive give-away is to stimulate faltering consumer spending by putting cash in the hands of people who are most likely to buy goods and services right away, thereby pulling the economy out of its downward spiral. Consumer spending, after all, accounts for 71% of GDP. In theory, this might sound like a good idea, but in reality it's likely to be a different story. First of all, most of the goods we buy these days come from overseas, so a large portion of the rebates will stimulate economies other than our own. Plus, recent surveys find that most recipients are planning to pay down debt or save the cash rather than spend it. After a decade of living beyond their means, running up record credit card debt and negative savings rates, most Americans have squandered this money long ago. Only 25% of those surveyed said they'd actually spend it—and the results did not vary by income level. (See full story.)
Bailouts and bankruptcy
The only thing we know for sure about the consequences of the stimulus package is that its costs will be added directly to our astronomical and potentially crippling budget deficit. In effect, Congress and Mr. Bush are paying for this program on a credit card; and as binge-buyers and subprime borrowers know too well these days, financing lavish expenditures on credit with no certain prospects for repayment is a recipe for bankruptcy. Whatever the short-term benefit might turn out to be, the long term consequence is likely to be an even weaker economy—or worse—if we don't get our fiscal house in order.
But if the new $3.1 trillion Bush budget is any indication, policy makers are still whistling in the dark about the long-term effects of our stunning national debt and future obligations. Together, diminishing revenues and the cost of the rescue package will create a huge increase in the deficit, pushing it up to $410 billion this year and $407 billion in 2009, according to the White House, which is close to the record $413 billion deficit set four years ago. But even these figures are likely to underestimate the actual deficits, since they depend on optimistic economic expectations and ignore the full costs of the war in Iraq. The Bush administration predicts the economy will grow at a rate of 2.7% this year, far higher than most economists expect. And the $70 billion figure allotted for the campaigns in Iraq and Afghanistan is almost certainly far less that the eventual costs will be.
The moment the next president steps into office, he (or she) will face extremely daunting fiscal challenges. As we've pointed out before, safety-net programs like Social Security and Medicare are radically under-funded to meet their growing future obligations, a fact that potentially puts our nation on a collision course with bankruptcy. Six months ago, David Walker, the U.S. Comptroller General, issued an unusually dire assessment of U.S. prospects in a report that lays out what he called "chilling long-term simulations" if U.S. fiscal policies don't change. We've cited Walker's report before but it bears repeating. Walker stated that the U.S. government is on a "burning platform" of unsustainable policies and practices with fiscal deficits, chronic healthcare under-funding, immigration, and overseas military commitments threatening a crisis if action is not taken soon. His views carry weight because he is a non-partisan figure in charge of the Government Accountability Office, often described as the investigative arm of the U.S. Congress. Unless our policies change, he warns, we'll be punished with dramatic tax increases, slashed government services, and the large-scale dumping by foreign governments of holdings of U.S. debt. His warnings have only become more important now, as our economy slips into recession and our debt grows larger once again. (See full story.)
Although scary, Walker's predictions promise to be very bullish for gold. The U.S. money supply is likely to keep expanding to cover our enormous and increasing trade imbalances, deficits, and debts. And as this sea of easy money continues to rise, one result is likely to be massive price-inflation both at home and abroad. Gold, as you know, is a leading hedge against inflation, and rises when the dollar falls.
As our friends Pam and Mary Anne Aden put it in the most recent issue of The Aden Forecast, a superb newsletter that analyzes all markets: "Simply put, gold is where you want to be. Silver is good, too. These are the best markets, and if you've been banking on other markets, then you've probably been disappointed." We heartily agree. After the recent round of rate cuts, even cash in money markets accounts, ordinarily a safe harbor during recession, has become a losing proposition in real terms. According to MarketWatch's Chuck Jaffe, the average money market fund now has a yield of 3.17%. By the time the Fed is done with this loosening cycle, yields are likely to drop to around 2.5%. (See full story.) With inflation running at 4.1%, that's a bad deal. And when inflation increases, it'll be a howling bad deal. Gold, however, gains when interest rates fall and when inflation increases. So whether or not the economy ends up tumbling into a full-blown recession, gold is likely to continue to post substantial gains, as it has for the past six years. We urge you to stock up now, while it's still relatively cheap. We're confident you won't be disappointed!
As always, thanks for your time.
Sincerely,
Dana Samuelson, President
Dr. Bill Musgrave, Vice President
Metal
Ask
Change

Gold

$1,780.89
$0.00

Silver

$18.21
$0.00

Platinum

$832.41
$0.00

Palladium

$1,973.67
$0.00
In US Dollars
AGE Gold Commentary
AGE Investor Alert!