AGE Gold Commentary is our regular report analyzing trends in precious metals and rare coins. We monitor domestic and international markets and extrapolate from our 30 years in metals to place current events into a hard asset perspective. View archives.
---
5/22/2008: Gold rising with stealth inflation
Source:
In this issue ofAGE's Gold Market Commentary:
Gold rising with stealth inflation
Classic U.S. gold coins deeply undervalued
Recession deepens despite spin
Inflation genie out of the bottle


Gold rising with stealth inflation
In this month's Gold Market Commentary, we discuss some significant changes in market drivers for precious metals, changes that should come to fruition in coming years and lead to even greater gains than we've seen thus far. The negative correlations between the value of the U.S. dollar and both gold and oil that have dominated the markets in recent years are changing while we speak. These changes, while perhaps confusing at the moment, will become clearer as time passes. They offer a tremendous opportunity for those who understand the fundamental seismic shift that is now occurring in the marketplace.
As you probably know, gold and oil are priced in dollars worldwide. As the dollar falls, gold and oil tend to rise, and visa versa. Gold and oil have surged dramatically in price over the last five years due to the deterioration of the U.S. dollar against other world currencies. Over the last six months, in particular, the dollar has fallen to its lowest level ever on the U.S. dollar index chart, and gold and oil have both set record highs.
Over the past year, much of the dollar's devaluation has been caused by the subprime mortgage fiasco and consequent credit crunch. Starting in last summer, as subprime mortgages started turning bad, banks began cutting off credit to individual borrowers and other banks, and the world's monetary system almost ground to a halt. In an effort to combat this crisis, the Fed and European central bankers injected massive amounts of liquidity into the world's financial markets. In effect, the printing presses have been running at full capacity, flooding the world with cheap money. Keep in mind, this paper tsunami comes after more than a decade of very loose monetary policies around the globe and especially here in the U.S., where M3 rose by 20% last year alone, according to The Aden Forecast.
While vastly increasing the money supply, the Fed has also been lowering interest rates, making money even cheaper. And in an unheard of move earlier this year, the Fed went so far as to bail out an investment bank (Bear Sterns) and drop rates on a Sunday night in an emergency attempt to forestall what it feared would become a systemic financial collapse. With inflation already rearing its ugly head, the Fed was given a choice of defending the dollar (and curtailing inflation) by raising rates or bailing out the U.S. economy by lowering rates, and it chose the latter, accelerating the decline of the buck. Unfortunately, these actions will also accelerate inflation, which is now becoming a major international problem.
As a result, the dollar has fallen so far it may have nowhere to go in the short term but up. Over the past month, oil has been decoupling from its inverse relation to the dollar; and gold, while down from record highs, remains resilient and is battling back. Gold seems to be going through a normal correction after a big gain, rebounding to over $930 in the last few trading sessions after dropping to $853 on May 1, the lowest close on the London fix since January 2.
We believe we're now entering into the next phase in this mega-bull market in commodities and gold, in which inflation will have a much greater influence on the gold price, as we discuss below. In other words, we're seeing the transition from a bull market driven by a falling dollar to a bull market driven by massive inflation. This transition is likely to be bumpy. But like gold's great bull market during the late 1970s, which was also driven by inflation and record oil prices, this next phase could propel the gold price into uncharted territory. Keep in mind, the 1980 high of $850 was the equivalent of $2,200 per ounce in today's dollars, so the gold price has room to run!
Let's look at the latest charts.
U.S. Dollar
Since the August 2007 peak of 81.86, the U.S. dollar has dropped dramatically against other world currencies. After falling to 74.82, its lowest level yet, it consolidated between November 2007 and February 2008, holding within a relatively stable trading range between 75 and 77 on the index chart. Then it took another steep dive, setting new all-time lows. The dollar's steep decline since August 2007 is a direct reaction to the Fed's continued policy of dropping U.S. interest rates. Since last summer the federal funds rate has been slashed nine times for a total reduction of 4%, completely undermining the ability of the dollar to hold value. Oil and gold both rose accordingly.
Over the last 50 to 60 days, however, we've started seeing the oil price separate from its inverse relationship to the dollar. To track these correlations on the respective dollar, oil, and gold charts below, we've marked correspondent points in time with #1, #2, and #3 in blue. As you can see, the #1 on the dollar index chart shows the dollar's last peak at 76.88, just before its steep dive to 71.50, which is labeled #2. This same time frame coincides directly with oil and gold continuing to rise, with both setting new all-time highs.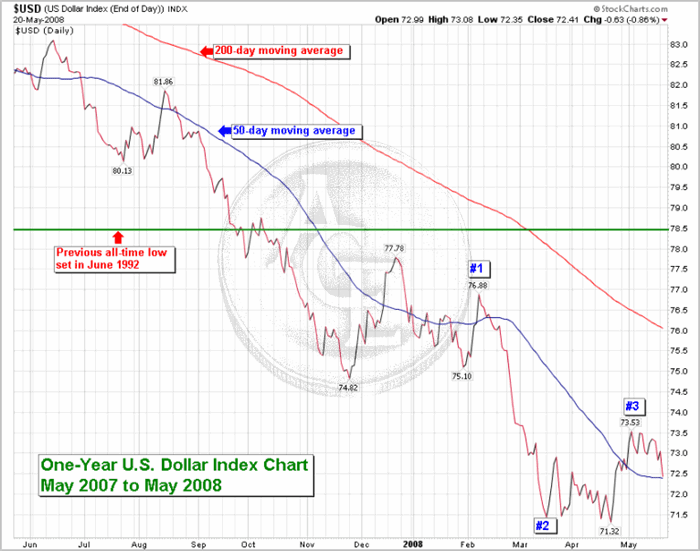 #2 on these charts marks the day the Fed bailed out Bear Sterns, the failing investment bank. As we discussed in our last update, this response to the unfolding credit crisis helped to replace panic with relative calm in financial markets. As a result, gold fell sharply. While gold and the dollar have pretty much remained in negative correlation since, as indicated by their changes in value between the numbers #2 and #3, oil clearly has separated itself from its negative correlation to the dollar, continuing its relentless climb higher while the dollar and gold have channeled in price.
If you compare the market direction occurring between points #2 and #3 on all three charts, you will notice that the price is rising on the dollar chart and falling on the gold chart, which is normal and shows their traditional negative correlation. Normally oil would follow gold lower during a phase when the dollar is rising. What we're seeing now, however, is a rising oil price between points #2 and #3 at the same time that the dollar is rising in value. This is the first time we have seen both oil and the dollar make a sustained move in the same direction at the same time in this bull market.
This change is one indication among many that commodity inflation, rather than dollar weakness, has started driving the oil price. If this occurrence turns into a trend, it will signal an important shift in gears—potentially an explosive shift—for the gold price, which could rise very high on the back of burgeoning global inflation, as it did in the late 1970s, irrespective of dollar strength or weakness. Time will tell.
Oil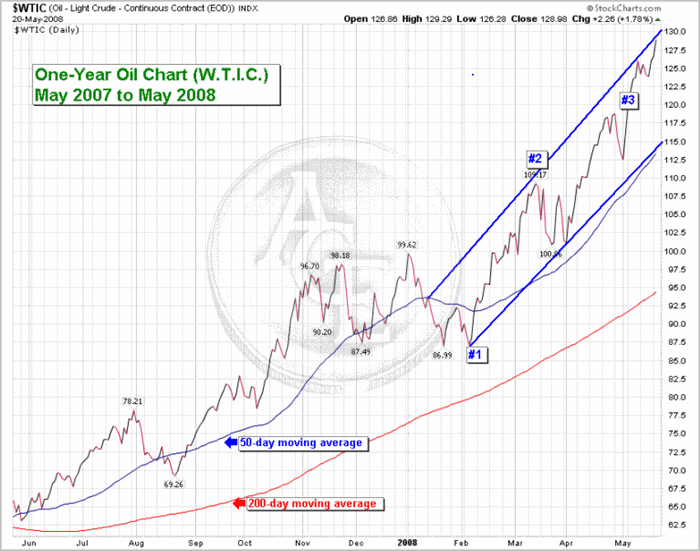 The separation of oil from the dollar suggests that a new phase is beginning in commodity prices, wherein global inflation, especially in commodities, will outstrip dollar weakness as the drivers of both oil and gold prices. The separation we see in the trend lines for oil and the dollar suggest that this is now beginning to occur. Certainly, speculators are driving the oil price somewhat, but most analysts believe oil is rising primarily on solid fundamentals of supply and demand, with speculation adding some froth but not too much. In fact, Goldman Sachs predicted last week that oil will average $141 per barrel in the second half of 2008, based on market fundamentals, and could broach $200 in a peak-oil scenario.
Gold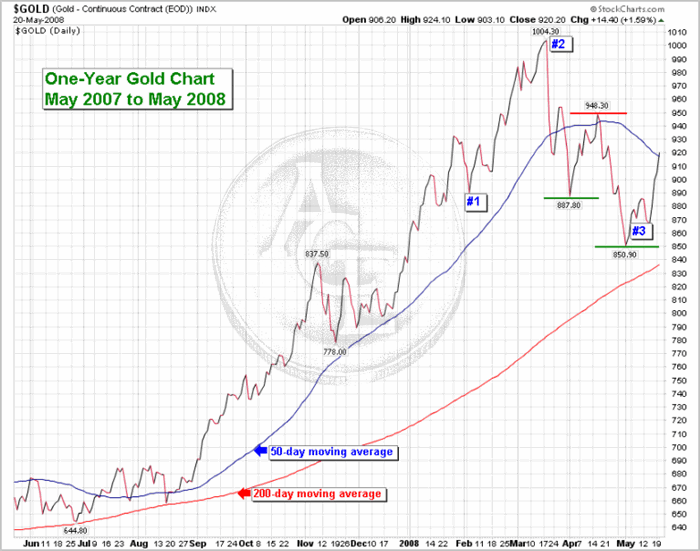 It's pretty clear now that many of the big speculative positions that accumulated in precious metals last year headed for the exit when the Fed bailed out Bear Sterns. Since peaking in March, gold, silver, and palladium all fell sharply, rebounded, fell further to a bottom, and are now rising back towards fair value again. Platinum is enjoying somewhat better support but has essentially followed the same trend lines as the other metals.
Since bottoming around $850 on May 1, gold has been moving up, cautiously at first and now sharply higher in price. This week it regained $930, showing great strength over the last several trading sessions in particular. With the dust settling, it appears gold will enjoy support above $890 and upside resistance between $950 and $960 in the near term. So look for $890 to $950 as a trading range in coming weeks. Late spring and summer are typically quieter times for precious metals and usually offer some of the best buying opportunities of the year.
Silver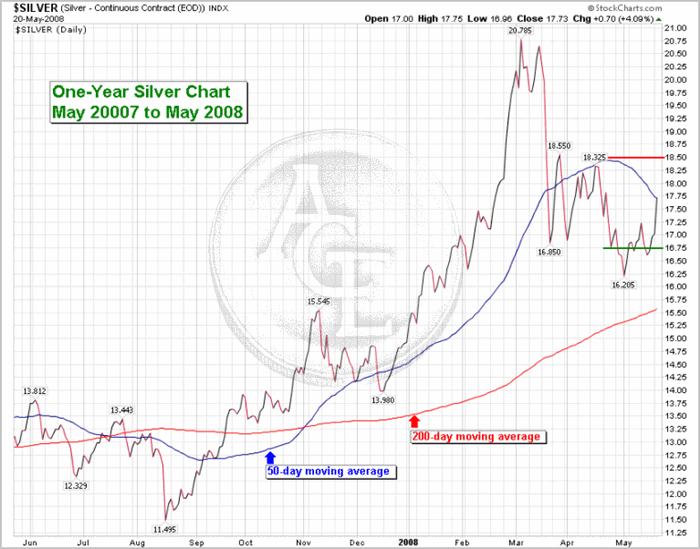 Since our last update, silver has followed the same trading pattern as gold but with more volatility, as usual. Both metals were oversold when they bottomed in early May at $16.20 and $850, respectively. As we go to press, silver has moved back to $18, with strong support just under $17 and upside resistance at $18.50 in the short run. We continue to believe silver is dirt cheap under $18.50 and a great buy under $20. While it might not break $20 again right away, we fully expect silver to go much higher than $20 as this bull market progresses. Buy silver on weakness under $18 and load up under $17, should we see that opportunity again.
Platinum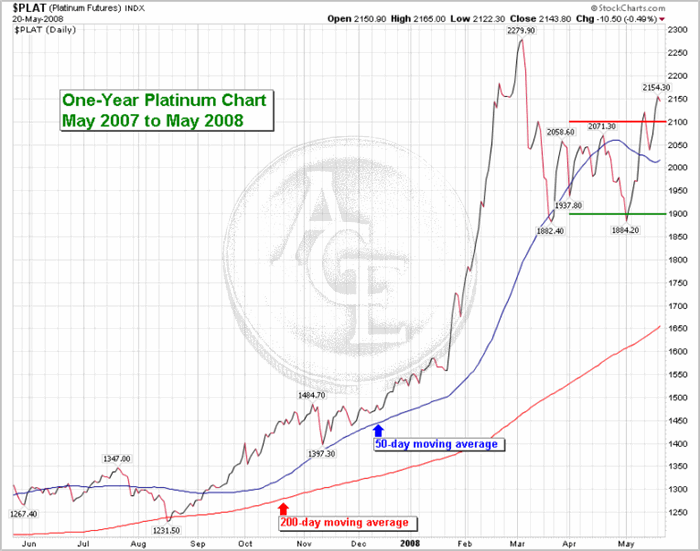 As we go to press, platinum is surging in price, pushing towards $2,200. It's highly overvalued, in our opinion. Ongoing electrical problems in South African mines have contributed to these record high prices, and the latest news out of South Africa is not good. Waves of immigrants are flooding into what many consider the best economy on the continent, competing for jobs with poor South Africans and creating violent social unrest. This violence will undoubtedly abate, but the underlying problems will likely persist. We continue to side step the pricey platinum market for our favored palladium.
Palladium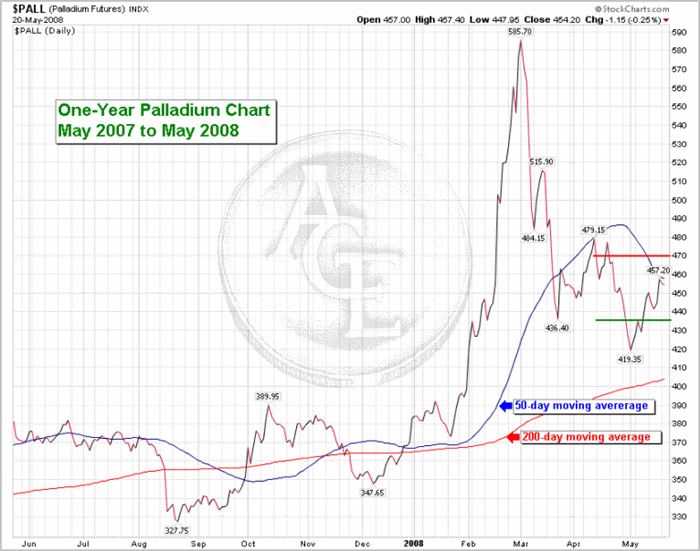 Like platinum, palladium spiked to remarkable levels earlier this year only to give up most of those gains. Since our last update, it set a tiered double-bottom and is rising sharply again, now trading around $460. We expect upside resistance at $470 and strong support at $435. Last time, we said palladium was a good buy under $425 and a great buy under $400. Congratulations to those of you who bought under $425!
Classic U.S. gold coins deeply undervalued
Classic U.S. gold prices have moved lower since our last update, in sympathy with lower precious metals prices and as a normal seasonal consequence of tax time. Although dealer inventories have increased somewhat, the availability of nicer coins for-the-grade on the national market remains very thin. A number of our favorite portfolio-builders overreacted to the recent metals pullback and are now substantially undervalued, offering great buying opportunities. Our current best buys are listed just below.
Coins undervalued by 20% or more in the current market:
$10 Liberty MS63
$5 Indian MS63
$5 Liberty MS64
Coins undervalued by 15% or more in the current market:
$20 Liberty MS64
$10 Liberty MS64
$10 Indian MS64
$5 Indian MS64
We expect classic coin prices to rebound soon, so get them while they're cheap!
Recession deepens despite spin
In our last update, we discussed the ways in which the current recession (let's call a spade a spade, even if the government insists on calling it a diamond) is likely to be longer and deeper than administration officials and the mainstream media are ready to admit. In large part, as we said, this recession is being driven by the alarming disappearance of the American consumer. Much government data has been published over the last month that would seem to deny that we're in a recession at all, and much of it—like the official GDP, unemployment, and inflation figures—is rather suspect, as we'll discuss below. One report that rings true, however, is about consumer sentiment. The U.S. consumer sentiment index declined to 62.6 in April—the lowest level in 26 years—from 69.5 in March, according to the latest gauge compiled by the University of Michigan/Reuters. Economists were looking for an April result of 63.0, so it was even lower than expected and signals even greater economic weakness ahead.
"The recent acceleration in the loss in confidence indicates a longer and potentially deeper recession," according to Richard Curtin, survey director. "All households now anticipate smaller income gains and larger price increases, as just one-in-five now expect their overall finances to improve during the year ahead, the least favorable reading in more than a quarter century." (See full story.)
Tight or nonexistent credit, declining employment, and, most of all, skyrocketing (if largely unreported) inflation have combined to create an extremely chilly atmosphere for spending. And since consumer spending accounts for more than 70% of GDP, we can expect the economy to shrink further before it starts to expand. Certainly, the credit crisis is far from over. Banks continue to shut down their lending in response both to rising risks of default and to the pressures to rebuild their capital base. The Fed has flooded the banks with up to $462 billion in liquidity, in addition to the nearly unlimited funds available through the discount window and the primary credit dealer facility. It has badgered banks to resume lending to their best customers, but to almost no avail.
With reduced consumer sentiment eating into retail sales and substantially tighter credit constraining individuals and businesses, the recession is far from over. These are just a couple of reasons why the official Gross Domestic Product report released earlier this month doesn't accurately reflect the lived experience of most Americans, who are definitely feeling recessionary pain. According to Bureau of Economic Analysis figures, GDP increased at a 0.6% annualized rate in the first quarter of 2008 after a 0.6% gain in the fourth quarter of 2007.
That's growth at a snail's pace, but does it mean recession? The government wants us to believe it doesn't. The calculation of GDP, however, is more or less an accounting gimmick and not an accurate reflection of economic reality. It includes inventory stockpiling and export growth, things that don't really increase the living standards of Americans. It also includes defense spending, which aids on paper a very limited economic sector at the cost, today, of ballooning deficits that will damage us tomorrow; and it factors in an artificially low inflation rate, which we'll discuss in a minute. So, for the first quarter, almost all of the reported expansion in GDP came from inventory growth and exports, with very little increase in either the amount of money individuals or companies earned, or in the things American households and businesses bought.
Because some people use the old rule of thumb that a recession is defined as two consecutive quarters of declining GDP, nudging the number into positive territory gives the administration technical bragging rights that a recession has been avoided. Yet the margin of error in GDP calculation is plus or minus 3%, which renders moot that bit of spin. The average person judges a recession mainly on employment. If jobs are available, then the economy is holding up. If jobs are scarce, the economy is poor. By that standard, the economy is really struggling, with payrolls down in each of the first four months of the year. But the headline figures, again, don't reflect the lived reality of Americans. At 5.0% in April, down from 5.1% in March, the current BLS unemployment rate is relatively low by historical standards. Yet the number of jobless Americans of prime working age, that is, men aged 24 to 54, is historically high at 13.1%. Most of these people don't qualify as unemployed but they are nonetheless out of work.
Why don't these would-be workers show up in the headline statistics? Mainly because the government's definition of the unemployed includes only people who do not have a job, have actively looked for work in the four weeks preceding the survey, and are currently available for work. But it excludes the self-employed, 1099 workers who can't get enough contracts, those working part-time or on commission only, and the under-employed (like real estate agents waiting tables or mortgage brokers bagging groceries). It also doesn't count those who've given up looking for work altogether—a category known as "discouraged workers," defined as persons not currently looking for work specifically because they believe there aren't any jobs available for them. Some analysts say this particular group of jobless Americans—who believe their prospects for finding a job are getting ever dimmer, yet who don't figure in the computation of the unemployment rate—represent the nation's dire job situation. According to John Williams' Shadow Government Statistics, the primary source for unbiased economic data, if adjusted for "discouraged workers," the actual unemployment figure for April rose to 13.1%, up from 13.0% in March. Now that's recessionary!
Inflation genie out of the bottle
Of all the incredible statistics fed to Americans recently, perhaps the most patently absurd—and the most dangerous to our future financial wellbeing—are about inflation. Until recently, inflation has not been much of an issue in U.S. policy, but that's about to change. The Fed is increasingly concerned with the uptrend in prices, especially food and energy, while the U.S. economy is slowing down. In the 1970s, we called this curse stagflation and it is back. Some of the inflationary pressure comes from abroad. For over a decade, we imported price deflation primarily from China and India in the form of cheap labor, goods, and services. Today, that very same pool of cheap labor has earning power and new money to spend, and is competing for the same goods and services we are. Growing demand in India and China, in particular, is creating strong upward price pressure on commodities, food, and natural resources. So, the cheap labor in China and India that kept prices low for so long is now having the opposite, inflationary effect.
There are 2.4 billion Chinese and Indians combined, totaling eight times the U.S. population. They're hungry, increasingly mobile, earning their way out of poverty for the first time, and helping to strain supplies of the world's finite commodities. Pair this with global money supplies that have been gushing with new paper and you get a recipe wherein more paper chases after fewer available goods. It's no wonder prices for everything we need to consume on a daily basis are suddenly rising. This situation has been building for several years and now it's arrived in earnest. Since May of 2007, just one year ago, prices for daily necessities have jumped dramatically.
Changes in world prices since May 2007, according to Time Magazine:
Oil – up 89%
Meat – up 12%
Dairy – up 24%
Cereals – up 89%
Oils and fats – up 77%
Sugar – up 40%
With these fundamental necessities skyrocketing in price around the world, we have to ask, how can the official U.S. measurements of inflation be so benign? The answer, of course, is they cannot. According to the most recent Consumer Price Index report, April year-over-year inflation was running at 3.94%, down from 3.98% in March. While these figures are alarmingly high, and certainly higher than the Fed's target rate of around 2.2%, they are nowhere near the real figures. John Williams argues convincingly that CPI measurements have been systematically understated since the early 1990s in order to reduce the burden placed by entitlements, such as social security, on the federal the budget and bring the deficit under control. Behind this movement were financial luminaries Michael Boskin, then chief economist to the first Bush Administration, and Alan Greenspan. According to Williams:
"The Boskin/Greenspan argument was that when steak got too expensive, the consumer would substitute hamburger for the steak, and that the inflation measure should reflect the costs tied to buying hamburger versus steak, instead of steak versus steak. Of course, replacing hamburger for steak in the calculations would reduce the inflation rate, but it represented the rate of inflation in terms of maintaining a declining standard of living. Cost of living was being replaced by the cost of survival. The old system told you how much you had to increase your income in order to keep buying steak. The new system promised you hamburger, and then dog food, perhaps, after that" (The Consumer Price Index).
As one of the original architects of the CPI, Williams is in a position to know how it has morphed from its original structure, and his illuminating website tracks it and many other government statistics according to their original measures. If we return to the pre-Clinton standards of measuring CPI, Williams says, the alternative calculations show April inflation running at roughly 11.5%, versus 11.6% in March! That means the difference between reported inflation and "real" inflation is around 7.6%!
These numbers are alarming but they make a lot more sense to real people, especially when the IMF says food prices rose 43% last year while the BLS says U.S. food costs were up only 5.1%. Gasoline prices rose 5.6% in April, according to BLS numbers, and 20.9% compared to a year ago. But the seasonally-adjusted gasoline prices used in calculating the official headline CPI number supposedly declined by 2.0% for the month. Of course, the financial media and markets concentrate on the seasonally-adjusted aggregate series, which minimized energy inflation thanks to this reported weakness in gasoline.
Increasingly, the mainstream media is waking up to the unreality of official inflation numbers. USA Today ran a story about the CPI with the revealing headline, "Inflation May Be Worse than Consumer Price Index Shows," citing this comment from the Wachovia Economics Group on the seasonally adjusted drop in the price of gasoline: "The drop makes absolutely no sense. Where does the BLS buy their gas?" (See full story.) And the L.A. Times cited the assertion from Scott Anderson, senior economist with Wells Fargo & Co., that the data released by the Labor Department "weren't worth the paper they were printed on." (See full story.) We think he has a point! And as reported by MarketWatch's Paul B. Farrell earlier this week, Harper's Magazine recently publish an article by Kevin Phillips entitled: "Numbers Racket: Why the Economy is Worse than We Know." A former Republican strategist for Nixon, and today one of America's leading political historians, Phillips states: "Based on the criteria in place a quarter century ago, today's U.S. unemployment rate is somewhere between 9% and 12%; the inflation rate is as high as 7% or even 10%; economics growth since the recession of 2001 has been mediocre, despite the surge in wealth and incomes of the superrich, and we are falling back into recession." (See full story.)
So the chickens are starting to come home to roost, the roosters in the media are finally starting to crow about it, and gold will be the primary beneficiary. The questions now are whether the dollar will rally from its all-time lows, and whether precious metals and oil will slump with a rising dollar, as we would normally expect. We believe the answers are no. In the short run, we may see oil and precious metals fall with a rebounding dollar; but the dollar can only rebound so far, even behind future rate increases, until the fundamental financial imbalances—budget deficits, massive debt, trade imbalances, and unreported inflation—in the U.S. economy are dealt with, and that will take years.
Instead, we expect the gold market to enter a powerful new phase driven by the mega-inflation that is already rampant, if unreported, in our economy. We believe we are on the cusp of this transition now. And those of you who remember what happened to gold during the 1978 to 1980 period of super-high inflation will understand how explosive this part of the bull market in precious metals can become. The lull we are experiencing now may be the last one before prices break sharply higher into a full-blown, inflation-driven bull market that could easily propel the gold price into the $1,500 to $2,000 range, if not higher. We urge you to stock up now while prices are still low.
As always, thanks for you time!
Sincerely,
Dana Samuelson, President
Dr. Bill Musgrave, Vice President
Metal
Ask
Change

Gold

$1,788.24
$0.48

Silver

$18.38
$-0.03

Platinum

$840.89
$-0.81

Palladium

$1,989.60
$5.76
In US Dollars
AGE Gold Commentary
AGE Investor Alert!