AGE Gold Commentary is our regular report analyzing trends in precious metals and rare coins. We monitor domestic and international markets and extrapolate from our 30 years in metals to place current events into a hard asset perspective. View archives.
---
6/30/2008: Precious metals finding direction
Source:
In this issue of AGE's Gold Market Commentary:
Inflation, the thief in the night
Precious metals finding direction
U.S. gold coins dramatically underpriced


Inflation, the thief in the night
Imagine waking up one morning to discover that a thief had not only visited your house in the night but he's still in your kitchen, drinking your coffee and asking what's for breakfast. Well, this is how we're all feeling these days with the brazen arrival of inflation in our homes and businesses. Rising inflation and a weak U.S. dollar are stealing our standard of living right before our very eyes. While most Americans are preoccupied with falling home values, crumbling stock markets, and whether the next President will raise taxes, inflation has quietly taken root and is growing like Georgia kudzu, threatening to smother all growth beneath it.
Just about everything we consume on a daily basis has become dramatically more expensive in first half of 2008. According to The Economist Commodity-Price Index, the costs of all commodity items have risen 31.6% since June 2007, with food up a whopping 61.7%. And, as you probably know, oil has doubled in price since last June, leaping from around $70 to $142 per barrel in twelve short months. Suddenly inflation has become a global phenomenon and it's decided to move in and stay a while.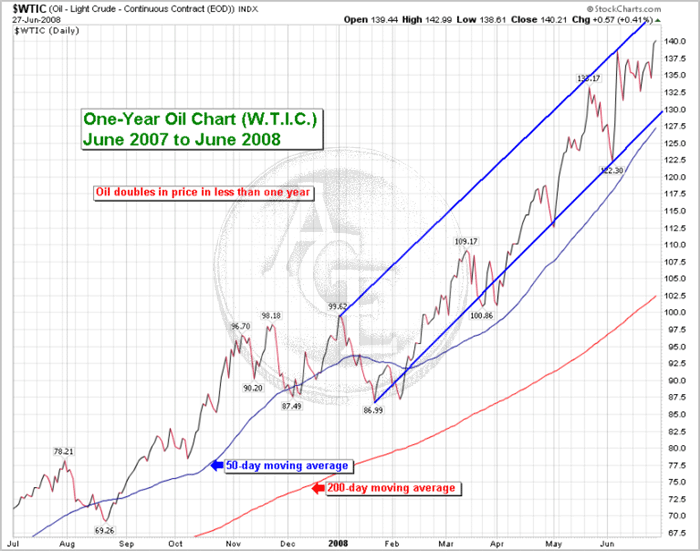 Over the last month to six weeks, the market for oil has been one of the few not seeking a direction—mainly it's just been going up. No wonder so many investors are flummoxed. Like quicksand, the fundamentals underlying the global economy are shifting and weakening, almost on a daily basis. The U.S. dollar has rebounded from all-time lows but not by much and perhaps not for long. While foreign central bankers are busy raising rates to combat inflation, the Fed, as evident in last week's FOMC policy statement, can raise little more than the pitch of its rhetoric for fear of snuffing out any hope of economic recovery. As soon as the Fed announced last Tuesday that interest rates would remain unchanged—after jawboning for weeks that the dollar was too weak and inflation was a growing concern—gold quickly jumped $50 an ounce from $880 to $930 an ounce in three trading sessions. The USD quickly lost ground and the Dow plummeted to its lowest point since 2006.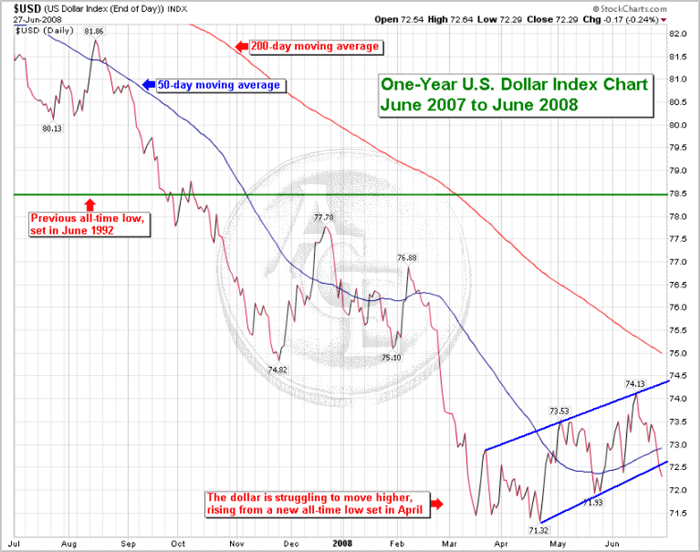 The U.S. dollar had been trending higher, setting higher highs and lows since bottoming at 71.32 in April on the U.S. Dollar Index chart. Last week's Fed decision to hold interest rates undermined support for the dollar internationally, as expected. As we go to press, the dollar is moving just below the modest upward trend line that's been developing since mid-April. Until the dollar either moves above the November 2007 low of 74.82 or below the April 2008 low of 71.32, a clear direction will not be established. While the 50-day moving average is now turning up, the 200-day moving average remains decidedly negative. Remember the old trader's adage, the trend is your friend. The general trend for the USD remains decidedly negative.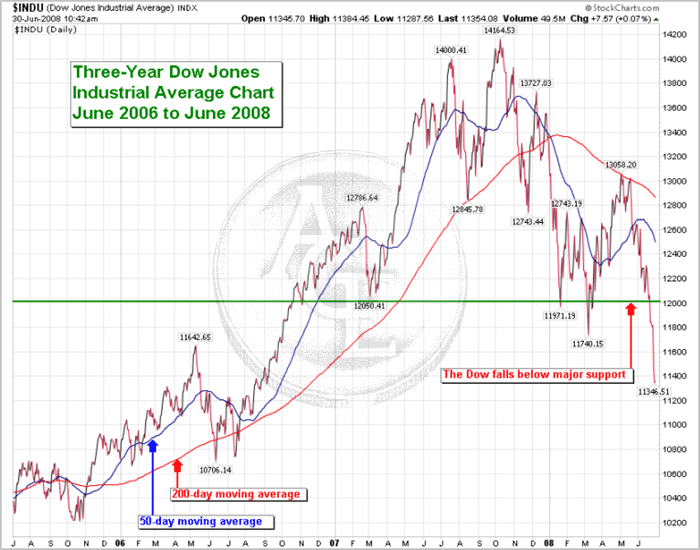 In the past week the Dow Jones Industrial Average has fallen sharply and it's important to put the Dow decline into perspective. The current sharp spike below major support at 12,000 reveals tremendous weakness from a technical stand point. The DJIA chart now shows a classic right shoulder, head and left shoulder formation, which suggests further and possibly substantial losses are possible. Technically, this market now looks poised to fall further and test previous support at 10,200.
Precious metals finding direction
In our last update, we explained the transition currently underway in precious metals from a market driven by the weakening U.S. dollar to one driven by inflation. This change brings explosive upside potential, as we saw in the late 1970s, but it promises to be a bumpy one. In the past month, for example, it hasn't been unusual to find gold up $20 on Monday, down $20 on Tuesday, up $20 on Wednesday, down $15 on Thursday and up $5 on Friday for a net weekly gain of $10—and a few new gray hairs!
What's important to remember is that the major trend of the last five years remains firmly in place, and that trend points to a much higher gold price. In the current financial environment, gold is one of the few assets to provide insurance from the instability of rising inflation, a declining dollar, a weakening U.S. economy, and volatile stock markets. Remember, in 1980, the only financial asset to set a new record high along with skyrocketing inflation was gold.
As we go to press, precious metals markets are once again firming up, rising from recent lows and moving above their recent trading ranges. Our regular readers and customers know that late spring and summer frequently offer some of the lowest prices of the year for precious metals. Classic U.S. gold coins are particularly underpriced right now, offering what may well prove to be the best buys for quite some time. While precious metals will be subject to choppy trade and perhaps a surprise or two before summer passes, classic U.S. gold coins at today's low prices offer greater value, stability, and profit potential as we make our way through these troubling times.
Gold
After surging from $650 in August 2007 to over $1,000 in mid-March 2008, its highest price ever, gold entered the typical consolidation phase that follows a major upturn. Impressively, though, it has held most of the gains achieved during this historic run, which bodes very well for its fundamental strength going forward. Trading primarily between $870 and $910 since March, with the occasional feint higher or lower, gold is around 5% cheaper than it should be at present, in our judgment.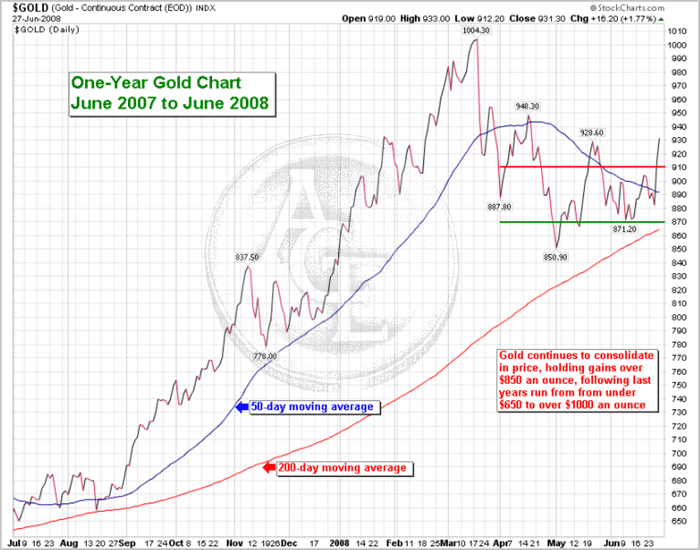 If you're a day trader who's been lucky or skilled enough to stay on the right side of gold's recent daily price swings, then you are a happy camper. If you're a long-term investor you've probably grown a little confused by all the recent volatility. Don't be. In our opinion, gold is simply in the normal consolidation phase that historically follows a period of big gains, and the increased volatility is a marker of the current economic tumult in all financial markets that will ultimately benefit gold.
But unlike its protracted 18-month consolidation after surpassing $730 in May 2006, the current one promises to be short-lived, more like a typical summer lull. What's different this time? We believe the transition into an inflation-driven bull market will not only support the gold price but push it much higher by the year's end. In 2006, gold was really an inverse dollar-play. In a full-fledge inflationary environment like the one we're entering, the gold price will not be bound as much to movements in the U.S. dollar and can deliver truly explosive gains on its own powerful fundamentals.
Some of you undoubtedly remember gold's progress in the 1970s when it surged from $35 to $195 an ounce (1971 to 1975), pulled back to $105 (1975 to 1977), and then rocketed to $850 (1977 to 1980). In our judgment, it's now entering a very similar kind of bull market driven by record-high oil prices, escalating conflicts in the Middle East, and the dangerous combination of inflation and recession known as stagflation. When all is said and done, we continue to believe, the gold price will reach $1,700 or more. Remember, the 1980 high of $850 is equivalent to $2,200 in today's dollars, so gold has plenty of room to run before setting a new record high in real terms. Within the present economic context of exploding global inflation, a continuing credit crunch, and a still-bursting housing bubble, $2,200 an ounce doesn't seem far-fetched at all.
Silver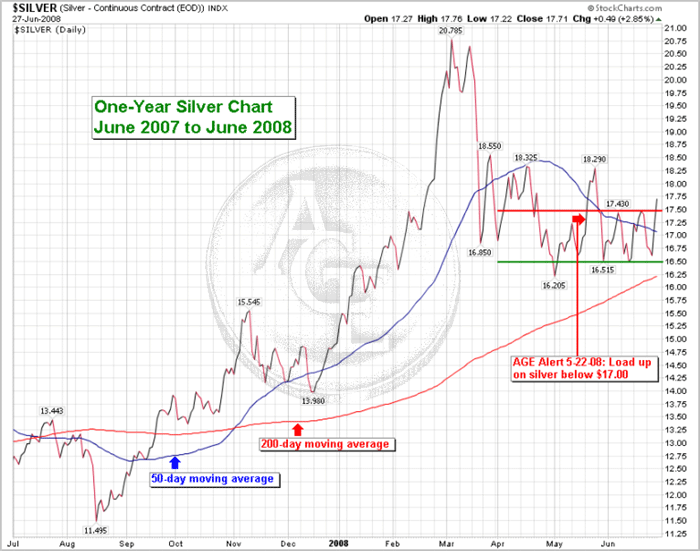 Like gold, silver has been very choppy over the last six weeks. Trading primarily in a $16.50 to $17.50 range with the occasional punch higher or lower, it's been consolidating after hitting new all-time highs near $21 in March. We believe silver is currently undervalued by at least a dollar an ounce, and should be trading today between $17.50 and $18.50. In our last update, we advised you to load up on silver under $17, and many of you took our advice. You'll be glad you did. For those readers still on the fence, silver continues to offer a tremendous buying opportunity under $17.
Stunningly, major mints around the world have been unable to produce enough 1-ounce silver bullion coins to meet demand this year. During all of 2007, the U.S. Mint sold around 10 million 1-ounce silver eagles. So far in 2008, with the cycle only half over, they've already taken orders for the same amount. This doubling of demand for silver bullion has completely strained supplies to the point where the Mint, for the first time ever, has intermittently stopped delivering silver eagles to distributors. Other major producers like the Royal Canadian Mint, the Austrian Mint, and even private silver bar manufacturer Johnson Matthey have also been forced to interrupt deliveries. Despite this unprecedented depletion of reserves, the price remains relatively calm and even lower than one would expect. We believe this supply shortage is a leading indicator of things to come and will help propel silver much higher with the next wave of demand this fall.
Platinum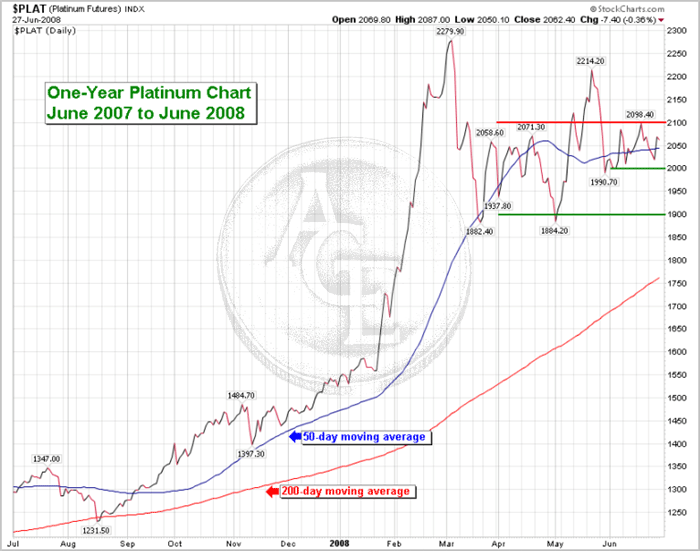 Platinum has been trading primarily in the $2,000 to $2,100 range since our last update. Mining problems and civil unrest persist in South Africa, straining its ability to produce platinum and palladium. Platinum production there fell almost 5% from 2006 to 2007—even while global demand rose. It is up about 50% in price from one year ago. In our assessment, platinum is overvalued relative to the other metals. And considering its greater volatility, with price swings of 15% not uncommon since May, we think palladium in the better buy.
Palladium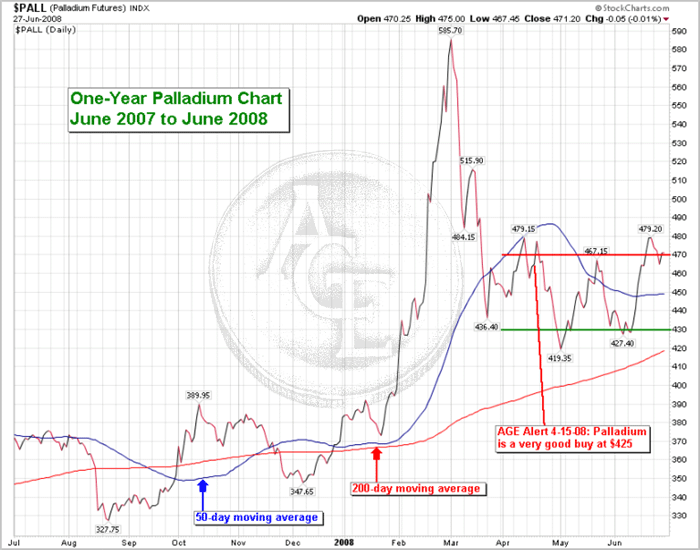 After peaking at $585 earlier this year, palladium has been trading primarily in a range between $430 and $470. In our last update, we advised that palladium was a very good buy at $425. We virtually hit our target price when palladium traded as low as $427 earlier this month. Since then palladium has rebounded nicely, running back up to the top of its primary range near $470.
Demand for palladium rose about 7% in 2007 while production fell about 1%. Production in 2008 could fall much further due to the problems in South Africa and reduced exports from Russia. CPM Group expects palladium surpluses to fall sharply to 56,000 ounces in 2008, down from 548,000 in 2007 and 1.13 million ounces in 2006. In addition, skyrocketing gasoline prices are increasing U.S. demand for new fuel-efficient cars. This shift in consumer preferences bodes very well for further gains in palladium because of the metal's use in catalytic converters.
U.S. gold coins dramatically underpriced
Classic U.S. gold coins have overcorrected downward in price during the current consolidation period and are now extremely inexpensive. We've seen two major peaks in classic gold coins in this six-year bull market. The first came in the spring of 2006, following the stunning gold bullion run from $450 to over $700 an ounce. The second peak came in the March of this year, again on the heels of a historic gold bullion rally, when the gold price skyrocketed from $650 to over $1,000 for the first time ever.
During both the 2006 and the 2008 price peaks, the national inventory of classic U.S. gold coins dwindled to as low as we have seen it in almost 30 years of continuous trading. Nonetheless, during the latter part of the 2008 peak, demand for classic coins was actually lower than during the same phase in the 2006 cycle.
Why this reduction in demand? The best explanation is that the average investor's mentality shifted into crisis-management in the aftermath of the subprime debacle that emerged last summer and the inflationary recession that's following in 2008. New investors entered the gold market in unprecedented numbers this year but they've poured money mainly into bullion, more interested in protecting their assets than in assuming any more perceived risk—even at the expense of forgoing the added profits that classic coins can bring. While we certainly understand this crisis mentality, we believe it to be short-sighted. Classic coins offer the portfolio protection of gold bullion with little additional risk. Plus, they can provide substantial leverage to the rising gold price, as we've seen throughout most of this historic bull market.
We can't stress enough what unusually good buying opportunities exist right now in certain sectors of the classic coin market. Prices for some of our favorite portfolio-builders are at basal levels, and offer one of the most conservative buys we've seen in years relative to bullion or mining shares. National dealer inventories barely exist. While prices are incredibly low, available supplies are even lower, creating a true market anomaly that's ripe for exploitation by savvy investors. Even a small surge in sustained demand can send prices sharply higher. While this unusual pricing advantage may continue for a few weeks, it won't last long. Shifting some of your assets from the crumbling stock markets into classic U.S. coins could prove to be one of the safest and smartest investment decisions you make this year. Plus, these old coins are beautiful, historic, offer complete financial privacy, and provide real pride of ownership.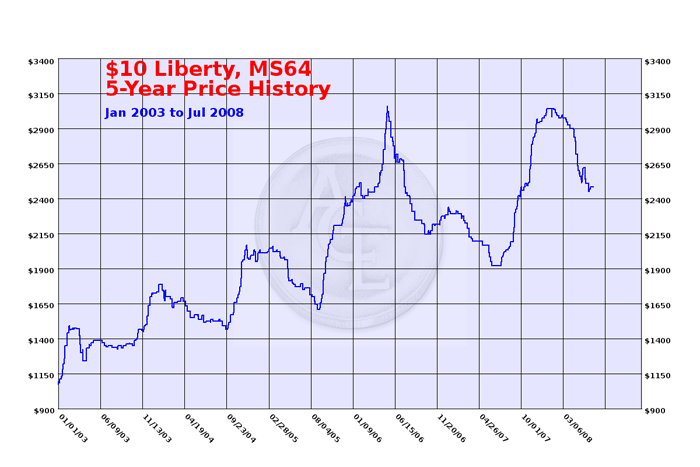 $10 Liberty gold coins in Mint State 64 condition embody all of the fundamentals we love in classic U.S. gold coins: popularity, scarcity, liquidity, and price performance. Millions of these coins were minted between 1866 and 1907, but today there are only about 16,250 known survivors in near-gem Mint State 64 condition, all dates combined. This is real scarcity.
With a price-performance peak of $6,300 in 1989, these are blue chip coins that have a proven track record. As you can see by the price chart above, they've been steadily building in price over the last five years with annual peaks and valleys. When you can buy these 100-year old coins at the bottom of their annual cycle, where they reside today, they offer minimal downside risk with enhanced upside profitability.
Trading today at a little under $2,500 a coin, we believe they are undervalued by about 12% to 20% in the current market and could easily double in price in the coming two to four years as this bull market continues to evolve. This coin earns our highest recommendation today for low downside risk with strong short-term and long-term upside potential.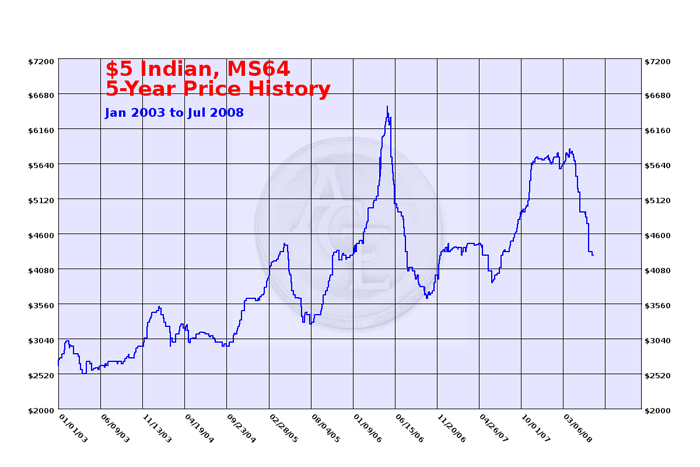 $5 Indian gold coins in Mint State 64 condition are another superb value right now. With a total known survival rate of just 10,656 coins, all dates combined, and with only around 1,300 specimens grading higher, this issue is the scarcest of the eight classic U.S. gold coin types. Currently trading for around $4,300 each, and with a price-performance peak of over $10,800 in 1989, they're an excellent value today with huge upside potential.
We started recommending this coin in the autumn of 2006, during the price trough following the May 2006 peak. It's now in a similar price trough and is an exceptionally good value, offering very strong upside potential with little downside risk at these prices. Plus, the $5 Indian is the key coin in the popular four-piece Indian set promoted by many telemarketers in our industry, which will help to drive the price higher when demand kicks back in. The next time this happens, we'll be taking fat profits!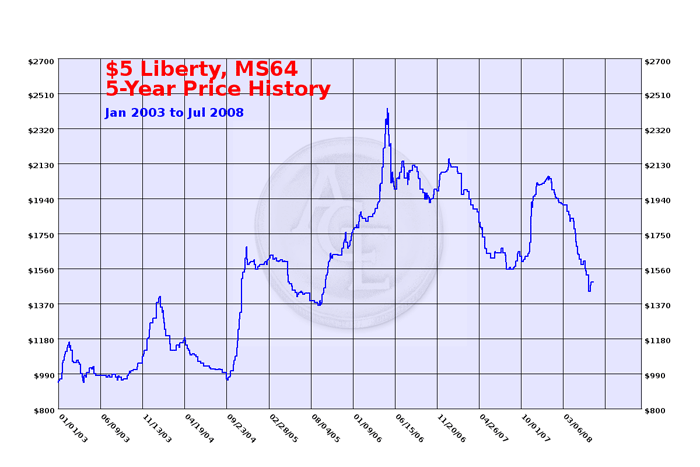 $5 Liberty gold coins in Mint State 64 condition are real sleepers. With a total known survival rate of just under 20,000 pieces and fewer than 5,000 specimens grading higher, they're much scarcer than most people realize. Currently trading for around $1,500 each and with a price-performance peak of more than $6,200 in 1989, they're a screaming bargain today and receive our highest recommendation.
Because they are smaller than the $10 and $20 gold coins that comprise the lion's share of many hard asset portfolios, $5 Liberty coins are often overlooked by investors. Yet they offer a tremendous amount of scarcity and that's what matters most in an aggressive coin market. When this coin drops to basal value, as it has in recent weeks, it's a very smart contrarian buy.
All three of these classic coins provide terrific value and offer superior upside in today's market. We've also identified several others with similar fundamentals and price patterns. Please speak to your account manager at 1-800-613-9323 to determine what might best suit your own portfolio needs and desires. Once again, we read this market as being in a temporary lull before a big push higher. This summer should prove to be the best buying opportunity for 2008—and perhaps for several years to come—in classic U.S. gold coins. Remember, unlike most bullion coins, classic coins are completely private with no broker reporting requirements to the I.R.S., and are exempt from confiscation under current laws.
That's it for now. As always, thanks for your time. We'll keep you informed!
Sincerely,
Dana Samuelson, President
Dr. Bill Musgrave, Vice President
Metal
Ask
Change

Gold

$1,780.89
$0.00

Silver

$18.21
$0.00

Platinum

$832.41
$0.00

Palladium

$1,973.67
$0.00
In US Dollars
AGE Gold Commentary
AGE Investor Alert!