AGE Gold Commentary is our regular report analyzing trends in precious metals and rare coins. We monitor domestic and international markets and extrapolate from our 30 years in metals to place current events into a hard asset perspective. View archives.
---
8/11/2008: Annual golden opportunity arrives!
Source:
In this issue of AGE's Gold Market Commentary:
Annual golden opportunity arrives!
U.S. gold coins holding steady
The recession of the century?
U.S. stagflation goes global
Gold, a matchless crisis hedge
Annual golden opportunity arrives!
Since the precious metals bull market began in 2002, summer has consistently provided some of the best buying opportunities of the year for gold, before the higher prices of the fall and winter seasons arrive. This summer is proving true to form. Gold is currently testing the bottom of its most important support level of 2008 at $820 an ounce, trading around $826, while silver, platinum and palladium have all fallen sharply below their primary 2008 support levels. The summer clearance sale is on!
As you probably know, gold (and silver, to a lesser extent) is unique in its ability to stand on either of two legs—as a currency or a commodity. As such, the gold price tracks higher with demand for commodities and oil, with a falling dollar, and with rising inflation. After peaking earlier this year, oil has fallen sharply and the Reuters/Jefferies commodities index (RJ/CRB) has dropped in kind, giving the dollar a bit of a boost and taking some wind out of gold's sails. Yet oil remains very expensive and severely limited in supply; the dollar continues to languish near its lowest levels ever on the dollar index chart; and world's voracious appetite for commodities, while slowing, is unlikely to subside for very long—despite the increasing likelihood of a global recession, which we'll discuss later in this update. Inflation is now a huge and growing concern for central bankers around the world. In other words, 1970s-style U.S. stagflation is going global.
Gold, of course, is a favorite international hedge against inflation and did fantastically well in the late 1970s. So even if demand for commodities like corn, soybeans, hogs, and oil falls in the short term with stagnating economies, currency demand for gold as an inflation fighter and store of value should continue to build for the foreseeable future. The long-term bull market trend for gold remains firmly intact.
None of the major economic problems we've been discussing for the past year has changed for the better. In fact, just about every U.S. economic indicator, including employment, manufacturing, housing values, and the credit crisis, is getting significantly worse. Yet precious metals are currently trading at discounts—a situation that simply cannot last for long. Gold is now undervalued by at least 12%, in our opinion, and should be at or near firm bottoms. Silver is knee-jerking to new 2008 lows and is oversold by 15% or more. The jury is still out on platinum and palladium, which are more closely tied to industrial usage and therefore to commodity prices. So our advice is to take advantage of the dirt-cheap gold price; look for silver to firm up in the coming week and then buy aggressively; side-step the risky platinum market; and look for a firm bottom in palladium before adding to that position. Palladium may be bottoming as we speak, but, like silver, it's too early to tell.
A few new developments are worth reporting because they're signs of the times. First, we've seen our bullion sales (both modern bullion coins and classic European gold coins) surge on the heels of the failure of IndyMac Bancorp. Within 48 hours of the line forming outside IndyMac we received numerous new large purchases of gold bullion from individuals who are clearly not content to allow banks hold large sums of their money. This quiet run out of banks and into gold is also spilling into the classic U.S. gold coin market, which bodes very well for our recommended coins. Second, we're happy to see how many of you are taking advantage lower metals prices to "buy the dips," as we've been recommending. We believe our customers are among the savviest in the country, and you validate this belief when our selling volume jumps on these dips. Investors who have the courage to their convictions in the face of short-term adversity always do best when the longer trends reassert themselves.
Let's look at the latest charts and try to make some sense out of the strong price movements of the last five weeks.
Gold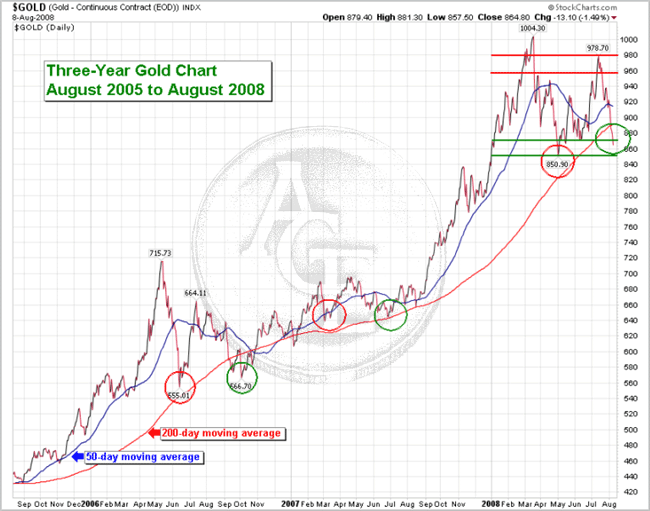 As you can see on the three-year chart above, gold was holding above the lower of its two green support lines at $875 and $850 as of last Friday. But the downward pressure on all commodities has been so fierce because of falling oil that gold has been sucked lower today, and is now testing its next major support at $820 (not shown). The red circles show the annual gold price bottoms following the last three annual price surges. The green circles show cyclical bottoms. In each of the past three cycles (2004 is not shown on this chart), the summertime bottom has marked the end of profit-taking following a major price surge, and set the stage for a strong renewed rise.
The next several trading sessions will be critical, revealing whether gold will hold support at $820. Once it bottoms, whether at $820 or even a bit lower, gold will be very strong, having shaken out its oil premium. Given the global conditions that we discuss later in this update, we believe gold will hold support at $820. In any event, it's proven itself time and again to be extremely resilient in this ongoing bull market. We believe this trend will continue and that gold gain strength on its support as currency of last resort even if its commodity leg relaxes for while.
Silver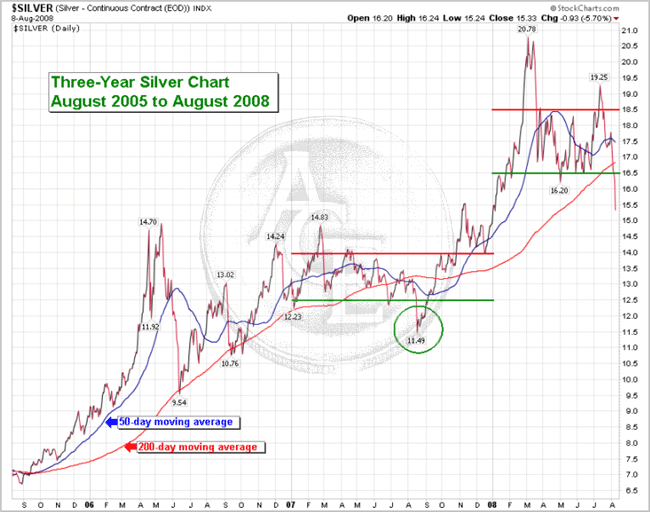 As evident in the three-year chart above, silver took a brief detour under $12.50 in the summer of 2007, falling to as low as $11.50 before rebounding sharply higher. Its current detour under $15.00 appears to be a similar kind of temporary drop. After all, silver is more affected by worldwide changes in demand for commodities and is naturally more volatile than gold. Its current price weakness is disappointing but also creates an unexpected buying opportunity. Based on recent supply interruptions for immediate delivery of manufactured silver bullion items (e.g. 100-ounce Johnson Matthey bars, 1- ounce U.S. silver eagles), demand for silver appears to be unabated and even ramping up.
Now trading at almost $2.00 below its major 2008 support level of $16.50, and almost $3.50 below our own fair value mark of $18.00, silver is discounted even more strongly than gold. A further decline remains an outside risk at this point, but one that diminishes as the price approaches $14.50. Silver under $16.00 is cheap. Under $15.00, like today, it's a screaming bargain.
Watch this market closely over the coming week. We recommend buying aggressively under $15.00. For those of you with faint heats, wait for a firm bounce and then step into the arena with greater confidence that the worst is now over.
Platinum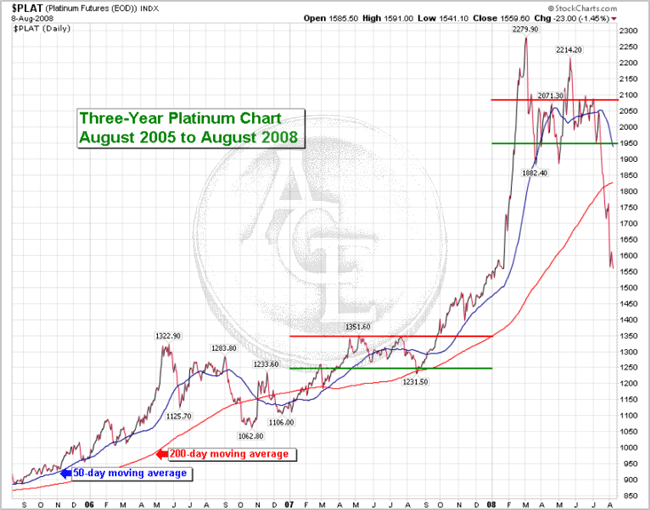 Platinum's drop from $1,950 to $1,513 in just over one month explains why we have been so leery of this metal for the past year. While its gains from $1,450 last fall to over $2,200 this spring were enticing, the platinum market has proven to be just as dangerous as we expected when we counseled against it. Gold and silver have done very well for our customers, offering major gains with greater safety than platinum. From a technical stand point, platinum could hold or drop below $1,450 before establishing a firm bottom. It needs a little more time to sort itself out. So we'll continue to sidestep platinum for the time being until the dust settles on this latest pull back, then reevaluate the metal's fundamentals.
Palladium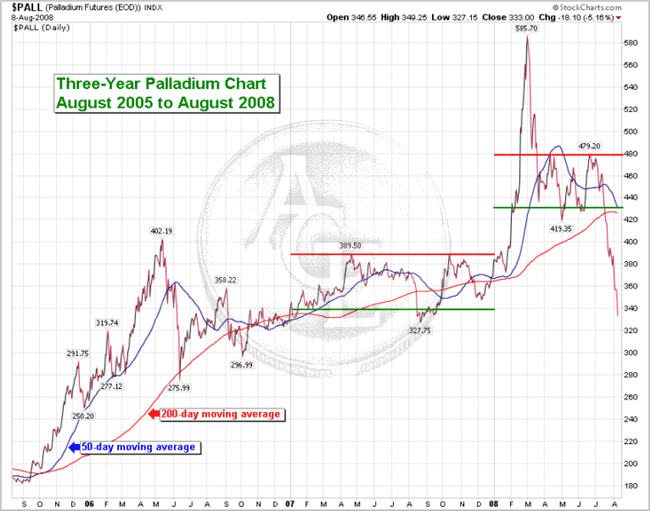 Like platinum, palladium has been hit hard on this downdraft and is now priced around $320, beneath its 2007 low of $327. It's now the most undervalued of the four precious metals. Unlike silver, which will probably rebound sharply once it bottoms, palladium is likely to respond more slowly and offer a wider window of opportunity. If you compare the 2007 summertime bottoms of gold, silver and palladium, you'll see V shaped bottoms for gold and silver and a much wider, flat bottom for palladium. Because of palladium's widespread industrial usage and the slowing of world economies, it could linger near a bottom for a while.
We believe gold offers the best buying opportunity right now. Silver is second best. Watch silver closely and buy on weakness. In the longer term, both remain extremely strong so keep the faith!
U.S. Dollar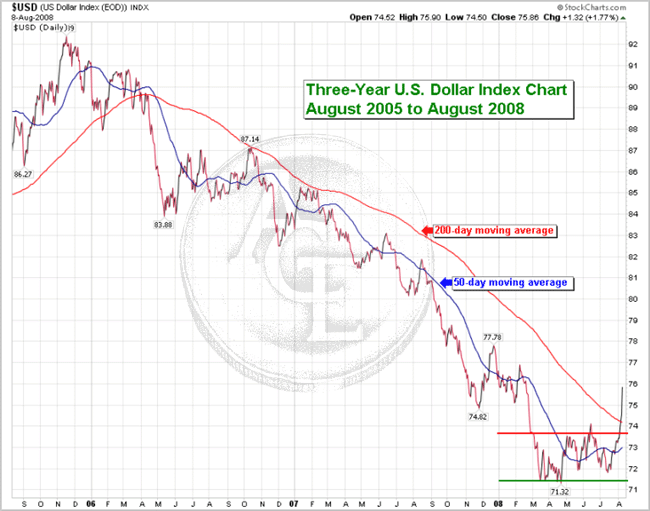 Now above 74 on the index chart, the U.S. dollar is, uncharacteristically, experiencing a bit of a break out. In fact, last Friday the dollar jumped more than a full point on the dollar index, which hasn't happened in ages. But like many other analysts, we believe the buck doesn't stand much of a chance of getting out of the basement anytime soon. The current up-tick, rather than a trend-reversal, is mostly a reaction to the sharp decline oil prices that began in early July. Falling oil is dragging down precious metals and boosting the dollar. Big hedge fund money abruptly pulled out of oil and other commodities, reducing the speculative froth, and it's looking for a short-term resting place. With G7 economies edging toward recession and the euro looking weaker because of the likelihood of future rate cuts, the dollar has benefited. But this bounce is probably nothing more than a short-term trading move by big financial houses. Time will tell. The dollar will have to hold and stay above 75 on the index chart to give us any degree of confidence in it.
Oil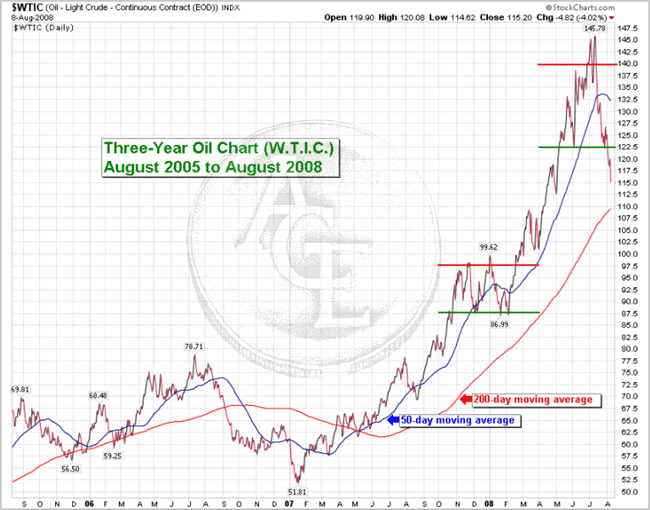 Oil has fallen sharply since peaking at an all-time high over $145 a barrel in early July. Demand in the biggest market, the United States, has abated on the back of $4.00 gasoline and $5.00 diesel. But it's hard to believe worldwide demand will fall substantially. Realistically, expensive oil is here to stay. It'll be many years before new sources of oil, or viable alternatives, become available to meet the world's exploding energy needs. While we're very happy to see some relief from ever rising prices, we believe the days of $50 to $80 oil are probably long gone.
U.S. gold coins holding steady
While precious metals are at the bottom of their ranges, classic U.S. gold coins are generally holding steady in price. In our last update we advised you that classic coins are underpriced and that remains the case today. We just returned from the largest coin show of the year, the summer American Numismatic Association coin show, held in Baltimore this year. Bourse floor activity is best described as active to brisk, which is a distinct improvement over the Long Beach show in late May. Coins continue to trade steadily but not at the fever pitch we saw in early 2008 and spring 2006. Dealer inventories have grown slightly over the last month, which is not an unpleasant development because it allowed us to cherry-pick the highest quality.
Our current recommendations
The following classic U.S. coins represent the best price-performance opportunities on the market, and should do extremely well as the gold market rallies again:
$10 Liberty gold coins in Mint State 64 condition embody all of the fundamentals we love in classic U.S. gold coins: popularity, scarcity, liquidity, and price performance. Millions of these coins were minted between 1866 and 1907, but today there are only about 16,700 known survivors in near-gem Mint State 64 condition, all dates combined. This is real scarcity. With a price-performance peak of $6,300 in 1989, these are blue chip coins that have a proven track record. When you can buy these 100-year old coins at the bottom of their annual cycle, where they reside today, they offer minimal downside risk with enhanced upside profitability. Trading today at a little under $2,400 a coin, we believe they are undervalued by about 12% to 20% in the current market and could easily double in price in the coming two to four years. This coin earns our highest recommendation today for low downside risk with strong short-term and long-term upside potential.
$5 Liberty gold coins in Mint State 64 condition are real sleepers. With a total known survival rate of just over 20,200 pieces and around 5,000 specimens grading higher, they're much scarcer than most people realize. Currently trading for less than $1,500 each and with a price-performance peak of more than $6,200 in 1989, they're a screaming bargain today and also receive our highest recommendation. Because they are smaller than the $10 and $20 gold coins that comprise the lion's share of many hard asset portfolios, $5 Liberty coins are often overlooked by investors. Yet they offer a tremendous amount of scarcity and that's what matters most in an aggressive coin market. When this coin drops to basal value, as it has in recent weeks, it's a very smart contrarian buy.
$10 Liberty gold coins in Extra Fine (XF) condition are a best buy for bulk gold investors. Minted more than a century ago, they're in severely limited supply today yet cost barely more than their underlying gold value. We recommend these beautiful classic coins as superior to gold bullion for several reasons. Modern bullion coins like American Gold Eagles are produced in unlimited quantities every year and offer no additional premium for scarcity. Furthermore, bullion is subject to current confiscation laws and must be reported to the IRS by brokers. These XF $10 Liberty coins are truly scarce, plus they're exempt from broker reporting requirements and government confiscation because of their status as collectibles. They offer increased profit potential, true security, and complete privacy, making them preferable to bullion for bulk gold investors.
All three of these classic coins provide terrific value and offer superior upside in today's market. We've also identified several others with similar fundamentals and price patterns. Please speak to your account manager at 1-800-613-9323 to determine what might best suit your own portfolio needs and desires. Once again, we read this market as being in a temporary lull before a big push higher. This summer should prove to be the best buying opportunity for 2008—and perhaps for several years to come—in classic U.S. gold coins. Remember, unlike most bullion coins, classic coins are completely private with no broker reporting requirements to the IRS, and are exempt from confiscation under current laws.
The recession of the century?
Nouriel Roubini, a Harvard-trained economics professor at New York University, predicted two years ago that the housing bubble would burst, leading to a 20% drop in home prices, collapsing subprime mortgages, a severe banking crisis and credit crunch, and the near-failure of Fannie Mae and Freddie Mac. So far he's been uncannily accurate. In an interview with Barron's last week, Roubini says he foresees a U.S. recession that will be "more painful than any since the Depression": "We are in the second inning of a severe, protracted recession, which started in the first quarter of this year and is going to last at least 18 months, through the middle of next year," Roubini asserts. "A systemic banking crisis will go on for awhile, with hundreds of banks going belly up."
His reasoning is hard to argue with. More than 72% of GDP is attributable to consumer spending and the U.S. consumer is completely tapped out, with debt now at 140% of disposable income, up from 100% in 2000. Nationwide, debt hit a record high of $957 billion in April, up from approximately $800 billion four years ago. Consumer bankruptcy filings have increased by more than 30% over the past year, according to MarketWatch, and those numbers promise to increase. Despite billions of dollars in rebate checks in June, retail sales only increased by 0.1%. And for seven months in a row, employment in the private sector has fallen. By almost every measure, the U.S. recession is deepening.
And so is the credit crisis. Fannie Mae posted losses of $2.3 billion for just last quarter, following Freddie Mac's losses of more than $800 million—and these losses are notably not from subprime mortgages. In the past twelve months, according to The Economist, Citigroup lost or wrote down $45.6 billion, Merrill Lynch $51.8 billion, UBS $38.2 billion, HSBC $27.4 billion, Wachovia $22 billion, Bank of America $21.2 billion, IKB $15.9 billion, Royal Bank of Scotland $15.2, Washington Mutual $14.8 billion, and Morgan Stanley $14.4 billion. And these are just the biggest losers!
Plus, most banks have written down only their subprime and alt-A loans so far, totaling around $300 billion. Hundreds of billions of dollars in bad consumer, credit card, and home equity loans are still on the books. Roubini estimates credit losses of at least $1 trillion and most likely closer to $2 trillion before all the hens come home. The IMF has placed the estimate at $945 billion, Goldman Sachs at $1.1 trillion, UBS at $1 trillion, and Bridgewater Associates at $1.6 trillion. There is still a world of pain to go.
Perhaps the most worrisome aspect of the credit crisis is that many of the public institutions that act as a backstop to the financial system, like the FDIC (Federal Deposit Insurance Corp.) are themselves on the verge of bankruptcy. According to Roubini, the FDIC has only $53 billion of funds, and has already committed 15% to bail out IndyMac. Banking experts believe at least 8% of 8,500 banks insured by the FDIC are in big trouble and another 8% to 16% are precarious. That means 700 are at serious risk of failure and another 700 to 1,400 could join them. Yet the FDIC is only watching 90 banks, and only 85% of its resources remain after bailing out IndyMac. The Fed fiat currency presses are liable to melt from overuse in printing all the money needed to cover these debts!
U.S. stagflation goes global
So it should come as no surprise that the U.S. economic malaise is now becoming a global phenomenon. Recessions are threatening to crash over the world economy in waves, as one country after another turns down a year after the onset of the global credit crisis. After dodging the U.S. slowdown last year, the 15-nation eurozone economy appears to have shrunk in Q2, for the first time since the common currency's introduction in 1999. Firm figures are still coming in, but Italy's GDP contracted by 0.3% in Q2 after growing by a scant 0.5% in Q1. And Germany, the largest eurozone economy and the engine of G7 growth in recent years, contracted sharply in the second quarter, shrinking by as much as 1.5%, according The Wall Street Journal Europe. Eurozone growth certainly slowed to a crawl in the first quarter. According to RGE Monitor, Q1 growth in the UK fell to 0.4%, Ireland to 0.8%, Italy to 0.5%, and Spain to 0.4%. Estonia and Latvia contracted sharply, while Q1 GDP growth in Canada fell to 0.3% and New Zealand shrank by 0.3%. As in the U.S., housing booms in Spain, Portugal and Ireland are collapsing, while the euro's recent appreciation hurt companies that export. Japan, too, is at risk of a recession as exports fell in June for the first time since 2003 and unemployment reached 4.1 percent, almost a two-year high. The Bank of Japan has little room to act, with its benchmark interest rate of just 0.5 percent and consumer prices rising at the fastest pace in a decade
While the world may avoid an outright recession, deemed by economists to be global growth of 3% or less, it's nonetheless likely to end up with a noxious combination of asset deflation in the housing and stock markets, a continuing credit crunch, and growing commodity-driven inflation—just like here in the U.S. As reported in Newsweek recently, a Morgan Stanley report released in late June summed it up: "Much to our own surprise, we find that 50 of the 190 or so countries in the world now have inflation running at double-digit rates, including most emerging markets. In other words, about half the world's population is already experiencing double-digit price increases."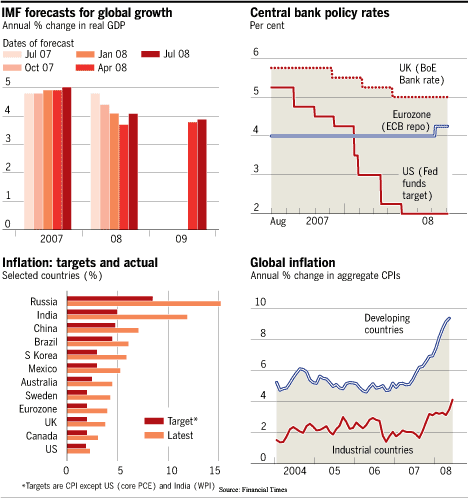 The great fear is that this rampant price inflation will trigger wage inflation, creating the kind of deadly wage-price spiral that catapulted U.S. inflation into double-digits in the 1970s. Already the signs are pointing that way. According to RGE Monitor, the following nations are already experiencing double-digit wage inflation: United Arab Emirates, Egypt, Venezuela, Argentina, India, Sri Lanka, Pakistan, Russia, Hungary, Serbia, and Latvia. As government and union employment contracts are renegotiated, this list will no doubt grow.
Indeed, central bankers abroad, like our very own Fed, are stuck in a very nasty box, unable to combat rising inflation by raising interest or to stimulate faltering economies by cutting them. A lot's at stake. If central bankers leave rates too low, they risk stoking global inflation that's already projected by the IMF to be the fastest in nine years. Keep rates too high and the world could fall into its first recession since 2001-2002. Add in the steadily deflating global housing bubble and spreading credit crisis, and we have an international stagflation scenario right out of That '70s Show. "There's a kind of stagflation marching over the world economy,'' said Allan Sinai, chief economist at Decision Economics in New York, recently to Bloomberg, "I hope policy makers are able to figure it out and make the right decisions to fight it.'' Given their recent track record, we wouldn't recommend holding one's breath.
Gold, a matchless crisis hedge
Our old friend and veteran gold market expert Doug Casey called this tune all the way back in 2002, in a prescient article entitled Gold During Inflation, Deflation and Chaos. Long before anyone was talking about bursting housing bubbles and the subprime credit contagion, Casey identified precisely how the Federal government would react to the kind of asset deflation that comes with a systemic credit crisis like the one were seeing today: massive bailouts that result in staggering budget deficits and an exploding money supply, which in turn fuel runaway inflation.
Most gold market investors understand that gold is the best asset to hold in times of severe inflation. But serious deflation would likely also cause the price of gold to explode because gold is one of the only assets that's not someone else's liability—it's not, in itself either debt or credit. As Casey writes, "First, a deflation would set off all kinds of spending programs and bailouts. The USG [U.S. Government] would go from being a questionable risk to a bad risk as it was forced to borrow on a huge scale to finance emergency spending, much of which is already mandated by law, while tax revenues were falling. Second, a deflation would almost certainly result in calls to reinflate as rapidly as possible—a course of action unlikely to inspire confidence in the dollar. Gold would soar in a serious deflation."
Certainly Casey was correct about the government bailouts and their contribution to our already staggering budget deficits. In bailing out Bear Sterns, Fannie Mae, and Freddie Mac, the Fed has "swapped U.S. Treasury bonds for toxic securities…privatizing the gains and profits, and socializing the losses, as usual," in Roubini's words, and by all accounts the taxpayer's bill is going to be huge. The Freddie and Fannie bailouts could add up to $3 trillion to the public debt, in a worst case scenario. How would the government pay for these sins? By printing more money and lots of it! It's all they can do, and it will be profoundly inflationary.
Gold will be the primary beneficiary. As Casey said so eloquently, "Gold is a big winner in either scenario; it is a matchless crisis hedge. It's the only financial asset that's completely invisible and private. There are no social security numbers stamped on gold coins, and they leave no paper trail when they change hands. Unlike real estate, for instance, a government cannot easily find gold to tax or confiscate. Unlike stocks, gold doesn't represent a value that can be dissipated or mismanaged. Unlike bonds, gold cannot default. And unlike currency, gold cannot be inflated away."
Sage wisdom, indeed, that deserves to be remembered as we enter into what could well be the most painful global economic crisis in many decades. With any luck, Mr. Bernanke and his central banker pals will steer us through the worst-case scenarios. But even the best cases seem terribly fraught with asset deflation and price inflation. In the mean time, we all must take measures to protect what we have. The gold price is likely to rise substantially in coming years—and we still believe, despite the recent correction, that prices of $1,800 to $2,000 are almost certain to come. But more important than its profit potential is gold's ability to act as a dependable store of value in a world of increasingly suspect paper assets. We urge you to take advantage of today's golden opportunity to stock up now!
As always, thinks for your time!
Sincerely,
Dana Samuelson, President
Dr. Bill Musgrave, Vice President
Metal
Ask
Change

Gold

$1,787.77
$0.01

Silver

$18.38
$-0.03

Platinum

$839.76
$-1.94

Palladium

$1,977.13
$-6.71
In US Dollars
AGE Gold Commentary
AGE Investor Alert!