AGE Gold Commentary is our regular report analyzing trends in precious metals and rare coins. We monitor domestic and international markets and extrapolate from our 30 years in metals to place current events into a hard asset perspective. View archives.
---
9/15/2008: Gold rallies on banking crises
Source:
In this issue ofAGE's Gold Market Commentary:
Gold rallies on banking crises
U.S. gold coin prices show strength
Inflationary recession deepens
Of banks, bailouts, and deficits


Gold rallies on banking crises
Precious metals have been under enormous selling pressure throughout August and into September. Prices for all commodities have fallen sharply since early July and have been searching for firm bottoms. The sell offs have been a little scary—but it's important to remember these things usually overshoot their natural equilibrium points by 5% to 10%, sometimes more. And long-term fundamentals for gold and silver, as we detail below, remain strongly positive.
Last Friday, gold and silver showed modest gains for the first time in three weeks and today they're seeing substantial rallies behind the collapse of Lehman Brothers and the forced sale of Merrill Lynch, which we discuss below. Market sentiment seems to be changing in favor of safe-haven precious metals despite the unexpected rally of the U.S. dollar in recent weeks. U.S. economic fundamentals remain decidedly negative, which are likely to bolster the gold price as we enter the fall buying season.
Let's take a look at the latest charts.
U.S. Dollar
The leading contributing factor to lower precious metals prices has been the almost inexplicable strength of the U.S. dollar against other major world currencies. Since mid-July, despite terrible fundamentals, the U.S. dollar has surged by more than 10% on the U.S. dollar index chart, and is now trading at its highest level in a year.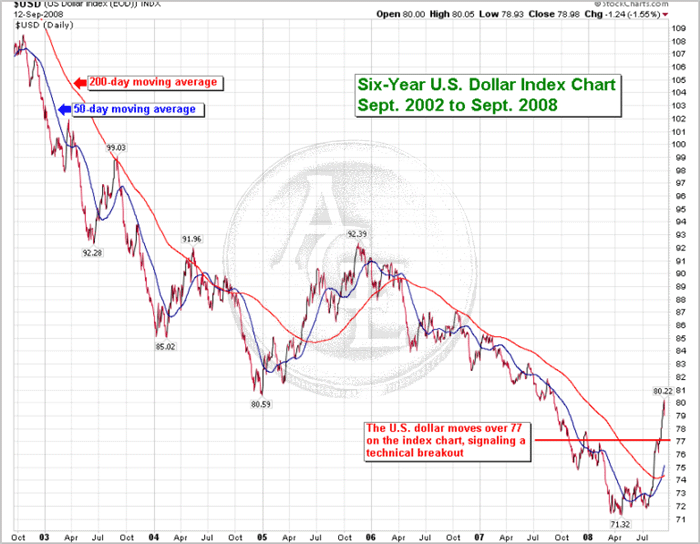 Since hitting its lowest level ever in the spring of 2008 and channeling through mid-July, the U.S. dollar is in its first major rally in almost three years. Beginning July at 72 on the index chart, it climbed to 77 in mid-August, hit upside resistance, as we expected, and then moved higher yet, which we did not expect. Technically, the move over 77 signals a breakout to the upside—but we remain skeptical about this technical signal. Is this really the beginning of a new bull market in the dollar? We think not. The dollar fell in value steadily for three years between 2002 and 2005, rallied for most of 2006, and then fell steadily again for two and a half years leading into the current rally. Historically, sharp knee-jerk rallies like this one usually turn out to be to be event-driven and unsustainable.
Economic fundamentals for the dollar remain decidedly negative despite falling oil and commodity prices. The contagion of the U.S. credit crisis has spread overseas and dimmed the prospects of other economies, ironically making the dollar seem relatively stronger as other nations are forced to begin cutting interest rates. It jumped more than 5% against the euro since the start of August—a dramatic turnaround for a currency that just last month hit a record low of $1.6038 against the euro. It also rose nearly 2% against the yen and more than 7% against the British pound. But is this comeback a vote of confidence in the U.S. currency and economy? Hardly. As Marc Chandler of Brown Brothers Harriman told Financial Times recently, "What is really behind the dollar's outsize performance during this rally is that the market is just coming to realize that the fundamental outlook for the rest of world is getting grimmer by the day." The dollar was getting stronger not on its own fundamentals, which remain horrible, but because the U.S. credit crisis is now undermining the rest of the world.
Furthermore, the dollar has been artificially bolstered by recent actions by China. As first reported by Ambrose Evans-Pritchard in the U.K. Telegraph two weeks ago, China has been buying up U.S. dollars as an indirect means of suppressing the value of its own currency, the yuan, which is pegged to the dollar. Facing a substantial post-Olympics lull and a global slowdown in demand for its exports, China has been seeking to stimulate its economy by making its products less expensive. A study by HSBC's currency team in Asia has concluded that China's central bank is forcing commercial banks to increase the mandatory holdings of dollar reserves, from 15% to 17.5%, of anything that is lent out. This policy forces banks to amass larger holdings of dollars, effectively bidding down the yuan by bidding up the dollar. And the New York Times reported yesterday that China has lowered its interest rates on the yuan while holding mandatory dollar reserves at 17.5%, thereby devaluing the yuan even further.
Setting aside currency manipulation in China and panic buying in Europe, the reality is that dollar fundamentals remain extremely negative and the current rally cannot continue for long. Business conditions in the U.S. are worsening. The trade balance remains completely out of whack, despite some recent narrowing based on the relatively cheaper dollar. Inflation has risen sharply this year, approaching double digits, while broad money-supply growth remains at its highest since the early 1970s. All of these conditions point toward increasing dollar weakness, not strength.
Oil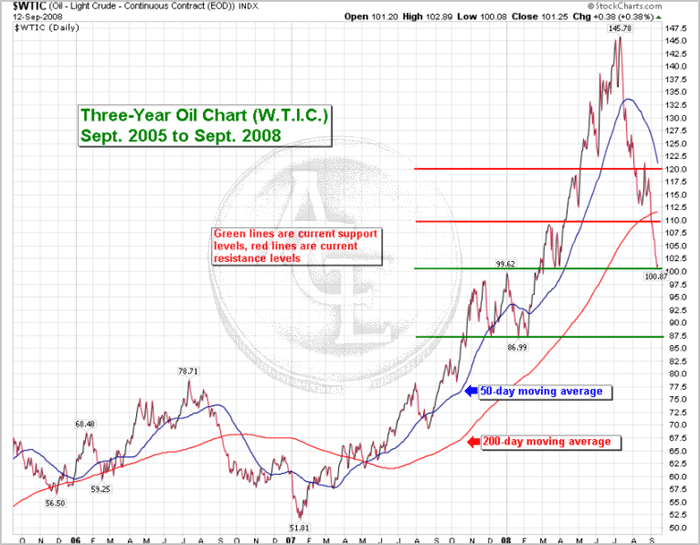 Oil is now trading under $100 per barrel on the international market. This past week OPEC met and decided to cut production in an effort to defend the oil price at $100 per barrel, yet almost immediately Saudi Arabia signaled through back channels that it would continue production at full capacity. Technically, oil should enjoy support above $100 per barrel; however, if it breaks below this support level, it's likely to fall to $88 or so before finding major support once again. Nonetheless, given the world's insatiable thirst for energy and the growth in emerging market economies, it strains all credulity to believe oil prices will stay this low for long.
Gold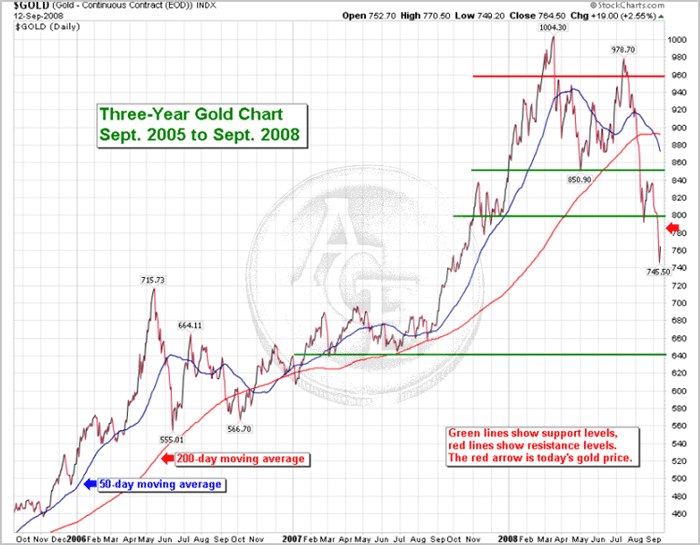 On its surface, the current gold chart looks very weak, setting a series of lower highs and lower lows since peaking at an all-time high last March. The normal consolidation phase that followed this high—with gold falling to $850, rallying to $975, and then falling again—became abnormal when it broke below $850, which was attributable to the unexpected dollar rally. As the dollar hit upside resistance at 77 on the index chart, gold held support at $800. But when the dollar moved over 77, the sell off in gold gained momentum. Technically, gold could continue to fall to as low as $640 to $660 before it finds rock solid support. However, we do not expect it to fall this far. As we stated in our introductory paragraph, due to changing market sentiment a turning point seems likely and the market appears to be strengthening. After touching $745 last week, gold has rallied by more then $35 to trade over $780 on Monday and seems to be gathering momentum.
As we go to press, the economic fundamentals that favor gold as the currency of last resort are reasserting themselves, as we discuss below. We believe gold under $750 is steal, under $800 is bargain, and under $850 is still very cheap. The dollar is clearly leading gold at the moment. Price movement in both the dollar and gold over the coming week will be critical in signaling whether gold will remain under pressure or whether the best buying opportunity of 2008 is here right now.
Silver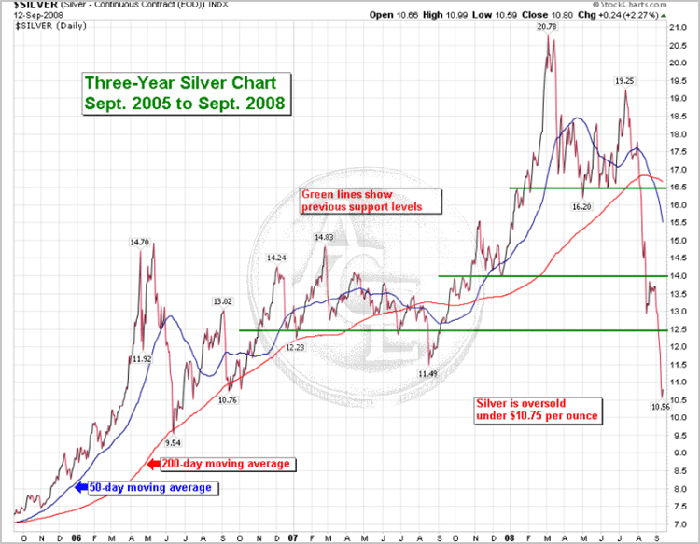 Silver, platinum and palladium have all fallen much more sharply than gold. In fact, silver hasn't fallen so strongly since early 1980, when it peaked at $50 and then broke down to $25. The worst is certainly over. Last Friday, following gold, it gained for the first time in two weeks, and gains continue this week with the growing banking crisis. A bottom may be in place at $10.50. At $10.75 silver is extremely oversold and should rally back over $12.50 and then $14.00 in short order.
The falling silver price has brought value buyers out in droves. As a result, bullion for immediate physical delivery remains challenged. The U.S. Mint is falling further behind in deliveries of 1-ounce American Silver Eagles to authorized distributors. Canadian 1-ounce silver Maple Leafs, Austrian 1-ounce silver Philharmonics, and Johnson-Matthey 100-ounce bars are difficult to source right now and we're running out of bags of U.S. junk 90% silver coins as well. With demand ramping up at a much lower silver price, we do not expect these delivery problems to end anytime soon.
Platinum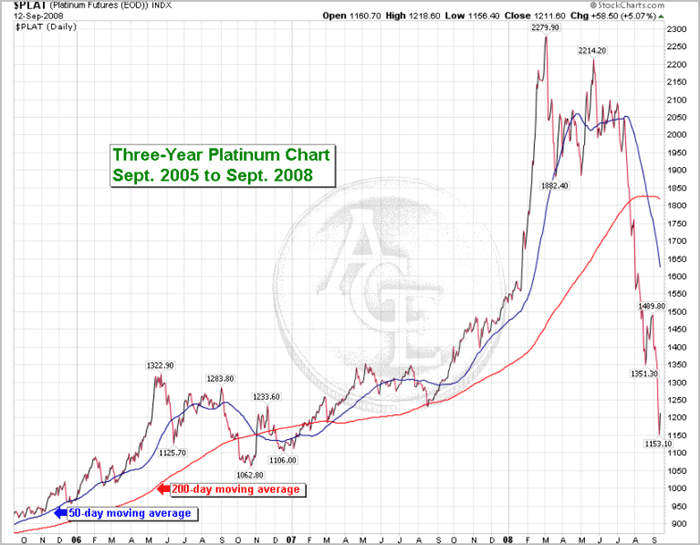 Mining problems in South Africa turbocharged the platinum price in early 2008, propelling it over $2,000 for the first time ever. Like other precious metals, platinum has been caught in the commodities downdraft, falling sharply since mid-July. Trading today around $1,160, platinum looks like a good value again but we continue to see greater value in gold and silver. Priced at 50% more than gold, it just doesn't look like a safe bet to us. We recommend palladium in this sector.
Palladium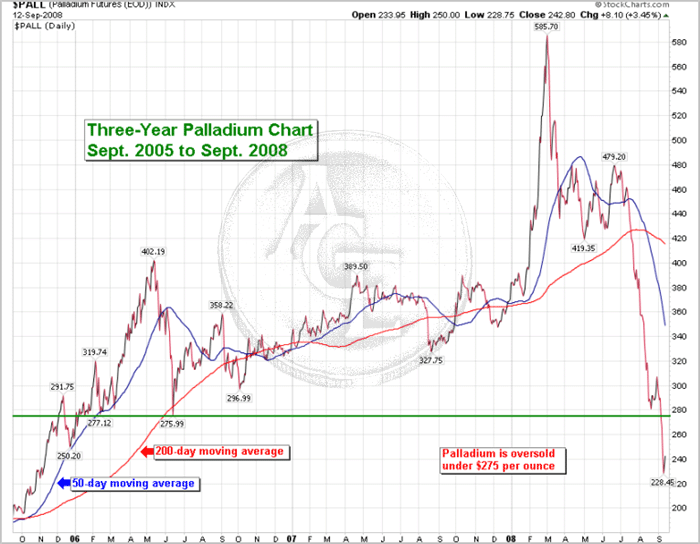 Of all the precious metals, palladium has shown the greatest volatility in 2008. Like platinum, palladium spiked—from $380 to $580—in early 2008 on South African mining problems. After peaking in March, it settled into a $440 to $475 trading range before the July commodities sell off began. Some of our customers who bought palladium on our buy recommendation at under $200 took profits at over $500, and we congratulate them.
Like silver, palladium is now heavily oversold. It may have set a firm bottom at $228. But it's likely to be less upwardly mobile than silver on a rebound, so we recommend buying silver on this dip. With the continued disparity in price between platinum and palladium, we favor palladium in this sector. It's especially attractive under $250.
U.S. gold coin prices show strength
While precious metals prices have fallen sharply over the last 60 days, classic U.S. gold coin prices are faring much better, not declining in price at anywhere near the same rate over the last 60 days. Price pressure for classic U.S. gold coins remains negative at the moment but the dearth of coins in the market is helping to buoy prices. Scarcer coins are holding up better than more common coins, which make sense. The next major national coin show where we can gauge the national coin market first hand is in Long Beach later this week. We'll let you know what we find out.
Our current recommendations:
$10 Liberty gold coins in Mint State 64 condition embody all of the fundamentals we love in classic U.S. gold coins: popularity, scarcity, liquidity, and price performance. Millions of these coins were minted between 1866 and 1907, but today there are only about 16,700 known survivors in near-gem Mint State 64 condition, all dates combined. This is real scarcity. With a price-performance peak of $6,300 in 1989, these are blue chip coins that have a proven track record. When you can buy these 100-year old coins at the bottom of their annual cycle, where they reside today, they offer minimal downside risk with enhanced upside profitability. Trading today at a little under $2,100 a coin, we believe they are undervalued by about 12% to 20% in the current market and could easily double in price in the coming two to four years. This coin earns our highest recommendation today for low downside risk with strong short-term and long-term upside potential.
Power Pair #1 is a fantastic buy today. Consisting of a Pre-1900 $20 Liberty (MS62) + $20 Saint-Gaudens (MS63), it combines two of our favorite portfolio builders, paired for savings. Most investors don't realize that pre-1900 $20 Liberty coins are two to three times scarcer than the ones minted from 1900 to 1907! Yet they are trading today in Mint State 62 condition for nearly the same prices as their far more common brethren. Saint-Gaudens $20 gold coins are always in high demand by collectors and investors alike; in Mint State 63 can accelerate rapidly during a rising gold market. From a market technician's perspective, these gold coins are real sleepers, largely unrecognized for their true scarcity and profit potential.
British Sovereign gold coins (BU) are a best buy for bulk gold investors. Among the most popular gold coins in the world, British Sovereigns, or 'Kings,' in Brilliant Uncirculated (BU) condition are an outstanding way to invest in bulk gold. Our hand-selected George V sovereigns offer all the benefits of gold bullion plus complete financial privacy and the added profit potential that only collectible coins provide—all for virtually no additional cost. At today's low prices they're a superb value.
All three of these classic coins provide terrific value and offer superior upside in today's market. We've also identified several others with similar fundamentals and price patterns. Please speak to your account manager at 1-800-613-9323 to determine what might best suit your own portfolio needs and desires. Once again, gold seems to be readying for a push higher. The current market could prove to be the best buying opportunity for 2008—and perhaps for several years to come—in classic U.S. gold coins. Remember, unlike most bullion coins, classic coins are completely private with no broker reporting requirements to the IRS, and are exempt from confiscation under current laws.
Inflationary recession deepens
A few recent pieces of news have given investors some glimmers of hope that the U.S. economy is on the rebound, or at least not as bad as it seems. Existing home sales rose from June to July, according to a preliminary estimate from the National Association of Realtors. Sales of newly built homes were also up, after falling to their lowest level in 17 years in June. The Conference Board's consumer confidence index rose for the second consecutive month, and the University of Michigan's consumer sentiment index rose for the third consecutive month. Both of these measures had declined sharply in the past year, however, and hover at levels appropriate for a recession. The recent fall in oil and gasoline prices are one reason for the slightly improved sentiment, but few analysts think they'll stay down for long, especially once the fall election is past.
Perhaps the most encouraging bit of data was the revised estimate for second-quarter GDP growth. Real GDP rose at a seasonally adjusted annual rate of 3.3%, which was much higher that the 1.9% expected. At first glance this seems like solid growth but the revision to GDP was largely due to increased exports and larger inventory accumulation. And economists are almost unanimous in the belief that it will be the high-water mark for the year. Even Ben Bernanke is conceding that the economy has slowed to a crawl.
In general, however, economic conditions in the U.S. are getting worse. Perhaps most damaging is the nation's employment rate, which soared in August to 6.1%, the highest in nearly five years and far higher than expected. Unemployment has steadily climbed this year from a cyclic low of 4.4% to just below the peak of 6.3% seen during the last recession. Nonfarm payroll employment has fallen for seven straight months. We've never had a string of consecutive declines like this since World War II without a recession also being under way. And prospects for the rest of the year don't look any better. According to the latest Manpower Employment Outlook Survey, a net 9% of firms expect to hire in the fourth quarter, down from 12% in the previous quarter, and 18% for the fourth quarter a year ago. This fourth quarter outlook is the tenth consecutive quarter of declining employer sentiment in the survey — the longest such retreat in more than 20 years.
With jobs drying up and unemployment rising, bankruptcies and mortgage defaults, already at astonishing numbers, are increasing. According to Morningstar, bankruptcy filings rose nearly 30% in the U.S. in the first half of last year. Businesses are only about 5% of the overall total, but those filings rose 40%. And according to the Mortgage Bankers Association (MBA) report released two week ago, a record 1.2 million homes were in foreclosure during the second quarter of 2008. That number represents 2.8% of all outstanding loans, up from 1.4% during the same period a year ago. Clearly, the worst housing slump since the 1930s shows little sign of abating. As reported by Bloomberg yesterday, home prices in 20 U.S. metropolitan areas declined 15.9 percent in June from a year earlier, according to the S&P/Case- Shiller index, and are 3.9 million unsold homes on the market, the most since at least 1982, according to the Chicago-based National Association of Realtors.
And, perhaps worst of all, as housing gloom deepens the U.S. consumer will simply stop buying. More than 72% of GDP is attributable to consumer spending and the U.S. consumer is completely tapped out, with debt now at 140% of disposable income, up from 100% in 2000. Nationwide, debt hit a record high of $957 billion in April, up from approximately $800 billion four years ago. And despite a minor rise in July, consumer confidence is close to levels we've not seen since the two 1970s stagflation episodes. As reported by Bloomberg last Friday, sales at U.S. retailers unexpectedly dropped in August as Americans cut spending in the face of job losses and record foreclosures. ``Consumer weakness is the single-biggest risk to a recession right now,'' said Guy Lebas, chief economist at Janney Montgomery Scott LLC in Philadelphia. ``We can't depend on the consumer for any discernable growth. We don't see any catalyst for higher spending.''
All of these conditions combine to make experts very nervous about economic prospects, not just here but around the world. Nobel Prize-winning economists including Myron Scholes and Joseph Stiglitz predict the credit squeeze and U.S. slowdown will spread to the rest of the globe: "There will be a global recession,'' Scholes said, while Stiglitz forecast that "the world economy would continue to perform below its potential for some time." Goldman Sachs, too, projects that half of the world economy faces recession. (See full story.)
Of banks, bailouts, and deficits
The biggest events of the past two weeks are the failures of two major investment banks, Lehman Brothers and Merrill Lynch, and the failure and U.S. government bailout of Freddie Mac and Fannie Mae. All of these events promise to deepen the U.S. inflationary recession and wreak further havoc on federal budget deficits.
On Sunday, in what many economists are calling the most extraordinary weekend ever on Wall Street, Lehman Brothers declared bankruptcy after being unable to find a buyer, Merrill Lynch was fire-sold to Bank of America to forestall bankruptcy, and AIG requested a $40 billion government loan to keep from going belly-up. Once mighty titans of the investment banking world, all three are casualties of the subprime mortgage fiasco and resultant credit crisis.
While none of these failures have technically resulted in bailouts by the government because, unlike Fannie and Freddie, no taxpayer money was directly pledged to keep them afloat, they are likely to deepen the liquidity crisis, force the Fed to print more money to keep the wheels of finance turning, and therefore increase long-term inflation. Already the Fed has pledged to broaden its emergency lending facility that will exchange U.S. Treasuries for risky collateral like equities and questionable loans, which could easily result in backhanded taxpayer subsidies. At the very least, risk has increased for an intensified crisis of confidence in the U.S. banking system, one that could easily drive foreign investors out of U.S. assets and drive the economy further into the ditch. Today in response the Dow dropped 500 points.
By taking control of Fannie Mae and Freddie Mac, the government effectively fired off the bazooka that Henry Paulson said, when he laid the groundwork several months ago, he never expected to take out of his pocket. The tanking GSEs (government sponsored enterprises) are simply "too big to fail," according to Paulson, and would do irrevocable harm to the global financial system if they were to become insolvent. Together Fannie and Freddie form a cornerstone of the U.S. mortgage market, owning or guaranteeing nearly half the home loans in the country's roughly $12 trillion mortgage market. Over the past year, the companies have recorded combined losses of around $14 billion, according to MarketWatch.
As part of the bailout, the Treasury will start buying Freddie and Fannie's mortgage-backed debt in the open market. The move puts the U.S. government at risk to lose tens of billions of dollars, perhaps hundreds of billions. No one knows for sure how much this action could ultimately cost taxpayers but it could turn into the biggest and costliest government bailout ever of private companies. William Poole, former president of the Federal Reserve Bank of St. Louis, said taxpayers may face a $300 billion bill. ``I would not be surprised if their total losses aggregate about 5% of their obligations'' of about $6 trillion, Poole said in an interview on Bloomberg Radio (see full story).
Will this bailout miraculously save Freddie, Fannie? Not likely, according to Nouriel Roubini, an NYU economist who predicted it two years ago: "This plan does nothing to restore the long term viability and efficiency of such institutions. It is just a very expensive taxpayers' funded bailout of the shareholders and creditors of these institutions…. The short-term increase in the portfolio of the GSEs is reckless and a further waste of taxpayers' money" (see full story). Nor is it likely to significantly improve the devastated housing market, which is still completely saturated with unsold inventory. Many home values have dropped below mortgage values and foreclosures are coming at record speed. In fact, the bailout could exacerbate the problem if Fannie and Freddie continue their current lending practice of guaranteeing mortgages with as little as 3% down, letting more buyers get in over their heads if prices erode further.
Now that the federal bailout genie is so completely out of the bottle, how do you stop it from granting wishes to every entity claiming to be "too big to fail?" Public and private pension funds have been badly damaged by losses in the stock market, hedge funds and other losing investments. The government has a backstop for pension funds that get into trouble: the Pension Benefit Guarantee Corp., which is funded mostly by insurance premiums from funds. If it goes belly up, Congress will be surely hand over a bailout. Smaller banks are failing at a rate of about one a week. The FDIC is now monitoring 117 banks, up from 90 a couple of weeks ago. Some bigger names like Washington Mutual are in jeopardy. If they fail, more bailouts? Hammered by poor sales, General Motors Corp., Ford Motor Co. and Chrysler LLC are asking for $50 billion cheap government loans. The U.S. auto industry must be the very definition of too big to fail.
Spread so thin over so many failing enterprises, the U.S. government risks being seen as a bad debt in itself. As things stand, we rely on huge amounts of foreign capital, mainly from China and Japan and OPEC nations. By now the U.S. is the biggest debtor nation in the world, running current account deficits still in the $700 billion range and foreign liabilities of now over $2.5 trillion. We need to borrow from abroad $700 to $800 billion a year just to finance our external deficit. China, Russia, and oil-producing nations, which are rapidly becoming our chief geopolitical rivals, own over half our outstanding debt, and buy 70% of our new debt.
For years our creditor nations have been bailing out our bloated national debts and deficits but now they have reason for real concern. Indeed, according to MarketWatch, foreign official and private investors have been liquidating their holdings of so-called agency debt in the last two weeks, according to data compiled by the Federal Reserve. Agency debt held by the Fed in custody for foreign investors, which includes the direct debt of the agencies and mortgage-backed securities held by them, dropped $9.8 billion in the week through Wednesday. That's the seventh week down, for a total sell-off of $27 billion in that period. Sovereign wealth funds and foreign central banks now hold less agency debt than they have in a few years. If they lose confidence and stop buying our Treasuries, the economy could be devastated.
And the federal budget deficit is an utter catastrophe, as last week's Congressional Budget Office report makes clear. With the economy weakening and spending on the war rising, the federal budget outlook has deteriorated in both the short-run and the medium-term. The nonpartisan CBO said the federal deficit would likely double this year over last year. It forecasts a $407 billion deficit in 2008 rising to $438 billion in 2009 and $431 billion in 2010. The new projection sees deficits totaling $2.3 trillion over the next 10 years. If the Bush tax cuts are extended, as the White House and the McCain-Palin ticket want, the deficits over the next 10 years would be $4.2 trillion higher than now projected, CBO said. And this is atop the current debt of $9.6 trillion!
Our deficits will only get worse in the face of the continuing wars in Iraq and Afghanistan, the deepening recession, curtailing revenues, and bailouts like Fannie Mae and Freddie Mac risking hundreds of billions of dollars of taxpayer money—on top of the earlier bailouts of IndyMac, Bears Sterns, and whatever the Lehman, Merrill, and AIG failures end up costing us. And these scary predictions of insolvency don't even take into account the under-funded obligations like Social Security and Medicare, which have already placed the U.S. Government into debt-obligations amounting to $75 trillion—more than $288,000 for every single person in the country! All of these fundamentals are profoundly inflationary, pointing to a distinctly negative trend to the dollar and a sharply positive trend for gold and silver.
"The government wants to maintain the illusion the world will support America forever," Peter Schiff, president of Euro Pacific Capital in Darien, Conn, told the San Francisco Chronicle. "The world will figure it out. They'll flee. No one will want to buy our Treasuries; no one will want our debt. What good is a U.S. government guarantee when it's U.S. dollars? It's not gold bullion; it's just something you can run off a printing press. It will be just like Zimbabwe—hyperinflation and a collapsed economy."
Are we too big to fail? Was Rome? As we said last time, with any luck Mr. Paulson, Mr. Bernanke et al will steer us through the worst-case scenarios. But even the best cases seem terribly fraught with asset deflation and price inflation. In the mean time, we all must take measures to protect what we have. The gold price is likely to rise substantially in coming years—and we still believe, despite the recent correction, that prices of $1,800 to $2,000 are almost certain to come. But more important than its profit potential is gold's ability to act as a dependable store of value in a world of increasingly suspect paper assets. We urge you to take advantage of today's unexpected opportunity to stock up now!
That's it for now. As always, thanks for your time.
Best wishes,
Dana Samuelson, President
Dr. Bill Musgrave, Vice President
Metal
Ask
Change

Gold

$1,780.89
$0.00

Silver

$18.21
$0.00

Platinum

$832.41
$0.00

Palladium

$1,973.67
$0.00
In US Dollars
AGE Gold Commentary
AGE Investor Alert!