AGE Gold Commentary is our regular report analyzing trends in precious metals and rare coins. We monitor domestic and international markets and extrapolate from our 30 years in metals to place current events into a hard asset perspective. View archives.
---
11/6/2008: Gold stabilizing after universal sell-off
Source:
In this issue ofAGE's Gold Market Commentary:
Financial crisis and rescue
Gold stabilizing after universal sell-off
Record demand for bullion coins
Global recession deepens
Central banks: inflate or die


Financial crisis and rescue
As you probably know by now, the U.S. Treasury, Fed, and Congress joined forces with foreign central banks and governments last month in the most far-reaching financial rescue program since the Great Depression. Their ambitious goal is to restore shattered confidence in the global banking system, no less, which has been brought to its knees by the widening U.S housing and international credit crises. Much like Columbus, Lewis & Clark, Neil Armstrong, and even Captain James T. Kirk, we boldly go where no monetary crisis has gone before.
To prevent the whole system from going bust, most of the fiscal stops are being pulled out. This means recapitalizing U.S. banks with new public injections of up $700 billion, in part via the purchase of preferred shares—that is, by partially nationalizing them. In addition, the government will temporarily guarantee bank liabilities such as deposits (increasing FDIC protection from $100,000 to $250,000), inter-bank lines of credit, and possibly other new debts incurred by the banking system. The Treasury will purchase toxic securities from banks in order to restore liquidity in the decimated mortgage-backed securities market, with the hope of putting a floor under falling home prices. European banks are pledging up to $2.5 trillion to similar ends.
The basic idea is to provide nearly unlimited liquidity to an international banking system that almost completely seized up because of toxic debt and distrust. The markets are certainly greeting the policy makers' response with some optimism but we're not out of the woods quite yet. The process of de-leveraging—that is, the wholesale dumping of assets by huge financial institutions, like hedge funds, that invested on credit and now must raise tons of cash to meet their obligations—is still ongoing. Inter-bank, business, and consumer credit markets remain almost impossibly tight. And on the real side of the economy, the world has found itself in the midst of a severe recession that might be shortened somewhat by the rescue program but cannot be cured by it, as we discuss later in this update.
Gold stabilizing after universal sell-off
This credit crisis has indiscriminately wreaked havoc on just about every investment vehicle out there, including precious metals. One would think gold should be setting new record highs during a financial mess of this magnitude, so the decline in precious metals over the last month has been confounding. But very little has made sense in this crisis: the dollar rising against its fundamentals; blue chip financial giants and even countries defaulting; gold setting a new low for 2008 despite the world reaching an apex of economic uncertainty. We'll try to sort out these conundrums in this update. Let's look at the latest charts.
U.S. Dollar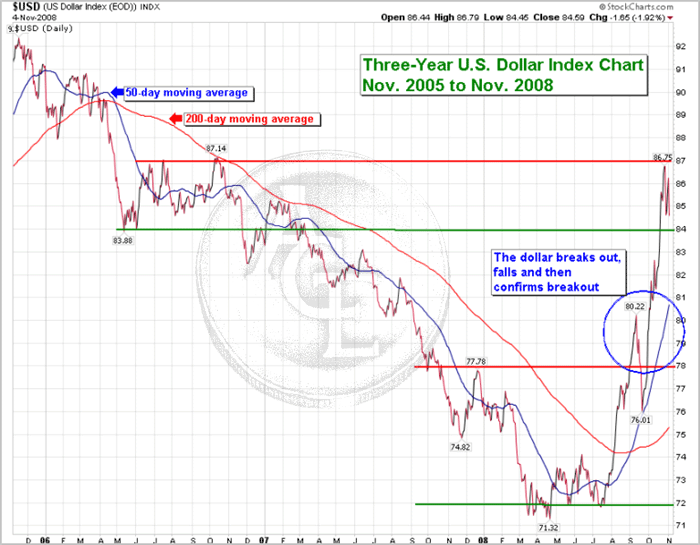 The U.S. dollar has been unexpectedly strong over the past several months. In early August, it began what appeared to be a counter-trend rally that peaked in early September and then turned sharply lower as the month wore on. After reversing course again in late September, the dollar moved back over 78 on the index chart and entered breakout mode in early October. Throughout October, it continued to surge higher and is now at its highest level since October 2006.
Now compare the dollar index chart to the U.S. Federal Reserve interest rate chart just below.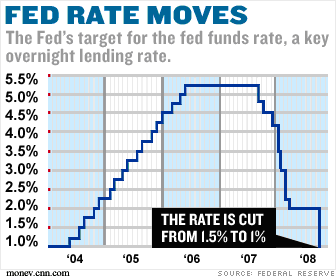 As you can see, the dollar's multi-year low at 71.32 coincides with U.S. interest rates bottoming out at 2.0% in the spring of 2008. Its sharp rally since August clearly has nothing to do with U.S. economic fundamentals, which have continued to deteriorate considerably since then, or a strengthening of U.S. interest rates, which have been aggressively cut since then. Rather, the recent strength in the U.S. dollar is a symptom of how bad economic conditions have become everywhere else since August.
The buck's counterintuitive strength is a result of reflexive flights to safety in U.S. Treasuries. In order for foreign investors to buy Treasuries, they must first convert to dollars, which drives up their value. It matters little that the dollar is yielding little; cash is king during periods of extreme risk aversion, and the U.S., for all of its recessionary problems, is still considered the safest bet among world economies. In addition, due to abnormally low interest rates, it's likely that the dollar is now developing a carry-forward trade. After all, borrowing dollars during this crisis has been pretty easy—the Treasury is pretty much giving them away. So the dollar has benefited from this panic, but for how long?
Oil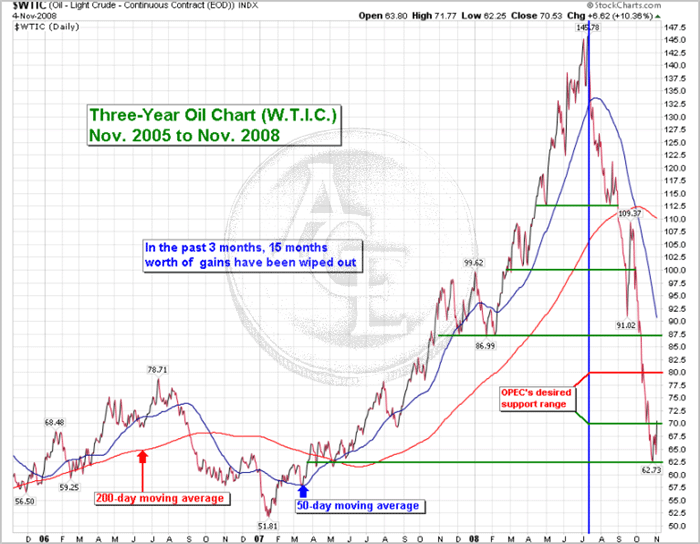 Dollar strength has put heavy pressure on oil and precious metals, both of which are denominated in the U.S. currency. As you can see in the oil chart above, since peaking at $145.78 a barrel in July, the price of oil has fallen off a cliff. If recent months had presented a normal environment, we'd expect the oil chart on the right side of the July peak to mirror the left side, with prices falling to support at $100 and again at $87.50. As the crisis unfolded through September and October, however, oil broke these stops and fell sharply to levels not seen since 2006 and early 2007.
Compare the upward movement of the dollar to the downward movement of oil from August through October. Almost exact inversions of each other, they neatly show how cheaper oil is negatively correlated with a stronger dollar. Oil started declining in July because of economic slowdowns and reductions in demand, but once panic set in and the dollar started climbing, it plummeted.
Of course, hedge funds have been heavily invested in oil. Once they began de-leveraging the drop in oil accelerated. Investors pulled at least $43 billion from U.S. hedge funds in September as market turmoil led to unprecedented withdrawals, according to TrimTabs Investment Research. Such withdrawals can lead to a vicious circle in the markets, as funds sell holdings to return money to clients, depressing prices and prompting further redemptions. With close to $2 trillion under management, the hedge fund industry has experienced outflows during only a handful of months, including a small outflow in April of this year. (See full story.) Much of the general sell-off in commodities and oil over the last few weeks is attributable to their panic-selling to raise capital.
In the last two weeks, OPEC has agreed to cut production 5% in the hopes of stabilizing the oil price in the $70 to $80 price range. Time will tell whether OPEC can stabilize the oil price over $70 per barrel, as they've stated they'd like to do. Substantially lower oil prices are clearly a relief to a fiscally beleaguered world at the moment, though, and we're grateful for this relief.
Gold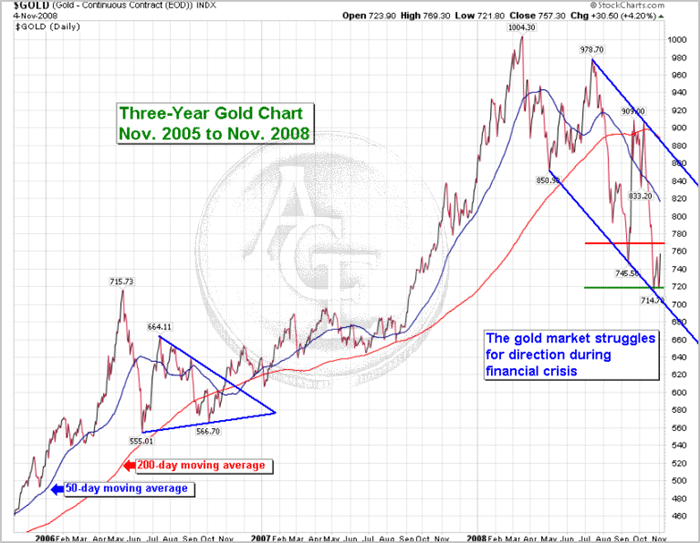 The gold chart looks very weak today. Since peaking in March 2008, gold has set a series of lower highs and lower lows. While a correction was expected following the big gains of 2007 and 2008, what we've seen recently is a gross abnormality driven by declining oil prices and panic-driven gains in the dollar. While the September to October surge above $850 was a flight-to-safety brought on by the bursting credit crisis, the subsequent break below $850 was brought on panicked flights to cash. In our thirty years in the gold market we've never seen such volatility. The gold price appears to be consolidating support in the $720 to $740 price range and the extreme volatility has diminished. In the present environment, gold is clearly oversold and undervalued. Nonetheless, it could remain under pressure for several more months.
Now the big question for gold is whether its series of lower highs and lower lows will continue, or whether it's forming a double bottom like it did in 2006. The short-term strength or weakness of the U.S. dollar holds the key. During the last several trading sessions the dollar has lost upward momentum and has begun to decline slightly. Based on underlying fundamentals, the flight into the dollar over the last two months makes little sense. Once the buck loses upward momentum and turns over, we should see gold climb back to the higher end of its recent trading channel (indicated by the parallel blue lines). Then we'll have to see if gold can hold its higher support levels $745, $790, $850 and beyond.
Many have begun to question whether gold's bull market in gold is over. We emphatically think no, it is not over. Much of gold's dismal recent showing is because of frantic de-leveraging and liquidations by hedge funds. Overall, most hedge funds are having their worst year in a decade, both in performance and the amount of redemptions by investors. With their own backs to the wall, many banks have required hedge funds to increase their collateral, forcing them to raise cash by selling even their most desirable assets like gold and silver. Many funds, including some of the largest, have been pushed to the brink of extinction, and Credit Suisse estimates that 30% of roughly 8,000 will close over the next few years.
Since 2002, commodities in general and precious metals in particular have been very profitable investments for funds and speculators who buy and hold contracts and options on the futures exchanges. In fact, commodities have been one of the few sure bets and massive speculative positions were built up in precious metals. Many of these positions have been unwound in the last two months, and gold has actually shown remarkable strength. While oil lost nearly 50% from its peak, gold has dropped less than 20% since the crisis began in earnest, and we may have seen the worst of it.
What our readers need to understand is that the current circumstances of dollar strength and gold weakness run counter to their fundamentals. Once financial markets stabilize—and they will—the dominant trends are likely to reassert themselves with gusto. In fact, the rescue plan's extraordinary injection of staggering amounts of liquidity into world markets has set the stage for explosive monetary inflation. Over time, this explosion in money supply and inflation is likely to propel gold to record heights.
Silver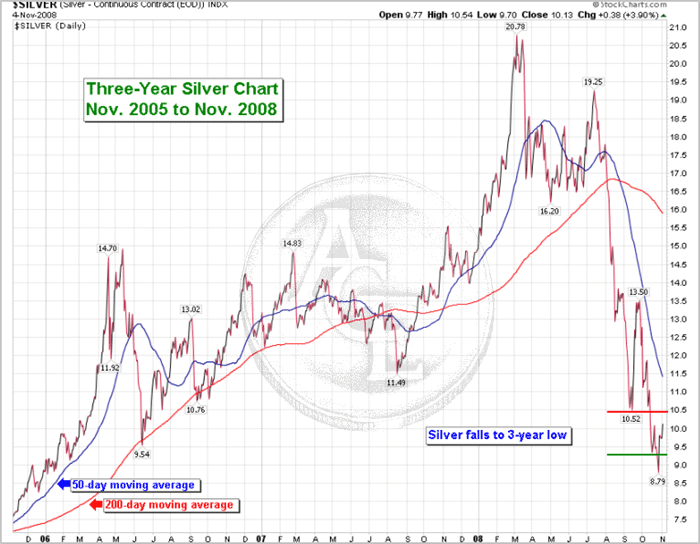 As we've said before, silver is often more volatile than gold because it tends to trade more like a commodity and less like a currency. When you compare its 50-day and 200-day moving averages to gold, you can see how much more sharply silver has declined in the commodity sell-off—more than 50% since its peak while gold has fallen less than 20%. For the more industrial metals like platinum and palladium, the percentage declines are even greater.
The good news is that silver also tends to rebound more sharply than gold. In the past week it found support above $9.00; and a trading range from $9.40 to $10.50 is beginning to emerge (as indicated by the green support line and the red resistance line). Like gold, silver is now clearly oversold and undervalued, though a firm bottom may be still to come. While physical demand for silver remains abnormally high, the price remains abnormally low. This oddity would suggest that silver should move higher, but without speculators in the market to buoy the "paper" price it may yet move lower before rebounding. We continue to believe silver under $12.50 an ounce is a steal, but until a sense of normalcy returns to the markets, not much will make sense.
Platinum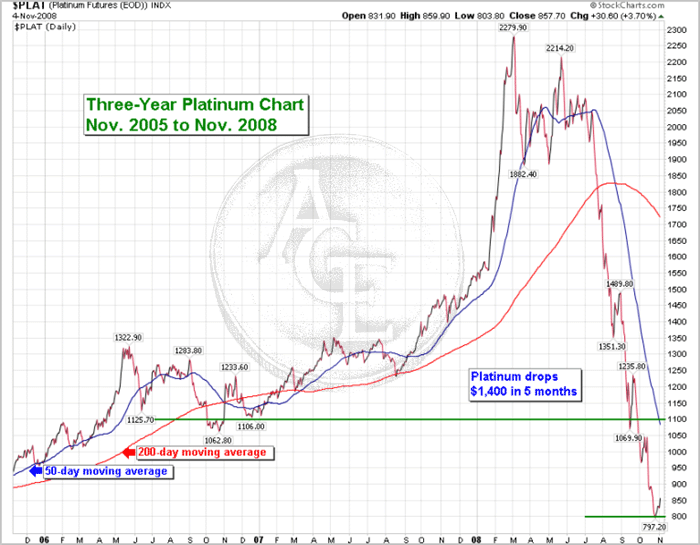 As you know, we've largely side-stepped the platinum market for much of the past five years, believing it was overpriced relative to the other precious metals. The platinum chart above vindicates our caution. Buyers have begun to appear below $800 an ounce (establishing support at the green line). The next major support goes all the way back to summer of 2006 at $1,100, a level that looks overly optimistic to us. We look for an $825 to $900 platinum trading range in the short term. For the first time in many years, platinum looks like a good buy. Trading at about a $100 premium over gold, it's still not cheap, but it does look reasonably priced.
Palladium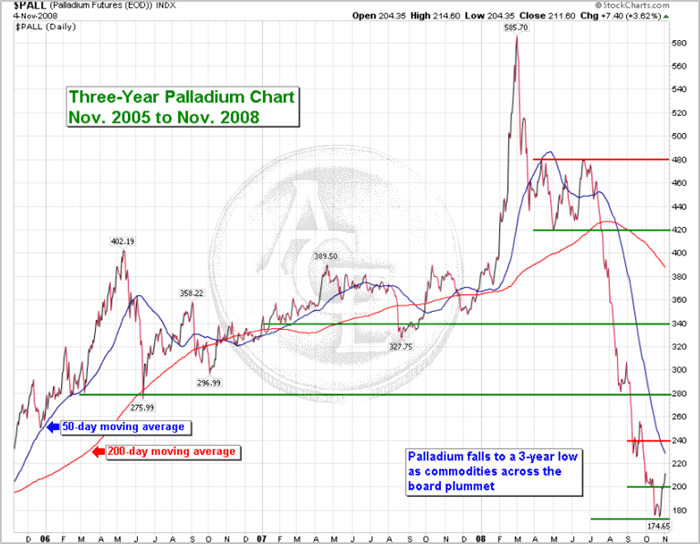 Like its sister-metal platinum, palladium has fallen substantially in recent months. After stabilizing at $175, it's now finding support at $200, with a trading range up to $240 developing. With a much lower price point than platinum and similar industrial uses in automobile catalytic converters, palladium has a considerable advantage over platinum as the U.S. auto industry struggles. But it might be several months before the palladium market behaves normally, so we recommend buying gold and silver instead.
Record demand for bullion coins
The financial crisis has created unparalleled shortages of physical precious metals, especially gold bullion, in the U.S and Europe. Almost overnight, as banks on both sides of the Atlantic began to fail in early October, physical gold supplies on the shelves of dealers and wholesalers on both continents were wiped out by aggressive buyers, sending premiums for classic European gold coins, one of our favorite bullion substitutes, sharply higher.
Compounding the shortages, the U.S. mint suspended deliveries of the popular 1-ounce American Buffalo gold bullion coins and severely restricted allocations of 1-ounce American Gold Eagles and American Silver Eagles. And the Royal Canadian Mint, Australian Mint, and Austrian Mint interrupted deliveries for their 1-ounce bullion coins, unable to create enough bullion blanks, or planchets, to meet demand. As a result, premiums on bullion coins paid by dealers like us have surged. Throughout October, there were literally four or five buyers for every available coin. In fact, the U.S. Mint sold twice as many gold eagles in the first ten months of 2008 as it did in all of 2007.
A similar supply crunch occurred in late 1999, leading into Y2K, but today's demand has been four to five times greater. We've never seen anything like it. The number of new buyers entering the market has been astounding. Supplies of bullion products continue to be quite strained and premiums have increased. And with the mintage year almost at an end, very few bullion coins will be forthcoming from the mints until 2009. Even then, we anticipate below-average supplies and above-average demand for physical gold, silver, platinum, and palladium for the foreseeable future
It's time like these that our thirty years in the markets comes in handy. Luckily, because of our excellent long-term relationships with some key trading partners, we've been able to maintain a fairly consistent supply of classic pre-1933 U.S. gold coins and many classic European gold coins —items that we prefer anyway because of their added profit potential and financial privacy.
We currently have available the following classic coins available in limited supplies. We recommend each of them as superior to bullion for bulk gold investors.
Switzerland gold 20 franc "Helvetias" (BU)
U.S. $10 Liberty gold coins (XF)
U.S. $20 Liberty gold coins (XF)
U.S. $10 Liberty gold coins (MS63)
We're finding small pockets of bullion-related products but they tend to pop up and disappear very quickly. If we don't have what you want, please ask your account manager at 1-800-613-9323 to add your name to our want list. We're filling requests on a first-come, first-served basis. If you're not on the list, we won't know to contact you. And we wish to thank you for the patience you've shown during these times of strained supplies and occasionally delayed deliveries. Your consideration and your business are greatly appreciated!
Global recession deepens
By virtually every available metric, the U.S. recession is getting deeper and nastier. GDP shrank last quarter for the first time since 1991. Unemployment rose to a 5-year high of 6.1 percent last month, with many predicting it will climb much higher, and continuing jobless claims reached a 25-year. Manufacturing sank to its worst level of output in 26 years, according to the newest ISM report. Home prices in twenty U.S. metropolitan areas fell 16% in July from a year earlier, the most since records began in 2001, according to the Case-Schiller index. Foreclosures are up 71% in the third quarter from last year, according RealtyTrac; and nearly 20% of homeowners are upside-down on their mortgages, according to First American CoreLogic.
Perhaps worst of all is the sorry state of the U.S. consumer. With 70% of GDP attributable to consumer spending, the health of the consumer is a key issue for the economy. Hammered by the financial crisis and rising unemployment, consumer confidence plunged in October, reaching an all-time low in the report's 41-year existence, the Conference Board reported last week. And reluctance on the part of consumers to shop for big-ticket items like cars has led to the biggest quarterly drop in consumer spending in over four years, according to the Commerce Department. General Motors just announced a 45% drop in October sales, and Ford a 30% drop.
"The U.S. consumer is in major trouble, with wage and salary income growth evaporating, credit extremely tight or unavailable, home prices continuing to decline, household balance sheets stressed, and food and energy costs consuming a large share of budgets. A consumer-led recession is upon us, and it promises to be a serious one," said Josh Shapiro, chief economist at MFR Inc., to MarketWatch .
The old saying that when the U.S. sneezes the rest of the world catches a cold apparently still holds true—except it caught pneumonia. Most of the other G7 economies have already experienced at least a quarter of negative growth and are entering a severe recession. In its updated forecast, released this week, the IMF said world output would fall to 2.2% growth in 2009, down from 3.7% pegged for 2008. The advanced industrial economies will contract for the first time since World War II, and negative growth is expected in the all major economies except Canada. Emerging market economies will also shrink, with growth slipping to around 5%. The recession is broadly comparable to severe downturns seen in 1975 and 1982, the IMF said. So it comes as little surprise that the recent surge in the dollar strength is because other economies are faring even worse than the U.S. (See full story.)
Central banks: inflate or die
Who would have thought just a few months ago, when central bankers in almost every developed and emerging economy were doing their utmost to kill the raging beast of inflation, that today they'd be praying—indeed, committing blood sacrifice—at its alter as the first, best hope to save the financial world? This inversion is just one of the many shocking oddities stalking our world-upside-down economic reality. With investment banks gone the way of Tyrannosaurus Rex, assets of all kinds falling in flames like the Hindenburg, and credit markets imitating ice caps before global warming, inflation, ironically, has become our silver bullet. Why? Because the alternative is a deflationary recession the likes of which we haven't seen since the Great Depression.
With credit frozen, the threat of deflation becomes very real because no money circulates. It's like running an engine with no oil in the crankcase: very quickly, the engine simply seizes up and repairs are incredibly expensive. As demand falls for goods and services, prices follow suit and assets values erode. In turn, businesses cut back, jobs are lost, wages drop, budgets tighten, and consumption decreases further, accelerating the downward spiral that leads into the deflationary quagmire of a true depression. Rather than a V-shaped or U-shaped recession, which imply a brief or slightly longer period of reduced demand and consumption, respectively, full-on deflation means an L-shaped depression, one that's open-ended and very painful.
The Treasury's rescue program is all about preventing deflation by promoting inflation—or rather, re-inflation. At moderate levels, inflation positively affects the economy in two important ways. First, it encourages consumers to buy today before prices increase. Second, and equally important, in an economy built on debt like ours, inflation it makes the payments more affordable over time.
So central bankers worldwide have realized it's time to inflate or die. The rescue plan will pump at least $3.5 trillion in new liquidity into the crankcase of the failing global economic engine with the hope of getting money to circulate once again. "If you print enough money, you can create inflation," said Kenneth S. Rogoff, a former chief economist at the IMF and now a professor at Harvard. And Ben Bernanke agrees, saying he's willing simply to print money and drop it from helicopters if necessary.
How will we know if we've escaped the nightmare deflationary scenario? One key number to watch is the so-called TED spread, or the difference between what banks and the Treasury pay to borrow money for three months. Over the past five years, the TED spread has typically remained between 0.5% and 1.0%. In mid-September, at the height of the credit panic, it exploded to an astronomically high 4.64%, meaning banks simply didn't trust each other to repay loans. As of this week, the TED spread has narrowed to only 2.01%—only two to four times higher than average. This is excellent news. Although lending remains restricted, it's no longer frozen. And as it thaws further, more money will circulate, which means deflation fears will recede and inflation will return.
This thawing of credit has been accomplished by flooding trillions of dollars into a financial system that was already overflowing with liquidity after a decade of loose monetary policies. And that means explosive inflation is just waiting to happen. Once the economy begins to regain its footing, the gold price is likely to skyrocket along with other commodities, as Merrill Lynch stated in a report last month. "The unintended consequence of the ongoing financial bailout will be a return of inflationary pressures to the commodity markets," wrote analyst Francisco Blanch, and that will drive gold to more than $1,500 an ounce, according to the Merrill report.
In addition, the rescue plan will have a devastating impact on the U.S. government's deteriorating fiscal condition. The official budget deficit for 2008 (year-ended September 30) came in at $454.8 billion, up from $161.5 billion in 2007. But the current budget picture is far gloomier. The Treasury Department reported that it will have to borrow $550 billon this quarter to pay for the rescue package—and that doesn't include the $60 to $100 billion more that a new stimulus package is likely to cost. Wall Street bond traders now predict the United States will have to borrow $1.4 trillion this fiscal year, according to Bloomberg, on top of a gross federal debt of $10.3 trillion. These numbers beggar the imagination.
Under these circumstances, the long-term fundamentals for the U.S. dollar could not look much worse, despite its recent rally. And long-term fundamental for gold could not look much better. Like Merrill Lynch, we expect gold prices of $1,500, or higher, before this bull market runs its course. We urge you to take advantage of the temporarily depressed gold price and stock up now. When gold breaks out again, you'll be glad you did!
As always, thanks for your time,
Sincerely
Dana Samuelson, President
Dr. Bill Musgrave, Vice President
Metal
Ask
Change

Gold

$1,780.89
$0.00

Silver

$18.21
$0.00

Platinum

$832.41
$0.00

Palladium

$1,973.67
$0.00
In US Dollars
AGE Gold Commentary
AGE Investor Alert!