AGE Gold Commentary is our regular report analyzing trends in precious metals and rare coins. We monitor domestic and international markets and extrapolate from our 30 years in metals to place current events into a hard asset perspective. View archives.
---
2/17/2009: Gold climbs as crisis deepens
Source:
In this issue of AGE's Gold Market Commentary:
Gold climbs as crisis deepens
Physical bullion still scarce
Classic U.S. gold coins going strong!
Obama's "three-legged stool"
A three-legged race to hyperinflation?


Gold climbs as crisis deepens
The fury of this recession rages on. Consumers are being crushed as foreclosures rise, manufacturing shrinks, and the economy sheds jobs, all at record rates. The worst financial crisis in two generations has erased $14.5 trillion, or 33% of the value of the world's companies, since September 15, according to Bloomberg, and we haven't hit bottom yet.
Top of mind for most Americans is whether they'll be able to keep their jobs and homes. More than a half a million jobs were lost in each of the past three months, bringing the total to more 3.6 million since the recession officially began thirteen months ago. Payrolls are falling at a 5.1% annual rate—a pace exceeded only once in past 50 years. More than 11.6 million Americans are unemployed and looking for work, totaling 7.6% of the workforce, the highest unemployment rate since September 1992. Add in those who are too discouraged to look, and those who've been forced to part-time, and the alternative unemployment rate rises to 13.9%, according to Marketwatch. Ian Shepherdson, chief economist for High Frequency Economics, said he expects net job losses of about 3 million through the first half of this year.
Contributing to grim U.S. unemployment is the struggle of our manufacturing sector, which shrank dramatically again last month, according to data from the Institute for Supply Management. Automakers lead the downturn with sales "at depression levels," in the words of AutoNation analyst Michael Jackson. General Motors, to name just one of the stricken, is projecting sales at a 27-year low for 2009 and says it will go bankrupt without more bailout funds. Expect more noises like this coming from the big three, and from other large manufacturing firms, in the coming weeks.
But the collapse of the housing market is still the main culprit behind much of economic pain felt by most Americans. Foreclosure notices on U.S. properties in January rose 18% from a year earlier, RealtyTrac reported. Foreclosure filings, which include default notices, auction-sale notices, and bank repossessions, totaled 274,399 in January, which means one in every 466 U.S. housing units was the subject of a filing last month. Furthermore, sales of new U.S. homes plummeted almost 15% to a record low in December, as a lack of mortgage lending hammered the sector yet again. New-home sales are now down 76% from the peak in the summer of 2005, according to Marketwatch.
Unfortunately, the whole world is in the same boat, with many economies deteriorating more quickly than leading economists predicted only weeks ago. Britain had its worst contraction since 1980 last quarter, and sharp slowdowns are reported from Germany to China to South Korea. Europe now appears to be in worse shape than the U.S., and there's mounting concern about the stability of the euro and the British pound, which dropped to a 24-year low against the dollar last week. Even China may not prove to be the bulwark of economic strength that many had hoped. Beijing announced last week that its economy grew by 6.8% in the fourth quarter of 2008—slower than the 7% analysts expected—bringing total growth for 2008 to a seven-year low. Many analysts believe the Chinese slowdown may be sharper than their government is willing to admit.
Along with recession, unemployment has gone global and the result is an increasingly unstable world. Internationally, job losses could hit a staggering 50 million by the end of 2009, according to the International Labor Organization, a UN agency. The IMF expects global economic growth to reach its lowest point since the Depression by the end of the year, with developed economies expected to shrink by 2% in 2009. High unemployment rates have led to protests in Latvia, Chile, Greece, Bulgaria, and Iceland and contributed to strikes in Britain, France, and India. The government of Iceland collapsed last month under waves of protest. And in emerging economies fears are growing that joblessness will result in the rejection of free-market, pro-Western policies. Indeed, as reported by the New York Times, the new U.S. director of national intelligence, Dennis C. Blair, told Congress last week that instability caused by the global economic crisis has become the biggest security threat facing the U.S., outpacing terrorism.
During times of financial instability and political upheaval, precious metals shine. Gold's historical role as currency of last resort is again asserting itself as demand increases and prices climb. Like many analysts, we expect gold to reach $1, 500 to $2,000 per ounce in coming years—or even sooner—as the full financial and political costs of the crisis become clear.
Let's look at recent price action.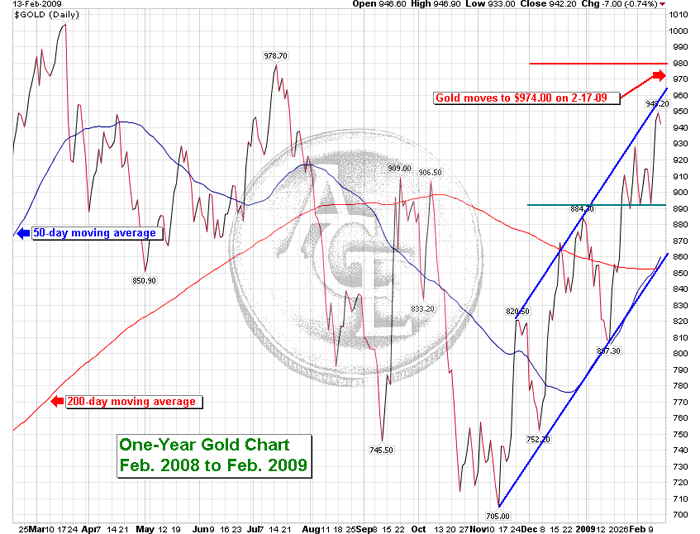 Gold
In our January update, we said gold was primed to test its next strong upside resistance level in the $950 to $970 range in the ensuing weeks, and that's precisely what happened. After breaking anticipated upside resistance at $910, it surged to $950 last week. Today it surged again as high as $974, signaling remarkable short-term strength. As you can see in the one-year gold chart above, the upward channel we identified in January remains intact and the bias remains to the upside.
During its recent rally, gold has enjoyed very strong support at $890 and is now establishing a new short-term trading range between $870 and $970, as the channel indicates. We see current upside price resistance at just under $980, then at $1,030. If gold moves over $1,030 in the coming weeks, anything's possible.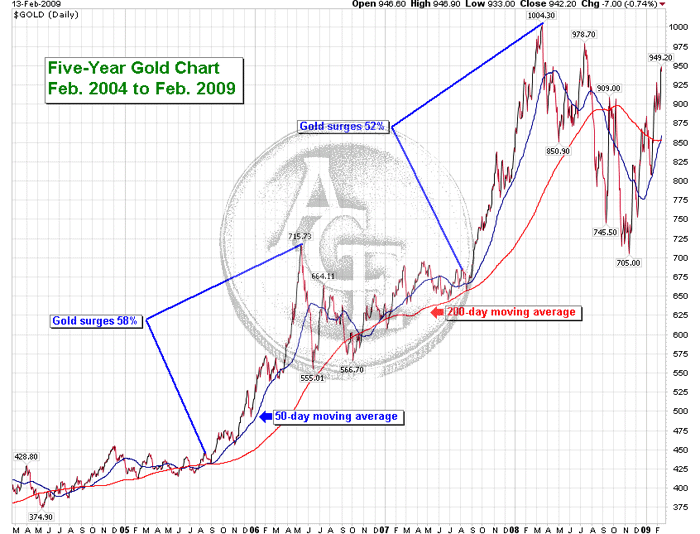 As apparent in the five-year chart above, the 2009 gold market is shaping up to be similar to 2006 and 2007, when the metal entered an extended consolidation phase following unusually large short-term gains. If it does not soon break $1,030, its high water mark from March 2008, the gold price will probably continue to stabilize between $900 and $1,000 into the spring. Keep in mind, though, that gold typically experiences cyclical weakness in late spring or early summer, so a drop under $890 is also possible during that time frame.
But of course, 2009 is hardly going to be a typical year, and the gold price could spike substantially higher at any time, given the radical instability of the world economic and political pictures. Gold's status as the currency of last resort has been reaffirmed by the recent price rise back towards its all-time high, and this precious metals bull market is very far from over.
In the longer term, we remain extremely bullish on gold and silver, and continue to target highs of $1,500 to $2,000 before all is said and done. In the mid-term, we anticipate another explosive surge-cycle on the order of the 58% gain we saw from 2005 to 2006, and the 52% gain from 2007 to 2008 (as indicated by the blue channels above). Our advice is to continue to add to your gold position, especially on price weakness, and be prepared for the possibility of a major upsurge if very bad news breaks.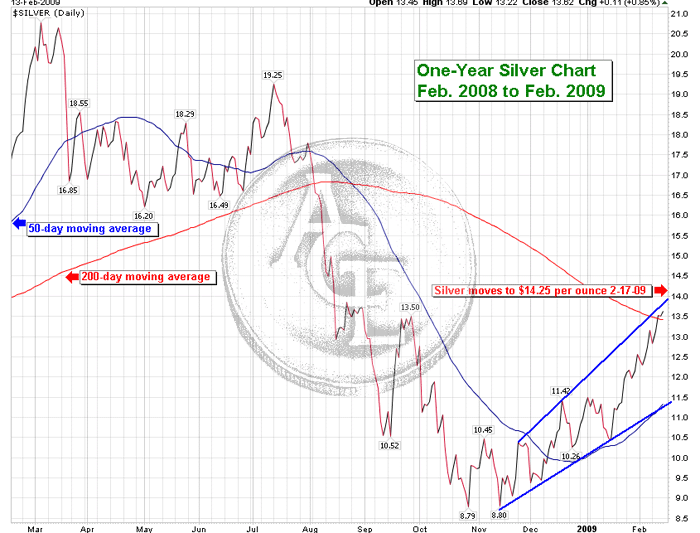 Silver
Silver, too, has been gaining, from under $11.50 in January to a high above $14.20 in today's trading. In our last update, we projected a short-term range between $12.50 and $14.50, and now we have it. Remember, silver is more volatile than gold, so while we're encouraged by its latest surge, the widening of the upward blue trend line channel above indicates that it has perhaps moved a little too far and fast in the past two weeks.
However, when the silver price runs it tends to go parabolic, and the chart indicates we're in a parabolic rise now. The next trading week will tell whether this run has real legs. If prices pass the previous resistance level at $15.00, it could easily push to $16.50 and higher. Either way, silver's bias is strongly to the upside.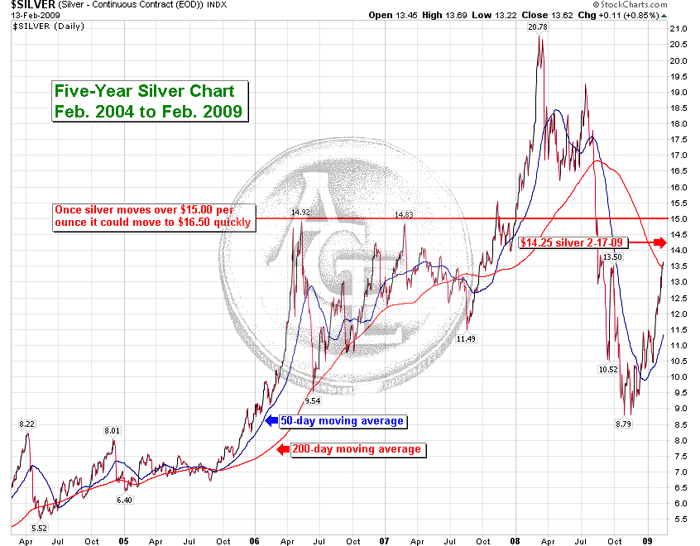 The five-year chart above shows silver's volatility. Certainly, it's been enjoying strong demand from new buyers in early 2009 and is regaining its fair market value following its July to October washout. Our advice is to continue to accumulate silver under $14.50 through the spring, especially on any price weakness. Movement back over $15.00 will, most likely, mean in a charge towards $16.50 and higher. Silver remains the most undervalued precious metal in the current environment, and could spike higher very quickly.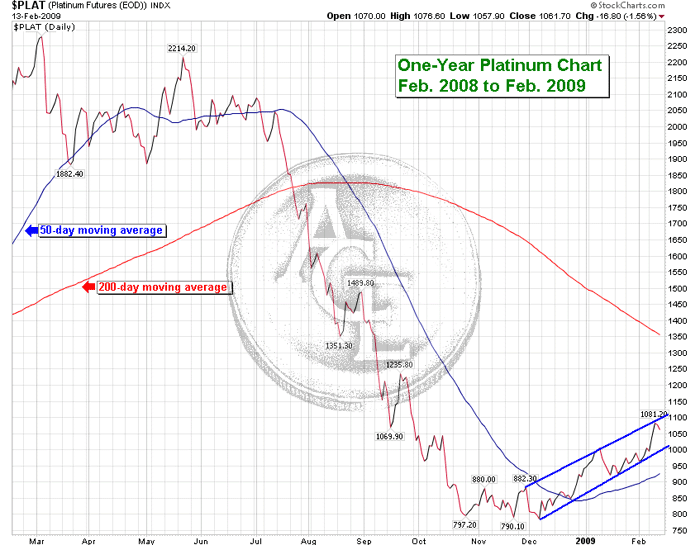 Platinum
Platinum has been gaining and remains reasonably priced relative to gold. But unlike gold, it's far less likely to regain its all-time high anytime soon. We continue to shun it in favor of the less speculative metals, silver and gold—which is fine because physical platinum remains virtually non-existent in the marketplace anyway, except for one-ounce bars, which are only sporadically available. To our knowledge all of the major world mints have discontinued production of platinum items, so almost the only way to trade it is on paper—in the futures market or ETFs. We think it's reasonably priced at about 10% over gold, but that silver and gold offer greater safety and upside potential.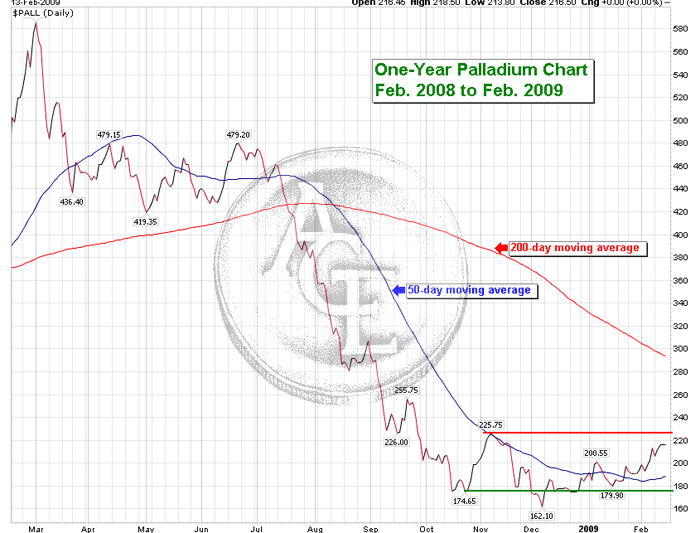 Palladium
Palladium is in the process of finishing a nice U-shaped bottom, as you can see above, after climbing from $200 into a range around $220 since our January update. Whereas gold and silver have monetary value in addition to their industrial uses as commodities, and platinum is popular in jewelry, palladium remains primarily a commodity—a cheaper if less flexible alternative to platinum. Widely used in catalytic converters, it's suffering now along with the automobile industry, so we see little reason for it to make a strong move to the upside in the near term. We continue to favor gold and silver.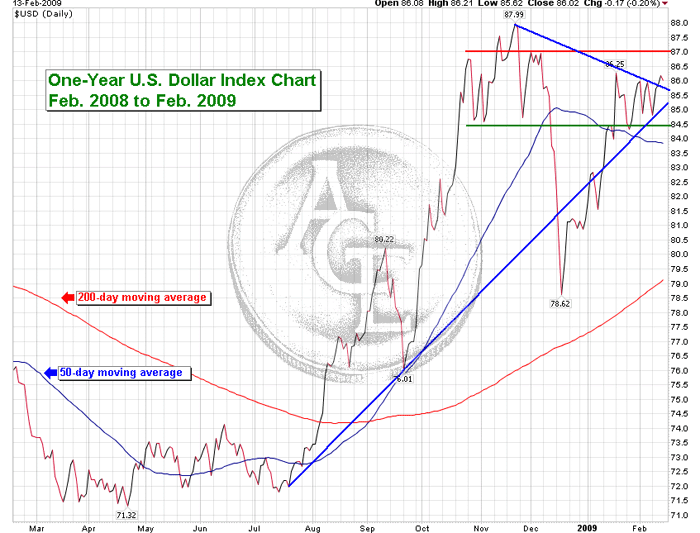 U.S. Dollar
As the blue trend lines indicate, the current one-year dollar index chart shows no clear momentum up or down. The green support and red resistance lines show its attempt, since October 2008, to establish a steady trading range between 84.50 and 87.00. The blue trend lines and the 50-day and 200-day moving averages point toward a convergence lower in the coming months.
Although gold and the dollar normally move in opposition directions (because gold is denominated in dollars internationally), they've been gaining together since mid-December. But what's normal anymore? For the time being, following almost continuous declines for seven years, the dollar is now consolidating after rallying from its all-time low in April 2008. The trend lines indicate the dollar is headed towards a day of reckoning in the coming months, and we expect this development to be positive for gold. In the longer term, given the staggering debt burden facing the U.S.—following a decade of profligate spending, now compounded by the $9.7 trillion rescue program—we're bearish on the dollar.
Physical bullion still scarce
Not much has changed since last month's update on physical bullion availability. Supplies of physical gold for immediate delivery, especially modern bullion coins, remain strained. Mints around the world have been scrambling to meet backorders, often interrupting deliveries. Finally, we're beginning to see some parity between physical supply and demand but we're not back to normal market conditions yet. While buy/sell premiums for all forms of physical gold remain higher than normal, they've eased slightly in the past month.
The U.S. Mint continues to allocate 1-ounce U.S. gold eagles sporadically, and we do not expect to see any fractional gold eagle allocations for the foreseeable future. Canadian 1-ounce gold maple leafs are more readily available and with slightly lower premiums.
Classic European gold coins
We highly recommend classic European gold coins as a superior substitute for modern gold bullion coins. Minted mostly pre-1935, these classic coins from many nations offer all of the benefits of bullion plus additional ones like extremely limited supply, constant collector demand, and complete financial privacy. Few investors are aware of them. And because of their fundamental scarcity, these classic gold coins have the potential to gain faster than bullion during a rising gold market. Plus, they're steeped in history and often gorgeous in design.
Although European gold coins are in tighter supply than normal and buy/sell premiums are higher, they're the only smaller-sized, bullion-related gold coins reliably available for immediate delivery, and will be for the foreseeable future. The best values can be found in Swiss 20 franc "Helvetias", French 20 franc "Roosters", and the slightly larger Dutch 10 guilder "Queens", all in Brilliant Uncirculated condition.
Circulated U.S. gold coins
In lieu of modern gold bullion and classic European gold coins, many of our customers are buying common date U.S. gold coins, minted pre-1933, in Almost Uncirculated condition. For the same reasons as European gold coins—true scarcity, complete financial privacy, and added profit potential—we prefer these classic U.S. coins to modern bullion. We favor the larger
U.S. $20 Liberty, U.S. $20 Saint-Gaudens, and U.S. $10 Liberty gold coins in Almost Uncirculated condition as providing the best values today. All are highly recommended and ready for immediate delivery.
Silver bullion
Silver bullion has been in extremely short supply since September, too. During the last few months, the U.S. Mint intermittently suspended sales of their popular 1-ounce American silver eagles, and the Royal Canadian Mint ceased deliveries of one-ounce Canadian silver maple leafs. As we enter 2009, supplies of the both remain spotty at best.
Fortunately for our silver investors, we've been able to source a limited supply of U.S. 'junk' silver coins, which are pre-1964 dimes, quarters, and half dollars all containing 90% pure silver. And we also have high quality, 1-ounce silver rounds, which are privately manufactured .999 fine silver coins that meet our high standards of purity and minting. Both are highly efficient ways to own silver bullion and are highly recommended.
We've been unable to source platinum and palladium since October and we expect this drought to continue. These days, the only platinum and palladium available for immediate physical delivery is from the secondary market, not the mints, and premiums are prohibitively high.
Classic U.S. gold coins going strong!
Since the failure of Lehman Brothers on September 15, classic U.S. $20 gold coins have been selling like hot cakes. New buyers have flooded into our market and demand has overwhelmed supplies. Prices have been rising at double the rate of gold bullion, as you can see in our scorecard below.
We haven't seen a coin market like this since 1979 to 1980, following gold bullion's meteoric rise from $275 to $850 in less than four years. Back then, most U.S. citizens didn't even know gold bullion coins existed, let alone classic U.S. $20 gold coins. Today, thanks to the web, our market has become far more sophisticated and responsive to economic changes. Bullion and gold coins have moved from backstreets to mainstreet, which has always been the case in Europe, and the pool of potential buyers has increased exponentially.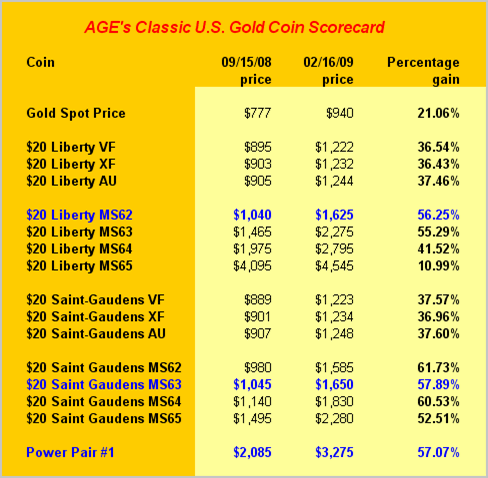 As you can see, almost every classic U.S. $20 gold coin, ranging from heavily circulated VF condition to gem quality Mint State 65, has gained dramatically since the Lehman collapse. Combinations of lower price and higher scarcity have performed the best, such as $20 Liberty in MS62 and MS63, and $20 Saint-Gaudens in MS62, MS63, and MS64.
Power Pair #1 is one of our favorite conservative portfolio builders, consisting of a $20 Liberty in MS62 and a $20 Saint-Gaudens in MS63 (in blue above). As you can see, it's been one of the top performers during this period of severe stress. Congratulations to customers who took our advice and bought this great combination months ago. We expect classic U.S. $10 and $20 gold coins to continue their excellent performance in coming months.
Obama's "three-legged stool"
President Obama is still in the process of unfurling his ambitious program to save the U.S. economy. While we don't know all the details yet, we do know he conceives of it as a "three-legged stool," with the restoration of jobs, housing, and credit as the key supports. And we know it will be almost inconceivably expensive, putting the U.S. taxpayer on the hook for some $9.7 trillion—so far.
To generate jobs, Obama today signs into law a $787 billion stimulus package, approved late last week by Congress. Combining tax cuts, infrastructure spending, and expropriations to state governments, the package is intended to create around 3.5 million jobs through 2010, according to administration statistics. Private analysts place the number at closer to 2.5 million or fewer.
To stabilize the housing market, Obama will unveil a multi-part relief plan this week. Though details are unclear, one provision changes bankruptcy law to allow judges to modify the mortgages of distressed homeowners. Another provides legal protection to lenders who reduce interest rates or otherwise modify the terms of troubled loans. A third provision allows the Treasury to provide incentives to lenders that modify troubled loans. Government officials say this plan will cost around $50 billion.
To get credit flowing again, Obama's new Treasury Secretary, Tim Geithner, presented a hazy program at a press conference last week, inspiring little confidence and immediately lopping almost 5% off the S&P 500. Geithner's plan, which apparently was much better presented and received at the G-7 conference later in the week, has several parts, the most important of which are "stress testing" banks by looking at their books to separate viable institutions from bankrupt ones, and establishing an investment fund with private and public money to purchase bad assets. To these ends, the Treasury plans to spend up to $500 billion to buy toxic mortgage securities, and spend around $1 trillion to underwrite funds from the private sector. The Treasury also plans a mortgage modification plan for troubled homeowners, to be announced later. Overall, the Treasury plan is reported to cost around $2 trillion.
While all three legs of this stool are crucial, tackling the credit crisis will make the biggest difference because it has pierced the heart of our financial system. Until banks start lending again—for mortgages, student loans, credit cards, business loans—all the stimulus in the world won't help for long. Harvard economist Kenneth Rogoff, formerly with the IMF, has likened the dysfunctional credit markets to a gaping wound and the stimulus package to a blood transfusion. Unless we staunch the wound, any blood pumped into the patient will simply drain out. And since we only have plasma enough for one transfusion we simply must stop the bleeding first. Or that's the theory, anyway.
Increasingly, however, economists are skeptical that the patient can survive this particular operation. A growing chorus of respected economists including NYU professors Nouriel Roubini and Matthew Richardson, recent Nobel laureate Paul Krugman, and Kenneth Rogoff, to name a few, argue that the banking system is fundamentally insolvent and must be nationalized, if only temporarily (as in Sweden) in order to isolate the bad assets and provide capital for lending. Last year, Roubini's deep research team at RGE Monitor predicted that losses by U.S. financial institutions would hit $1 trillion and possibly go as high as $2 trillion. They were widely derided as exaggerators and doomsayers. Since then, write-downs by U.S. banks have passed the $1 trillion mark, and now institutions such as the IMF and Goldman Sachs predict losses of more than $2 trillion. So Roubini's words carry weight.
Now, as he explains in his Washington Post op-ed piece last Sunday, Roubini's latest research shows total losses on loans made by U.S. banks will reach about $3.6 trillion, with the U.S. banking sector carrying exposure to half of that figure, or $1.8 trillion. Even if the federal bailout funds from last fall are included, the banks only have $1.4 trillion in capital backing the loans, leaving the system a $400 billion hole. In other words, the banks are bankrupt and Geithner's plan won't solve our financial woes because it assumes they're solvent. "Nationalization is the only option that would permit us to solve the problem of toxic assets in an orderly fashion and finally allow lending to resume," he concludes. "Of course, the economy would still stink, but the death spiral we are in would end."
In an odd reversal reflecting just how upside-down the world has become, the option of nationalization is being seriously considered by some senior Republicans while Obama, at least for now, rejects it. Sen. Lindsay Graham, a stalwart Obama foe during the election, said on Sunday that nationalization should be on the table, while the President himself, so often tagged a socialist by the right, says private capitalization with government assistance is the way to go. We'll see. If the banks are nationalized, we expect a tidal wave of panicked investors flooding into physical precious metals to protect their private wealth.
A three-legged race to hyperinflation?
Either way, the cost of the administration's plan will be an enormous burden on the U.S. taxpayers for many years and could become a three-legged race to hyperinflation. Bloomberg says the $9.7 trillion price tag is enough to pay off more than 90% of the nation's home mortgages, or send a $1,430 check to every man, woman and child alive in the world. It's thirteen times what the U.S. has spent so far on wars in Iraq and Afghanistan, according to Congressional Budget Office data.
As we said last time in our discussion of quantitative easing, it all adds up to a mind-bending volume of new fiat money flooding the economy. Prior to the Lehman collapse in mid-September, the Fed had been offsetting the impact of its new lending facilities by selling Treasury bills, which drains away the excess funds. Not anymore: they're just printing the money. "The Fed doesn't like to talk about this," said Simon Johnson, a former chief economist of the IMF and a professor at the MIT Sloan School of Management, to Forbes recently. "They think it will scare people."
As well it should, because the long-term inflationary risks of this exploding money supply are extremely high. According to John Williams' Shadow Government Statistics, the revised growth of M3, the economy's broadest measure of money supply, rose in December to 11.8%, up from 8.9% the month before, and grew to 12% in January. He projects M3 growth to hit 18% or higher in the first quarter of 2009. That's a lot of brand new fiat money injected into the system, and central bankers around the world are being forced to follow suit. As Milton Freidman famously said, inflation is always and everywhere a monetary phenomenon, directly related to the amount of money in the system. If we do move toward nationalized banks, the impetus to print yet more money will be hard to resist, if only because free market constraints will be weakened, risking a devalued the dollar and skyrocketing inflation. Gold could to rise to surprising heights.
Indeed, the chorus of analysts predicting much higher gold prices grows larger and louder almost every day. Citigroup recently predicted gold over $2,000, and Morgan Stanley says gold will average higher for each of the next three years, driven to new record highs driven by increased demand and a declining dollar as governments ramp-up spending:
"The U.S. dollar should weaken as the global economy recovers. Devalued currencies, growing global incomes and a renewed appreciation for gold should keep prices higher," Morgan Stanley's New York-based analyst Hussein Allidina told Bloomberg. "A globally synchronous and aggressive fiscal and monetary stimulus may be needed to re-inflate the global economy, and we think this continues to present significant upside to gold prices."
Eric Sprott, the well-known Canadian money manager who last year predicted banking stocks would collapse, recently told Bloomberg the U.S. is at the beginning of an economic depression that will help gold prices more than double, with bullion topping $2,000 an ounce in coming years amid a series of financial catastrophes. Chairman and founder of Toronto-based Sprott Asset Management Inc., he manages nearly $5 billion in assets. Sprott thinks there's a real chance that U.S. Treasury auctions could fail as countries use their resources to quell financial turmoil in their home markets, leaving little to help finance our debt. That outcome will have a "catastrophic" impact, he said, profoundly undermining the dollar and leading to a much higher gold price.
Adrian Day, the president of Adrian Day Asset Management in Annapolis, Maryland, agrees with Sprott's assessment: "The reckless abandon with which the administration and Congress commit to hundreds of billions of dollars of spending will mean the devastation of the dollar, which will lead foreign central banks and investors to abandon the dollar as a core holding. Gold can only benefit."
And Jim Rogers, the legendary investor who co-founded the Quantum Fund with George Soros—and who correctly predicted in April 2006 that gold would reach $1,000 an ounce—believes gold is one of the only assets for which the fundamentals remain unimpaired after the credit disaster. "I own gold and if gold goes down I'll buy some more and if gold goes up I'll buy some more," Rogers told Bloomberg recently. "Gold during the course of the bull market, which has several more years to go, will go much higher."
Sound advice, indeed. The prospects for gold have seldom been stronger, and its safe haven status as the world's currency of last resort has seldom been more needed. Remember, gold climbed for an eighth consecutive year in 2008, gaining 5.8% while almost every other asset class saw double-digit losses. Once again, at the very least, we expect gold to remain relatively stable in coming months, while most other assets contract significantly, and perhaps even challenge its 2008 all-time high. Longer term prospects, however, are hugely to the upside for gold. Obama's programs are taking us through the free-market looking glass, and explosive shocks to the world's economic framework are becoming commonplace. Add in the political unrest caused by runaway global unemployment and we have the conditions for gold to blast off at virtually any moment. We urge you to take advantage of what might prove to be a historical buying opportunity and stock up now while prices are low. You'll be glad you did.
That's it for now. As always, thanks for your time. We'll keep you informed.
Sincerely,
Dana Samuelson, President
Dr. Bill Musgrave, Vice President
Metal
Ask
Change

Gold

$1,780.89
$0.00

Silver

$18.21
$0.00

Platinum

$832.41
$0.00

Palladium

$1,973.67
$0.00
In US Dollars
AGE Gold Commentary
AGE Investor Alert!