AGE Gold Commentary is our regular report analyzing trends in precious metals and rare coins. We monitor domestic and international markets and extrapolate from our 30 years in metals to place current events into a hard asset perspective. View archives.
---
3/26/2009: The pending demise of the dollar
Source:
In this issue of AGE's Gold Market Commentary:

Precious metals show impressive resilience
Bullion and U.S. gold coins in high demand
"Green shoots" and Treasury ladders
Quantitative easing on steroids
The pending demise of the dollar


Precious metals show impressive resilience
Precious metals are showing impressive resilience during this time of unprecedented economic turmoil. Gold, silver, platinum, and palladium all set 2009 highs last month before receding on profit-taking to their short-term support levels.
Last Wednesday, forced by deteriorating lending conditions and the growing threat of deflation, the Fed announced its highly unusual plan to print up to $300 billion dollars in new dollars out of thin air to purchase long-term Treasurys. In other words, the Fed realized the time has come to mega-inflate or capitulate. Within a matter of minutes, gold rocketed $50 higher, from $890 to over $940, and silver jumped almost a $1.00 an ounce. Platinum and palladium also gained. Mutual funds of inflation-protected securities, or TIPS, jumped nearly 4% in one day.
The U.S. led the world into this global recession and now it's doing all it can to lead us out by creating and spending enormous quantities of money we simply don't have. The record amounts of debt we amassed before the crisis, compounded by the new debt from all the stimulus packages and bailouts, is unprecedented in modern financial history. The repercussions are likely to be felt for years to come in the twin forms of high inflation and a deeply devalued dollar.
Inflation is traditionally the most powerful driver of the gold price, and it's now building like a tropical storm passing over warm waters, gathering gale force on its way to our shores. Like a hurricane, once it gains critical momentum, inflation is extremely difficult stop. Its pending arrival, made all the more likely by last week's Fed decision, is one of the reasons we're and so bullish on gold and so bearish on the U.S. dollar.
We'll go into detail about the Fed move and the new Treasury programs later in this update. For now let's look at the charts, starting with the dollar, which fell sharply with the Fed's announcement and gold's concomitant rise.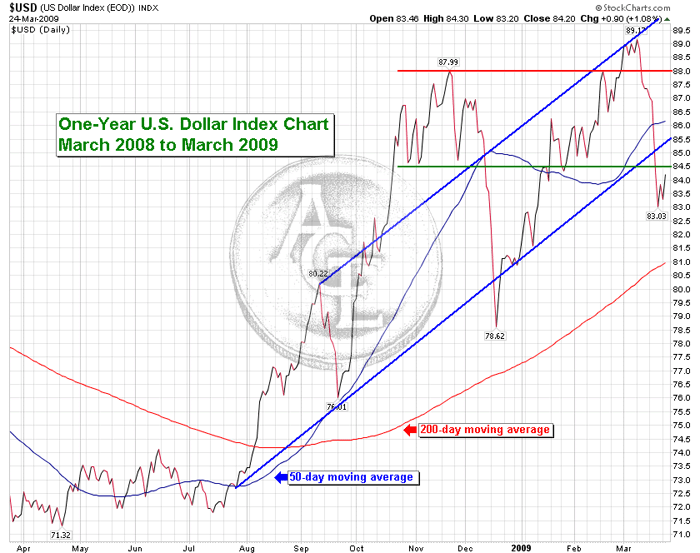 U.S. Dollar
The general dollar trend has been one of decline since January 2002, sinking from 120 on the dollar index chart to as low as 71 last August, its lowest point ever. It began its first major rally in seven years soon thereafter, rebounding to a high of 89.17 two weeks ago before dropping back to just above 83. Looking at the one-year above, you can see that the greenback has broken below its recent trading channel (indicated by the parallel blue trend lines).
In last month's update, we identified support for the dollar at 84.5 (green line) and resistance at 87 (red line.) Since then, the buck has moved over its upside resistance and stalled before falling below its support. The rally over the last six months is looking more and more like a short-term bubble inflated by low interest rates and excessive money supply than a true trend-reversal.
As we mentioned above and discuss later in the update, we're very bearish on the dollar's prospects because of structural imbalances in our economy (e.g. immense and unsustainable deficits) and the near-certainty of high inflation in coming years as a result of excess money supply.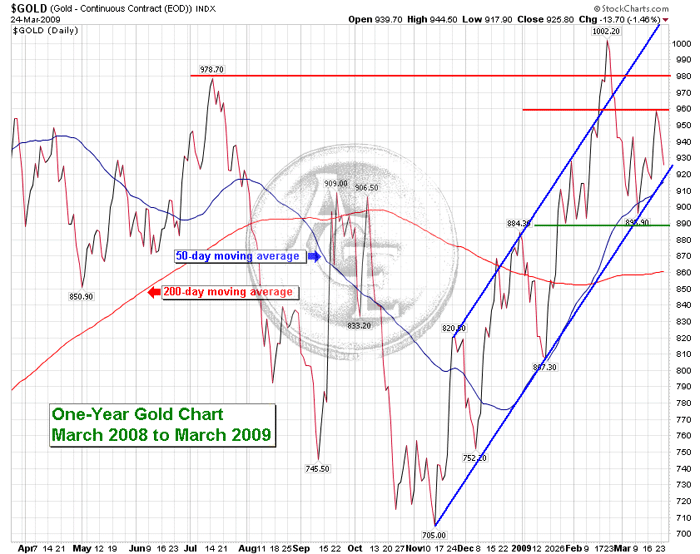 Gold
Gold remains strong as we move into spring. As you can see above, last month it moved briefly over the psychologically-important $1,000 mark but failed to hold, setting a double-top almost exactly one year after it first hit $1,000. What many U.S. investors don't realize is that gold has set new all-time highs in 2009 in euros, Swiss francs, Australian dollars, and British pounds, as evident in these 5-year gold charts. Gold's status as the currency of last resort has indeed gone global.
Looking at the blue trend lines on the one-year chart above, you can see gold simply moved a little too far, too fast in February before pulling back in early March. Last week a test of major support at $890 seemed immanent; then gold suddenly spiked $40 higher in thirty minutes after the Fed's announcement. It remains strong as we go to press, trading in a fairly narrow range between $920 and $960. We see upside resistance at the $960 and downside support at $890.
We remain very bullish on gold in the medium and longer terms. That being said, gold is now entering the time of year when demand normally abates and prices tend to pull back. A drop below $925 would indicate this cyclical springtime weakness may be starting. However, nothing much is normal these days. While gold absolutely should move substantially higher as the crisis unfolds, the next several months may offer a slightly better buying opportunity than we are seeing now. Time will tell. Keep in mind, though, that gold price pullbacks, when they've occurred, have not lasted long in this market.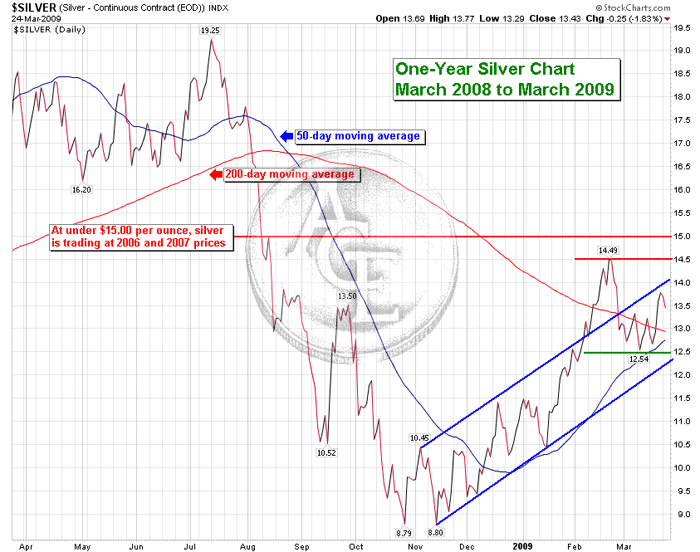 Silver
Silver also looks strong in 2009. In January, when it was still under $11.50 an ounce, we told you to expect a rebound into the $12.50 to $14.50 range, and that's precisely what happened. Following the surge over trend lines to $14.50, normal profit-taking pulled the price lower. Support is firming at $12.50 and upside resistance remains at $14.50. In the current environment silver remains the most undervalued of the traditional precious metals. Continue to accumulate silver under $14.50 through the spring, and buy on weakness. A breach of $15.00 will put it in major break-out mode and $16.50 should be easily attained thereafter.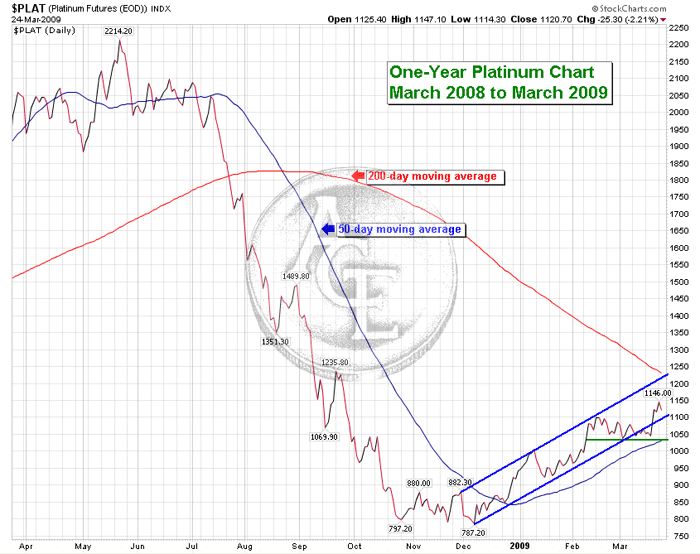 Platinum
Platinum has been grinding higher since bottoming at just under $800 an ounce last November and December. Its trend lines since then are firmly in place. Through February and March, clear support has developed at $1,040. Because platinum has been so volatile since last summer, and because its price is driven by a combination of investment, jewelry, and industrial demand, predicting its course in the current environment is very difficult. Jewelry and industrial uses are likely to be curtailed in 2009, so where near-term and mid-term upside resistance lies is really anyone's guess. We continue to shun platinum in favor of silver and gold, and to a lesser degree, palladium.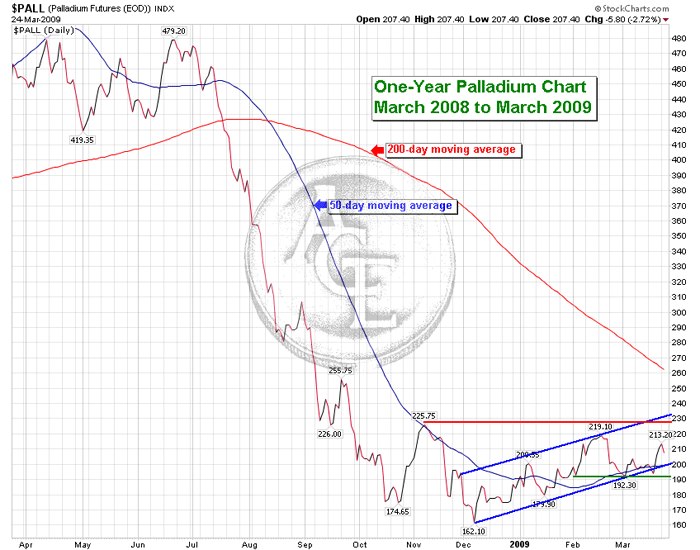 Palladium
Palladium is lagging gold, silver and platinum. While an upward channel is apparent, it is very shallow. Deeper support is now developing at $195 and major upside resistance remains at $225. Until it can move over $225, it will remain in the bottoming channel begun last November. Whereas gold and silver have monetary value in addition to their industrial uses as commodities, and platinum is popular in jewelry, palladium remains primarily a commodity—a cheaper if less flexible alternative to platinum. Widely used in catalytic converters, it's suffering now along with the automobile industry, so we see little reason for it to make a strong move to the upside in the near term. We continue to favor gold and silver.
Bullion and U.S. gold coins in high demand
Modern bullion coins have been selling so briskly that the U.S. Mint cannot keep up with demand for its very popular 1-ounce American gold eagle and American silver eagle coins. While silver eagles are available for slightly delayed delivery, gold eagle supplies have been very problematic of late. The rush of demand in February created a backlog of buyers, and the U.S. Mint has been allocating far fewer coins than normal to its seven international distributors. Weeks go by when we're unable to procure any at all.
The Canadian and Austrian Mints have been able to produce enough 1-ounce gold maple leafs and gold philharmonics, respectively, to keep up with existing demand. In fact, premiums for these coins have actually decreased slightly in the past month as supplies have increased, and we are, of course, passing these savings on to our customers. We've been able to offer tenth- and quarter-ounce gold maple leafs during the past month at slightly higher than normal premiums. These are the only fractional modern gold bullion pieces available at this time.
Fortunately for our bulk silver investors, we've been able to maintain a steady supply of U.S. 90% silver "junk" bags, and we've even had some 100-ounce and 10-ounce silver bars come our way. We also intermittently source high-quality, privately minted .999 fine 1-ounce silver rounds, which we highly recommend. Physical platinum and palladium remain virtually non-existent in the national market except for 1-ounce Suisse credit bar that occasional come available at modest premiums.
Demand for pre-1933 U.S. gold coins has also been very strong across the board in all sizes and states of preservation, from raw circulated coins to certified, gem-quality Mint State 65. Many investors are buying U.S. common date gold coins in bulk, especially $20 Liberty coins in AU and $10 Liberty coins in AU. We highly recommend these slightly circulated, uncertified U.S. gold coins as a better alternative to modern bullion. They offer all of the advantages of bullion plus genuine scarcity, increased profit potential, and complete privacy, making them a smart buy for bulk gold investors. Please keep in mind that availability of these extremely popular coins changes on a daily basis, so be sure to call one of our knowledgeable account managers at 1-800-613-9323 if you have any questions or wish to place an order.
Outstanding values are currently available in some of the certified, mid-quality Mint State U.S. gold coins. We just reintroduced our extremely popular Power Pair #2, which combines one $10 Liberty MS63 and one $10 Indian MS63 for a potent low-cost investment. This combo offers far greater scarcity than the AU coins mentioned above yet the premiums remain quite low in the current market. Greater scarcity can mean accelerated profits during periods of peak gold demand.
Availability of higher quality U.S. gold coins in MS64 and MS65 is now as low as we've ever seen in close to 30 years of trading in this market. Virtually every coin we add to our U.S. gold coins inventory list is sold within a day. If you wish to be notified of new arrivals, please call and we'll add your name to the list.
We are off to the next major coin show this week, this time in Baltimore. We'll be back next week with as many new purchases as possible that fit our strict criteria for quality and value.
"Green shoots" and Treasury ladders
On "60 Minutes" two Sundays ago, Fed chief Ben Bernanke said he's starting to see some "green shoots" in our otherwise lifeless economy. While such cautious optimism was notably missing from the official Fed statement released last week, he nonetheless has a point: some bright spots have appeared in the data released since last month and they're worth reviewing—with proper qualification, for this recession still has a long way to go.
The U.S. trade deficit narrowed by an estimated 9.7% to $36 billion in January—primarily because of a huge decline in world trade, but we'll take what we can get. Consumer sentiment ticked up a few notches in March, from 56.3 to 56.6, but the index is still at historically low levels. Sales of new homes nationwide rebounded by 4.7% in February after hitting a record low in the prior month, and housing starts surged 22% in February, boosted by an 82% increase in apartment building construction. But housing starts are nonetheless down 47% from a year ago and 74% from the peak in early 2006; February's sales pace was still down 43.8% compared with February 2008; and home values in some parts of the country have fallen by 40% since the peak. The mood of home builders has rarely been worse, with the National Association of Home Builders reporting that its sentiment index was stuck at 9 on a scale to 100 in March. See full story.
Perhaps most encouraging, at least on the surface, is the new PPI report showing wholesale prices edging up a tiny bit (0.1%) in February. This is oddly welcome news because any hint of resurgent inflation will increase our chances of avoiding a deflation. The whole aim of all the bailouts and assorted stimuli, after all, is to reignite inflation.
But scratch the surface of the PPI and you see deflationary forces still very much at work. The PPI gains came mostly from energy prices, while crude goods (mostly commodities) and partially processed goods fell for a seventh straight month. Farm product prices have fallen at a 35% annual rate over the past six months; chemical prices a 25% rate; and metals prices at a 38% rate, including an 80% annualized drop in copper scrap prices. And the global outlook is just as grim. In the words of Dominique Strauss- Kahn, director of the International Monetary Fund: "The IMF expects global growth to slow below zero this year, the worst performance in most of our lifetimes." (See full story.)
So the green shoots are pretty meager, largely because credit, the soil of economic growth, remains pretty frozen. To help zombie financial institutions climb out of their graves and start lending again, this week Treasury Secretary Geithner handed down his long-awaited ladder, laying out the details of his plan to help investors purchase $500 billion worth of toxic assets—mostly derivatives based on bad mortgages—that continue to haunt the system.
The program will combine $75 billion to $100 billion from the Troubled Asset Relief Program, or TARP, with capital from private sources. The plan is designed to leverage the dwindling TARP resources by supplementing them with monies from major institutional investors, pensions, and hedge funds. Under the plan, the Treasury and private capital will provide equity financing, and the FDIC will guarantee it. Private investors could lose their entire investment in some cases, and taxpayers could share in profits.
Many analysts have been arguing that the government should set up a "bad bank" and purchase the toxic securities without private participation. Geithner dismissed this approach because it places all the risk on the taxpayer. Plus, he says, the government could easily overpay for the assets, while under his plan the market sets prices through a bidding process. A number of prominent economists including Jeremy Siegel of the Wharton School at UPenn and Nouriel Roubini of NYU have said the plan could actually work.
The Treasury's plan also includes two other programs. First, a new lending program tied into the Fed's existing Term Asset-Backed Securities Loan Facility, or TALF, in which non-recourse loans (i.e. without collateral) are made to investors to buy some toxic securities. Second, the Treasury will designate up to five asset managers to set up investment funds to raise the private capital to buy more toxic assets, matching it with federal funds.
All told, these plans are supposed to clear more than $1 trillion from bank ledgers, around half the amount that industry analysts estimate they're now holding in bad debt. But the plans look like a much better deal for private investors than public ones. If the assets gain in value, taxpayers get half the profits; but if the values drop we shoulder something like 97% of the losses because of guarantees and outright subsidies. So the risks are very high that these plans, if they do not succeed, will hugely compound our federal deficits, tank the dollar, and hobble our economy for many years to come.
Quantitative easing on steroids
Of course, the primary goal of all these plans is to prevent the world economy from falling into a deflationary feedback loop that will produce another Great Depression. Deflation requires more than falling prices—wages, too, have to fall and that hasn't happened yet. But with an official unemployment rate at over 8% and climbing fast, the pressure on workers to accept pay cuts will surely increase. And if that happens, prices will surely fall further.
So Job One for Messrs. Bernanke and Geithner remains unchanged: fighting deflation by manufacturing inflation. The key to their pneumatic battle plan is restoring confidence in the credit markets, because if banks won't lend, consumers and businesses can't borrow, which means they can't spend enough keep prices and wages from falling into a death spiral. They also want to drive down effective interest rates to ease liquidity—but rates are already so close to zero that further direct cuts will have no effect.
So here's the, um, good news. The Fed's plan to buy up to $300 billion in long-term U.S. Treasurys is perhaps the most inflationary thing it's ever done—perhaps that's ever been done by a central bank, anywhere. Besides opening the sluice-gates for flooding huge volumes of money into the system, it should further lower effective mortgage rates beyond what rate cuts may accomplish because it forces up the price of Treasury's on the market, thereby lowering yield. Mortgage rates cue off long-term Treasurys.
The Fed regularly buys and sells short-term Treasury bills to set the overnight federal funds rate, but almost never intervenes in market for long-term Treasurys precisely because it is so inflationary. When it purchases securities the Fed can pay for them by simply creating new money, which flows into the economy. More money pursuing the same amount of goods and services means prices have to rise. In this case, that's the whole point.
In reality, this bold action is not much of a surprise. In their January minutes the Fed talked specifically about buying Treasury's in this way and for this purpose. And in the past two weeks both Switzerland and the UK have embarked upon precisely the same course, if to a lesser extent, so it was only a matter of time. The surprise is that it happened so soon, and it means things really are not getting better in the credit markets. Ben must know something we don't—and whatever it is, it ain't pretty at all.
For nearly three months we've been talking extensively about quantitative easing, the central banker strategy of slashing interest rates to near-zero and flooding new money into the economy in order to increase liquidity and credit. Bernanke et al said they'd do it; they've been doing it in smaller ways, and now they're busting out the steroids. Helicopter Ben has been quite straightforward about his willingness to throw the proverbial kitchen sink at this crisis—indeed, whole kitchen—as he reiterated in his "60 Minutes" interview just days before the announcement. So this move is less a change in the kind of strategy being pursued than in its degree. Let's just hope he's not throwing in the rest of the house to boot.
But just because this immense expansion of quantitative easing was telegraphed and even expected does not make it any less profound in its potential impact on the economy, the value of the dollar, and ultimately on the gold price. The bottom line is that the Fed is adding another trillion dollars to its balance sheet, created by a few keystrokes. In the long run—and perhaps sooner—the price for these massive rescue measures could be equally massive inflation when the economy begins to find its footing again.
The pending demise of the dollar
On the heels of the Fed's announcement the dollar immediately lost around 4% on the week, and for good reason. No clearer message could be sent that the U.S. wants the dollar devalued and is willing to monetize almost limitless amounts of debt. Beyond inflation, or even hyperinflation, the consequences of this policy direction could well be wholesale abandonment of U.S. debt by overseas investors and sovereign funds, which would be catastrophic for the dollar and our economy. It would also supercharge the gold price.
We're already seeing scary signs of international disenchantment with U.S. sovereign debt. Foreign purchases of long-term U.S. Treasurys, Fannie Mae and Freddie Mac bonds, corporate debt and stocks fell from positive $34.7 billion in December to negative $43 billion in January, a record low, the Treasury reported. More broadly, monthly foreign capital flows fell to negative $148.9 billion, also a record low. January's reports couldn't come at a worse time, just as the U.S. is trying to raise $2 trillion more to pay for its economic resuscitation.
In addition, the cost of insuring against the risk that the U.S. will default on its mounting debt has surged in the past months, outpacing the rise in corporate-credit costs. The spreads on credit-default swaps for U.S. government debt jumped to 97 basis points, nearly seven times higher than a year ago and 60% higher than the end of last year, according to ">MarketWatch.
China, the largest holder of U.S. debt with more than $1 trillion, is getting nervous about the safety of its investments. Wen Jiabao, the Chinese premier, recently expressed his concern about the value of China's large holdings of U.S. assets.
"We have lent a huge amount of money to the United States," Wen said. "To be honest, I am a little bit worried. I request the U.S. to maintain its good credit, to honor its promises and to guarantee the safety of China's assets" (see full story).These concerns stimulated China to propose replacing the dollar with a new international reserve at the G20 meeting this week. The idea was a non-starter but it shows how low the trust has fallen in the U.S. currency.
If these depressing trends continue—and it's hard to see why they won't, especially with President Obama's budget projected to produce $9.3 trillion in deficits over the next decade—the dollar could really crash and burn, and the gold price would explode. Just how high could gold climb? As reported by Financial Post two weeks ago, analyst Daniel Brebner and others at UBS Securities recently plotted out a number of scenarios using various levels of strength for inflation and the dollar. They concluded that gold will not fall below $500 an ounce between now and 2015, and could rise to $2,500 or even higher if inflation really takes off and the dollar weakens.
UBS outlined another scenario that has gained some credibility in light of China's new call for an alternative reserve currency. What if a new gold standard was adopted to support currencies, particularly the dollar? Using the current value of the U.S. monetary base and the country's reported gold holdings, UBS calculated gold would need to be at $6,948 to support the value of the dollar. If China and Japan are included, the price would be close to $10,000 an ounce. While such an outcome remains unlikely at the moment, it certainly could bring some confidence back to currencies and stabilize them.
One way or the other, it's pretty clear that the dollar is on its way down and gold is on its way up. The only question is how high. Sophisticated investors are now flocking to the metal, a development that will only increase. Credit Suisse is recommending steel and gold shares (see full story). And holdings in SPDR Gold Shares, the largest gold-backed ETF, hit a new record near 1,040 tons this month. When pension funds and large institutional investors start to really weigh in, we'll be off to the races.
Finally, as MarketWatch columnist Peter Brimelow reported last week, Richard Russell, the renowned investor who authors Dow Theory Letters, was even more dramatic. He's worth quoting in full.
"I've written in the past that if you want to make 'BIG' money in the market, you have to take an over-sized position and be dead right on the trend. The last time I did that was in late 1958. ... I did extremely well on that fateful ride, and I never again had the nerve to take that large a position — until now.
"I started building my gold position in 1999. ... My gold position now is comparable to my market position back in 1958 ... maybe 30% of my total worth. Why have I done this again?
"(1) I believe gold is in a major or primary bull market. I believe the gold bull market is currently in its second phase. This is the phase where sophisticated and seasoned investors and the funds enter the market. ...
"(2) If there is only one bull market in progress, it will attract broad new coverage and attention — just as [last] Thursday's $70 rise in gold did.
"(3) I believe the bear market in stocks will continue erratically and the deflationary trends will persist. ... Bernanke will stop at nothing (including massive printing of dollars) in his effort to halt deflation."
We couldn't have said it better ourselves. As we've stated for several years now, we see gold hitting $2,000 or higher before this historic bull market peaks. Physical metals are the only way to go, in our opinion, because they offer privacy and security unavailable in paper assets. We urge you to build your gold position now while prices remain relatively low. Given the likely trajectory of the dollar and the U.S. economy, you'll be glad you did!
As always, thanks for your time.
Sincerely,
Dana Samuelson, President

Dr. Bill Musgrave, Vice President
Metal
Ask
Change

Gold

$1,787.71
$-0.05

Silver

$18.33
$-0.08

Platinum

$837.28
$-4.42

Palladium

$1,965.41
$-18.43
In US Dollars
AGE Gold Commentary
AGE Investor Alert!