AGE Gold Commentary is our regular report analyzing trends in precious metals and rare coins. We monitor domestic and international markets and extrapolate from our 30 years in metals to place current events into a hard asset perspective. View archives.
---
7/28/2009: Gold poised for breakout
Source:
In this issue ofAGE's Gold Market Commentary:
Economic poison ivy
Gold poised for breakout
Demand building for classic U.S. gold coins
Exploding deficits and imploding dollars
China building gold reserves


Economic poison ivy
We're now some 22 official months into the worst recession since the Great Depression and things are finally starting to look up—sort of. The index of U.S. leading economic indicators rose in June for a third consecutive month, the first time it's climbed for that long since 2004. Surprising gains in corporate earnings and new home sales (up 11% in June), and some stabilization in homebuilding are being seen by eager investors as evidence of a sprouting recovery, sending the Dow past 9,000 for the first time since January.
But not everything is coming up roses. In fact, many of these new green shoots could be little more than poison ivy, encouraging equity investors to scratch an itch that will merely blister. Rising job losses and falling home values continue to smother real growth and force consumers to pay down debt, if they can, instead of spending. The U.S. savings rate has jumped from negative to nearly 7% in the past two years as consumers hunker down for a long fiscal winter. And while this change in habits would be beneficial during most times, it's deadly now because more than 71% of GDP is consumer spending.
How can the economy grow when nearly three-quarters of it is still contracting? That conundrum is something that equity investors, apparently, aren't thinking about. The sad reality is that, in many cases, increased corporate earnings have been born of severe cost-cutting measures and massive layoffs rather than solid fundamentals like increased demand for goods and services. Rising unemployment could easily act like a squirt of financial Roundup, killing any incipient recovery at its roots.
The Labor Department said more than half a million new claims for jobless benefits were filed last week, which means around 7.5 million people have lost their jobs since the start of the recession. In the past six months, job losses have exceeded any other half-year period since World War II, including the military demobilization after the war. For the first time since the Depression, all of the job growth from the prior expansion has been wiped out, with job losses now equal to the net job gains over the previous nine years. And the average length of unemployment is now longer than at any time since 1948, according to the Wall Street Journal. Former Fed Governor Laurence Meyer predicts that full employment, which means 5% unemployment, won't return until 2015.
Jobless consumers, of course, spend far less than people with incomes, a fact reflected in June's sharp drop in the Reuters/University of Michigan consumer sentiment index, which fell to 64.6 from 70.8 in the softest reading since March. So those startling corporate earnings that fired up the stock markets are likely to prove a Pyrrhic gain at best. Without widespread increases in consumer spending, which will depend on job creation, many corporate ledgers will simply return to red ink. Stocks and the dollar will likely sink and the nascent recovery, unfortunately, shrivel.
Even more alarming for a long-term recovery—and for the survival of the dollar as the world's reserve currency—are the fiscal deficits that the U.S. government is now amassing. The budget deficit topped $1 trillion for the first nine months of the fiscal year and broke a monthly record for June. Our debt stands today at a bewildering $11.5 trillion—equivalent to over $37,000 for each and every American. This adds up to very bad news for the dollar, which is now in the same position as the aging lion that heads the pride. Each day shows a new weakness and a tighter circle of competitors whose sole desire is to replace it. We discuss this matter in detail later in this update.
Gold poised for breakout
In the current environment, it's no wonder that gold remains remarkably strong in price. Normally, the summer months are a sleepy time for precious metals and prices tend to weaken. Not this year. Let's review recent price action.
As many of our readers know, since the bull market began in 2003, gold and the dollar have traded with a negative correlation most of the time. From early January through the most of April this year, however, they've been positively correlated, rising and falling in unison to varying degrees. Let's juxtapose the current 18-month U.S. dollar index chart with the gold chart for same period, beginning with the former.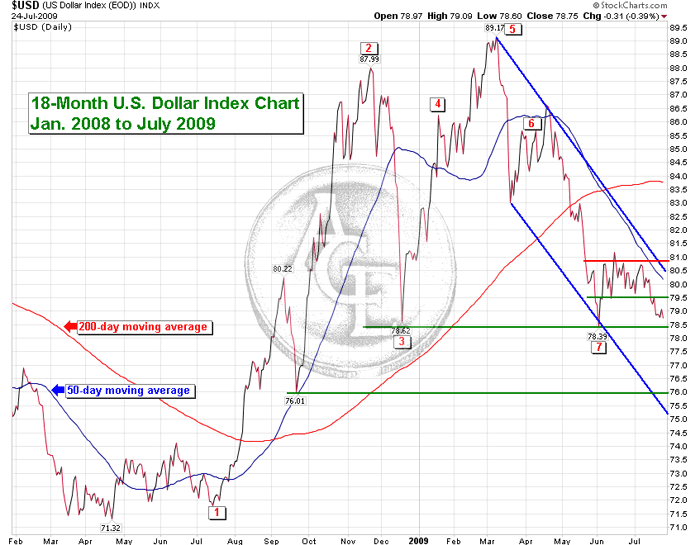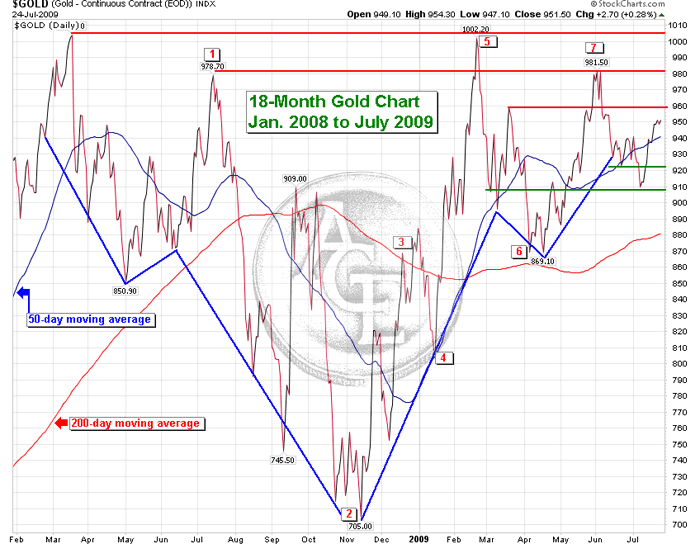 U.S. dollar and gold
Following its major bottom of 71.32 in the spring of 2008 and beginning in August (1), the dollar made a dramatic rebound, rising to 87.99 in November (2). Following a sharp correction downward in December (3), it then rallied sharply again to 86 on the index chart (4), traded sideways for several weeks, and then rallied to its March 2009 peak of 89.17 (5). From that peak a correction ensued, bringing the dollar back to 86.00 on the index chart (6). After a brief rally, the dollar's decline began again in earnest, retracing to major support at 78.40 (7), where we find it today.
Turning to the gold chart, you can see that during the dollar rally from August to November 2008, gold plunged in extremely volatile trading from $978.70 (1) to $705.00 (2). When the dollar fell sharply in December, gold began to rally back from its 2008 low of $705, ultimately back to $1,000 an ounce (5). Comparing the charts, it is obvious that the dollar and gold were inversely mirroring each other from points (1) to (4). Beginning at (4), however, and continuing through (6), they began tracking each other, which is very unusual. Finally, from mid-April to now, they've returned to their normal, predominately negative correlation.
The period from (1) to (6), August to April 2009, is the most unusual stretch we've seen in nearly 30 years of trading these markets. When Lehman Bros. collapsed and the banking system imploded, they sparked perhaps the largest and fastest sell-off of speculative positions the world has ever seen. This global de-leveraging of all virtually all assets caused a huge flight to safety; and because the dollar is the international trade settlement currency, and because the U.S. economy, for all of its myriad problems, is still considered the most resilient in the world, this de-leveraging created immense short-term demand for U.S. dollars. Risk was anathema because the end of the world was nigh, or so we were told by the Fed and Treasury. Now that the apocalypse has been averted, or so we are told, risk is starting to make a comeback. The dollar, with its awful fundamentals, is looking a lot less attractive as a safe haven.
If the dollar breaks below 78.40 on the index chart it has minor support at 76. Beyond that virtually no major support appears until its all-time low of 71.32. Its 50-day moving average is decidedly negative and its 200-day moving average is now turning over as well. Technically, dollar weakness is reasserting itself. This is excellent news for gold.
In our opinion, the crisis-born dollar rally has pretty much ended and its normal, negative correlation to gold has largely returned. Gold surged by 12% from mid-April through early June, from $869 to $981, just as the dollar fell from 84 to 78.39. While the dollar remained range bound in early July, gold dropped below recent support at $925 to hit $910. We attribute this drop to typical seasonal weakness in precious metals.
In the past two weeks, gold rebounded by $40 in three trading sessions to reach and hold at $950, with bias to the upside. This is a very strong gain in a weak time of year. In addition, the surge coincided with the announcement, on July 12, that the U.S. had reached its first ever $1 trillion budget deficit—with over three months to go in the fiscal year. As we discuss later in the update, these deficits could easily devastate effect on long-term health of the dollar. They should also have an extremely bullish effect on the gold price. We think this summer's counter-cyclical strength in gold is just the opening round.
Another important trend we're following is the inverse head and shoulders trading pattern now concluding in the gold market. Looking at the current gold chart, you can see the formation of a reverse left shoulder, head, and then right shoulder. In technical analysis, this is a potentially explosive development that could augur a sharp break higher at any time, so be prepared.
Since February, each time the gold price gets a little cheaper, the world buys it back up again. The recent dips we have seen are fairly short-lived and the rebounds have been pretty sharp, which is more evidence of gold's remarkable resilience. It has already set new 2009 highs in Euros, Swiss francs, British pounds, and Australian dollars. While more short-term dips may occur, we believe gold is now poised to break $1,000 in earnest and we're targeting $1,200 to $1,250 for the peak of the next cycle. This bull market in precious metals still has a long way to go.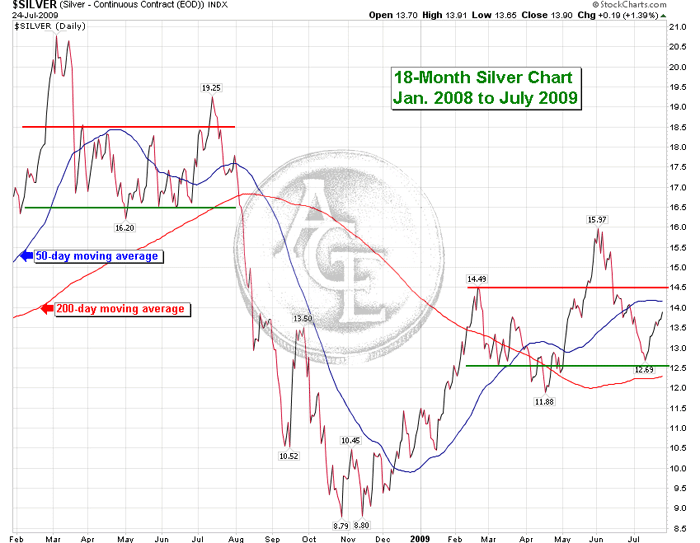 Silver
Since mid-April, the silver chart has pretty much tracked the gold chart. After setting a new 2009 high in early June at just under $16.00 per ounce, silver corrected sharply to as low as $12.70 last week. Now, like gold, it's enjoying strong support; and has moved $1.00 higher in just a few trading sessions. Many buyers appeared when silver broke below $13.00, so it enjoys huge support at this price.
Trading today between $13.50 and $14.25, silver is a great buy right now. It remains comfortably above its 200-day moving average yet below its 50-day moving average. In the past, this pattern has produced safe buys in silver. In addition, as 2009 has progressed, silver has set higher highs and higher lows, which is a classic trading pattern in a rising market.
In our last update, we advised buying silver while it remained under $14.50 and that advice still holds. It remains the most undervalued of the four traditional precious metals, and the one with the greatest upside profit potential, percentage-wise. We expect to see it grind higher over the next month or two and then break much higher as we move into the fall season, breaking $16.50 by year end.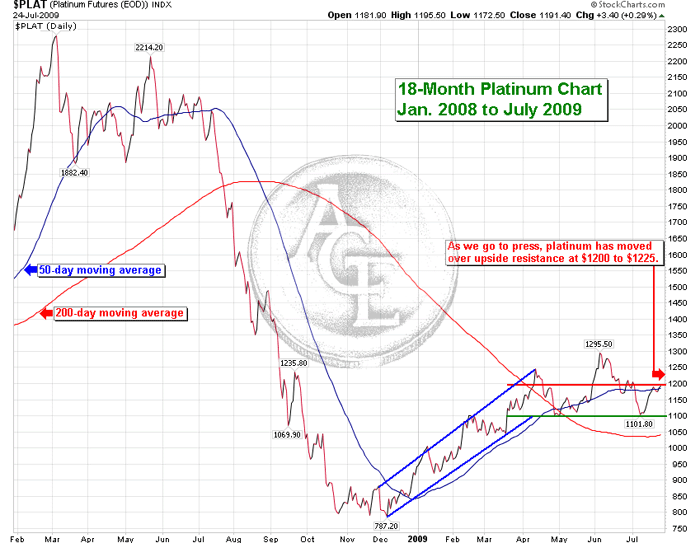 Platinum
Platinum and palladium, the industrial precious metals, continue to grind higher and their charts are remarkably similar. As we go to press, both are rebounding from dips, and both are trading below their 50-day moving averages yet above their 200-day moving averages. As with silver, this pattern signals good value and a safe buy.
With platinum trading at $1,225 versus gold at $950, the platinum-to-gold premium is $275 dollars per ounce, one of the lowest of the year. We preferred platinum $100 ago, when its price was rebounding from a bottom at $1,101. Relative to gold, the dip in platinum created one of the white metal's best buys of the year, but that's now evaporating as platinum rebounds.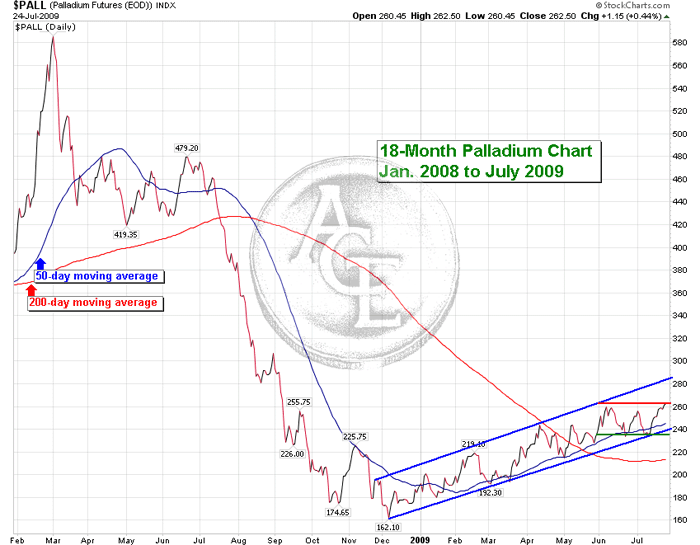 Palladium
Like a steady lead off hitter in baseball, palladium has been a quiet and consistent performer in 2009. From the start of the year through today, it's up about 30%, and its gains have come with less knee-jerk volatility than gold, silver, and platinum. Trading today at the $260 mark, palladium seems very fairly valued to us. It made some nice gains in the first half of the year; during the second half, we expect it to continue gaining but at a slower pace relative to the other metals.
Because demand for both platinum and palladium are driven in part by jewelry and industrial demand, predicting their course in the current environment is very difficult. The non-investment uses are likely to be curtailed throughout the year unless a major turnaround occurs in the global recession, which is unlikely. So we continue to prefer gold and silver to platinum, and to a lesser degree, palladium.
Demand builds for classic U.S. gold coins
Demand for classic U.S. gold coins in the national marketplace has been growing over the last six weeks and prices for many of our favorites have been increasing. From September 2008 through March of 2009, gold coins were selling like hot cakes, and many of our favorite portfolio-builders set record highs. April tax time took the usual bite out of demand but price-softness continued into early June. Since then demand has steadily increased and so have prices.
Every year in August much of Europe goes on vacation. What some of you may not realize is that, ironically, much dealer stock of pre-1933 U.S. gold coins comes from European banks, where coins have remained in vaults since arriving as U.S. trade payments in the early 20th century. As July ends, and as Mediterranean beaches crowd with vacationing bankers, supplies of classic U.S. gold coins are becoming strained. Add in growing demand and you have a ripe environment for continued price increases in classic U.S. gold coins at least through the beginning of September. Now add a rising gold bullion price to the mix, which always spurs demand for classic gold coins, and the situation becomes potent for sudden price increases.
All this is to say, these next few weeks may well prove to be one of the best buying opportunities for classic U.S. gold coins for the rest of the year. We highly recommend adding to your portfolio now, before prices have a chance to rise substantially. Several excellent trading opportunities exist, but our recommendations will be tailored to your individual portfolio needs and your specific desires. Please call your account manager at 1-800-613-9323 to discuss available options.
In silver coins, we are pleased to announce U.S. Peace silver dollar rolls, BU are finally back in stock. In rolls of 20 coins, these are the least expensive Brilliant Uncirculated silver dollars on the market today. We highly recommend adding them to your portfolio while prices remain favorable. Unfortunately, supplies are limited and we could quickly sell out.
European gold coins and modern bullion
Over the past five or six weeks we've seen a small increase in the availability of classic European gold coins in the U.S. marketplace. For the first time in almost a year, some of our scarcer, low-premium European gold coins are selling at very competitive prices. Many of these coins had been completely unavailable since last fall! We posted our popular Britain gold sovereigns, BU special offer on our web site last week and many of you responded immediately. In addition, we have located several small pockets of scarcer coins like the Belgium 20 franc Leopolds, BU, and the ever-popular France 20 franc Angels, BU from the 1870s and 1880s.
As many of you know, the U.S. Mint stopped releasing half-ounce, quarter-ounce, or tenth-ounce U.S. gold eagles in 2009, and the Canadian Mint severely limited their production of fractionals, too. Luckily, our classic European gold perfectly fill this void in smaller, bullion-related gold coins—in fact, we think they're better than bullion for bulk gold investors. For virtually the same pricing as modern bullion coins, you get all of the benefits of bullion plus complete financial privacy and the added profit potential that only collectible coins provide. At today's low prices they're a superb value. Supplies are limited, however, and a single investor with deep pockets could wipe out our stock, so don't hesitate if you're interested.
Fortunately, the mints are producing 1-ounce U.S. gold eagles and 1-ounce Canadian gold maple leafs in sufficient quantities to satisfy existing demand. Pricing is back to pre-September 2008 levels and deliveries are usually immediate. We also have 1-ounce U.S. silver eagles and 1-ounce Canadian silver maple leafs available again for immediate deliver. And finally, 100-ounce Johnson Matthey silver bars are also back in stock.
Exploding deficits and imploding dollars
As we mentioned at the start, the U.S. budget deficit topped $1 trillion for the first nine months of the fiscal year and broke a monthly record for June. Today, our debt stands at $11.5 trillion—equivalent to over $37,000 for every American. Although they might be a necessary evil in order to stimulate a recovery, these numbers are deeply detrimental to the health of the dollar. What's more, the current debt figures do not take into account under-funded entitlement programs like Medicare and Social Security, which are the government's current legal responsibility.
According to Tom Raum of the Associated Press, the Peter G. Peterson Foundation, established by a former commerce secretary and investment banker, argues that the $11.5 trillion debt figures does not take into account roughly $45 trillion in these liabilities. That would put the nation's full obligations at $56 trillion, or roughly $186,000 per American. And Neil Barofsky, the inspector general for the Treasury's so-called TARP, stated last week that the bank rescues alone could add $23.7 trillion before it's done, according to Marketwatch. Add this amount to the Peterson estimate and you get a debt of as much as $80 trillion, or more than $266,000 per U.S. citizen.
Most economists agree that our fiscal nightmare could well become the next full-fledged economic crisis unless meaningful steps are taken. Even White House budget director Peter Orszag admitted to Congress recently that "we are on an utterly unsustainable fiscal course."
Our debt is largely financed by the sale of Treasury bonds and bills, which continue to be seen as one of the world's safest investments if only because of an absence of strong rivals. China, Japan and the Persian Gulf oil exporters are the three top foreign holders of U.S. debt, so they are deeply invested in maintaining dollar strength in the short term. Nonetheless, as the U.S. spends trillions to stabilize the economy, it drives down the fundamentals that support the value of the dollar, making long term Treasury bonds less attractive. If major holders of U.S. debt were to flee, it would send a tsunami through the global economy, sharply force up U.S. interest rates, and severely cripple the dollar. Gold, however, would power though previous highs and stay there.
Some major foreign powers have begun to actively question the future of the dollar as the world's reserve currency. China, Russia, and India said recently that the world economy is too reliant on the U.S. dollar and have called for changes in how currency reserves are managed. They all advocate diversifying their national holdings away from dollars, and have floated the idea of a "supranational currency" to replace the dollar.
Despite their massive holdings of dollars and Treasuries, many sovereign funds are already paring back their portfolios of U.S. bonds and other securities for fear that we will try to inflate our way out of debt. Of course, by monetizing our deficits through quantitative easing, or the government's program of purchasing of its own Treasury bonds with fiat paper money, the U.S. has sent a clear signal that a devalued dollar is a key part of the recovery plan. Despite official noise about "soaking up the excess dollars" as the recovery builds, the U.S. is depending on inflation not simply to counteract the threat of deflation but to lower the cost of our mountainous debt.
As expected, therefore, international demand for long-term U.S. financial assets is weakening. Net selling of government notes and bonds totaled $22.6 billion in May, the most since November, and total monthly foreign investment flows dropped $66.6 billion, according to Bloomberg. China, the largest holder of dollars, bucked the trend by purchasing more Treasurys—not because they think the dollar is a good investment but because their own recovery plan is based on exports to the U.S., which are diminished as the dollar weakens. While China does not disclose the composition of its currency reserves, bankers assume around 70% of it is held in dollar assets. Nonetheless, we cannot expect them to pay for our profligacy forever, especially when our own policies are intended to diminish the value of their holdings.
China building gold reserves
Taking the bull by the horns, China recently revealed that it is hedging against the dollar's inevitable decline by increasing its gold reserves. Li Lianzhong, who heads the economic department of the Party's policy research office, said China should use more of its $1.95 trillion in foreign exchange reserves, the most held by any nation, to buy energy and natural resource assets, especially gold.
"Should we buy gold or U.S. Treasuries?" Li asked, speaking at a foreign exchange and gold forum. "The U.S. is printing dollars on a massive scale, and in view of that trend, according to the laws of economics, there is no doubt that the dollar will fall. So gold should be a better choice" (see full story).
That's a clear warning that all investors should heed. The Federal Reserve is creating dollars at a rapid pace to help jump-start the economy. Liquid money is up 11% over the past year, the monetary base has increased by 110%, while bank reserves are 903% larger a year ago, according to the Guardian UK. With this much money being created, the dollar has only one way to go—down. It's nothing more mysterious than supply and demand.
Perhaps even more interesting, Li said that a second reason for buying more gold would be in anticipation of the yuan one day becoming a reserve currency, an eventuality that would all but ruin the dollar. "If the yuan should go international or become a reserve currency, China needs more gold to back that," Li said. Taking concrete steps in that direction, China has begun to allow companies to use the yuan to settle cross-border trade, seeking to reduce the reliance of importers and exporters on the dollar.
China disclosed in April that it had raised its holdings of gold to 1,054 tonnes from 600 since 2003, an increase of 76%, making it the fifth-largest national holder. But China's foreign exchange reserves have grown so fast over the same period that gold's percentage of its reserves has actually decreased. Citing the much larger share of gold in the foreign exchange reserves of the U.S., Italy, Germany and France, around 10%, Li believes China's gold holdings of about 1.6% of its reserves are still too small. In order to boost them, China asked the IMF if it would sell its entire 3,217 tons reserve, according to Marketwatch.
The fact that China is becoming a gold buyer on a massive scale is incredibly bullish for the yellow metal. Most if not all of its increase in gold reserves since 2003 came from within: China is the largest gold producer in the world and they absorbed all they produced. Now they appear to be escalating the program to where they need to buy from outside. If they decide to hold the same portion in gold as other major sovereign funds, they'll need to acquire some 5,000 tonnes, according to Marketwatch.
Needless to say, this development is extremely bullish for gold. It now seems inevitable that the dollar's days as the world's reserve currency are numbered. As developing nations like Russia, India, and especially China gain yet more economic strength, the push to a new standard will only intensify, whether it's the yuan, euro, ruble, petrodollar, or some basket combination. The gold price, however, would rise dramatically during this transition as the dollar gives way and major sovereign funds increase their holdings of gold. Perhaps a return to gold-backed currency is in the offing, too. Fiat paper money, after all, has lost the faith of many true believers during the astonishing financial meltdown of the past nine months and we're not out of the (Breton) woods yet.
With all of the fiscal problems facing the U.S. dollar, and with all the financial and political upheaval still facing the world, gold is proving itself once again as the logical choice—whether you manage a major sovereign reserve fund or just your own portfolio. To adapt a phrase from the old Cole Porter musical, 1.3 billion Chinese can't be wrong! Now more than ever, we believe that gold will reach $1,500 to $2,000 before this bull market runs its course, with the potential to climb far, far higher. We urge you to stock up today, while prices are still reasonably low. When gold breaks out again, you'll be glad you did!
As always, thanks for your time. We'll keep you informed.
Best wishes,
Dana Samuelson, President
Dr. Bill Musgrave, Vice President
Metal
Ask
Change

Gold

$1,787.88
$0.12

Silver

$18.24
$-0.17

Platinum

$846.45
$4.75

Palladium

$1,977.92
$-5.92
In US Dollars
AGE Gold Commentary
AGE Investor Alert!