AGE Gold Commentary is our regular report analyzing trends in precious metals and rare coins. We monitor domestic and international markets and extrapolate from our 30 years in metals to place current events into a hard asset perspective. View archives.
---
9/16/2009: Gold hits $1,020 as Fall buying season begins
Source:
In this issue of AGE's Gold Market Commentary:
Gold hits $1,020 as Fall buying season begins
Classic U.S. and European gold coins gaining
The recession is over?
Time bomb in commercial real estate
Shrinking credit, expanding money supply


Gold hits $1,020 as Fall buying season begins
We are now entering the fall buying season for gold, a time when the yellow metal historically sees its greatest gains of the year as jewelry demand rises in India and Asia and global investment demand intensifies. Already gold has blasted past the important $1,000 per ounce mark, reaching $1,020 today, and the season has only begun!
Some positive economic news in the U.S. has revived risk appetite and encouraged investors worldwide to begin dumping dollars in favor of assets like stocks and gold that promise higher returns. Yet much of the outlook remains pretty grim, as we detail later in this update. Unemployment is rising to levels not seen in a generation, the federal debt is skyrocketing, credit is tightening, banks are failing, the commercial real estate market is set to implode like the subprime market did last year, and the fragile U.S. economy remains on government life support through bailouts and absurdly low interest rates.
Gold, we believe, is poised to benefit greatly in coming months whether the recovery is strong, weak, or non-existent. The dollar's days as a safe haven currency of last resort are severely numbered. Private investors, central bankers, and sovereign wealth funds are looking askance at the dollar and flocking to other assets, including gold. As investors seek alternatives to dollar-related assets, whether to protect their wealth in case of a renewed downturn or to realize greater returns as markets recover, gold is the logical and time-tested choice.
In our last update we alerted you that gold and silver were poised to move higher on renewed dollar weakness, and now that's emphatically happening. For several weeks the dollar was trending modestly lower; then last week it fell sharply to its 2009 nadir, below its previous major support level of 78.50 on index chart, signaling a renewed bout of weakness.
Inversely tracking the beleaguered buck, gold rocketed higher by $40 two weeks ago, busting through its major upside resistance points of $960 and $980 in very short order before passing the psychologically-important the $1,000 mark last week. This week it has built on this momentum, reaching as high as $1,020 today. Silver has also surged sharply higher by $3.45 an ounce, rising from $14.25 to $17.45, while palladium continues its stellar 2009 gains and platinum grinds higher.
Let's look at the latest charts.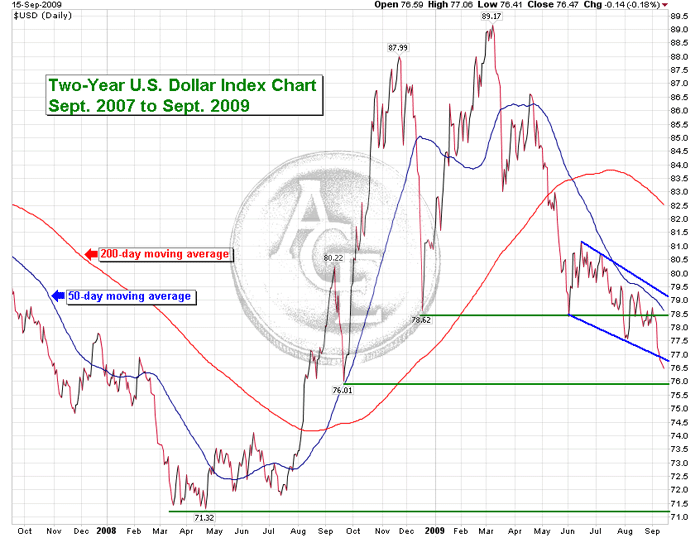 U.S. Dollar
The U.S. dollar index chart has been eroding steadily since setting a short-term peak at 81 in mid-June. Through July and August, it stair-stepped lower, setting a series of lower highs and lows. This month it began to plummet, dropping below its previous major 2009 support level of 78.50 and now below its August bottom of 77.50.
Looking at this two-year U.S. dollar index chart, you can see the dollar entering what could prove to be a freefall back to its all-time low of 71.32. Both the 50-day moving average and the 200-day moving average are trending decidedly lower and very little technical support exists between its current index value and the bottom of the chart. Of course, nothing is certain; if markets always moved as expected, we'd all be richer than Warren Buffet. However, a continuing decline of the dollar over the next several months, regardless of the velocity of the decline, should be a pretty safe bet.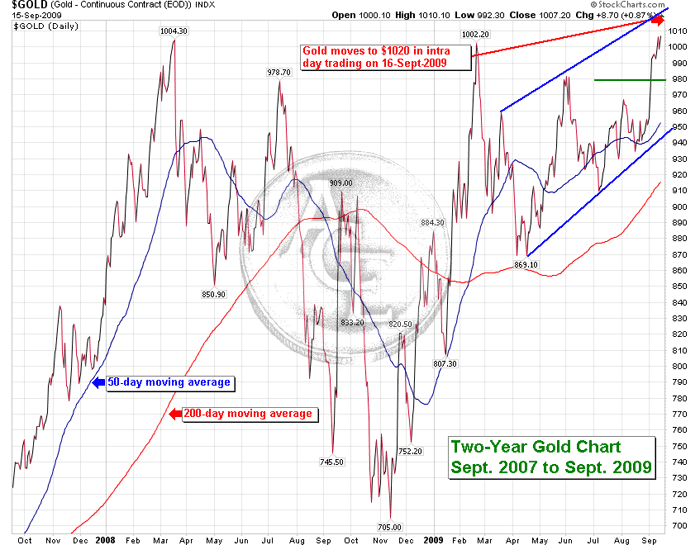 Gold
Eighteen months after gold first broke $1,000, it has now surpassed that level again in earnest. As we've already seen three times during this seven-year bull market, gold can surge 20% to 30% higher during the prime fall and winter buying season. After languishing in an extended consolidation phase, just like in 1977, it's now ripe for a breakout to new record highs. Technically, the inverse head-and-shoulders formation we've been tracking in recent updates projects out to a sustained move over $1,000, so the current price movement is both expected and very bullish. What's surprising is how strong the latest gains have been. If this is an indication of what's to come, gold truly has explosive potential this fall.
The $1,000 mark is an important psychological and technical milestone but it's certainly not the upward bound of gold's likely climb. A nice round number, yes, but just one more step on the way up. Adjusted for inflation, the 1980 gold peak of $850 an ounce is equivalent to over $2,000 in today's dollars, so gold is still only halfway to its real all-time high, which means it has plenty of room to run before hitting historical resistance.
With major support between $940 and $950, the bias now is towards the upside. From here we'd not be surprised to see a pop to $1,050 before settling into a short-term trading range between $980 and $1,040. Some liquidation in Comex long positions could create temporary price weakness but we see continued gains to follow as the traditional buying season progresses. Expecting higher prices in the future, major gold producers like AngloGold Ashanti and Barrick Gold are now de-hedging their positions, which is a very bullish sign.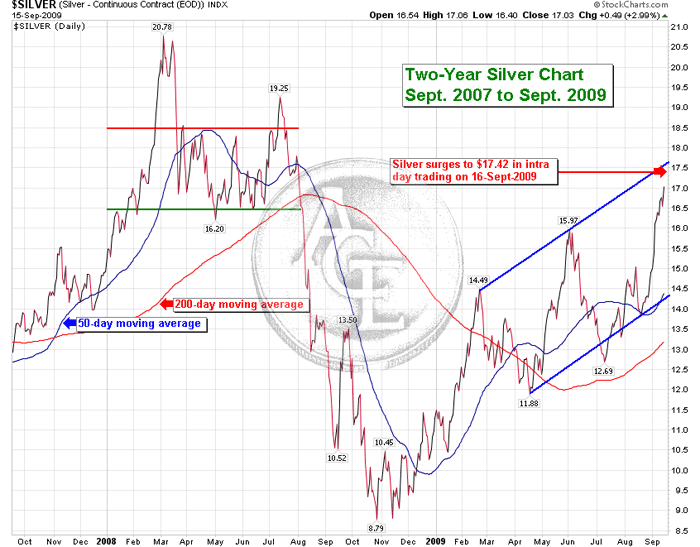 Silver
While gold has climbed powerfully in price, silver has gone parabolic, spiking 15% in higher several quick trading sessions. It continues to set higher highs and lows in 2009, and today hit $17.40. If this pattern holds, we expect to see silver push to $18.50 an ounce in the coming months, perhaps higher.
Looking at the two-year silver chart, a very strong, wide upward trading channel (indicated by the blue parallel lines) has become much clearer, between the July low of $12.69 and the new September high over $17.40 in intra-day trading today. Since rebounding from the panicked general liquidation of late 2008, it's has been setting a series of higher highs and lows, stair-stepping its way in roughly $1.00 an ounce increments. This is an extremely strong and fundamentally sound trading pattern, one that we expect to continue in the near term. Both the 50-day and 200-day moving averages have turned decidedly upward and the strong fall buying season is back.
As the chart shows, silver's 2009 trading pattern reveals real volatility, with $3.00 to $4.00 price swings in short periods. This volatility has created some nice opportunities for day traders but buy-and-hold investors need to be careful in picking entry points into this rising market. Obviously, good timing can strongly enhance your profitability, and we recommend buying on weakness.
Silver may have moved a little too far, too fast in its latest surge, so we expect profit-taking to hold the price in check around $17.00. It should enjoy major support at $14.00, and we expect the next cyclical bottom closer to $15.00. This means we now expect a trading range between $15.00 and $17.40 for the time being, with the bias remaining towards the upside.
Throughout the spring and early summer, we advised you to expect a trading range between $12.50 and $14.50, and expect a surge over $16.50. All of this has proven to be good advice. Now we are setting our sights higher, with a proximal target of $18.50. Silver is now hitting the upward range of its latest cycle so we expect a modest pull back in the short-term, followed by a consolidation phase and then the next push higher once again. Silver should eventually move into an $18 to $21 trading range but not until the next cycle.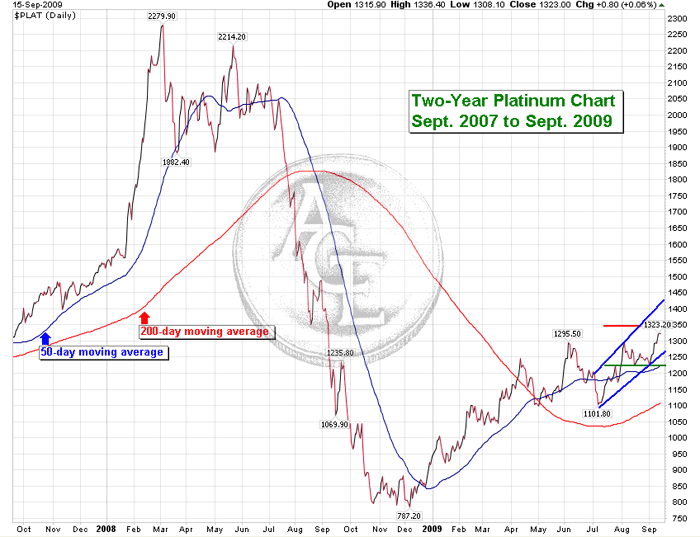 Platinum
Platinum continues to grind higher as 2009 progresses and, like silver, continues to set higher highs and lows. In fact, for the last three months the silver and platinum charts have been remarkably similar, except that platinum has been less volatile. Last week platinum surged over its $1,300 resistance for the first time in a year, reaching $1,345 today in intra-day trade. Platinum is establishing a trading range of $1,250 to $1,345 with bias towards the upside, and could move as high as $1,375 in coming weeks.
We now feel that platinum is a fairly safe buy at the right price point. If you're interested in platinum, our advice is to buy under $1,275 if the opportunity arises and sell over $1,500. However, we continue to favor silver over platinum—a bias that's paid off handsomely in the last few months.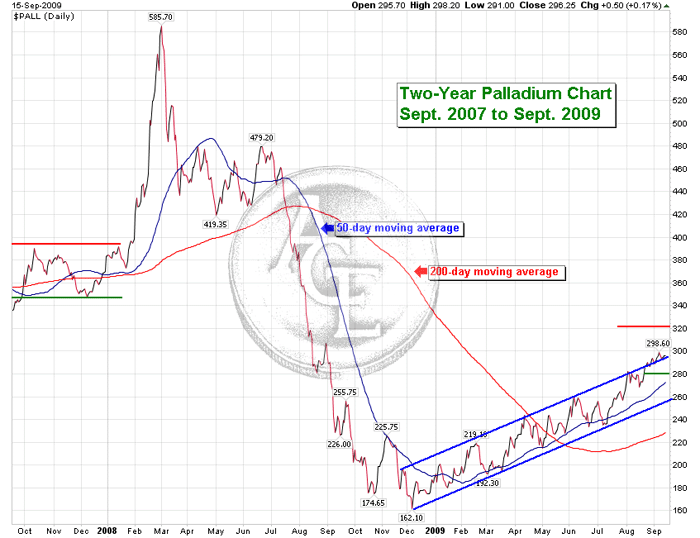 Palladium
Palladium continues to be the darling precious metal of 2009, rising steadily from $180 in January to just over $300 last week—a nice 66% gain for the year so far. Of all charts, palladium is the most solid, with a continuous, steady climb. Through out 2009 it has stepped into higher ranges in a series of roughly $20 increments, from $180-$200 up to $240-$260. Now this pattern is accelerating as palladium has jumped from $260 to $300 with barely a pause at $280.
In time, we think palladium could continue its steady gains up towards the $360 to $380 range, where it routinely traded in 2007. In the short-term we anticipate a more conservative range between $280 and $320, with the bias towards the upside.
Classic U.S. and European gold coins gaining
We've just returned from the latest major national coin show, this time the Long Beach Coin Expo in California. After attending this show for almost 30 years, we can unequivocally say that classic U.S. gold coin availability was the lowest we've ever seen in Long Beach. The national supply of low- and mid-priced U.S. gold coins (in the $500 to $5,000 range) is virtually nonexistent. The supply of higher priced rare coins remains weak but some quality coins—ones meeting our admittedly high standards—are available. Demand is strong but new supplies are not surfacing. If we go through another significant surge in demand, which a higher gold price will certainly spur, prices for classic U.S. gold coins are likely to move much higher.
Gains in the largest-sized coins like classic $20 Liberty and $20 Saint-Gaudens are leading the pack, with $10 Liberty and $10 Indian gold coins following closely behind. The smaller $5 and $2.50 gold coins are lagging in price at the moment, so some better buys are available in those sectors. Please take a look at our Common Date U.S. Gold Coins page. In our opinion, these coins offer the best combination of scarcity and value in various grade levels.
The current market in classic U.S. gold coin market is one of the most fundamentally sound we have ever seen, with demand continuing to override supplies. We expect this trend to continue as we move into the fall and winter buying season and well into first quarter of 2010.
Like classic U.S. gold coins, demand for classic European gold coins remains strong as well. Supplies are currently better than we have seen for most of 2009, and the traditional summer lull has allowed some modest restocking, but supplies remain shallow. A sustained buying surge of any sort could easily wipe out existing dealer "on the shelf" supplies. Premiums for these smaller-sized gold coins, minted primarily before 1935, remain at the levels they have been at for the past year.
World mints have stopped producing gold bullion coins smaller than the 1-ounce size with any regularity, so European gold coins are the best option in smaller gold coins. We prefer them anyway because they provide all of the benefits of bullion plus the true scarcity and added profit potential that only classic coins offer. Plus, they're non-reportable and secure from confiscation under current laws. We currently have good supplies of two favorites: British sovereign "Kings" (BU) and Swiss 20 franc "Vrenelis" (BU) . Get 'em while you can!
The recession is over?
Since our last update, a groundswell of media attention has been focused on a trickle of positive economic news, leading many pundits and government officials like Ben Bernanke to declare that this terrible recession is over. Some point to the big August jump in the Institute for Supply Management's factory index, a key reading of nationwide economic conditions, as a signal that the worst is behind us. Others say August's unexpected increase retail sales of 2.7%, the most in three years, proves the point. And many Americans, after suffering the largest destruction in wealth since the 1930s, are starting to grow more upbeat, driving the Reuters/University of Michigan index of consumer sentiment up to 70.2 this month from 65.7 in August. Risk appetite has been whetted again, as investors are dumping dollars and Treasuries for stocks and gold.
All of this is good news indeed. But the rosy scenarios painted by mainstream media are increasingly difficult to square other data that show a lot of pain and danger still ahead. The national unemployment rate rose to 9.7% — the highest level since June 1983 — as the U.S. economy shed 216,000 jobs in August. That's up from 9.4% in July. And if you include forced part-timers and people who'd like to work but who've given up the search, the national unemployment rate is at 16.8% — up a staggering 6% from this time last year. More than 14.9 million are out of work, roughly double the number at the start of the recession in December 2007, and nearly 1.5 million will exhaust their unemployment benefits by year-end. With consumer spending comprising 70% of GDP, it's hard to see how we can spend out way out of recession with so many lost wages.
Bankruptcy and poverty are steeply on the rise. Individual filings for bankruptcy rose 24% in August from the previous year, according to the American Bankruptcy Institute and National Bankruptcy Research Center, and they're expected to top 1.4 million this year. Credit card defaults are rising steeply again as the unemployment rate jumps and the impact of tax refunds has waned. And sadly, the U.S. poverty rate hit its highest level in 11 years, according to a recent Census Bureau report.
The S&P/Case-Schiller index revealed that average home prices in the nation's 20 largest markets jumped by 3% during the second quarter, marking the first quarterly increase in 3 years, and leading some economists to believe the housing market has bottomed out. But even this welcome news is likely to be short-lived. Roughly one-third of new-home purchases have been stimulated by the $8,000 federal housing credit, which is set to expire. The current six to eight month backlog of homes on the market is probably a huge underestimate, since many people are simply keeping their houses off the market until a real recovery occurs. And whereas existing U.S. home sales rose 7.2 % in July, distressed deals including foreclosures accounted for 31% of transactions, according to the National Association of Realtors, a Chicago-based trade group.
Of greater concern is the fact that around $1 trillion in Alt-A and Adjustable Rate Mortgages (ARMs) and are going to reset at substantially higher rates by 2011, according to Credit Suisse. These rests will surely drive a sizable upsurge in foreclosures and distressed sales, flooding the market with cheap housing stock and driving housing prices down again. Add in the effect of growing unemployment leading to more delinquencies and foreclosures, and it seems pretty clear that the residential housing market won't look all that great for a few more years to come.
Time bomb in commercial real estate
But the biggest threat to the real estate market — and possibly to a real economic recovery — has nothing to do with residential homes at all. It has to do with apartment buildings, strip malls, office buildings, and the many small and mid-sized banks that hold their mortgages.
Banks held $1.087 trillion of commercial property loans in last quarter, up from $1.077 trillion in the previous three months, according to Bloomberg. That's almost 15% of all loans and leases held by banks. Commercial-backed securities (CMBS) account for about 22% of the nation's commercial real estate debt, according to the Real Estate Roundtable. If you recall, similar mortgage-backed securities — only created out of home loans rather than commercial real estate loans — played a crucial role in triggering the global economic crisis last year.
The commercial real estate industry is suffering from two huge problems: a spike in loan defaults and a need to refinance loans in a market where refinancing is very hard to come by. The loan default rate on commercial real estate for August was up six-fold, to 3.14%, from the previous year. These loans were made based on overly-optimistic assumptions about occupancy rates and rents. But with the economy folding, many stores and businesses have folded, too, and the properties behind these mortgages are rapidly losing value.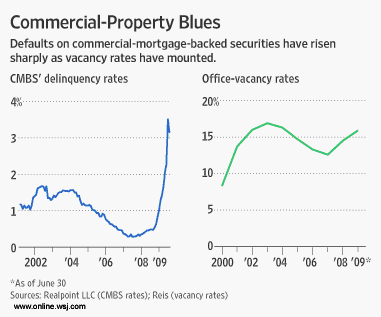 As commercial property value declines and scarce credit continue to drive developers and investors into default, total losses on banks' $1 trillion "core" commercial-mortgage holdings, or those backed by income-producing properties, are likely to reach between 11% and 15%, or up to $150 billion, according Deutsche Bank AG. That means huge losses not only to the property owners but also to those who bought CMBS, including hedge funds, pension funds, mutual funds, and other financial institutions. Sound familiar? This mess is looking like the subprime mortgage meltdown, round two.
Unlike home loans, which were made by only ten or so giant institutions, thousands of small and regional banks are on the hook for commercial real estate loans. In many markets, it was the only game left to them. As a result, commercial real estate problems are likely to reach even further into the financial system. According to the Wall Street Journal, some 3,000 banks and savings institutions have more than 300% of their risk-based capital in commercial real-estate loans. Already this year, 92 banks have failed and the number grows virtually every week. Experts now predict that as many as 1,000 small banks may fail before the economy recovers, according to Marketwatch. Most have no incentive to realize the losses yet, so their toxic commercial mortgages are still on the books, waiting to implode like subprime residential loans did at the start of the recession.
Even Federal Deposit Insurance Corp. Chairman Sheila Bair is warning that commercial mortgages may run more banks out of business this year and next. In an interview with CNBC, Bair said commercial real-estate loans were "catching up" with residential mortgages as a threat to banks' balance sheets. "Commercial real estate is a looming problem. It's going to be a bigger driver of bank failures toward the end of this year and into next year," she said (see full story).
Shrinking credit, expanding money supply
As small and regional banks are collapsing, credit is becoming increasingly difficult to come by. U.S. bank loans have fallen at an annual pace of almost 14% from June to August, and lending is getting tighter. According to Professor Tim Congdon of International Monetary Research in a recent UK Telegraph article, the key reason has been pressure on banks to increase their reserves and de-leverage their cash-to-lending ratios. While this might be a good idea in times of economic health, it's a recipe for disaster now. The Fed and U.S. Treasury have taken extraordinary measures to increase the amount of money in the system through the process of quantitative easing, or buying up their own Treasuries, which we've discussed at length in previous updates. Now banks are holding much of this cash rather than letting it circulate via making loans. Clearly, banks know something about their balance sheets that we don't, and it might well have to do, at least in part, with their unrevealed CMBS exposure.
According to John Williams' Shadow Government Statistics, the seasonally-adjusted St. Louis Fed's adjusted monetary base jumped has been rising over the past two reporting periods and the latest level is within 1.8% of the record high level set in the April 22, 2009 week. Annual growth is at 104.3%, up from 102.0% in prior period. The monetary base remains the Fed's primary tool for targeting money supply but it has proven to be of limited impact in boosting money growth, where banks have been leaving their cash with the Fed instead of lending into the normal stream of commerce.
But the Fed is between a rock and a hard place. On one hand, it needs to increase the supply of money circulating in order to revive the economy. On the other hand, it needs to reassure China and other foreign creditors that the U.S. is not trying to devalue its massive debts by stealth monetization. And of course, stoking the money supply means a huge risk of runaway inflation down the road. For months increasing numbers of nations holding large U.S. sovereign debt have been calling to dumping the dollar as the world reserve currency, primarily because they see U.S. policies as corrosive to the value of their holdings.
Even the United Nations is beginning to recommend a global shift away from dollars in international trade. Last week it announced its support of a new Bretton Woods-type agreement that would establish a global reserve bank to issue a new supranational to replace the dollar. China, India, Brazil and Russia called for a similar move earlier this year in order to add stability to international trade.
China is especially anxious about the Fed's policy of printing money to buy Treasury debt because they hold more than $2 trillion in dollar reserves, the world's most. Earlier this month a senior Chinese official, Cheng Siwei, who is former vice-chairman of the Standing Committee and now heads China's green energy drive, strongly criticized the U.S. easy money policy, saying it is likely to compel China to change its reserve policy of holding dollars. In recent weeks agreed to purchase up to $50 billion of new IMF bonds, the first in the fund's history. This shift from dollars comes after its recent overtures to buy the IMF's entire gold holdings.
"The U.S. spends tomorrow's money today. We Chinese spend today's money tomorrow. Gold is definitely an alternative, but when we buy, the price goes up," Mr. Cheng stated. "We have to do it carefully so as not to stimulate the markets" (see full story).
Indeed, the dollar is under pressure from all quarters, and things will just get tougher for the currency as recovery takes hold. The one prop keeping it up has been its safe-haven status while other assets were tumbling. With risk appetite returning to the markets, investors are shedding dollars very quickly. With a federal budget deficit expected to reach $1.6 trillion in 2009, according to the Congressional Budget Office, U.S. fiscal policy is on an unsustainable path, one that can only further devalue the dollar long term. At 11.2% of GDP, that percentage will be the highest since World War II. This debt burden will tank the dollar in years to come, and gold will be the primary beneficiary.
Indeed, the world is now officially turning to gold for financial protection. Hong Kong announced recently that it is pulling all its physical gold holdings from depositories in London, transferring them to a high-security depository newly built at the city's airport. The intention is for Hong Kong to become a Swiss-style trading hub for bullion as Asian central banks and other institutional investors focus increasingly on adding physical gold to their reserves after watching the global financial system implode. Martin Hennecke, a financial advisor with the Hong Kong-based Tyche Group Ltd., said "Central banks are increasingly aware of the importance of having gold reserves at time of financial crisis and having it easily available at their own disposal" (see full story). In addition, the facility will hold reserves for gold ETFs that are in the planning stages for Asian markets, and which will vastly increase demand for bullion.
As we said above, gold is poised to benefit greatly in coming months whether the global recovery is strong, weak, or non-existent. The dollar's days as a safe haven currency of last resort are severely numbered. Private investors, central bankers, and sovereign wealth funds are starting to dump dollars and turn to gold, one of the oldest and most trusted assets. As investors seek alternatives to dollar-related assets, whether to protect their wealth in case of a renewed downturn or to realize greater returns as markets recover, gold is the logical and time-tested choice. We urge you to stock up now!
As always, thanks for your time.
Sincerely,
Dana Samuelson, President
Dr. Bill Musgrave, Vice President
Metal
Ask
Change

Gold

$1,780.89
$0.00

Silver

$18.21
$0.00

Platinum

$832.41
$0.00

Palladium

$1,973.67
$0.00
In US Dollars
AGE Gold Commentary
AGE Investor Alert!