AGE Gold Commentary is our regular report analyzing trends in precious metals and rare coins. We monitor domestic and international markets and extrapolate from our 30 years in metals to place current events into a hard asset perspective. View archives.
---
11/16/2009: Gold breaks out to new record highs!
Source:
In this issue ofAGE's Gold Market Commentary:
Gold breaks out to new record highs!
Dollar slide drives carry trade
Classic U.S. gold coins on the move!
Bullion demand rising


Gold breaks out to new record highs!
Gold moved over $1,100 an ounce last week to close at a new all-time high of $1,115.25 on November 11, and today it broke through again to another new record over $1,140 in intraday trading. The past two months—and the past few weeks in particular—have been among the strongest we've seen in more than 30 years of following the precious metals markets. Since early September, gold has surged more than 15%, from $950 to over $1,100 per ounce and the other metals have followed suit. The latest gold chart, as we discuss below, couldn't look stronger. The U.S. dollar, on the other hand, continues to erode in value. These two mega-trends (gold up, dollar down) should continue for the foreseeable future. In July, we advised that "gold is now poised to break $1,000 in earnest and we're targeting $1,200 to $1,250 for the peak of the next cycle." Now we're halfway there and the uptrend continues to look strong.
One big event behind gold's recent surge was the announcement in September that Barrick Gold Corp, the gold mining behemoth, was planning to end their much-maligned program of hedging their gold production. This welcome news helped to push the gold price over $1,000 by removing a long-time price-suppressant. Barrick formally closed their hedge book just last week, with Aaron Regent, Barrick's President, declaring that peak gold production is already upon us and shortages—and therefore substantially higher prices—are likely to come in the future ( see full story).
A second extremely bullish event was India's purchase of 220 tons of gold from the IMF for their central bank reserves earlier this month. We've been saying for nearly a year that more and more sovereign banks would be adding to their gold reserves as a way of offsetting their growing distaste for the dollar. In fact, the central banks of Mexico, the Philippines, and Russia have all added to their gold reserves in the past year. Sri Lanka's central bank disclosed last week that it, too, was buying gold. And China, which already doubled its gold reserves over the past six years, has clearly stated its intention to shift progressively more of its immense dollar reserves into gold in near the future.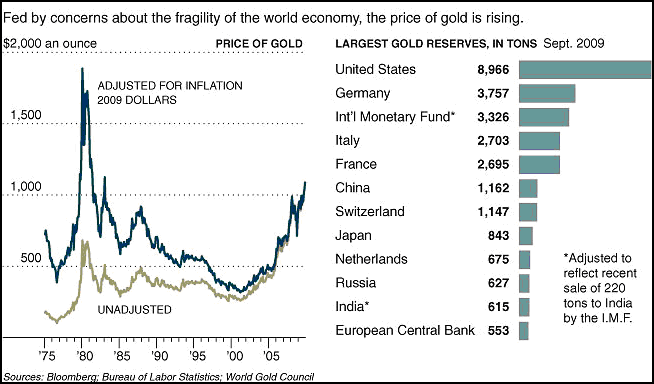 The Indian purchase underscores how even the most traditional investors are boldly moving their assets into bullion. Like many who closely follow the gold market, we expected China, not India, to buy this IMF gold. The fact that India chose to add this large amount at this price—over $1,000 per ounce—indicates not only the depth of distrust of the dollar and the global recovery but also a strong belief that the gold price is going higher from here, making this purchase at this time a wise move. We expect more central bank purchases in coming months, which should effectively place a $1,000 floor under the gold price. As The Economist put it recently, every central banker with large holdings of dollars is worried about capital loses if the U.S. currency continues to weaken, and gold offers them reassurance.
Individual investors apparently feel the same way. According to the World Gold Council, investment demand has increased by 51% this year. More and more people are looking to gold not only as an investment with strong upside potential but as a safe haven for their cash while the dollar loses value and equities on virtually no fundamentals. Buyers keep flocking into the gold market as the news of the day continues to be remarkably good for gold. Indeed, as a bullish sign of the times and a strong indication of just how popular the yellow metal is becoming, Harrod's, the legendary high-end department store in London, is now selling gold bars and coins over the counter! And according to The New York Times, their business is booming, with customers lining up to buy everything from 1-ounce ingots to 400-ounce gold bricks.
Dollar slide drives carry trade
Of course, the biggest driver behind climbing gold price is the ever-weakening dollar. In October, the dollar fell sharply against other world currencies, down to as low as 75.05 on the dollar index chart (see below), which helped to push gold to the $1,060 level. Ironically, the dollar had been as low as 71.32 in the spring of 2008 and gold was $940. However, in intervening 18 months, the U.S. quadrupled its annual budget deficit to more than $1.4 trillion this year, slashed effective interest rates to less than zero, and flooded the globe with oceans of greenbacks through quantitative easing. Anyone who wants to try "quantitative easing" in the gold market has to dig a mine—and even then, as Barrick's closing of its hedge book indicates, there's just not enough gold readily available in the ground to lower the price by increasing supply.
Because the dollar has become so cheap, with an outlook of becoming even cheaper, it has stepped into the humiliating shoes of the yen as the funding source of an immense international carry trade. According to NYU economist Nouriel Roubini, investors are able to borrow dollars not just at zero interest but effectively at negative 10% to 20%, and they're shorting the currency with full knowledge that the Fed cannot possibly raise rates until well into next year, probably Q3 or Q4, without crippling any hopes of recovery (see full story). These cheap dollars are purchasing higher yield and riskier investments, and fueling growing bubbles in U.S. and foreign equities. The U.S. government doesn't mind because near-worthless dollars help to inflate away its massive deficits—deficits that are exploding in part because of the very policies that enable the carry trade. In the face of these paper assets inflating themselves into a whirlwind of bubbles, physical gold is becoming evermore attractive as an asset that's not simultaneously someone else's liability. No wonder central bankers and prudent investors alike are filling their vaults and safe deposit boxes with gold.
Let's take a look at the latest charts.
U.S. Dollar
The U.S. dollar index chart has been very weak since the dollar fell through the 78.5 mark in early August, and it remains weak today at around 75. We told you in our September update that "a continuing decline of the dollar over the next several months, regardless of the velocity of the decline, should be a pretty safe bet," and that sentiment continues.
Technically, there is very little support below the dollar's current level until just under 72 on the chart, where the buck stopped in the spring of 2008. At that time, it set a new multi-decade low at 71.32 before rebounding sharply in the summer and fall of 2008 as the financial crisis began to unfold. Should the dollar decline back to this critically low level in the current cycle—and we think it will—the million dollar question becomes whether it can hold support even there. If it cannot, global sentiment about the dollar, already at the edge of the abyss, will plummet and the gold price should really take off. We'll be watching these developments very closely over the next several months.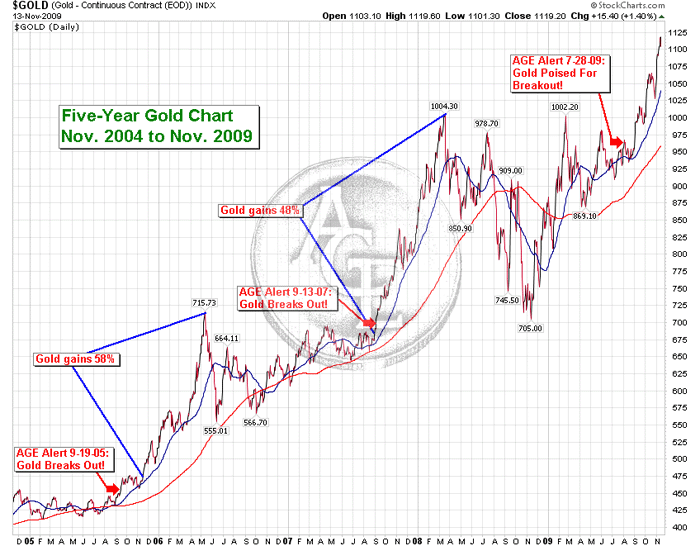 Gold
Since this bull market in precious metals began in 2002, gold has moved from under $300 to just over $1,100. As indicated on the five-year gold chart above, during this seven-year run the gold price has undergone three periods of extended consolidation when, after reaching new highs, it has channeled for a year or more before moving popping higher. Following the first one, from late 2005 into early 2006, it broke out with a 58% jump; following the second, from late 2007 into early 2008, it broke out with a 48% jump. From spring 2008 through summer 2009, gold was stuck in its third period of consolidation, unable to move over $1,000. Things started changing in August when gold began a series of stair-stepping micro-cycles in which it gained around $75 per ounce, pulled back by $30, and then surged another $75 or so higher. We've seen three of these micro-cycles. Last Thursday the gold price hit $1,125, the top of the latest one, and then pulled back to $1,100. The next day it surged back up to $1,120 again. This market is looking very strong, indeed, and these stair-steps should continue.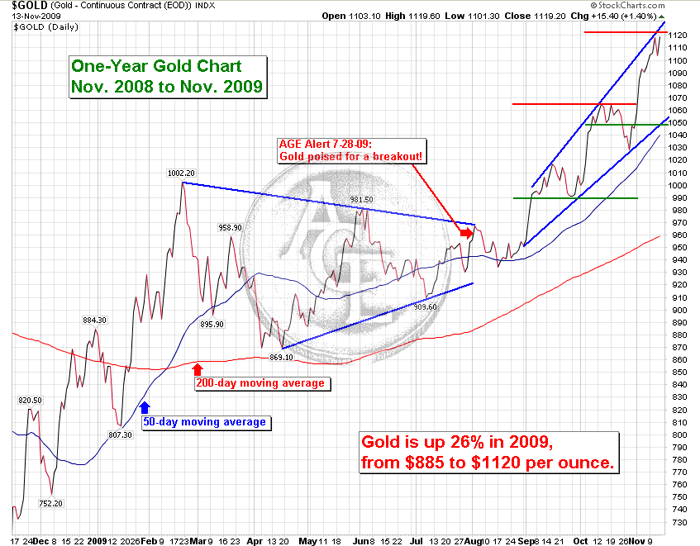 In our September update, we told you to expect gold to move quickly into a $980 to $1,040 trading range. Because of the bullish events discussed above, it settled into an even stronger range of $990 to $1,060 before pouncing into record territory, and it's been remarkably resilient in the face of any price weakness. Gold now looks very strong in the one-year chart above, like it did in both of those previous two breakouts. While this season's gains may not be as strong as those on a percentage basis, we continue to target a gold price of $1,200 to $1,250 and perhaps higher over the next few months.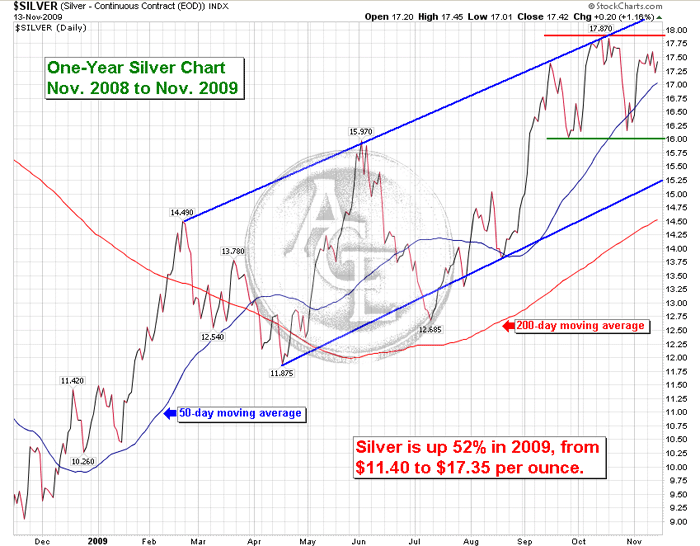 Silver
Silver has been most volatile of the four precious metals in 2009, as the one-year chart above clearly shows. The range of volatility remains approximately $3.50 per ounce, which is abnormally high, historically speaking. And while the overall price trend remains strongly upward, picking short-term entry and exit points within this volatility can be challenging, indeed.
Technically, a nice double-bottom has recently formed just above $16.00, with upside resistance currently just under $18.00. The upward trend, coupled with a $3.00 to $3.50 volatility range and firm bottom at $16.00, means silver could easily move towards $19.00 or $19.50 in the coming month or two. In our last update, we targeted $18.50 for silver in this cycle. While this target remains in place, it's likely to prove conservative given continuing market action. In any event, we fully expect silver to break through its near-term resistance just under $18.00 and push higher again.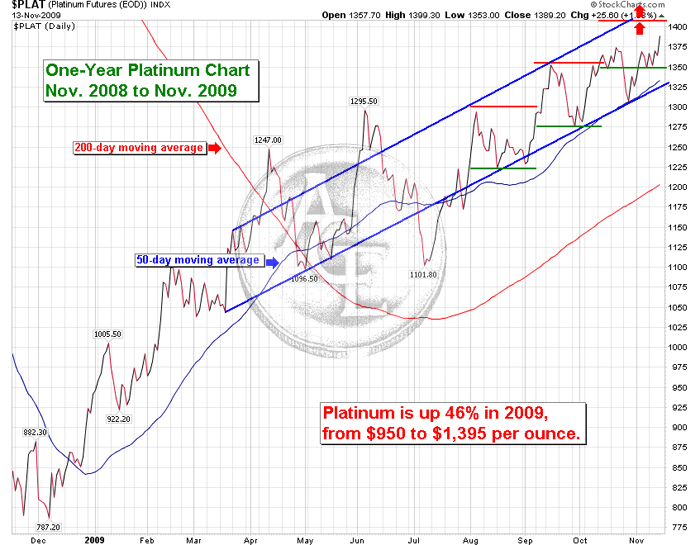 Platinum
Platinum continues to grind steadily higher in price. Since late July, it has been stair-stepping higher in $50 to $75 increments. After hitting upside resistance at $1,375 in October and early November, it has just broken through and the current trend lines look decidedly bullish. With price volatility of about $125 an ounce, platinum now has the potential to move as high as $1,500 in coming months.
Palladium
Palladium continues to be the darling of the precious metals in 2009. Over the last two months alone it has surged almost 20% and is up a whopping 82% for the year so far. Based on these sharp recent gains, it's due for some healthy profit-taking—but that may not happen. Palladium should enjoy support at $330, and with a current market volatility of about $40 an ounce, the upside in the very short term should be about $370, though it could finish the year near or above $400. Time will tell.
Classic U.S. gold coins on the move!
Classic U.S. gold coin prices are now moving decidedly higher. With gold bullion up some 42% since September 2008, many of our favorite classic U.S. gold coins are now up 70% to 100% during the same time frame. Private, non-reportable, and legally protected from confiscation, these coins are hot and getting hotter. U.S. $20 gold coins are leading the pack in price appreciation, with $10 gold coins following closely on their heels. The smaller $5 and $2.50 gold coins are lagging the larger-denomination coins—meaning they might well have more upside potential. Interestingly, the current market continues to be a bottom-up market, meaning the less expensive, more common AU to MS62 coins have been appreciating faster than the less common, higher priced MS63 to MS66 coins.
This quantity-over-quality market exhibits all the early signs of a major flight into private gold by the public at large. As a result, we're seeing some of the best appreciation rates for common date U.S. gold coins that we've ever seen. The caveat is that the traditional investment quality coins—the scarcer MS64 and higher grades—are currently underperforming the market. While this lag might be disappointing at the moment, we expect to see the higher grades play catch-up over the next few months. Typically, higher grade coins are slower to gain after initial increases in the bullion price, and slower to fall after decreases. Plus, when higher grades play catch-up, they tend to realize greater overall gains percentage-wise. At the just-completed Baltimore Coin Show we saw dealer demand for MS64 and MS65 quality coins ramp up sharply. This is the first time dealer demand has jumped for these high grade coins so far in this cycle. Once it begins, it usually doesn't abate for quite some time.
There are four classic U.S. gold coins in particular that we think are now undervalued by 20% or more: $5 Indian in MS63, $5 Liberty in MS64, $10 Liberty in MS65, and $10 Indian in MS65. We think these have the greatest upside potential right now. $10 Liberty coins in MS64 and $10 Indians in MS64 are great buys, too. All of these coins are ripe for strong gains in today's market, as are the lower grade coins that have been leading the pack.
Bullion demand rising
Modern bullion and classic European gold coins are selling very fast as the gold price rises. While demand is not quite as strong as it was a year ago, following the collapse of Lehman Brothers and AIG, it remains abnormally high as new investors enter the market and established ones add to their physical positions. Fortunately, government mints around the world are able to keep pace with demand this year, so premiums are back to normal and deliveries are on time.
In the bullion gold sector, we're pleased to be offering 24-karat, .9999 fine U.S. Gold Buffaloes again. After producing no Buffaloes in 2009, the U.S. Mint has recently started delivering them. Similarly, after a long hiatus, we're now able to take orders for mid- to late- December delivery of tenth-oz, quarter-oz., and half-oz. U.S.Gold Eagles.
Private and non-reportable, European gold coins are selling briskly in this market at premiums equivalent to or even less than the modern fractional bullion coins from the U.S. and Canada. In our opinion, these classic gold coins, which were minted generations ago but survive today in Brilliant Uncirculated condition, are a much smarter buy than common modern bullion coins. They offer all of the advantages of bullion plus scarcity, established collector demand, and historical significance that the modern bullion coins simply cannot. We have the extremely popular Swiss 20 francs and British gold sovereigns back in stock.
Once again, the current gold market is one of the most bullish we've ever seen. Investment demand from private individuals, hedge funds, institutions, and governments around the world is incredibly strong and should continue to build into the foreseeable future. The economic crisis of 2008, created by Wall Street malfeasance and exacerbated by the poor fiscal habits of the U.S. government, has produced the greatest distrust in the U.S. dollar in our lifetime. Gold's traditional role as currency of last resort has re-emerged internationally with a strength and commitment not seen since the 1930s. We urge you to stock up on bullion and classic gold coins now while prices remain relatively low. You'll be glad you did!
That's it for now. Thanks for your time. We'll keep you informed.
Sincerely
Dana Samuelson, President
Dr. Bill Musgrave, Vice President
Metal
Ask
Change

Gold

$1,805.41
$-2.02

Silver

$19.08
$-0.06

Platinum

$855.32
$-6.07

Palladium

$2,044.63
$-3.40
In US Dollars
AGE Gold Commentary
AGE Investor Alert!