AGE Gold Commentary is our regular report analyzing trends in precious metals and rare coins. We monitor domestic and international markets and extrapolate from our 30 years in metals to place current events into a hard asset perspective. View archives.
---
2/10/2010: Gold resilient during dollar rally
Source:
In this edition ofAGE's Gold Market Commentary:
Gold resilient during dollar rally
Economic optimism
Deficits and sovereign default
Recent chart action
Underpriced US gold coins


Gold resilient during dollar rally
As the seven-year bull market in precious metals moves into 2010, gold is showing remarkable resilience in the face of some significant headwinds. In particular, the recent counter-trend rally in the US dollar stalled gold's upward march, forcing it to surrender some of its impressive gains from last fall. But we see this dollar strength as temporary, for reasons we discuss below, and expect precious metals to regain their momentum in coming weeks and months.
From July to early December 2009, gold and the dollar traded with a negative correlation—when the dollar lost, gold and the other precious metals gained—and the dollar was losing a lot. Beginning in early December, however, the buck began a sharp rally behind rising hopes for an economic recovery in the US and growing concerns about international sovereign debt levels and the viability of economic recovery overseas. As a result, the dollar climbed to levels on the dollar index chart last seen in July 2009, when gold was trading under $950.
Despite this remarkable bear market rally in the dollar, gold never closed below $1,050 and pushed back to as high as $1,080 this week, stubbornly holding onto much of its July to December gains. Normally, such a strong dollar rally would have caused gold to suffer much sharper pullbacks from a cyclical high, but it remains 11% higher than in July (rising from $950 to $1,060). Silver, platinum, and palladium are also holding their gains impressively. Silver is up 9% since July (from $14.00 to $15.25), platinum 23% (from $1,200 to $1,475), and palladium is up a whopping 53% (from $260 to $400) from just seven months ago. Now that's resilience!
Why are precious metals standing so tough alongside a strengthening dollar? Because the drivers behind the dollar rally are largely unsustainable. The dollar is rallying on two fronts, one positive and one negative. On the positive side, for the first time in over two years, the US economy is experiencing what many consider to be the first real inklings of a recovery. On the negative side, several eurozone nations and Japan are experiencing sovereign debt crises that are forcing international investors into the dollar as a safe haven. We'll discuss each in turn, beginning with the uptrend in US economic data.
Economic optimism
The nation's manufacturing firms grew at a very strong pace in January, with the Institute for Supply Management index rising to 58.4% from 54.9% for the highest reading since August 2004. ISM readings over 50% indicate that more firms are growing than contracting. Similarly, the US economy grew at the fastest pace in six years during the fourth quarter of 2009, even as consumer spending and business investment remained soft. Real gross domestic product increased at a 5.7% seasonally-adjusted annual rate in the final three months of the year, the best quarterly growth since late 2003. A year ago, the economy fell at a 5.4% pace.
These are hopeful developments, indeed, and certainly welcome. But troubling doubts remain about the strength and duration of the recovery. Most economists believe the torrid pace of growth in Q4 will slow dramatically this year, reaching at most 3%. And even with the stimulus-driven growth in the second half of last year, the economy still shrank by 2.4% in 2009, the worst year for GDP since the 10.9% drop in 1946, when the US downshifted after the war. Roughly two-thirds of 4Q growth came from the replenishing of inventories, which means it won't be repeated any time soon. Factoring out inventories and government stimulus, growth in the second half of 2009 was a meager 1.5%, according to NYU's Nouriel Roubini, who believes the economy will slow significantly in 2010.
Unfortunately, the job market is also sending conflicting signals. The good news is that the official Bureau of Labor Statistics unemployment rate fell to 9.7% in January. After adjusting for the annual population update, employment rose by 541,000 as measured by a survey of households—the largest increase in more than two years. The bad news is that employment as measured by the survey of business establishments, usually considered more the more accurate measure, showed payrolls falling by another 20,000 in January.
Adding insult to injury, almost every month in the past year was also revised lower, which means that employment was nearly 1.4 million less than previously reported. And even the dip under 10% in the BLS unemployment rate is probably too good to be true. As John Williams pointed out in his SGS newsletter recently, the BLS achieved it with sleight of hand by moving roughly 400,000 people out of the "jobless" category and into the "discouraged worker" category, a distinction without a difference.
With jobs so hard to come by, consumer spending is drying up. Retail sales declined 0.3 percent in December compared with November, much weaker than the 0.5 percent rise that economists had been expecting. This capping 6.2% drop for the year, the biggest decline since official record-keeping began on these numbers in1992. Concomitantly, foreclosure filings are expected to reach a record for the second consecutive year, with 3.9 million notices sent to homeowners in default, RealtyTrac said recently.
So the bottom line is that we're still a long way from recovery and this "positive" driver of the current dollar rally probably won't support it for very long. We'd like to point out, though, that as real recovery takes hold, which we all hope happens soon, gold should benefit greatly because inflation will again become a major player in the economy. As a result of quantitative easing, or the official central bank policy of slashing interest rates to zero and printing money madly in order to overcome the Great Recession, the economy is bursting at the seams with cheap dollars, both here and abroad. Once recovery actually catches hold, inflation is very likely to take off. Gold always does best during inflationary periods. Remember, it reached $830 in 1980—that's roughly $2,300 in today's dollars—because of the runaway inflation of the 1970s, coming out of the last major recession. The stage is set to return to real gold prices in that neighborhood.
Deficits and sovereign default
Perhaps the biggest threat to the long-term health of the US economy and currency is not the pace of recovery but rather the pace of government debt accumulation. President Obama's $3.8 trillion fiscal 2011 budget forecasts a shortfall of a record $1.6 trillion, following a $1.4 trillion deficit in 2009. These numbers beggar the imagination and could eventually result in the downgrading of US sovereign debt, Moody's warned recently. If this downgrade happens, the dollar will fall like a stone and gold is likely to reached unimagined levels.
Quantitative easing and deficit spending on a global scale have left fiat money looking like a fool's bet, driving ever more investors and central banks into the security of gold. Indeed, in a sign of the times, China this week purchased the equivalent of 145,000 ounces of bullion through SPDR Gold Trust ETF, offsetting a small part of their massive reserve exposure to the vagaries of the dollar. We believe this trend will continue for years to come, underwritten by the profligacy of US government spending.
"We're in territory that's essentially uncharted waters," said MIT economics professor James Poterba in a Bloomberg Radio interview recently. Poterba, who is also president of the National Bureau of Economic Research, cited the growth of spending for the government's Medicare, Medicaid and Social Security programs, and the shortage of tax revenue combined with rising interest payments from the exploding US deficits as major causes for alarm. "The long-term prospects in US fiscal policy is rather daunting," he said in an understatement.
But the US is hardly the only government with severe sovereign debt problems—and this brings us to the "negative" driver of the recent dollar rally. The buck has clearly been benefiting from a flight to safety from other currencies, specifically the euro and the yen. Based on the economic problems in Japan and the euro zone countries, especially Greece, Spain, Portugal, and Ireland, the dollar's strength is merely a matter of lesser weakness. Greece has a sovereign debt that exceeds its GDP and some of the other EU nations are not much better off. Even the UK is at risk of a Moody's downgrade.
Until this week, default by Greece looked increasingly likely. The concern among currency traders was that if the EU was forced to bail out Greece or other peripheral EU nations, it could trigger a revolt by Germany that could shatter the union and the euro. This fear has eased in the last few days as the EU is coming to an apparent accommodation with Germany that will prevent Greece's default. As a result, the dollar lost some value while gold began climbing again.
The situation in Europe is eerily reminiscent of the financial crisis that triggered the meltdown in 2008, in that one default could easily lead to systemic cascade failure, except that nations rather than banks are presently at risk. While the crisis hasn't escalated to the same precarious point, the problems are nonetheless severe and have triggered a similar flight into the "safety" of the dollar. In the land of the blind, as the saying goes, the one-eyed man is king. The dollar might have the outlook of a cyclops with an eye patch but it still looks better than its major rivals, so it occupies the throne for now. Nonetheless, because of exploding deficits and a hobbled economy, its prospects are fundamentally dimmer than they were in late 2008, so we don't expect this rally to be as strong as that one. Nor do we expect precious metals prices to fall as sharply. What we do expect is another superb buying opportunity in gold and the other precious metals, just like we enjoyed then.
Recent chart action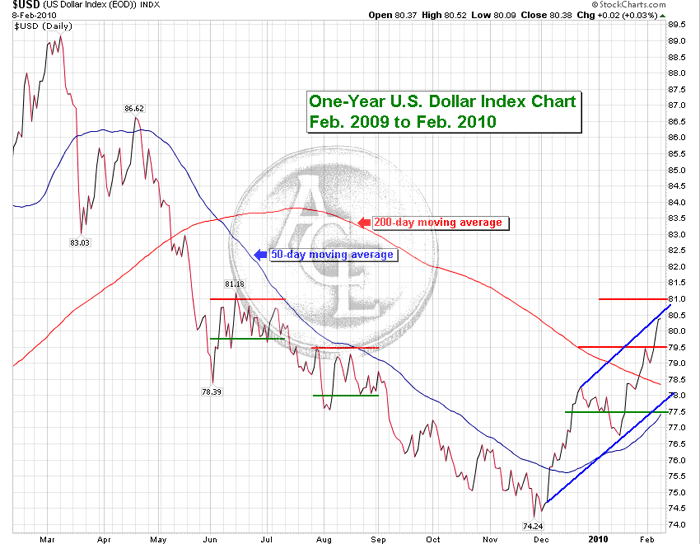 US Dollar
After bottoming out at 74.24 on the index chart in early December, the dollar has rallied sharply to a high of just under 80.5, the same place it sat in July 2009, when gold was still under $950. After declining constantly since June it was due for a rebound. The rally we've seen over the last two months, however, is certainly sharper and longer-lived than a simple correction within a continuing trend.
We attribute the first leg of the dollar rally, the December rise from 74.24 to 78, to short covering. The second leg, from the early January low of 77 to 80.5, is attributable mainly optimism about recovery and weakness in rivals, as we discussed above. After passing through short-term resistance at 79.5, where it stalled in July and August 2009, it's now poised to test even greater upside resistance at 81 (see the May to June 2009 time frame on the chart above). It will need to move over 81 to signal a true reversal from the downtrend of the second half of 2009.
If the situation in Europe degenerates further, it's possible that the dollar may spike higher and trigger a sell-off of precious metals. If this happens, like it did in the first half of 2009, it would present another enormous buying opportunity. Thus far gold, platinum and palladium are holding gains better than silver but these markets are changing in real time, so the coming weeks will prove to be very interesting, indeed. We expect the dollar to trade in a choppy pattern for the next month or two until there is more conclusive news, good or bad, on the state of the US economy and the EU sovereign debt problems.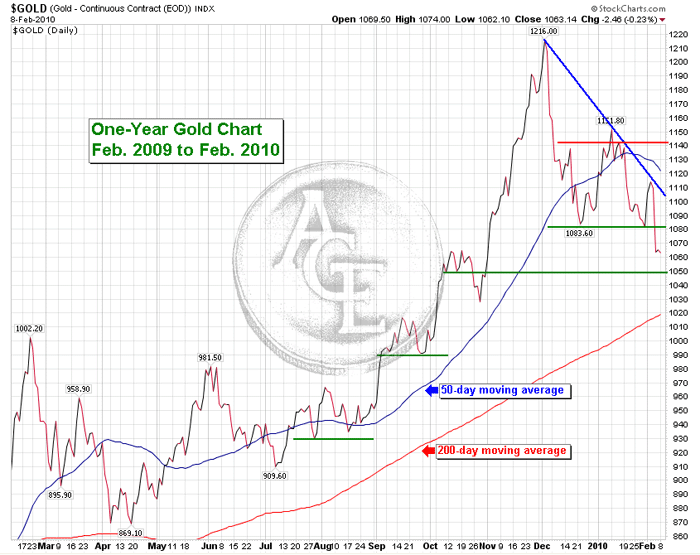 Gold
As the one-year gold chart shows, after setting a new all-time high in early December at $1216.00, gold has given back a goodly portion of the gains it made last fall. Gold was clearly turbocharged in November on its upward climb from $1,060 to $1,216. After peaking and correcting on normal profit-taking and a small rebound in the dollar, it held major support at $1,080 and hit upside resistance at $1,140 from mid-December through the end of January.
The dollar's early February surge over upside resistance at 79.5 on the index chart was the catalyst for gold's fall to as low as $1,047 in interday trading last week. Since then it has found some stability in a narrow trading range between $1,050 and $1,075. Clearly, the gold market is taking its short-term cues from the dollar. We'll be watching very closely to see if the dollar's momentum carries it over the crucial 81 mark. In any event, gold should enjoy enormous support worldwide in the $1,040 to $1,050 range.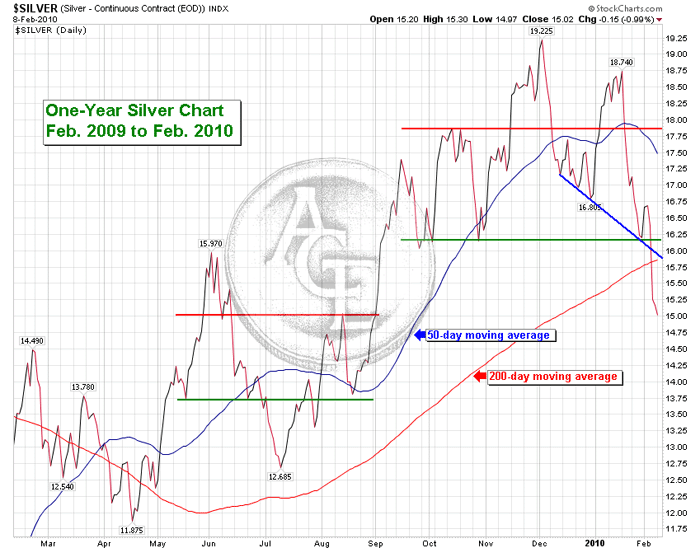 Silver
If gold has been choppy in recent trading silver has been choppier. Still, after surging strongly in August, it has finally moved back into the trading range it enjoyed prior to the enormous unwinding all commodities following the financial crisis in late 2008. While it hasn't set new all-time highs, it has reaped sizeable gains over the last six months.
Until last week, silver enjoyed support at $16.25 and hit upside resistance at $17.75. Following gold lower, it then broke sharply below that support. It's a little early to mark a trend but silver appears to be establishing a new lower trading range, most likely between $15.00 and $16.25 per ounce. We expect strong support just under $15.00 in coming months. However, if it drops under $14.75 silver could fall into the $13.00 to $14.50 range, but this would be bargain basement territory.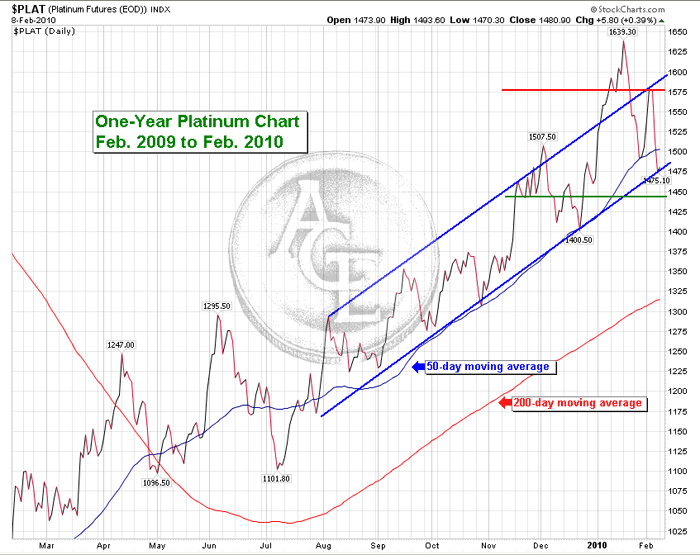 Platinum
Platinum continues its seemingly relentless march higher. Since breaking over $1,295 in August, it has set a series of higher highs and higher lows, consistently finding support along its climbing 50-day moving average, as the one-year chart shows. As the price has increased, however, so has volatility, as evident in its progressively widening trading ranges.
Like gold and silver, platinum succumbed to recent dollar strength with price weakness over the past week. Nonetheless, trading now at just over $1,500, it has climbed back into a price range seldom seen in the last 10 years. In fact, platinum has only been higher than $1,500 for a brief period in the past decade, from January 2008 through August of 2008, when it spiked to its all-time high of $2,230. So, historically, platinum is once again looking very expensive; and while price gains may continue, they come with a rising risk of a sharp price correction like the one we saw last week.
Helping to buoy the platinum price has been the launch of the first platinum ETF (PPLT), which required a large-scale purchase of the physical metal to back the fund. The first palladium ETF (PALL) was launched at the same time. Silver experienced a similar surge in price when its ETF (SLV) was launched in 2006, only to fall abruptly after the initial buy. So beware. We see a potential 5 to 10% downside risk for platinum.
Palladium
Currently trading between $400 and $420, palladium has been the most profitable precious metal since the beginning of 2009. Over the past year it has more than doubled in price and the one-year palladium chart couldn't look any stronger. Like platinum, however, it has moved into a range where it has seldom been. Since 2002, palladium has surpassed $425 only for about six months, during the first half of 2008 when it spiked to $585. Palladium is historically expensive over $400 and very expensive over $440.
Like platinum, palladium is currently enjoying greater price support than normal due to the creation of its new ETF. Initial demand to back the ETF may be responsible for even more of today's high prices than in the platinum's case—10% or more—so be careful for now, at least until we're able to ascertain whether the ETF has been fully funded with physical purchases.
Underpriced US gold coins
Classic US gold coin prices, which surged through November and December to some of the highest levels since their all-time highs in 1989, have corrected down in sympathy with the lower gold bullion price over the last six weeks. But not all are moving along identical trend lines. Since the financial crisis erupted in the fall of 2008, conservative, low-priced $10 Indian, $10 Liberty, $20 Liberty, and $20 Saint-Gaudens gold coins have become extremely popular, especially in grades ranging from modestly-circulated XF and AU to the lower uncirculated grades of MS60, MS61 and MS62. New buyers have been flocking into these coins because they're private, non-reportable, and exempt from government confiscation. They also offer the potential for additional profits based on scarcity, which modern bullion coins don't offer. As gold bullion set new price records, so have most of these classic US gold coins.
This sector of the market has recently developed something of a feast-or-famine quality. Buyers are either red hot or ice cold, and this extreme vacillation in demand has been creating some greater-than-normal price volatility. In addition, the supply of classic US gold coins on the national market has been extremely tight since the financial crisis erupted. As a result, fluctuations in demand have translated into more exaggerated price swings faster than normal. We expect this cyclical volatility to continue.
We have just passed through the latest cooling phase, so prices for the most popular US gold coins are around 10% to 20% lower than they should be. For value buyers this is a very nice window of opportunity. Our extremely popular Power Pair #1, comprised of a $20 Liberty in MS62 and $20 Saint-Gaudens in MS63, is an especially good value right now.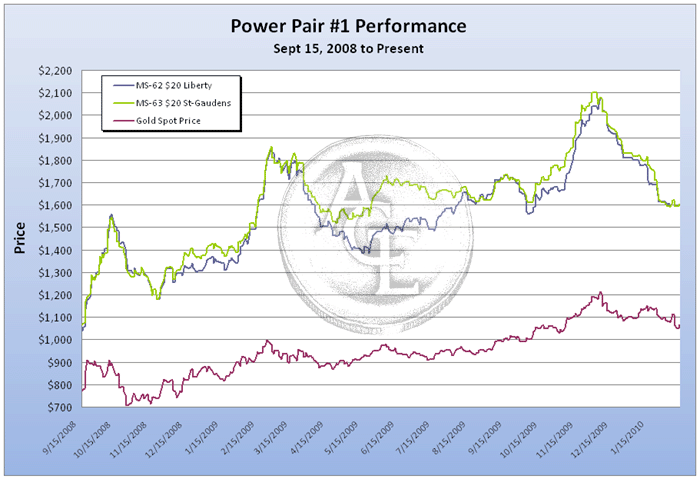 As you can see, these coins have substantially out-performed gold bullion during periods of high demand since the financial crisis erupted. For example, in the spring of 2009, it beat bullion 3 to 1. And when gold bullion has weakened, these coins have usually held up better.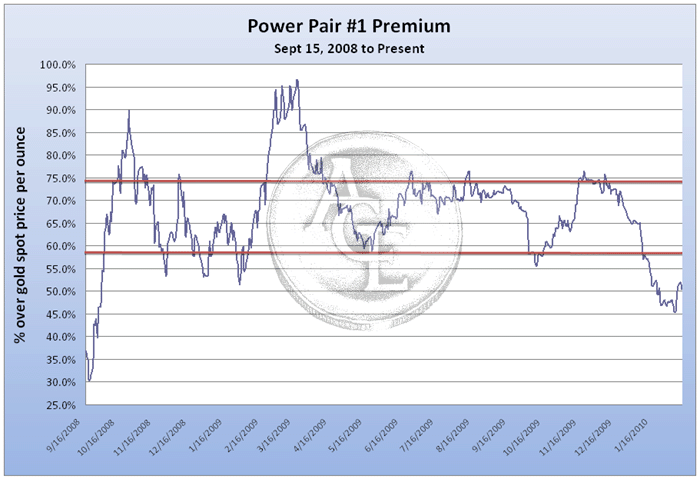 As you can see on the chart above, Power Pair #1 has routinely traded at a 60% to 75% premium over gold bullion over the past eighteen months our. Since January, however, premiums have over-corrected, almost reaching pre-crisis levels. We believe a true bottom has been reached for these classic US gold coins, so we are issuing a strong buy recommendation for Power Pair #1 at this time.
Several of the higher grade US gold coins are also very compelling right now, with unusually low premiums and excellent upside potential. We specifically recommend $10 Liberty in MS65, $10 Indian MS65, and $20 Liberty in MS65,
All of these higher grade gold coins remain very scarce in the national market, and represent excellent value at current prices. Buyers need to be patient however, as they are recommended as longer term, buy-and-hold investments. To discuss what might be most appropriate for your personal portfolio, please call your account manager at 1-800-613-9323 for individual market recommendations.
That's it for now. As always, thanks for your time.
Sincerely,
Dana Samuelson, President
Dr. Bill Musgrave, Vice President
Metal
Ask
Change

Gold

$1,780.89
$0.00

Silver

$18.21
$0.00

Platinum

$832.41
$0.00

Palladium

$1,973.67
$0.00
In US Dollars
AGE Gold Commentary
AGE Investor Alert!