AGE Gold Commentary is our regular report analyzing trends in precious metals and rare coins. We monitor domestic and international markets and extrapolate from our 30 years in metals to place current events into a hard asset perspective. View archives.
---
4/15/2010: Gold rallies toward breakout
Source:
In this issue ofAGE's Gold Commentary:
Demand skyrockets in China and India
Recovery and debt supporting gold
Strong charts for precious metals
The Ponzification of paper gold
U.S. gold coins ready to rally


Gold, silver, platinum, and palladium all continue to display remarkable strength as we enter the second quarter of 2010. Physical demand for precious metals in the U.S. is ordinarily at a low point during the first quarter of each year, and the dollar has been in a counter-trend rally since the beginning of 2010. Both of these influences would normally put downward price pressure on precious metals, especially gold. Yet all four precious metals have been rallying in recent weeks, showing substantial gains even during a traditionally slow period. We think this unusual resilience is setting the stage for gold to challenge its previous all-time high of $1,216 in the near future, and is one more indication that this bull market still has a long way to go.
The primary drivers behind gold's impressive performance have been the rising demand for physical gold in India and China, increasing signs of economic recovery in the U.S., growing fears about exploding U.S. national debt, and the easing of fears of default on sovereign debt in Greece. We'll discuss each in turn before turning to the current charts.
Demand skyrockets in China and India
Demand for physical gold in China and India is rising dramatically and is likely to increase in years to come. China's economy grew 11.9% in the first quarter of 2010, up from 10.7% the previous quarter, for its fastest pace in two years. The world's biggest gold producer, China has increased its gold reserves by 76% to 1,054 metric tons since 2003 and has the fifth-biggest holdings by country. According to a new report from the World Gold Council, gold consumption reached 423 tons in 2009, while domestic mining production was merely 314 tons. In the past, internal production has usually met consumption.
Now, the shortfall is creating a "snowball effect" as the country's production fails to keep pace with the annual increases in demand. What's more, overall gold consumption in China is expected to double within the next 10 years, boosting long-term prices as supplies fail to keep pace with booming demand from investors and the jewelry industry. If gold jewelry buying in China reaches the same per capita rate as India, Hong Kong or Saudi Arabia, which is likely because gold is favored by China's exploding middle class, the nation's annual demand could increase by at least 100 tons to as much as 4,000 tons, the Council said.
"China has an insatiable appetite for gold, which looks likely to continue in an environment where domestic mine supply lags behind demand. Near-term inflationary expectations and rising income levels are likely to support the investment case for gold as an asset class, especially given that Chinese consumers are high savers and are looking to gold to protect their wealth," the Council's report said. "Jewelry and investment growth are expected to be the chief drivers of demand."
Gold imports by India, the world's biggest consumer, also jumped last month as jewelers stockpiled supplies to meet wedding-season demand. The wedding season in India runs from November to December and from late March through early May. Gold is bought during marriages as part of Indian bridal trousseau or gifted by relatives. Purchases were up nearly 20% in March, according to Bloomberg, and demand is likely to stay strong with as many as a million marriages planned for April and May. Because the rupee is gaining against the dollar, increases in gold price are unlikely to hurt demand. This combined demand from China and India has the potential to support substantially higher prices for years to come.
Recovery and debt supporting gold
Closer to home, increasing evidence of a U.S. economic recovery is also causing gold to rally. The Institute for Supply Management said its index on the services sector jumped to 55.4 in March, up from 53 in February. Home prices unexpectedly rose in 20 cities in January and pending home sales rose 8.2% in February, two signs that a housing recovery may be starting. March retail sales rose by 9.1%, the highest in more than a decade, as shoppers started spending on things beyond the bare necessities. And consumer confidence climbed in March as Americans perceived employment was starting to improve. With increasing optimism about the recovery, U.S. investors are starting to move from low-yielding assets like cash and U.S. Treasuries into investments that offer greater returns, like gold. As the economy gains strength, more money is expected to come off the sidelines into commodities and precious metals, driving the gold price higher.
But perhaps the biggest driver behind growing international interest in gold is the growing fear about the exploding U.S. national debt and the dollar crisis it could trigger. The Congressional Budget Office issued a report this month showing that, within this decade, President Obama's budget will increase the debt to 90% of GDP, which is the tipping point that triggers a crisis, according to a study by economists Carmen Reinhart of the University of Maryland and Kenneth Rogoff of Harvard. The Obama budget will add $10 trillion to the national debt in the next decade and will not stabilize the deficit, the CBO found. This year, the debt will reach 63% of GDP, a ratio that has ignited crises in smaller wealthy nations. Fiscal crises gripped Canada, Denmark, Sweden, Finland and Ireland when their debts were below where the United States is shortly headed. To compound the problem, Social Security as of this year is paying more in benefits than it receives in payroll taxes for the first time. Of course, because the U.S. issues the world reserve currency, we can simply print more dollars to service this debt. That solution might work for a while—and, no doubt, we'll try it—but ultimately it'll be like extinguishing a grass fire with gasoline!
The immediate danger is a possible downgrade in the credit rating for Treasury debt, which would prove incredibly expensive. Moody's announced recently that the U.S. had moved "substantially" closer to losing its AAA bond rating. Because of its reputation as the most reliable borrower in the world, investors lend the U.S. government money at very low rates, which makes our debt almost manageable. According to Politico, Washington is paying a relatively affordable 3.3% interest on $12.5 trillion in outstanding loans. However, if we had to pay the same rate as Australia, which has a stronger currency, it would cost an additional billion dollars in interest every day! As White House budget director Peter Orszag recently said, "We're on an utterly unsustainable path." This developing crisis has the potential to push long-term inflation to astronomical levels and all but cripple the dollar, which could lead to hyperinflation. It would also lead to much higher gold prices.
As strong as gold has been in recent months, its rise has been held in check by the Greek tragedy slowly playing out in the European Union. Because Greece has been on the brink of defaulting on its sovereign debt, and because the EU has been vacillating on whether to provide support, the dollar has benefited from flights to safety away from the euro, which, in turn, has constrained the gold price. (Of course, these European currency problems have pushed gold to new heights in euros and British pounds.) Many fear that the euro would be severely undermined if other struggling countries like Spain, Portugal and Italy followed Greece to the precipice. Those fears have been somewhat allayed this week as European leaders have agreed to a long-awaited financial rescue plan, offering the country up to $40 billion in aid to meet its giant debt obligations. The IMF will contribute another $18 billion or so.
Now that the first leg of the euro crisis seems to be passing, the dollar should lose some support. Given the awful state of U.S. fiscal health, the recent dollar rally is already leveling off, thereby allowing gold to move higher. But even if the dominoes begin to fall again in Europe, gold now looks like it will benefit as the true international safe haven currency anyway, rising alongside the dollar as investors flee the euro and UK pound.
Strong charts for precious metals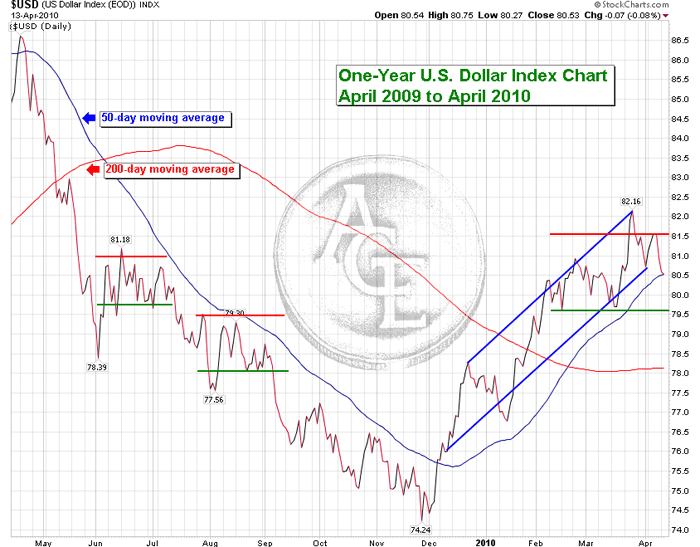 US Dollar
Since setting a cyclical bottom in December at 74.24 on the index chart, the dollar has risen steadily in early 2010. In the past month, it moved over its June 2009 high of 81.18 to as high as 82.16. Normally, this surge over a previous high would signal a technical breakout, and we would anticipate further short-term gains. But this has not proven to be the case. We believe the dollar's rally over 79.50 has been fueled more by the Greek sovereign debt crisis than its own fundamentals, so the move over 81.10 has been tentative at best.
The last several trading sessions have seen the dollar erode, which supports the idea that the rally was a response to problems with the euro. We expect the dollar to channel in the coming month between the green support line at 79.50 and the red upward resistance line at 81.50. If it breaks below support at 79.50, we look for a sharper fall that will help to buoy precious metals prices. But because other nations in the EU have sovereign debt problems, too, the dollar may yet be subject to more knee-jerk flights from the euro.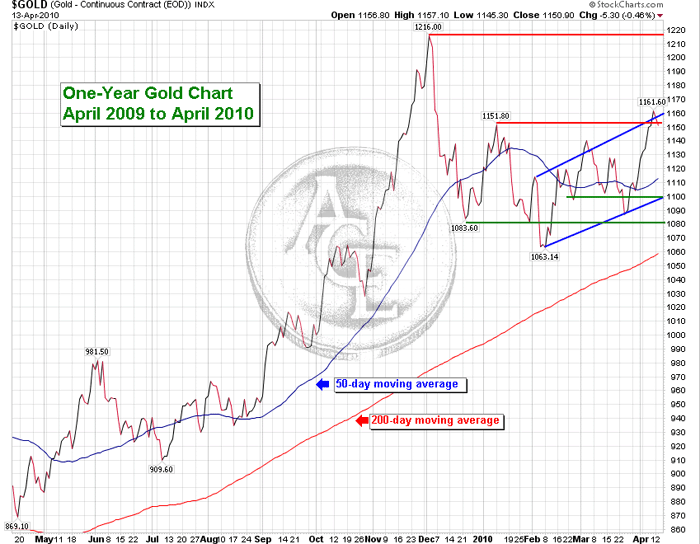 Gold
Gold's recent move over $1,151 signals a technical breakout, which means we can expect a new and higher trading range. We see firm support for gold at $1,100, up from $1,075, with upside resistance just under the all-time high of $1,216 from last December. In the short term, we expect a trading range from $1,125 to as high as $1,195, with the bias towards the upside.
We think gold is poised to test its previous high of $1,216 in the near future. This week gold moved as high as $1,161 before modest profit taking ensued, and the ongoing European problems have already helped to propel it to new highs in euros and in British pounds (see the international gold charts). Once again, gold is on the rise around the globe as the trusted currency of last resort.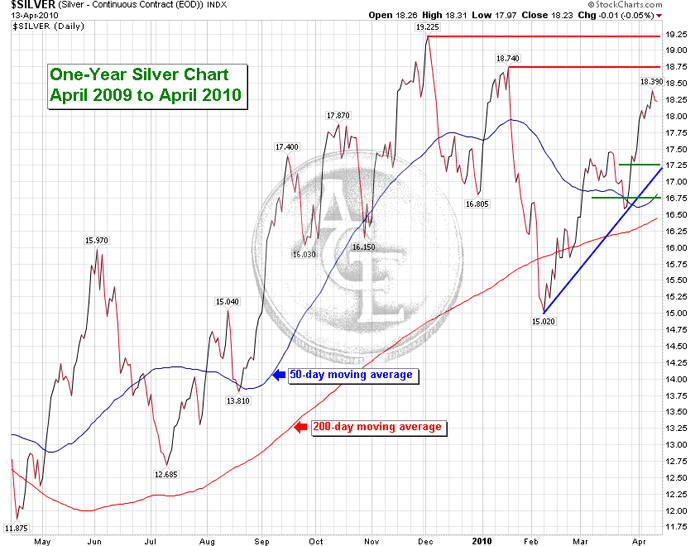 Silver
As you can see on the one-year chart above, silver has been on a tear for the past two weeks, rapidly moving towards its latest cyclical high $19.22 from last December. That major peak led to a sharp profit-taking correction that bottomed in early February at just over $15. In the last 60 days, silver regained most of what it gave up through early February, with a new, very sharp upward channel emerging.
We now see very firm support for silver at $16.75 with upside resistance at $19.25, creating an unusually wide trading range. Actual support may prove to be at $17.25, which would place it in a slightly narrower range. Like gold, silver has had a modest profit taking correction in recent sessions. The latest price peak is $18.50. So far silver has been holding over $18, but the bottom of the blue channel indicates that it could fall to as low as $17.25 in what would be considered normal trading. Silver is more speculative than gold and more volatile, so be prepared for price volatility in the coming weeks as it tests $19.25.
On a side note, a second V-shaped bottom has now formed in silver, similar to the one that occurred in July of 2009. As the chart shows above, that bottom presaged very nice gains through out the rest of 2009. The current V-shaped bottom could lead to similar gains this year.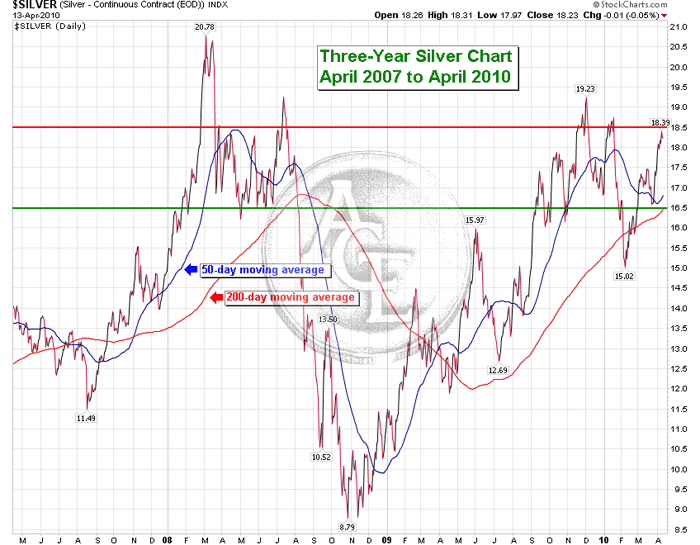 Silver
This three-year silver chart helps to put the last six months of price action into perspective. As you can see, silver has been reasonably priced in the $16.50 to $18.50 range for a year out of the past three, but volatility has been excessive. The massive financial unwinding caused by the fiscal crisis of September 2008 created a once-in-a-lifetime price correction. Today silver is back to where it was before the crisis reared its ugly head.
During this eight-year bull market, silver has yet to hold over $20. And as this chart clearly shows, any movement over $19.25 has been short lived. At over $18, silver is poised to test $19.25 again. However, we expect some short-term profit taking to hold it in check during the current rally. We expect to be able to buy silver under $18 in the next month or two, perhaps even under $17.50. Once these corrections are out of the way, we'll have more confidence in silver's chances of moving over $19.25, then $20, and ultimately much higher still.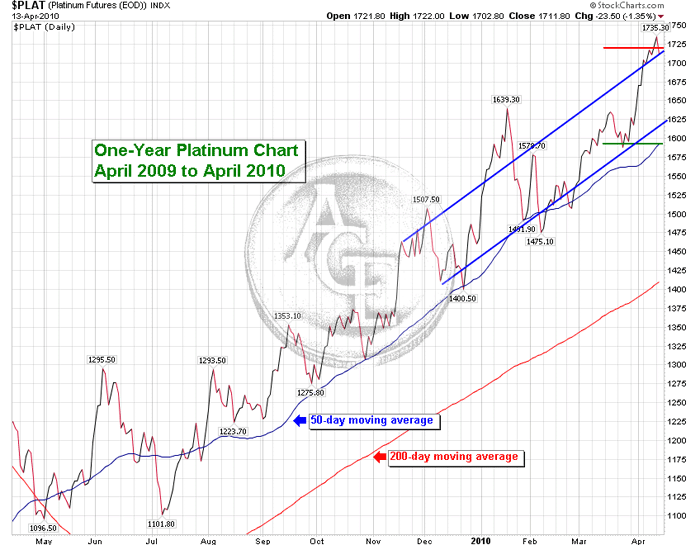 Platinum
Platinum continues its seemingly relentless march higher. Since breaking over $1,295 in August, it has set a series of higher highs and higher lows, consistently finding support along its climbing 50-day moving average, as this one-year chart shows. In the last two weeks alone, it's up another $125 to trade firmly over $1,700. This platinum chart is one of the strongest we've ever seen in our 30 years of following precious metals.
Technically, platinum enjoys current support just under $1,600 and should have hit upside resistance around $1,715. However, it's now trading at $1,735—beyond its expected resistance level. To us, platinum looks like it did at the peak of its January 2010 rally, when it hit $1,639 and corrected sharply down before moving higher. So we see little upside in the next few weeks and approximately $100 downside risk. We advise caution but would seriously look to buy at under $1,650 in the coming month, if the opportunity presents itself.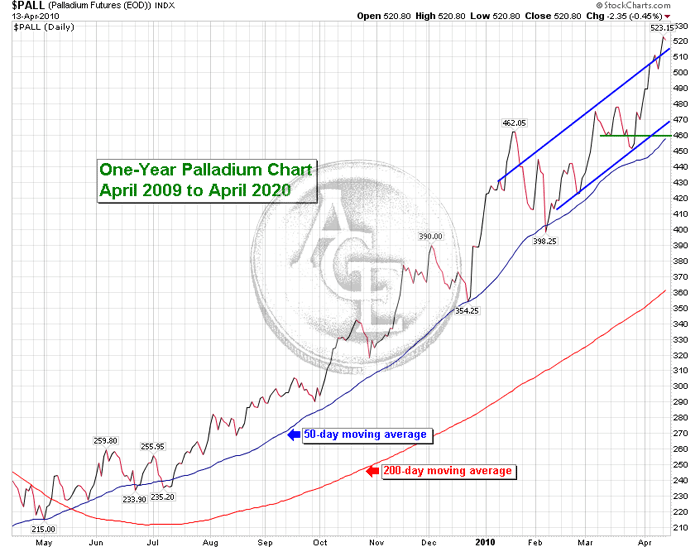 Palladium
Just like platinum, palladium, continues to march higher. Likewise, it seems to have moved a little too far, too fast in the last month and may be due for a profit-taking correction before resuming its climb. Currently trading at $550, palladium enjoys strong support at $460 and little, if any, upside resistance.
As you can see, palladium has consistently traded near its 50-day moving average for most of the past year. On the two occasions, when it rose to $60 or more above this 50-day moving average, it experienced a fairly strong price correction. Today, palladium is $90 over its 50-day moving average, so we anticipate a similar correction. We would look to add to our palladium position at under $500 in the next several weeks if the opportunity presents itself.
As we mentioned in our last update, the new platinum and palladium ETFs are adding strong physical buying pressure to the market at this time. Palladium, in particular, is enjoying unusually strong buying activity, and could continue to run higher before a correction. Despite this strong momentum, we'd be wary in the short term until a healthy correction occurs.
The Ponzification of paper gold
On the topic of precious metals ETFs, some alarming revelations have recently come to light about the paper gold and ETF markets. According to a recent report by Nathan Lewis, fund manager and author of "Gold: The Once and Future Money," the Commodity Futures Trading Commission, a U.S. government regulatory agency, held hearings in Washington D.C. in late March regarding position limits in the gold futures market. During the CFTC hearings, Jeffrey Christian of CPM Group testified that very little gold is actually held in the institutional system that backs the market in paper gold and ETFs!
As Lewis reports, for years large banks like Goldman Sachs and JP Morgan have been using the London Bullion Market Association (LBMA), the world's largest gold market, for their institutional transactions, assuming that their bullion purchases on behalf of clients were being held in safe depository by LBMA. They've even been charged fees for storing the bullion. In fact, it turns out that LBMA banks actually have around a hundred times more gold deposits than actual gold bullion. Thousands of clients, including governments and sovereign wealth funds, think they own billions of dollars in physical gold but actually own a tiny amount of bullion and a lot of unsecured gold loans to the banks at a negative interest rate! Most ETFs also claim to have deposits at the LBMA banks to back their shares. If clients actually ask for delivery of their gold, these banks could not produce it. The resultant run on the market for physical gold to cover their obligations would create panic buying and drive prices truly into the stratosphere.
This is a shocking revelation. It means the paper gold market is little more than a very sophisticated—and very vulnerable—Ponzi scheme. And it's one more great reason to purchase only physical precious metals that you take possession of yourself!
U.S. gold coins ready to rally
Like gold bullion, classic U.S. gold coin prices corrected downward through January and February after setting cyclical highs in December 2009. This price correction continued into March and now prices for many of our favorite and most conservative, private and non-reportable U.S. gold coins have bottomed. A steady surge of demand for these coins has developed in the marketplace over the past few weeks, which has helped trim dealer inventories nationwide. In the past month, the gold bullion price has increased about 5% yet classic U.S. gold coins are just now starting to edge higher, creating a very nice and somewhat unexpected buying opportunity.
Our most conservative common date U.S. gold coins are now offering the best value relative to gold bullion that we have seen in over a year. $20 gold Liberty coins in AU to MS62 grades, and $20 Saint-Gaudens in AU to MS64 grades, are especially attractive. Premiums over intrinsic gold value have contracted to yearly lows and are just now starting to firm up again.
We particularly like the great value represented by our popular Power Pair #1, which is now under-priced by at least 10%, in our opinion. And with nationwide demand building, we're encountering difficulty in restocking them once they're sold. This is a classic indicator that prices have, indeed, bottomed and will begin to climb.
Excellent value is also available in some of the higher grades, like $10 Liberty in MS64 and MS65, $10 Indian in MS64 and MS65, and $20 Liberty in MS64 and MS65. Prices for these extremely scarce gold coins have contracted to what we believe are cyclical lows. Demand is growing again but nationwide availability is minimal, so get them while you can!
Today's market in classic U.S. gold coins is offering superb value opportunities. Please call your account manager at 1-800-613-9323 to discuss what might be most appropriate for your particular portfolio.
That's it for now. As always, thanks for your time.
Sincerely,
Dana Samuelson, President
Dr. Bill Musgrave, Vice President
Metal
Ask
Change

Gold

$1,790.16
$2.40

Silver

$18.32
$-0.09

Platinum

$849.70
$8.00

Palladium

$1,999.21
$15.37
In US Dollars
AGE Gold Commentary
AGE Investor Alert!