AGE Gold Commentary is our regular report analyzing trends in precious metals and rare coins. We monitor domestic and international markets and extrapolate from our 30 years in metals to place current events into a hard asset perspective. View archives.
---
6/1/2010: Gold sets record high on debt crisis
Source:
In this issue ofAGE's Gold Market Commentary:
Gold sets record high on debt crisis
Global safe-haven demand on the rise
Promising charts for precious metals
Bullion and classic coins gaining


Gold sets record high on debt crisis
Since our last update, gold has surged to new record highs in U.S. dollars, euros, Japanese yen, Swiss francs, and British pounds. The primary driver behind these breakout gains has been the deepening sovereign debt crisis in Europe.
We've said before that gold enjoys a dual role as commodity and currency of last resort. For months, with the U.S. economic recovery building in strength, gold gained along with other commodities as investors moved from cash into assets with higher expected returns. Since the euro crisis erupted in February, however, gold's role as the ultimate international currency has come strongly to the fore. The fact that gold has set records in so many currencies at once and, importantly, is rising alongside a rising dollar underscores its historical role as the world's most trusted store of value in times of crisis.
Europe, indeed, is in the throes of a financial crisis. The bad-debt avalanche that bankrupted some of the world's biggest banks and nearly destroyed the international financial system is now shifting to governments. Greece has acknowledged its insolvency. Spain's debt was recently downgraded by Fitches; Portugal, Ireland, and even the U.K. might not be far behind. To stop Greece's debt troubles from turning into a run on the euro and a global stock market rout, the European Union recently approved an unprecedented package of almost $1 trillion in emergency loans, bailout funds, and IMF support.
The impact on markets has been severe. The euro has slumped more than 12% against the dollar since the crisis flared up and global stock markets have taken a pounding. Perhaps more alarming is the fact that insurance against default (in the form of credit default swaps) on sovereign debt has become costlier than insurance against corporate default, which means the market thinks nations are more likely to fail than corporations! If a major country comes close to default, it could trigger a financial meltdown in the eurozone and beyond that would far exceed what followed the Lehman Brothers bankruptcy in 2008. After all, who bails out the bailers? Both China and Kuwait mentioned last week that they might substantially reduce their exposure to the euro. And since the U.S. dollar has already been losing favor because of our own sovereign debt excesses, where will these central bankers turn?
Global safe-haven demand on the rise
Gold is likely to be a big beneficiary going forward. Institutional investors and central banks have been buying gold faster than the world's biggest producers can mine it. Supply from mines, which peaked in 2001, fell in five of the last eight years, data from London-based GFMS show. Meanwhile, investment doubled to 1,901 tons last year, exceeding jewelry demand for the first time in three decades, according to GFMS.
Central banks and governments, including China and India, added 425.4 tons last year, for a combined 30,116.9 tons, the most since 1964 and the first expansion since 1988, according to the World Gold Council. Official central bank and government reserves may expand by another 192 to 289 tons this year, according to CPM Group, a research and asset-management company in New York. Even jewelry consumption is expected to jump 19% to 2,100 tons this year.
Private and institutional ETF demand for gold is also exploding. In one week in May, Exchange Traded Products like ETFs added 41.6 tons of gold! Overall, holders of ETPs, including mega-investors George Soros and John Paulson, have accumulated a record 1,938 tons, eclipsing all but four of the biggest central-bank holdings. Of course, as we discussed in detail last time, paper gold is not the best way to protect your wealth. According to a recent report by Nathan Lewis, fund manager and author of "Gold: The Once and Future Money," very little gold is actually held in the institutional system that backs the market in paper gold and ETFs! Direct ownership of physical gold is the only way to know for sure that your gold will be there when you need it.
Just as the 2008-2009 global fiscal crisis required governments to flood immense amounts of cheap money into the world financial system, the spreading European insolvency will force them to print even more. Federal Reserve Bank of Chicago President Charles Evans indicated yesterday that the European debt crisis will prompt the Fed to delay raising interest rates, effectively continuing its policy of quantitative easing for the foreseeable future. All of this new fiat money is likely to buoy the prospects for gold for years to come.
"People are afraid of the debasement of all the currencies," Peter D. Schiff, president and chief global strategist for Euro Pacific Capital, told Bloomberg last week; "what's surprising is that gold is still as low as it is." Mr. Schiff, whose firm has more than $2 billion in assets under management (and who recommends AGE in his latest book on investing, "The Little Book of Big Moves in Bear Markets"), believes the gold price could go as high as $5,000 to $10,000 an ounce in the next five to ten years. While we think that estimate might be a tad high, we fully expect gold to reach $1,500 or higher in the next 24 to 36 months.
Let's look at the latest charts.
Promising charts for precious metals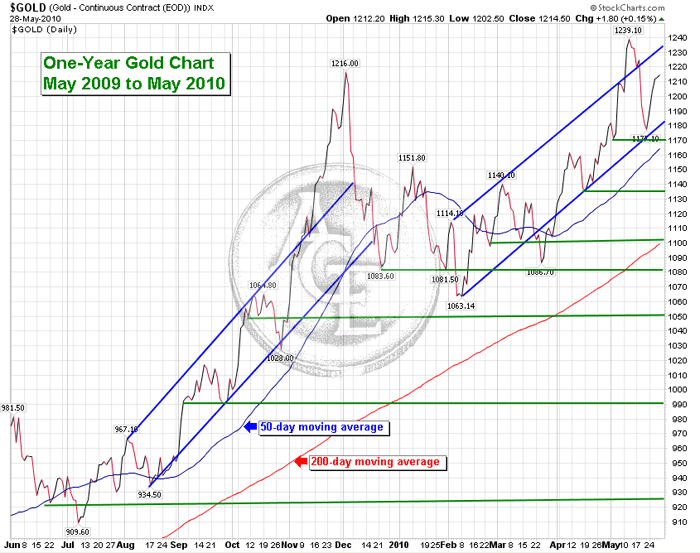 Gold
When gold moved over $1,160 last month, we advised that it was likely to challenge its previous all-time high of $1,216. That's exactly what happened, with the gold price surging to a new interday high of $1,249 on May 12, before closing at $1,239. On the mirage of an imminent solution to the Greek debt crisis, the gold price subsequently dropped back to $1,172 before firming up once again over $1,200 when it became clear that the crisis was not contained.
As you can see by the two sets of parallel, blue trend-lines on the chart above, gold has seen two strong breakouts in the past year, first in November 2009 and then last month. The second up-channel shows a more modest climb than the first, and the green support lines show it stair-stepping higher for almost a year. Even without another sudden eurozone panic, the trend-lines indicate a steadily escalating gold price over the next six to twelve months. If the euro takes another big hit, which is likely given the known debt problems in Spain, Portugal, and Ireland, gold could see another substantial surge.
In the short term, though, we expect gold to hold most of its recent gains with support now at $1,175 and upside resistance at $1,225.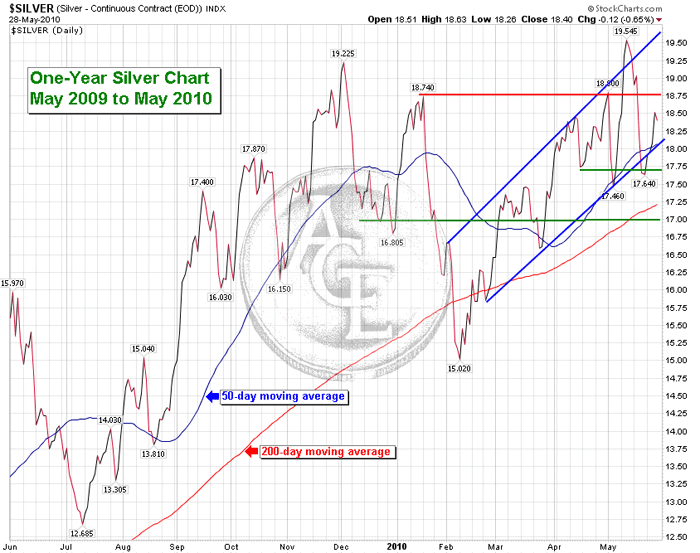 Silver
In our last update, we anticipated that silver would soon test upside resistance at $19.25, though its climb would be accompanied by increased volatility. Both things have come to pass. After silver made solid and relatively steady gains from its February low of $15.02 to over $18.50 in late April, its volatility ratcheted up, as this silver chart clearly shows.
Two parallel, blue trend-lines mark the price channel within which silver has primarily traded since February. Its recent spike out of this channel to its 2010 high of $19.54 and recent low of $17.65 show the volatility we expected.
The sharp drops have created excellent buying opportunities but they've been short-lived. The fact that silver has rebounded so quickly from these sharp price corrections reinforces our belief that it has further gains in store in coming months. We think silver could rise as high as $25 in the next year or two. In the short term, we see firm support for silver at $17.75 with upside resistance at $18.75.
The general investing public is finally waking up to silver. In recent months it has significantly outpaced gold, climbing around 30% since early February compared to gold's nearly 17% price gain. Although the average gold-to-silver price ratio is 52:1, the current ratio is around 63:1, which means silver is still lagging despite its superior recent performance. Further gains lie ahead so buy the sharp dips as aggressively as possible when they occur.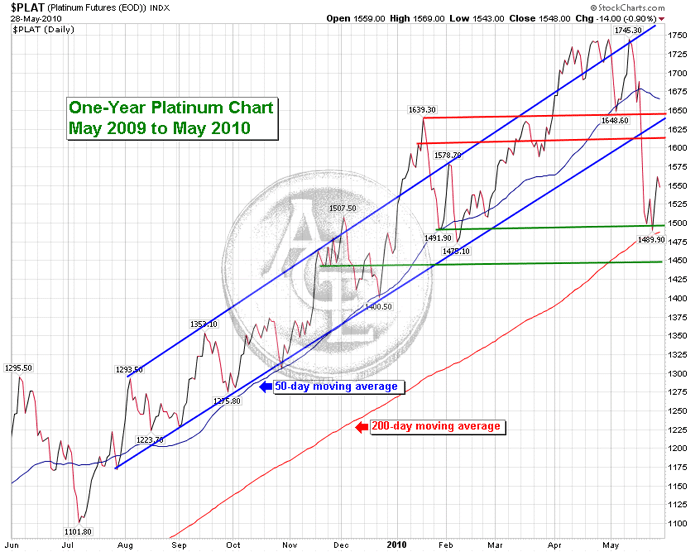 Platinum
Like gold and silver, platinum and palladium both set new highs for 2010 in April, but their subsequent price corrections have been much more severe.
In our last update, we warned that platinum had little upside over $1,735 and around $100 in downside risk. Two weeks later it fell almost exactly $100 before rebounding to its previous high of $1,745, and then collapsing again to $1,500. This huge drop was more than we anticipated, and shows how volatile platinum can be. Because it has many industrial uses, platinum behaves much more like a commodity than gold, and much less like a safe haven currency. Fears of an economic slowdown in China and Europe forced platinum much lower than a normal profit taking correction would have.
Platinum is now establishing a new trading range. We see firm short-term support at $1,500 with upside resistance at $1,575 and then again at $1,625.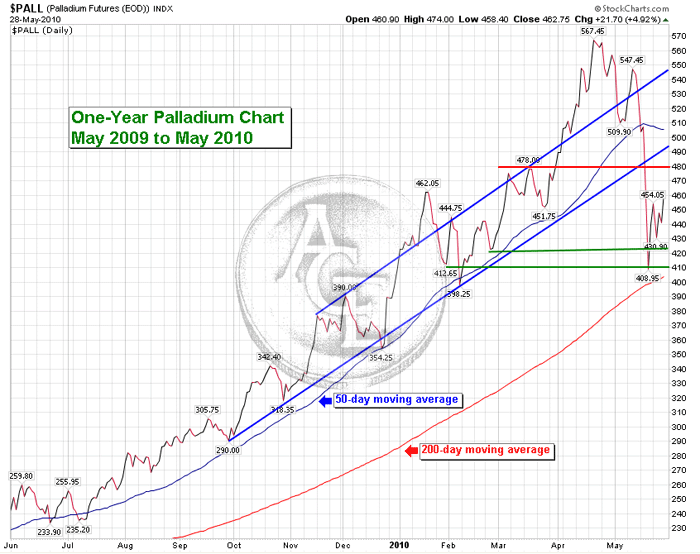 Palladium
As you'll recall from our last update, we were wary of palladium's recent rise because it was coming so soon after another sharp rise from $460 to $525. Plus, we thought the rollout of the palladium ETF was adding a layer of demand that was likely to be short-lived. This happened when the first silver ETF arrived, resulting in a "pump and dump" scenario in its first six months.
Palladium was trading just over $400 when the new palladium ETF started in January. Like platinum, palladium enjoys no real status as a currency so it price movement ordinarily relies primarily on industrial fundamentals. The ETF introduction added speculative investor demand that, in turn, encouraged more yet speculators to swoop in, driving prices higher still and creating a top-heavy market in April.
When the palladium price corrected, it fell sharply to support at $509, just above where we anticipated it would. Its rebound to $547 seemed like a normal and healthy move at the time. However, when weakness renewed and palladium could not hold support at just over $500 a second time, the rout was on in earnest and it felt like every palladium speculator headed for the exit door.
Fundamentals for palladium may be improving soon, however, because of supply shortages for its primary industrial use in auto catalytic converters. Russia, the world's biggest palladium producer, appears to have exhausted its huge state inventories of the metal, which have helped to hold palladium prices in check. Bloomberg reported last week that Johnson Matthey, the largest supplier auto catalysts, believes palladium may therefore reach as high as $700 in the next six months.
Today we see short-term support for palladium at $450 and $420 with upside resistance at $480. Priced around $465 today, it seems like a fairly safe buy again
Bullion and classic coins gaining
In good news for buyers of modern bullion coins, the U.S. Mint recently announced that they'll resume striking American Platinum Eagles and fractional-sized American Gold Eagles again after a long layoff. We anticipate being able to offer 2010-dated one-ounce Platinum Eagles and half-ounce, quarter-ounce and tenth-ounce Gold Eagles in the very near future.
In the mean time, we have an unusual cache of 2009 NGC-certified MS69 tenth-ounce Gold Eagles. These stunning coins are certified "Early Releases," which means they were struck within the first month of the mintage year from brand new dies, giving them the sharpest, fullest strikes with the finest technical merit and eye-appeal in their grade. In super-gem Mint State 69, they're almost identical to mint-perfect MS70 versions but cost much less. We see no reason to pay extra for the MS70 grade. These are first-come, first-served, so get them while they last!
Mint allocations to distributors of one-ounce American Silver Eagles have been substantially reduced, so prices are rising slightly. We expect this shortage to continue for several weeks, perhaps longer, and additional premium increases are possible. We've also had some modest secondary market availability of one-ounce Palladium Maple Leafs for our palladium buyers.
In Europe, the euro crisis has created a feeding frenzy for classic, pre-World War II European gold coins. Buyers there have pretty much cleared the shelves of these coins, dropping the supplies available to import to near record lows. Premiums have risen only modestly so far but that may change. We currently have a small supply of Swiss 20 franc "Helvetias" available at very reasonable prices.
Classic U.S. gold coins remain quite bullish, trading at what we consider to be healthy volumes. This market continues to be driven by demand for quantity over quality, with the lower mint state grades commanding higher premiums than usual. As a result, some higher-grade, investment-quality gold coins are now available at extremely attractive prices: $10 Liberty in MS64 and MS65; $10 Indian in MS64 and MS65; $20 Liberty in MS65; and $20 Saint-Gaudens in MS64 and MS65. All of these scarce, classic U.S. gold coins are all unusually good values right now. Call your account manager to discuss what's most appropriate for your particular portfolio.
That's it for now. As always, thanks for your time.
Sincerely,
Dana Samuelson, President
Dr. Bill Musgrave, Vice President
Metal
Ask
Change

Gold

$1,789.53
$1.77

Silver

$18.30
$-0.11

Platinum

$849.53
$7.83

Palladium

$2,000.55
$16.71
In US Dollars
AGE Gold Commentary
AGE Investor Alert!