AGE Gold Commentary is our regular report analyzing trends in precious metals and rare coins. We monitor domestic and international markets and extrapolate from our 30 years in metals to place current events into a hard asset perspective. View archives.
---
8/10/2010: Gold gearing for Autumn charge
Source:
In this issue ofAGE's Gold Market Commentary:
Gold gearing for Autumn charge
U.S. dollar faltering again
Fed easing means higher gold
Metals charts looking bullish
Big discount on U.S. gold coins!


Gold gearing for Autumn charge
After surging sharply last spring in response to the sovereign debt crisis in Europe, precious metals corrected downward through most of July on profit-taking before consolidating and posting gains over the past two weeks. Gold's sharp decline from its late-June peak of $1,256 to a recent low of $1,161 caused some in the media to declare the end of this eight-year bull market. We emphatically state, to paraphrase Mark Twain, the reports of its death are greatly exaggerated. Gold prices have been remarkably resilient during this seasonally-slow summer period, hovering today around $1,200 an ounce, and more increases are expected in both the near and longer terms for reasons we discuss below.
Several natural drivers of precious metals are now regaining traction. First, oil has been surging again, and gold usually tracks oil higher. Second, the wedding season in India is about to begin; gold is the traditional gift for bridal trousseaus and typically gets a sizeable boost from increased Indian demand in the fall and winter. And third, after the quiet August vacation period, heavy trading activity resumes in earnest in September, which itself has driven gold higher every year since the bull market began in 2002. We expect this year to be no exception.
Also helping the short- and long-term prospects for gold is China's decision last week to liberalize its markets for gold bullion and stimulate the development of gold-linked investment products. China's central bank announced that it will provide financial backing to overseas investment plans by large-scale bullion companies and officially increase the number of banks allowed to trade bullion. Chinese investors have been pouring record amounts of money into gold as hedge against inflation, a trend that's becoming a large factor in global bullion prices. But the Chinese market has been constrained by limited investment products despite China's status as the world's largest gold producer and second largest gold consumer, behind India. Its official commitment to facilitating bullion trade is extremely bullish for the long-term global gold market.
U.S. dollar faltering again
But most important for the next leg up in gold's bull market, the U.S. dollar has started to falter again. During last spring's euro crisis, which we discussed in detail in our last update, the dollar enjoyed a countertrend rally because it was perceived to be a safe haven currency—if only by comparison to the euro. Typically, gold is the preferred safe haven during times of economic upheaval, and it, too, rose during the crisis. But the dollar benefited more than it otherwise would have because the U.S. economic recovery seemed to be taking root. Understandably, traders and investors believed that the Fed would need to raise rates in the near future in order to prevent the exploding inflation that many believe must result from two years of quantitative easing and a decade of extremely loose monetary policies. The prospect of imminently higher rates made the dollar seem more attractive.
Now, unfortunately, a quick and vigorous recovery is no longer likely. Recent government reports show growth slipping sharply from an annual rate of 5% at the end of 2009 and 3.7% in the first quarter of 2010 to just 2.4% in the second quarter. Many economists forecast growth slowing to 1.5% in the second half. Whereas business investment in office buildings and equipment soared last quarter, consumer spending, which accounts for 71% of the economy and is usually a leading indicator of recovery, leveled off. To make matters worse, U.S. private employers added fewer workers to their payrolls in July than expected and hiring in June was much weaker than had been thought, a big blow to an already feeble economic recovery.
Fed easing means higher gold
So rather than raising rates, the Fed is now forced to contemplate yet more unorthodox methods of monetary easing. Most likely, it will begin by using the $100 to $180 billion gained from its unprecedented program of buying toxic mortgage-back securities to buy yet more Treasuries—in effect, to print yet more money. The alternative would be to begin paying down its monstrous balance sheet, but that desirable action could further squelch the fragile recovery.
Pimco's Bill Gross, manager of the world's largest bond fund, said last week the Fed will be unable to raise rates for the next two or three years. In addition, like many analysts, he thinks fears of deflation are way overblown because of the astronomical debt that U.S. and European governments have amassed. Inflation, not deflation, is the likely outcome of excessive leverage and a radically expanding money supply.
Certainly, encouraging inflation is one of the chief goals of monetary easing. Not only does more systemic money stimulate more systemic spending and higher prices, which should also put people back to work, it helps to erode the staggering national debt, which now stands at $13.24 trillion—nearly 92% of the entire output of goods and services in the U.S. economy this year. Deflation, on the other hand, would make it all but impossible to roll that Sisyphean burden much further because the debt becomes effectively larger as the money supply gets smaller. If the government has a say—and it surely does—it'll load the dice toward inflation by expanding the monetary base as much as possible in order to offset some of its debt.
According to Michael Pento, senior economist at Euro Pacific Capital, the U.S. monetary base has grown from $600 billion to $2 trillion in the past ten years. This unprecedented expansion has accompanied an increase in the gold price from as low as $252 to around $1,200 an ounce today. Because a rising price of gold is a fairly reliable way to gauge a currency's loss of purchasing power, the loose monetary policies of the last decade have clearly had a profound, eroding effect on the value of the dollar. Continued easing by the Fed, which seems to be their only alternative for several years to come, will further hammer the dollar's purchasing power and drive up the price of gold. In our opinion, that alone is good reason to believe this bull market in gold still has a lot of room to run.
Let's take a look at the latest charts.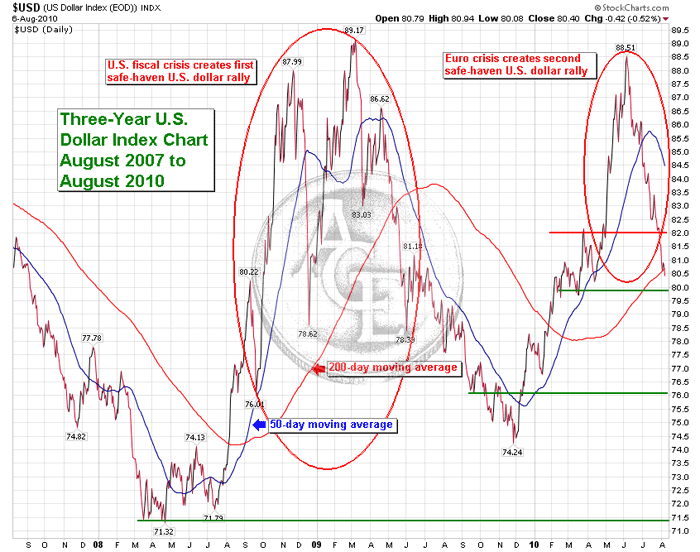 U.S. Dollar
The current three-year U.S. Dollar Index Chart shows how volatile the currency has been since setting its all-time low of 71.32 in April 2008. The two red circles indicate countertrend rallies during the two recent financial crises: first, when the U.S. subprime mortgage meltdown began in August 2008; second, when the European sovereign debt crisis erupted in April 2010. In each case, despite its own severe fundamental problems, the dollar benefited from international safe-haven flights, reversing, if only temporarily, the slide from 120 that began in January 2002.
Now that the euro crisis has subsided, the dollar's poor fundamentals are causing it to fall sharply again and it's fast approaching a critical support level at 80. A break below 80 will signal even more weakness and a likely drop below 76. Gold will surely benefit from these declines.
Metals charts looking bullish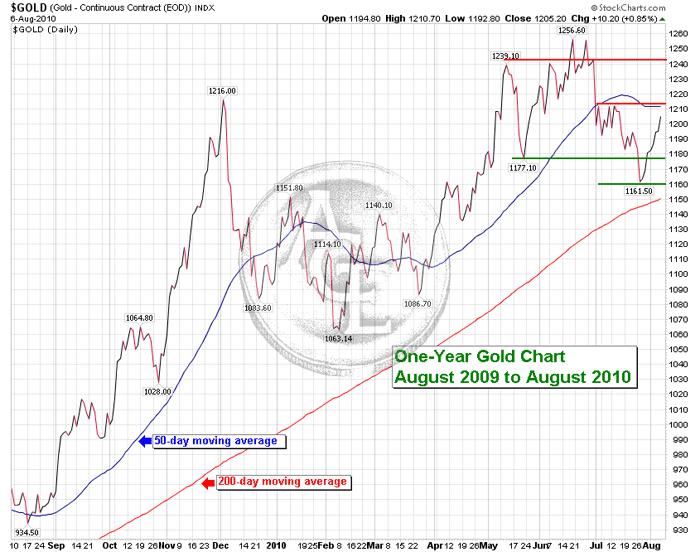 Gold
The current one-year gold chart shows support for gold at $1,177, $1,161, $1,135, $1,110 and then major support at $1,085. Current upside resistance is at $1,210, and then again at $1,240.
The recent price correction has been similar to the one gold experienced in December 2009, although not quite as sharp. From August 2009 into early December 2009, gold surged a stunning 30% in four short months. During the ensuing downward correction, the 50-day moving average turned over modestly while the 200-day moving average remained in a steady upward trajectory.
Gold will have to hold above $1,175 to $1,180 to give us confidence that its recent weakness is fully over. Last Friday it bumped up against $1,210 but failed to surpass it. A close above $1,210 will signal higher prices to come, and a rise over resistance at $1,240 will signal a new breakout forming. A drop below support at $1,177 could mean a drop to $1,161.
Last August, gold was trading at an average price of $950 per ounce. Today it's averaging about $1,180, posting gains of nearly 25% year-to-year. In fact, since the bull market began in 2002, gold has averaged a 20% gain each year from August through to the following springtime peak, as shown in the chart below.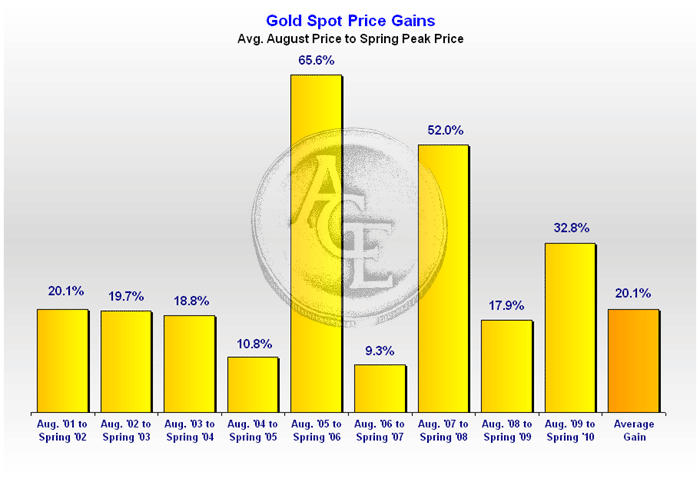 As this chart clearly indicates, August has proven to be one of the best buying times of the year. Summertime is traditionally quiet for precious metals. But when the normal business cycle resumes in early September and wedding demand returns in India, gold prices have firmed up and moved aggressively higher. We all know that the past is no guarantee of future performance, but the trend is certainly your friend when it comes to August-to-springtime gold price increases!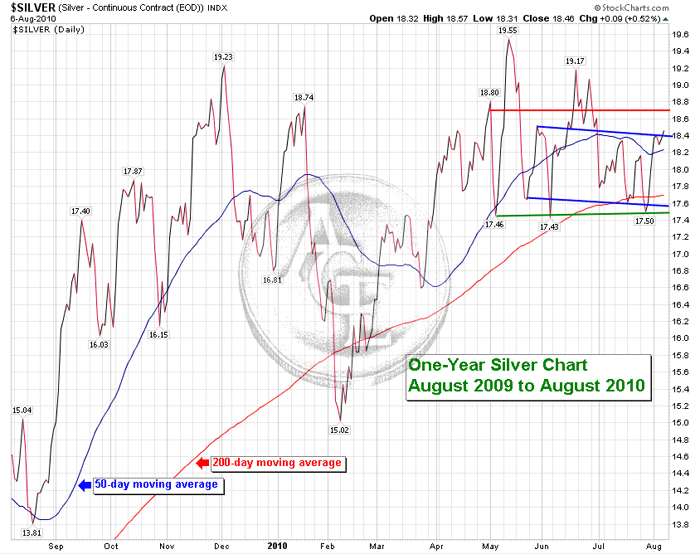 Silver
Like gold, silver made very sharp gains during the last twelve months, rising from $13.61 in August 2009 to $19.23 in early December—a stunning 41% gain in four short months. As we've said many times, silver is much more volatile than gold, so the ensuing December 2009 through April 2010 price correction and consolidation were expectedly more severe. When silver failed to hold support at $16.80 in January, the bottom briefly fell out, dropping in a sharp V-formation to as low as $15.02 in February before rebounding quickly back over $16.60, where it's held support.
In May, the euro crisis helped silver pop as high as $19.55. Since then it's remained primarily in the $17.50 to $18.70 trading range, as indicated by the green support and red resistance lines. The blue parallel lines show a slightly downward trend for the last two months, confirmed by the flattening of its 200-day moving average.
Key support for silver is at $17.50 in the short term. A move under $17.50 would signal renewed weakness, bringing the next lower support at $16.60 into play very quickly. Conversely, a movement above $18.70 would signal a new assault on the $19.55 high. We expect silver bias to be to the upside in the coming weeks.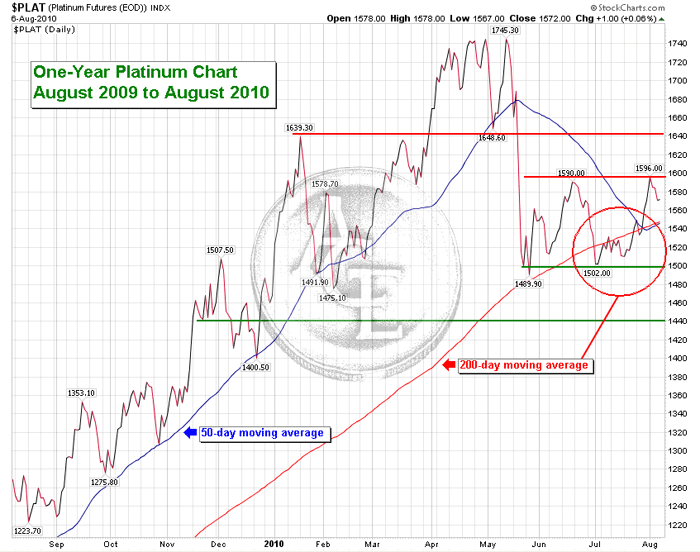 Platinum
After climbing steadily from $1,223 in August 2009 to $1,745 in May 2010, platinum corrected sharply lower and has been consolidating between $1,500 and $1,600. The current chart shows a slight upward trend developing, but without a firm breakout over $1,600 there's no clear direction in the platinum market. However, the bias should remain towards the upside.
Interestingly, platinum has just moved back above its 200-day moving average after trading under it for all of July. During the 68 months from January 2005 to August 2010, platinum traded under its 200-day moving average for merely fifteen. Ten of these months were during the dramatic 2008-09 washout when platinum plunged from over $2,100 to under $800. Otherwise, it's been very unusual for platinum to trade below its 200-day moving average and it usually signals a great buying opportunity.
Today, having completed a significant price correction, the platinum chart is telling us it's a fairly safe buy at $1,575. Downside risk is likely no more than its nearest support at $1,500, although a drop below could quickly lead to the next major support at $1,450. Platinum above $1,600 signals breakout with upside resistance at $1,640 and then stronger resistance at $1,745. So, basis $1,575, you're risking $75 to $125 on the downside for an upside gain of $65 to $170.
Our regular readers know we've been very wary of platinum for years. This is not a metal that should be traded by conservative investors. While the rewards have been strong since 2005, so have the risks. We prefer gold and silver—and palladium, to a lesser degree. This conservative strategy has proven very profitable with far less risk.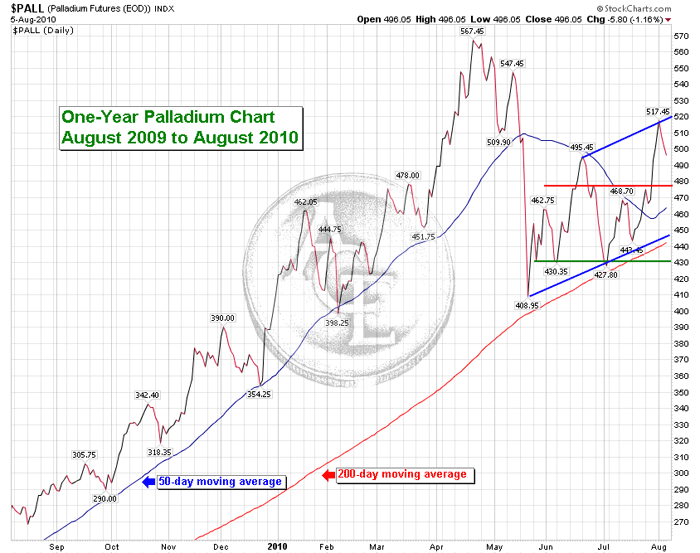 Palladium
Like platinum, palladium surged from August 2009 to early May 2010 before correcting sharply and consolidating. It's now developing a solid if modest upward channel, breaking through resistance at $475 to hit $517 last week. Strong support remains at $430. While the current price of $475 looks relatively safe, palladium is historically expensive near $500. Because it's primarily an industrial metal, palladium substantially above $550 is hard to envision without a robust rebound in the global economy.
Classic U.S. gold coins a discount!
In good news for numismatic investors, many investment-quality classic U.S. gold coins are currently undervalued by 20% or more in the national market. The recent euro crisis shifted many gold buyers into a defensive, bullion-only posture. Dealers nationwide have been reporting lower demand for classic U.S. gold coins, and prices have temporarily settled to levels that offer excellent upside potential at very little downside risk. In general, larger-denomination Common Date U.S. Gold Coins are the best buys right now, especially $20 Liberty, $10 Liberty, and $10 Indian in MS63, MS64, and MS65 condition.
Our overwhelming favorite in the current market is $20 Liberty in MS63. For a limited time, we're offering a discount of $50 per coin for purchases of 4 or more. Call your account manager at 1-800-613-9323 if you have any questions, and to confirm pricing and availability.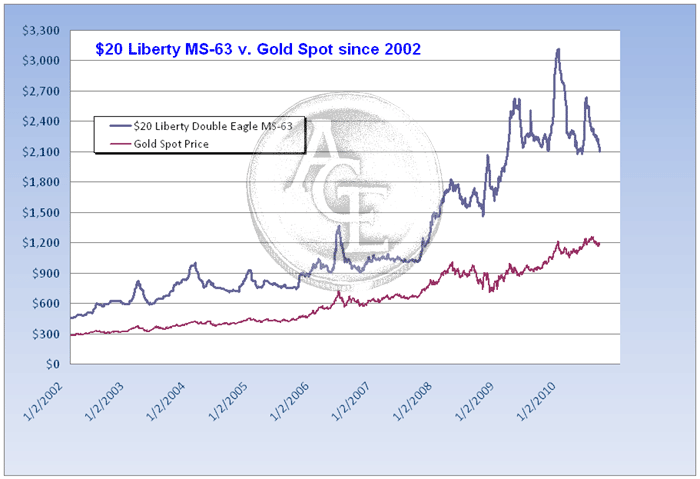 Let's take a look at why $20 Liberty MS63 gold coins are such a good investment right now. In the chart above, comparing their pricing to gold spot since 2002, you'll see times when this classic coin has far outperformed gold bullion. You'll also see times when it's been dramatically undervalued relative to gold spot. Today it's extremely undervalued and offers terrific upside potential.

Here are a few key points along the recent trading history, relative to spot gold. As you can see, $20 Liberty MS63 and gold bullion have both appreciated nicely since 2002. Beginning in August 2007, though, when the gold market started to catch fire, this classic coin began pulling away, realizing much higher percentage gains than bullion. By March 2008, the premium-over-spot for $20 Liberty MS63 had almost doubled; by March 2009, it doubled again, rising from 92% to 183% over spot gold. This is excellent leverage to a rising gold price. Last fall, when the gold price rose 20%, $20 Liberty MS63 gained 47%, generating far greater profits than bullion.
Today, the premium on $20 Liberty MS63 is just 75% over gold spot, its lowest since 2007 and less than half of what it was just last December. When the gold market heats up again this fall, we expect this coin to realize substantial added leverage to gold's gains, just as it did last year and many times over the past three years. We think it's an outstanding investment at today's low premium, and it earns our highest buy recommendation. Plus, unlike most forms of gold bullion, it is completely private, non-reportable by brokers, and exempt from confiscation under current laws.
To repeat, we're temporarily offering a discount of $50 per coin for purchases of four or more $20 Liberty MS63. Please call your account manager at 1-800-613-9323 for other quantity discounts and to confirm pricing. Supplies are limited so don't delay!
Swiss 20 franc "Vrenelis" and French 20 franc "Angels" in Brilliant Uncirculated (BU) condition are also excellent buys right now. We have them available in quantity despite stronger-than-normal European demand. We can also offer modest availability on the ever-popular British gold sovereigns in BU condition and some harder to find European and World gold coins. All of these coins are better than bullion for bulk good investors, offering increased premiums and complete privacy at little additional cost. Supplies are limited so call today!
That's it for now. As always, thanks for your time!
Sincerely,
Dana Samuelson, President
Dr. Bill Musgrave, Vice President
Metal
Ask
Change

Gold

$1,780.89
$0.00

Silver

$18.21
$0.00

Platinum

$832.41
$0.00

Palladium

$1,973.67
$0.00
In US Dollars
AGE Gold Commentary
AGE Investor Alert!