AGE Gold Commentary is our regular report analyzing trends in precious metals and rare coins. We monitor domestic and international markets and extrapolate from our 30 years in metals to place current events into a hard asset perspective. View archives.
---
10/26/2010: Gold surges 19% to new record highs
Source:
In this issue:
Gold surges 19% to new record highs
QE2 or another Titanic?
Metals charts consolidating gains
Great values in U.S. gold coins
Low prices on European gold and modern bullion


Gold surges 19% to new record highs
In our last commentary, when gold was at a record high of $1,280, we advised that its autumn charge was off to a flying start and more gains were coming. Since then, gold has surged to a series of new all-time records, rising as high as $1,381 on October 14, for an astonishing 19% gain in two months! Last week it pulled back dramatically to $1,315 on profit-taking when a surprise rate hike by China temporarily strengthened the dollar. But as the dollar's queasy fundamentals have begun to reassert themselves, gold is now consolidating in the $1,315 to $1,355 range and preparing for its next leg higher.
The primary driver of the recent gold rally has been the dismal prospect of the dollar. While the U.S. economy has shown some recent signs of life—a slight increase in leading economic indicators, a positive showing in the Philadelphia Fed manufacturing index for the first time in three months, some modest gains in Fed's "Beige Book" measures of growth—it's simply not reviving quickly enough. As a result, Fed Chair Ben Bernanke has telegraphed his intention to begin a second round of quantitative easing (QE2) in early November, which means pumping huge amounts of new liquidity into a financial system already drowning in cheap dollars.
During the first round of quantitative easing, the Fed lowered short-term rates to nearly zero in December 2008. Then, in order to put downward pressure on long-term rates, it started buying up mortgage-related debt and its own Treasury securities, totaling $1.7 trillion by last April. In the next round of easing, the Fed is expected to keep rates at historic lows for the foreseeable future and buy up another $1.5 trillion in debt over the next year. Goldman Sachs says the number will be closer to $2 trillion. The hope is that making credit even cheaper will encourage businesses and consumers to borrow and spend, which could eventually bring relief to jobless workers.
QE2 or another Titanic?
But some analysts are concerned that QE2 means little more than further monetizing the already monstrous national debt and courting the risk of extreme inflation down the road. Whatever short-term economic benefits this strategy may offer, they say, it could sink our long-term financial prospects like another Titanic. They may have a point—only time will tell. Almost certainly, however, the consequences of more easing will be a much weaker dollar and a higher gold price in the near future.
According to Zerohedge, Goldman Sachs has already advised its clients that the gold rally will gain in strength because of this policy: "We believe that a return to quantitative easing will act as a strong catalyst to carry gold prices to even higher levels," Goldman wrote to investors. As a result, the investment bank is raising its gold price projection to $1,650 per ounce within twelve months.
Similarly, John Paulson gave a speech to the University Club of New York recently in which he said that the price of gold can easily pass $2,400 and reach as high as $4,000 an ounce by 2012 because of the unprecedented expansion in the monetary base. Paulson, who is considered one of the most successful hedge fund managers in the world, believes that double-digit inflation could ultimately result from the Fed's policies, which would drive the gold price to record highs for a long time to come.
In light of these developments, even reticent central bankers are looking to gold to protect their national reserve funds. South Korea, which previously rejected the idea of owning gold as a reserve asset, announced last week that it may increase its gold holdings to diversify away from the dollar and other major currencies. This announcement has potentially huge ramifications because South Korea has the world's fifth largest currency reserves and only 0.2% of it is now in gold.
According to The Motley Fool's Alex Dumortier: "If South Korea decided to raise its gold holdings to meet the world average (10% of reserves), it would need to purchase roughly $28 billion worth of gold. That sum is approximately equal to the total investment demand for gold in the first half of 2010 and represents more than 40% of total demand (i.e., from all sources: investment, jewelry, industrial, and dental)." The price impact of Korean gold purchases could therefore be enormous, and other central banks would almost certainly follow suit.
The globe is awash in red ink and gold is the primary beneficiary. And gold isn't gaining only in U.S. dollars. It's also setting new records in Swiss francs, British pounds, Japanese yen, Chinese yuan, Indian rupees, Australian dollars, and most other major currencies. As governments compete to devalue their currencies in order to stimulate lagging exports and revive depressed economies, gold is becoming increasingly attractive as a dependable store of value for investors, hedge funds, and government central bankers seeking to preserve and increase wealth. Now more than ever, gold is enjoying its traditional status as the currency of last resort and reliability. And we expect this trend to continue.
Let's take a look at the latest charts.
Metals charts consolidating gains
In our last update, when the dollar was just above 81 on the Index chart, we advised that the August rally peaking at 83.26 was a proverbial "dead cat bounce" and a critical test of resistance at 80 was on the horizon. We wrote, "as weaker U.S. economic fundamentals reassert themselves, the Federal Reserve is responding with yet more monetary easing, which will continue to weaken the beleaguered buck." And that's exactly what happened. Shortly thereafter, the buck plummeted for four straight weeks to a low of 76.64 before rebounding last week on surprise news of a Chinese rate increase. This steep 9% decline drove gold's stunning 19% August-to-October rally.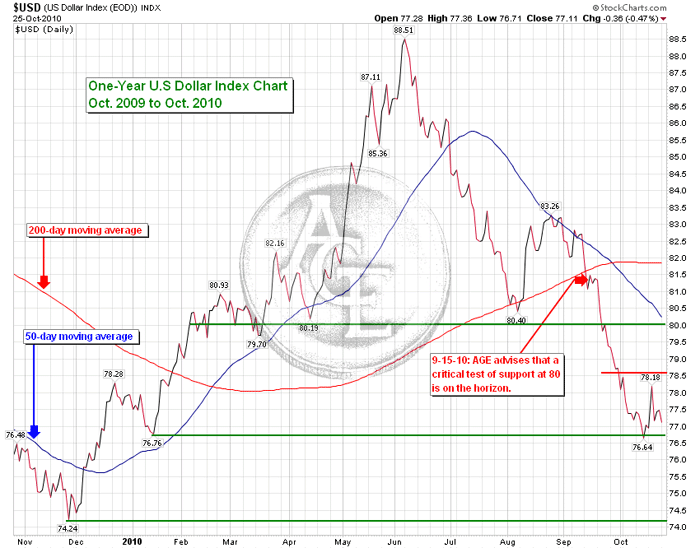 U.S. Dollar
As you can see, the dollar has more than given up its gains from April to early June, which accrued to it by default in response to the Greek sovereign debt crisis. Technically, it's holding support at 76.64 with upside resistance at 78.50. But it would have to climb back over 80, in our opinion, to signal a reversal of its current downtrend. We think the opposite will happen. Once the present phase of faux strength passes we expect it to retest current support at 76.64. Below there, we see support at the December 2009 low of 74.24, and then major support at the all-time low of 71.32. Given renewed quantitative easing—and absent a complete turn around in the economy, rising interest rates, a sharp reduction in deficit spending, and other miracles— we expect the dollar's decline to continue. And this continued decline will almost certainly drive gold higher.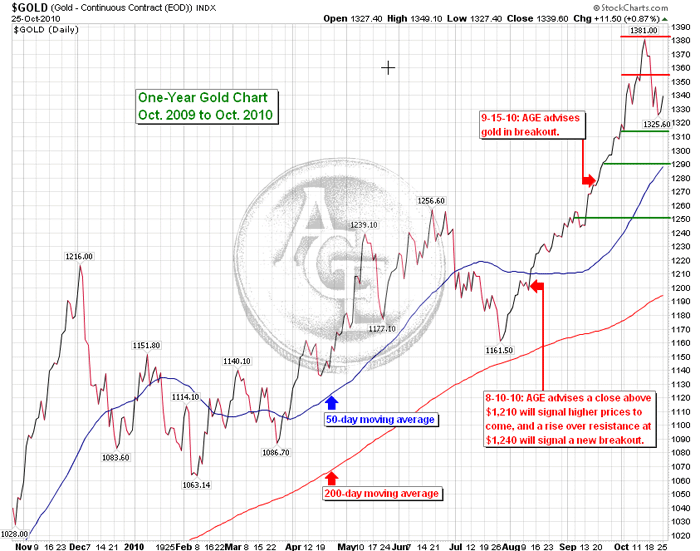 Insert one year gold chart here:
Gold
Gold's 19% surge from its late-July low of $1,161.50 to its recent all-time high of $1,381 is one of the sharpest 10-week rallies we've seen since this bull market began in 2002. Throughout September and into October, gold set new records almost daily before its first real correction occurred last week. It's now consolidating those gains. On the way up resistance was encountered at $1,350, and that's where we see short-term resistance now, while this consolidation continues. On the down side, gold hit a low of $1,315 during the correction, with renewed buying activity between $1,320 and $1,325.
We see gold establishing a short-term trading range from $1,315 to $1,355. If it drops below support at $1,315, it could fall as low as $1,250, its next technical support level. However, based on the resilience we've seen so far, we think a short-term low of $1,290 is the most likely downside limit. Typical price corrections during this bull market have hit a bottom around 5% off the previous peak. This correction is right on target, with $1,315 being almost exactly 5% off $1,381. If gold climbs over $1,381, we'd look for a run up to $1,450 in the short term, perhaps even higher.
The adjective we've used most often to describe gold's price action over the past year has been resilient, and it still applies. Whenever gold's upward climb encounters a price correction like we saw last week, it soon leads to higher prices. The gold market is now providing another excellent buying opportunity within a strong uptrend. The fundamentals for rising gold prices could hardly be stronger, and we see no reason why this bull market will not continue for several more years at a minimum. We recommend continuing to accumulate gold (and silver), especially on dips like this one.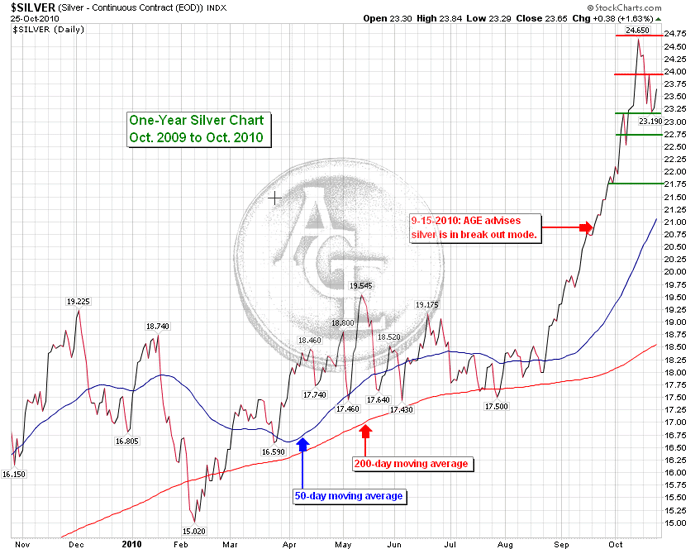 Insert one-year silver chart here:
Silver
After gaining an amazing 37% gain from August to October, silver has paused for a profit-taking correction. Seldom does any market spike so far, so fast as silver in the past ten weeks. In our last commentary, after silver had already gained 16% in one month to reach $20.80, we said it was in breakout mode. This has proven to be an understatement.
Through out this eight-year bull market, silver has tended to lag gold in price appreciation and then catch up with a vengeance. From 2002 to 2005, it couldn't break $8 and then surged to almost $15 in early 2006. For two years it channeled between $10 and $15 and then surged to $20.78 in early 2008. Now, after two years under $20—and even plummeting to $8.79 in late 2008 during the great hedge fund unwinding—silver has taken another almost vertical leap, from $18 in August to $24.65 last week.
Last week's correction was silver's first since this big surge began, with prices dropping as low as $22.88 last Friday before rallying to $23.35 by the close. Technically, it should now find support at $23.20, $22.75, and $21.75. On the upside, it should see resistance at $23.90 and then again at $24.65. We expect a short-term trading range between $23.20 and $23.90 during this consolidation phase. But remember, silver remains very volatile and swings of $0.50 to $1.00 in a session should be expected. Today, it is already testing short-term resistance at $23.90.
Gold and silver remain very desirable in the global economic environment so silver could surprise us with some additional big gains. If it breaks the recent $24.65 high, expect a test of $26 in the near future.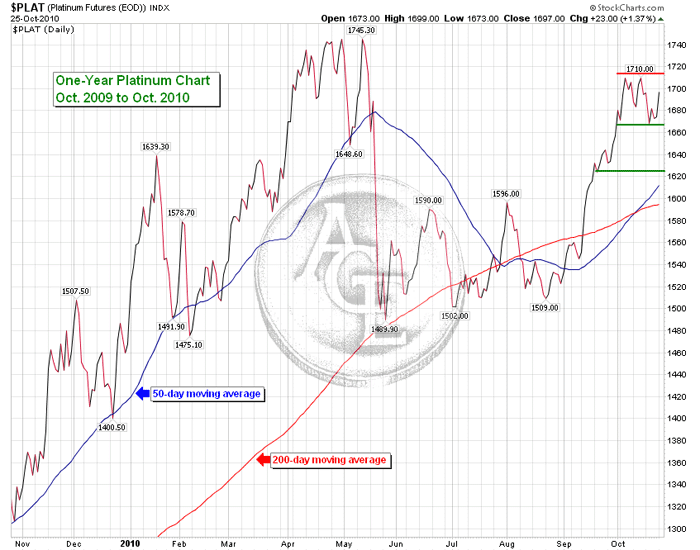 Platinum
Platinum has seen a nice 7% gain in the past month, rising from $1,605 to $1,710 before profit-taking pulled it lower. In the short term, we expect platinum to maintain a relatively modest trading range from $1,665 to $1,710 before attempting more gains. Below $1,665 we see additional support at $1,625 to $1,630; above $1,710 we see additional resistance at $1,745. Currently trading near $1,700, platinum is showing strong resilience in recovering from its correction, which is very encouraging. A break above $1,745 could run as high as $1,800 in the short term.
In our last commentary, we advised that gold, silver, and palladium offered more opportunity and less risk than platinum, and that proved to be correct. Today we think platinum has less short-term risk than gold and silver but offers less upside reward as well.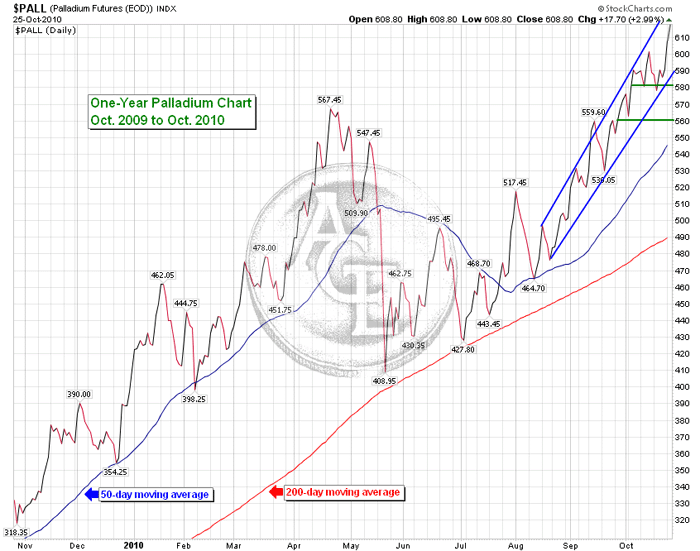 Palladium
Palladium also had nice gains in the past month, rising 8% from $560 to $601 before correcting last week. So far it's been holding support at $580, with additional support at $560. But more important, it has already recovered from its correction to punch through previous resistance at $601, reaching as high as $615 on Monday and $628 today. This strong price action signals that the palladium rally since August will remain intact for the short term and perhaps longer. Palladium has been stair-stepping higher in $45 increments since mid-July, so we see the next upside resistance level just under $650.
As many of you know, we've been wary of palladium over $550, which is very expensive historically. In the short term we still prefer gold and silver to platinum and palladium.
Great values in classic gold coins
Classic U.S. gold coins continue to represent some of the very best values in the precious metals markets, especially $20 gold double eagles. Minted from 1850 to 1933, these are the big, heavy gold coins used in commerce and banking when gold was still circulating currency. For bulk gold buyers, $20 Liberty MS62 and $20 Saint-Gaudens MS64 are outstanding values with excellent upside potential. At a slightly higher price point, $20 Liberty MS64 is an exceptional bargain for near-gem quality and superior scarcity. These, too, have excellent prospects for sizeable gains.
When gold was surging at the end of 2009, these coins outperformed bullion by almost two to one. During the current gold rally bullion has been leading the way and prices for these classic coins have lagged. This situation won't continue. Based on their performance last year at this time, we think they can easily gain 20% to 35% from today's depressed prices very quickly, depending upon the coin. Plus, unlike most forms of gold bullion, they offer complete financial privacy and are exempt from confiscation under current law.
Our classic gold coin prices are among the lowest in the nation and we never sacrifice on quality. But because we think these coins are so compelling right now, we're offering discounts of $20 per coin on $20 Liberty MS62 and $20 Saint-Gaudens MS64 for orders of 5 or more coins while supplies last. Call your account manager for details at 1-800-613-9323.
Low prices on European gold and modern bullion
We have an excellent supply of classic European gold coins right now, mostly minted pre-1933, and prices are unusually attractive. We recommend especially France 20 franc Roosters and Switzerland 20 franc Helvetias (Vrenelis) in Brilliant Uncirculated condition. These two coins offer the lowest prices and best values in the category. Our quality remains impeccable while our pricing is always among the most competitive in the national market.
We also have a large inventory of gold, silver, platinum, and palladium bullion at low prices. Please call your account manager at 1-800-613-9323 for current pricing and availability.
That's it for now. As always, thanks for your time!
Sincerely,
Dana Samuelson, President
Dr. Bill Musgrave, Vice President
Metal
Ask
Change

Gold

$1,802.86
$-4.57

Silver

$19.03
$-0.11

Platinum

$849.14
$-12.25

Palladium

$2,047.39
$-0.64
In US Dollars
AGE Gold Commentary
AGE Investor Alert!