AGE Gold Commentary is our regular report analyzing trends in precious metals and rare coins. We monitor domestic and international markets and extrapolate from our 30 years in metals to place current events into a hard asset perspective. View archives.
---
2/1/2011: Gold consolidating 2010 gains
Source:
Gold consolidating 2010 gains
New record highs coming in 2011
Classic U.S. gold coins now underpriced
European gold coins steady


Gold consolidating 2010 gains
Gold, silver, platinum and palladium all finished out 2010 showing remarkable strength. Gold set a new all-time high of $1,423 per ounce, up 23% since August. Silver rocketed up 67% from just under $18 to $30.84. Platinum gained 20% from $1,509 to over $1,830, and palladium posted a whopping 75% increase from $464 to over $814. These gains have been stunning, to say the least. Yet whenever markets surge so strongly, an ensuing consolidation period is normal and even healthy. Gold and silver are now in just such a consolidation phase, while platinum and palladium continue their upward trend. As we've said before, all four precious metals are showing extraordinary resilience in this ongoing mega-bull market, and more gains lie ahead.
New record highs coming in 2011
Gold's remarkable gains in 2010 were the result of three main economic drivers, all of which are with us still. First, the renewed sovereign debt crisis in Europe caused investors to flee euros into safe-haven assets like gold. These eurozone problems continue to spread and will support the gold price in coming months. Second, the U.S. dollar, despite some recent gains because of euro-flight and rises in U.S. GDP, is increasingly regarded as a bad risk because of our monstrous national debt and the intentional devaluation of the dollar caused by the Fed's second round of quantitative easing (QE2). Indeed, our new record deficit of $1.5 trillion and overall debt burden of nearly $15 trillion (which is nearly 95% of our GDP!) is prompting dire warnings from prominent U.S. politicians that the country is broke. Credit agencies like S&P and Moody's are now warning that the U.S. may lose its AAA credit rating, which would further compound our debt, undermine the dollar, and drive gold higher. And third, persistently high U.S. unemployment of 9.4% means real economic recovery is not yet here, despite some positive economic developments in other areas, which means more rock-bottom interest rates and cheap dollars for a long time—and therefore higher gold.
All of these developments are undermining investor faith in the long-term value of many currencies, especially the euro and dollar. They drove gold prices to new all-times highs last year and should combine to propel gold to new record highs in 2011. In addition, global inflation is now taking root. Prices for food and commodities are surging to levels last seen in 2008, when a sharp rally in the sector came to an end with the collapse of Lehman Brothers. Oil appears likely to test the $100-a-barrel level last seen in 2008. Plus, the revolutionary tumult in the Middle East, especially in Egypt, has the potential to shake the very foundations of this key region and further affect oil supplies. Rising food prices, which triggered riots in India and parts of Africa last year, and helped to topple Tunisia's president earlier this month, are now reaching crisis levels. Gold is the natural hedge against inflation and political upheaval.
Let's look at the latest charts.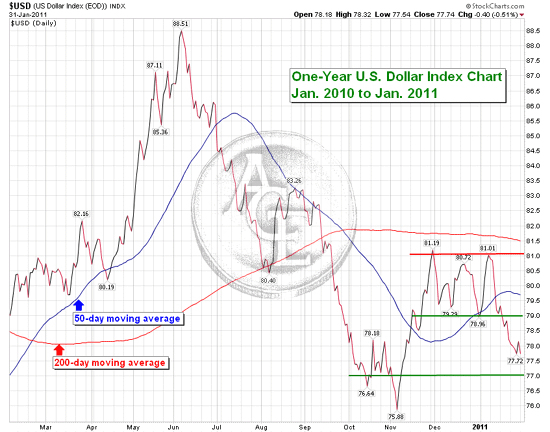 U.S. Dollar
While gold rose to new all-time highs since mid-August, the U.S. dollar went into a steady decline for most of this period, falling from 83.26 on the index chart to low of 75.88 in November. The ongoing euro crisis then triggered a safe-haven rally from early November through mid-January. This surge coincided with price drops in all four metals, as you'll see on the charts below. The corrections were brief, however, and the metals soon began to climb while the dollar rally continued. So, from early November until the end of the year, precious metals and the dollar were rallying at the same time, contrary to their typical negative correlation. This anomaly is a sign of unusually solid fundamentals for precious metals.
In the past two weeks, the dollar signaled a new decline when it broke sharply below its December support level of 79. This renewed weakness bodes well for further gains in gold. But because gold enjoyed such outsized gains during autumn, the dollar might fall to support at 77 before triggering a sizeable gold rally. If it breaks below 77 look for a strong gold response. We'll be following the U.S. dollar index closely in the coming weeks to see just how weak it becomes.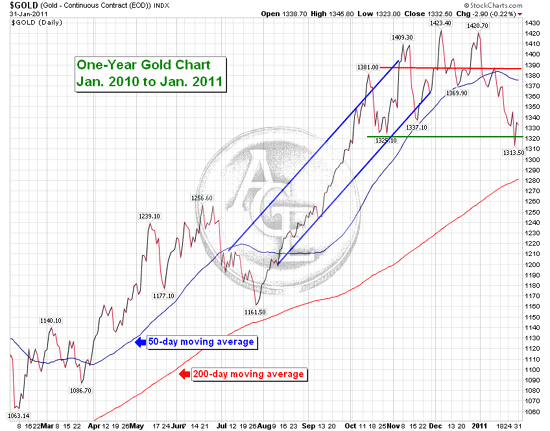 Gold
After setting a new all-time high of $1,423 in early December, gold dropped sharply on profit-taking in January, and then channeled in choppy trade between $1,388 and $1,330. In the past week, news of higher-than-normal selling in hedge funds pressured the gold price further, pulling it through support at $1,320 to as low as $1313.50. While gold's short-term trend has been lower for the past several weeks, the worst of the correction may now be over. Recent turmoil in Egypt is also helping to buoy the price. We now see upside resistance developing at $1,385 with a short-term trading range from $1,320 to $1,385.
This correction was not unexpected after the strong gains since August. As we said above, whenever markets surge so strongly, a consolidation period is normal and even healthy. We've seen similar corrections following most of the major upswings since this bull market began 2002, and each has prepared the field for subsequent rallies. The major bull-market trend remains in place for all four precious metals, and we expect gold to challenge its all-time high of $1,423 in coming weeks or months.
A movement over $1,385 will signal that such a challenge is imminent. If gold drops below $1,320, the next support level will be its 200-day moving average, currently $1,280. We expect price action to be choppy as this consolidation plays itself out, and gold will continue to be affected by the news of the day, especially movements in the dollar and sovereign debt problems both in Europe and here at home. Large price swings are possible, so we recommend buying on the dips!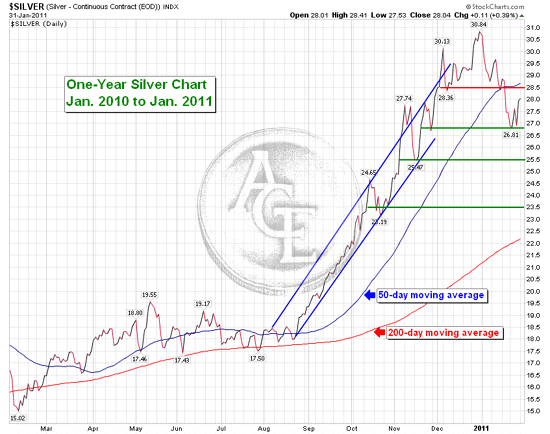 Silver
Silver's 67% price surge over the last six months has been breathtaking. After hitting a high of $30.84, it briefly held support at $28.50 before falling to its next support level at $26.80. Now, like gold, it's in the process of consolidating its earlier gains. We expect silver to channel between $26.80 and $28.50 for the time being. A move over $28.50 signals a retest the recent high of $30.84. If it breaks below $26.80, silver could enter a period of renewed weakness that cold test support at $25.50 and then again at $23.50.
Over the last five years, silver has been reluctant to make and hold large gains. The 67% price surge over past five months was a game-changer. By finally breaking its glass ceiling at $21 an ounce last September, it has been liberated to move much higher, in our opinion. Nothing is certain but silver has clearly become the most in-demand precious metal over the last several months. It has many more industrial uses than gold and it's beginning to assume more of gold's safe-haven currency and inflation-hedge appeal. Remember, when gold hit $850 in 1980, silver topped out at $49.45. It still has a lot of room to run.
But silver can also be much more volatile than gold, and at current price levels, you should expect short-term price swings of $1.50 to $2.00. Silver was red hot from early September through December of last year, so this consolidation has been healthy and less volatile than we anticipated. Buy the dips!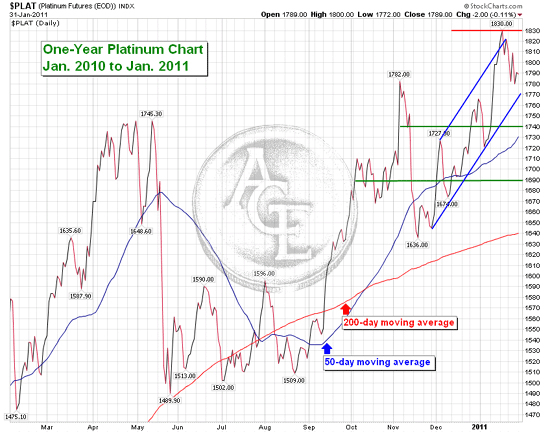 Platinum
Platinum also gained during the closing months of 2010, but less than the other metals and with greater expense and risk. Our regular readers know we've been wary of platinum. If you compare its one-year chart to the other metals', you can clearly see that it's been much more volatile. In the spring of 2010, it became overvalued relative to the other metals and suffered a sharp $250 correction in May. It then rose steadily from August through early fall with the other metals, but when the dollar rally began in November, it plummeted $150 while the others mostly rose.
Something new is occurring in this market. Platinum had two sharp price drops in 2010, both of which coincided with dollar rallies. A negative correlation between platinum and the dollar is to be expected because platinum, like gold, is denominated in dollars internationally. But both times, platinum sharply over-reacted to dollar gains and dropped by relatively more than the other metals, perhaps because its industrial uses (e.g. in automobile catalytic converters) make it more sensitive to the macroeconomic fits and starts of the global recovery. In any event, if this kind of hyper-sensitivity to the dollar continues, it'll be a big platinum sell-signal for us. The other three metals offer as much or more upside in the current market with substantially less volatility.
Today, as you can see on the charts, platinum and palladium remain in the up-trends they started in August. We anticipate continuing, modest gains in the coming weeks. Platinum is currently trading in a very narrow range between $1,785 and $1,820. We see upside resistance at $1,830 and support at $1,740, with firmer support at $1,690. In the current environment, with gold and silver already consolidating earlier gains, platinum could begin a consolidation phase, too, which would be signaled by a break below $1,770.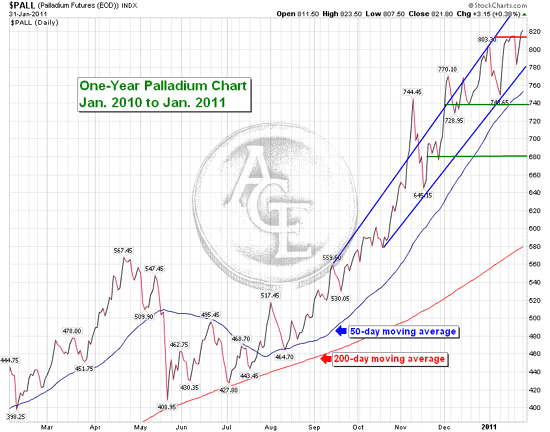 Palladium
Palladium has been the most profitable precious metal since last August, rising from $464 to as high as $814 for a gain of 75%. Since this rally began, it has continually stair-stepped higher with increasing short-term volatility. Now it's stubbornly holding almost all of these gains.
We currently see upside resistance for palladium at $815 and support at $740. Below $740, we see support again at $680. If it falls below its 50-day moving average, a test of $740 is probable. Below $740 means palladium has entered into a consolidation phase. Look to add palladium on any significant weakness, especially below $740 and $700.
Today, 53% of annual palladium demand comes from use in automobile catalytic converters. With the explosion of the Chinese auto market, palladium demand has greatly increased. Couple this with the fact that, as we reported in our September update, Russian palladium stockpiles are becoming depleted, and you've got a perfect storm for higher palladium prices. At less than half the price of platinum, palladium has plenty of room to run in 2011.
Classic U.S. gold coins now underpriced
While precious metals surged during the second half of last year, classic U.S. gold coins sagged. Ordinarily, much stronger gains in relation to rising gold by classic U.S. gold coins would be expected. However, bullion has been the first choice of the many new and relatively unsophisticated buyers entering the market. As a result, dealer inventories of classic U.S. gold coins have increased and prices have decreased. We don't expect this situation to continue. Many of the most popular and promising coins are now trading at their lowest premium over melt value in years. Unlike most forms of bullion, these coins completely private and exempt from confiscation under U.S. law. Plus, they offer far greater profit-potential because of their true scarcity.
Several excellent classic U.S. gold coins are now selling near basal levels with very little downside risk. The large-sized $20 Liberty in MS63 and$20 Liberty in MS64 offer tremendous overall scarcity at very low relative prices today. The same can be said for the $10 Liberty in MS64 and $10 Indian in MS64. Because these coins are relatively scarce to start with, dealer inventory never really builds. Even small waves of demand can clean out national supplies; sustained demand can then push prices up very quickly. Please call your account manager at 1-800-613-9323 to discuss what's best suited to your portfolio.
European gold coins steady
European gold coins remain steady in supply and demand, with low premiums over melt. We recommend these classic, mostly pre-1933, smaller-size gold coins as a superior alternative to gold bullion. They offer all of the investment advantages of bullion plus the added scarcity, profit potential, and privacy of collectible coins—all at very little additional cost. French 20 Franc "Angels" and Italy 20 Lire "Umbertos" are especially attractive right now. Minted in the late 1870s to the early 1890s, they're far scarcer than their current trading price would indicate, making them an excellent value today. Premiums remain below modern fractional-sized bullion coins from the U.S. and other mints, and availability remains reasonably good. Please call your account manager at 1-800-613-9323 for more information.
As always, thanks for you time! We'll keep you informed.
Sincerely
Dana Samuelson, President
Dr. Bill Musgrave, Vice President
Metal
Ask
Change

Gold

$1,787.88
$0.12

Silver

$18.24
$-0.17

Platinum

$846.45
$4.75

Palladium

$1,977.92
$-5.92
In US Dollars
AGE Gold Commentary
AGE Investor Alert!