AGE Gold Commentary is our regular report analyzing trends in precious metals and rare coins. We monitor domestic and international markets and extrapolate from our 30 years in metals to place current events into a hard asset perspective. View archives.
---
6/22/2011: Perfect storm for precious metals
Source:
Perfect storm for precious metals
The profit cycle renews
Bullish chart for gold
Classic U.S. gold coins – Deal of the Year!


Perfect storm for precious metals
The perfect storm for precious metals, especially gold and silver, continues to gather strength. In late April, gold reached its highest price ever at $1,563 per ounce and silver skyrocketed to $48.42, approaching its all-time high of $50 established in 1980. Market analysts are talking about gold reaching $3,000 to $5,000 before this powerful bull market, now in its tenth year, reaches its zenith. Of course, these expectations might prove a bit optimistic, and no market moves up in a straight line. Bumps and corrections along the road are to be expected and even embraced for the buying opportunities they represent. But fundamentals remain very bullish for continued long-term gains.
Propelling precious metals today are many of the same drivers that we've been discussing for quite a while. The news has simply migrated from the back page of your local newspaper to become lead stories on CNN, drawing legions of new investors into the market in the process. Our $14 trillion U.S. debt, our record-shattering $2 tillion in annual budget deficits, and the looming possibility of U.S. default are undermining the wobbly dollar and threatening to send sovereign-debt holders like China and the OPEC nations scurrying to safer alternatives like gold. The hyper-excessive money supply and negative real interest rates generated by QE2 will undermine the dollar for quite some time. The combined prospects of a double-dip recession and the withdrawal of monetary stimulus in the U.S. are weighing on stock values and increasing the safe-haven desirability of gold. And historically low yields and expectations of rising interest rates are driving investors out of bonds and toward precious metals as they seek protections for wealth, especially ones that succeed in inflationary environments.
Overseas, the forces driving gold are just as strong as here at home. More global tensions have erupted with this spring's historic string of democratic uprisings in the Middle East, forcing oil prices higher, fueling concerns about inflation, and driving petrodollars into safe havens like gold. The potent combination of an exploding Chinese middle class and burgeoning Chinese inflation has created a profound appetite for gold bullion in the world's most populous nation, one that should support higher prices for years. And as the Greek insolvency and European fiscal crises morph and deepen with each passing month, they increase the likelihood that the euro could fail, prompting investors to bail into safer, non-dollar alternatives like gold and silver. Indeed, we're in the midst of a nearly ideal international confluence for precious metals, one that should continue to sustain and boost prices for the foreseeable future.
The profit cycle renews
Despite rising impressively over the last ten years, precious metals have typically produced a regular annual profit cycle, one that we've described before. Prices tend to rise in the fall, gain through the early to late spring, and then correct downward and consolidate during the summer. As you can see in the summary chart below, gold has regularly made substantial gains from summer lows to spring highs, followed by profit-taking and consolidation, and then the renewal of the cycle. If you're inclined to take short-term profits, spring has been one of the best times to sell. But if you're investing for the long term, which we advocate, summer has been the best time to buy and this year looks to be no exception.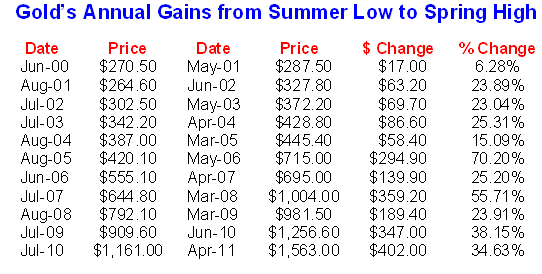 The 2010 to 2011 cycle has been one of the most spectacular for all four precious metals. From last July through this April, gold performed wonderfully by rising nearly 35%. Still, it was handily outpaced by palladium, which rose 100% during the same period to $857. Platinum lagged slightly by only gaining 24%, which is still an impressive achievement. Silver, however, took the crown with an astonishing 175% gain from $17.50 to $48.42.
Inevitably, upward momentum stalled, profit-taking kicked in, and prices corrected lower for all four metals. Now we've entered the typical consolidation period in the cycle; prices have been fairly stable over the past few weeks. What's atypical, however, is that gold has not corrected more deeply in price and instead continues to trade near its recent peak of $1,563. As we said before, circumstances are propitious for the current gold market.
Let's look at the latest charts.
Bullish chart for gold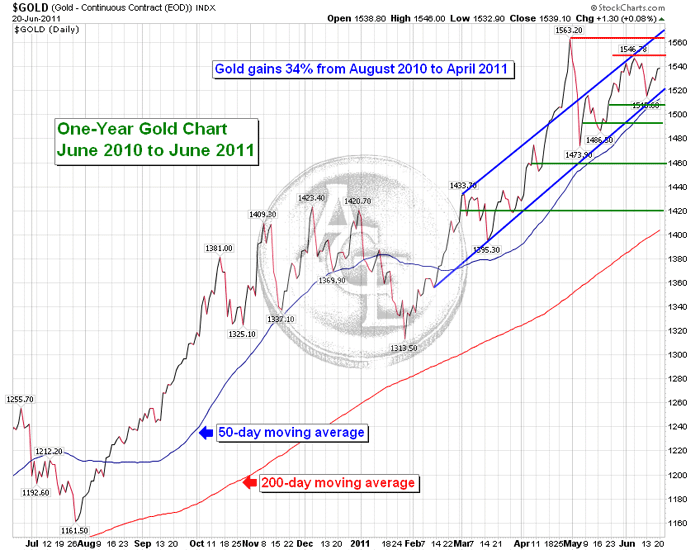 Gold
Gold continues its remarkable resilience since peaking at $1,563 in late April. The ensuing correction down to $1,473.90 in early May was sharp and overdone, like most corrections after strong, swift gains. Since then, gold has stabilized in the $1,510 to $1545 range.
Summer is typically the time of seasonal weakness in the gold price, so we would normally expect gold to test support at $1,490 in coming weeks, with a drop below implying a possible test of next support at $1,420. But the economic climate is anything but normal these days, with the threat of a double-dip U.S. recession, default by the U.S. government, and the possible collapse of the euro darkening the investment horizon. We therefore expect gold to hold its current range between $1,510 and $1,545, with the bias towards the upside. Movement above will likely challenge $1,563 resistance. The 50-day and 200-day moving averages remain decidedly positive, within the upward price-channel defined by the parallel blue lines in the chart above.
As we've said, gold and the dollar will be largely driven by the ongoing European debt crisis and the handling by Congress of the need to raise the U.S. debt limit above $14 trillion. Negotiations in both arenas are certain to be protracted, contentious and rife with brinksmanship, creating much uncertainty in global markets. While most markets hate uncertainty, gold thrives on it. We believe these two slow-motion train wrecks will support gold and silver prices throughout the summer and into the fall. With each passing month, the likelihood increases that gold will break through the $2,200 barrier—the inflation-adjusted equivalent of its 1980 record-high of $850.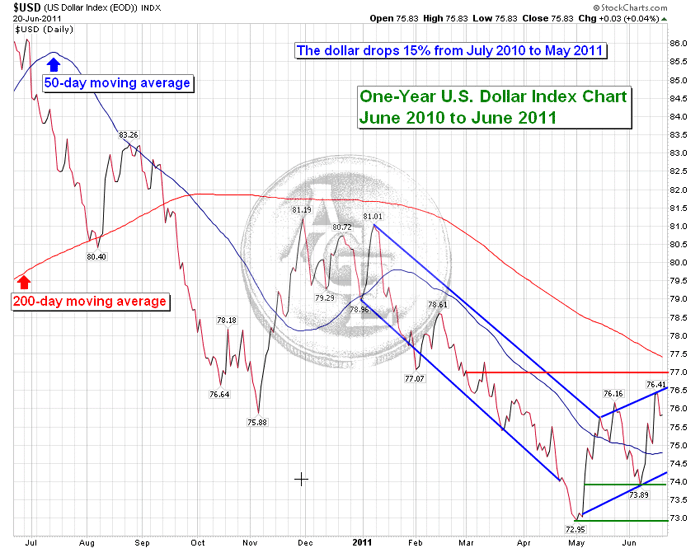 U.S. Dollar
The traditionally negative correlation between gold and the dollar is holding. Between February and late April, the dollar dropped sharply from 78.61 to as low as 72.95 on the U.S. dollar index chart. While the dollar declined 6.5%, gold surged 19%, from a low of $1,313.50 to $1,563.20. Similarly, gold's correction from its all-time high was mirrored by the dollar's sharp rebound from 72.95 back into the mid-70s.
If the dollar falls below its recent low of 72.95, a test of its all-time low of 71.32 will be on the immediate horizon. Any defaults because of the U.S. debt ceiling could force such a test, which would be a bearish sign, indeed, for the beleaguered buck. Other forces are also militating against the dollar's prospects. While it's received some support from the unraveling of Greece, the dollar is increasingly viewed internationally as a bad risk. In the first four months of the year, China bought more European sovereign debt than U.S. dollar assets! When you consider that the ECU and its currency are creeping toward dissolution because of intractable sovereign debt problems, China's preference for the euro over the dollar is astonishing and speaks volumes about the dollar's grim prospects. We expect other nations to intensify their efforts to diversify away from the U.S. currency, too.
In the mean time, the dollar is settling into a trading range between 74 and 77 with a slightly rising pattern. It would have to break resistance at 77 to signal real strength. Time will tell but we anticipate range-bound trading with a bias towards further weakening.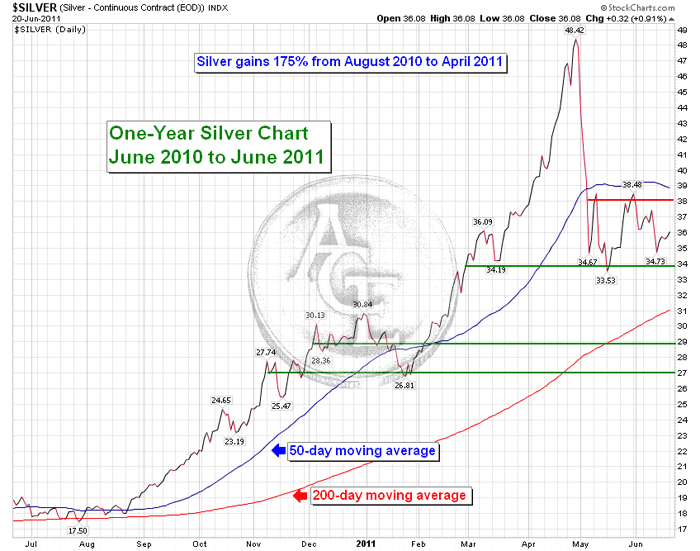 Silver
Silver's 175% gain from $17.50 in August to a high of $48.42 in late April was simply stunning. The profit-taking correction that followed was sharp but not extremely so, considering how much silver had gained during the rally. It's now consolidating a short-term trading range between $34 and $38.50 and showing remarkable resilience.
Today's silver chart is sending somewhat mixed messages, with its 50-day moving average turning negative while its 200-day moving average remains positive. The price has stayed above its 200-day average for almost all of the last twelve months, with a positive trend extending back a full 25 months. If silver falls below $34, the next firm support levels are at $29 and $27. During a normal summer, we might expect it to test these levels, and that could happen. But we think this summer will be different and buyers are likely to emerge at $32 and $30. So, while we might not see silver under $30 this summer, we'll probably see it test that level at some point. We'd love to buy at $27 but we'll be happy at $30.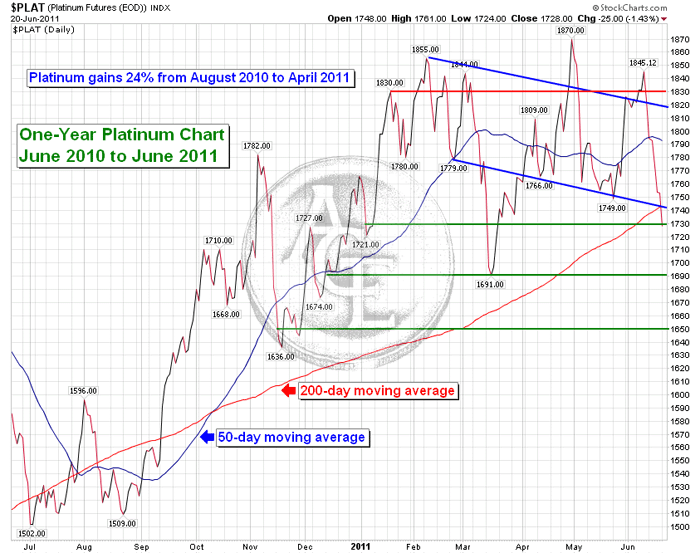 Platinum
Since reaching $1,855 in February, platinum has been very volatile with a lower overall trend, as underscored by the series of lower lows within its trading channel defined by the parallel blue lines above. Likelihood of further price erosion in coming weeks and months is high. The devastating earthquake and nuclear disaster in Japan have dramatically weakened demand in manufacturing (automobile catalytic converters), and the potential economic slow down in China should further damp prices in coming weeks and months.
In the short term, platinum should see upside resistance at $1,830 and downside support at $1,730 and $1,690. We expect it to soften through the summer, perhaps reaching as low as $1,650. We remain very wary of this market due to its volatility, which might give opportunities to professional day traders but can be damaging to buy-and-holder investors like us. Be careful at least until summer weakness passes.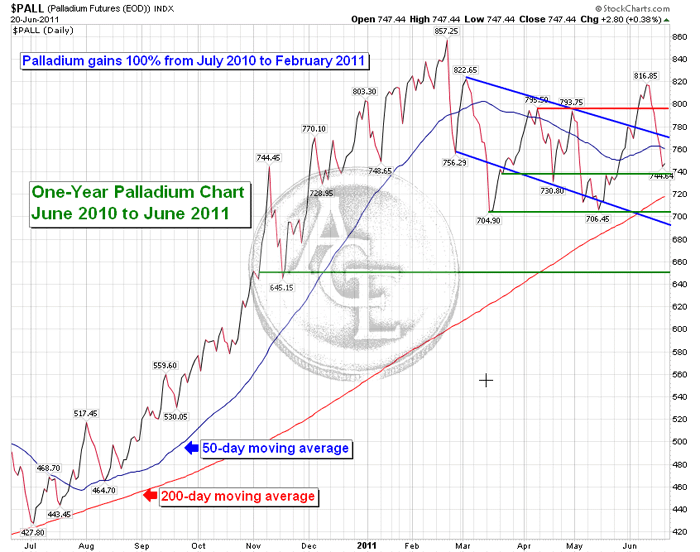 Palladium
Palladium has been stellar over the last three years, generating the highest percentage gains of all four metals. Now it's giving some back, as the chart indicates, setting a series of lower highs and lower lows since its February peak of $857.25. This softening trend is likely to continue for several months. Currently encountering upside resistance at $795, palladium enjoys support at $740 and $705. If it breaks below $705, look for a challenge of $650. We'd look to buy under $700 before the summer is over so keep your powder dry.
Classic U.S. gold coins – Deal of the Year!
Classic pre-1933 U.S. $20 gold coins are the precious metals Deal of the Year for 2011. Prices for these scarce old coins are now extremely low and premiums over gold value are almost unbelievably attractive. Over the last ten years, premiums for $20 Saint-Gaudens in Mint State 64 condition, one of the most popular gold coins in the world, averaged 50% to 90% over gold value. Today, that premium is a mere 20%, the lowest premium since the bull market in gold began!
These rock-bottom premiums have been created primarily by the sharply surging gold price, which has outpaced the market for classic U.S. gold coins for well over a year. As gold and silver bullion have skyrocketed, they've become mainstream assets. Legions of new buyers have entered the gold market, many of whom were previously unfamiliar with precious metals, particularly the classic U.S. gold coin sector. Most have been focused on protection rather than profit. As a result, gold and silver bullion have received much of the attention while classic U.S. gold coins were ignored by everyone but gold market veterans and knowledgeable investors.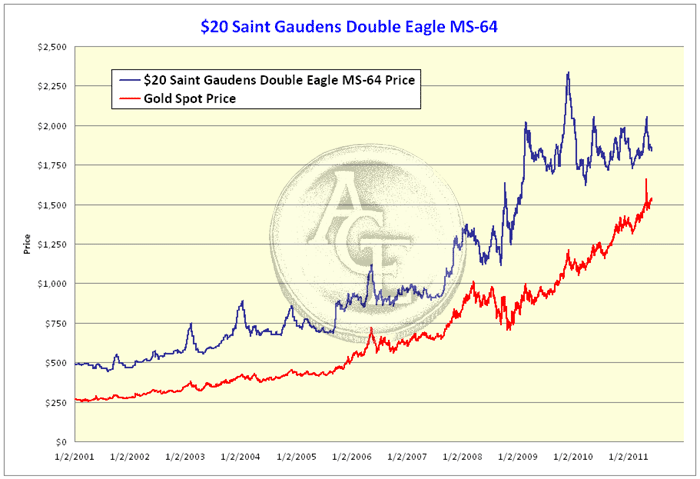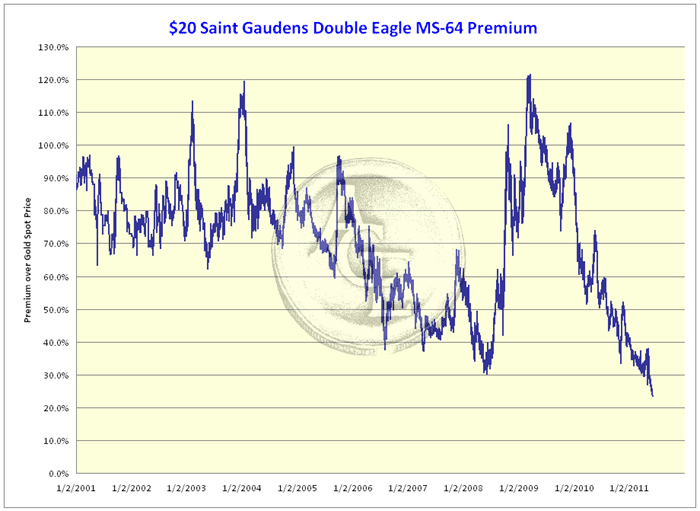 As you can see in the 10-year chart above, premiums for $20 Saint-Gaudens MS64 ranged from 70% to 90% over spot gold from 2001 to 2006. When fissures in the economy began to show in late 2007, premiums started to edge down as investors became more conservative. Everything changed in September 2008. Panicked fears of a total financial collapse brought hordes of new buyers into the market for both bullion and classic U.S. gold coins. Because classic coins are financially private and exempt from confiscation, unlike gold bullion, informed buyers sought them for added protection during the peak of the crisis. Premiums soared on MS64 Saints to as high as 120% over the gold spot.
Once the panic subsided, so did some of the premium for these coins. But over the past year, the pendulum has swung too far in the other direction. Gold and silver have become standard in most portfolios but comparatively few investors understand the extra safety and profit opportunity offered by classic U.S. gold coins. If premiums on $20 Saints in MS64 only return to their average range they coins will gain by 20% to 70% without any increase in their underlying gold bullion price. And again, they're private and exempt from confiscation, unlike bullion.
Today's low premiums are creating one of the best value plays we've seen since the bull market in gold began. Several other classic U.S. gold coins are also fantastic bargains at current market levels. Please call your account manager today at 1-800-613-9323 to discuss what's best for your portfolio.
That's it for now. As always, thanks for your time and your business.
Sincerely,
Dana Samuelson, President
Dr. Bill Musgrave, Vice President
Metal
Ask
Change

Gold

$1,780.89
$0.00

Silver

$18.21
$0.00

Platinum

$832.41
$0.00

Palladium

$1,973.67
$0.00
In US Dollars
AGE Gold Commentary
AGE Investor Alert!