AGE Gold Commentary is our regular report analyzing trends in precious metals and rare coins. We monitor domestic and international markets and extrapolate from our 30 years in metals to place current events into a hard asset perspective. View archives.
---
10/10/2011: Gold bullish after big correction
Source:
Echoes of Lehman Brothers
Correction creates rare opportunity
Promising charts for gold and silver
Excellent opportunities in classic gold coins
It's been an amazing third quarter. In early July, the Dow rallied above 12,600 to one of its highest closes in more than two years, only to drop some 2,000 points to its lowest close in more than a year in late September. The European sovereign debt tragicomedy extended its run through the summer and is still lurching toward its catastrophe, dragging the euro zone—and the rest of the world—ever closer to another recession. Growth forecasts have deteriorated in virtually every developed economy including China's, which was heretofore the engine of hope for recovery. Global money supplies, like most sovereign debt levels, have reached dizzying heights, yet the Bank of England just announced more quantitative easing, the Fed has undertaken its own new easing program in Operation Twist, and the Group of 20 nations have pledged all but unlimited liquidity to prevent Greek default and international financial contagion. The U.S. national debt gets piled higher and deeper each day while politics-as-usual preclude any meaningful remedy. No wonder market volatility, like that amplifier in the classic film "This is Spinal Tap," has been turned up to eleven. Fasten your seatbelts, folks, because the fourth quarter could be just as exciting.
In the midst of it all, precious metals have shown astonishing strength—although not without a major setback of their own. During the normally quiet summer months, gold surged above $1,800 as the European debt crisis worsened and the U.S. debt-limit fight reached a fevered pitch. Then, on August 23, it set a new all-time high of $1917.90 during inter-day trading. Silver and platinum also pushed higher while palladium remained primarily range-bound.
In September, however, a series of three events in quick succession triggered the steepest price-correction in all four precious metals since the subprime crisis in late 2008. While a bit unnerving, this sell-off also produced an unexpected and very attractive buying opportunity, just like in 2008, and the gold market is looking bullish. As Yogi Berra said, it's déjà vu all over again—and that's a good thing for savvy gold buyers. Here's what happened.
Echoes of Lehman Brothers
First, on September 6, the Swiss government announced it would no longer tolerate the rapidly escalating value of its franc against other currencies. In an unprecedented move, it pegged its currency to the euro at a value of no greater than 120, effectively driving speculators elsewhere. Gold quickly set another new all-time high of $1,923.70 on the news. But just as quickly, with the threat of Greek default looming larger each day, the U.S. dollar also began to rally on flights to safety away from the euro, which effectively put a top on gold's rise. Gold subsequently set a series of lower highs and lower lows through the middle September.
Second, on September 21, the Fed announced Operation Twist, its new program to purchase $400 billion of long-dated Treasurys by selling the same amount of short-dated Treasurys, thereby driving interest rates below their current record lows. On its own, this action would seem bullish for gold because it's basically a form quantitative easing, which is the Fed's method of slashing interest rates and making dollars plentiful and cheap. Because gold is denominated in dollars, cheap dollars translate into higher gold prices. But more significantly, the Fed statement contained the assertion that "there are significant downside risks to the economic outlook. " With global markets already on edge, this blatantly pessimistic statement from the compulsively optimistic Fed spooked markets worldwide into a panicked sell-off. The Dow quickly plunged almost 400 points. Gold remained range-bound at first but then fell by $60, breaking below its short-term support level of $1,780 and signaling further weakness to come.
The third event that propelled the sell-off was the announcement two days later of a 21% margin increase for gold and a 16% increase for silver by the Chicago Mercantile Exchange (Comex), the primary precious metals exchange in the U.S. Gold quickly plummeted by another $100. The Shanghai Gold Exchange followed with a 20% silver margin hike of its own, driving prices further down.
By raising margin requirements, Comex and the Shanghai exchange forced speculators, especially hedge finds, to put up large quantities of additional cash in order to continue holding their positions. Unable to find the cash, many were forced to sell. Others decided to lock in profits after several months of very strong gains. And with metals already in a pullback because of the Swiss peg and Fed pessimism, selling begat more selling, which is typical when everyone runs for the exit at the same time.
Remember, all three of these events took place against a backdrop of widely-anticipated euro zone failure and contagion, intractable U.S. national debt problems, and increasingly dire predictions by many respected economists that the world is on the precipice of another recession. NYU economist Nouriel Roubini, whose viewpoint carries weight because he accurately predicted the 2008 financial crisis, told Bloomberg: "At this point, the issue is not whether there is going to be a recession or a double-dip but whether it's going to be relatively mild or whether it's going to be a severe recession and a global financial crisis… The answer to that question depends on what's going to happen in the euro zone and whether they can get their act together. "
Famed investor Jim Rogers went even further, telling CNBC that America's structural economic problems are even greater than Europe's: "Europe has a few bad, bankrupt states, so does America. We've got Illinois which is bigger than Greece, we've got California, we've got New York, you know those are pretty big states that have serious economic problems. We have pension plans in America that are terribly under water…. Europe's got some bad problems but the entity as a whole is not nearly as deep in debt as the U.S. They don't have a huge balance of trade deficit, like we do. "
Faced with this darkening economic horizon, and the very real possibility that Greek default would result in the cascade-failure of the European banking system, investors fled to the perceived safety of cash and U.S. Treasury bonds. Indeed, the circumstances were eerily reminiscent of the rush to liquidity in late 2008 on the heels of the Lehman Brothers failure, when investors panicked and speculators were forced to sell liquid, profitable assets to cover shorts and margin calls in a plummeting market. Back then, prices for all commodities plummeted 10% to 20% across the board. This time, the sell-off in precious metals was less severe and will probably be much shorter-lived, but it contains the loud, painful echo of that earlier panic.
Correction creates rare opportunity
In reality, a significant correction was probably overdue and paves the way for a much stronger market to come. In fact, according to the latest Commitment of Traders report, the gold and silver net noncommercial exposure on the futures exchange has plummeted to its lowest level since spring 2009. This means speculators (primarily hedge funds) have fled and their absence will help to stabilize prices. We're already seeing signs of price stability now that the dust is settling, and bullish forces in the gold market are reasserting themselves.
Physical demand in Asia is increasing dramatically and will help to build support for higher gold prices in the short term. The India wedding season is about to begin, which is traditionally a period of strong demand. With gold prices so much lower, this season's buying is expected to be unusually strong. And rising gold demand is not restricted to India. As Reuters reported last week, "Although buying interest out of India has been particularly strong, support is broad-based throughout Asia, with physical demand in places like Thailand and China also rising…. Current buying momentum is much stronger than the respective comparable periods in 2009 and 2010. "
Gold continues to be purchased by governments throughout the world to secure their reserves. According to the recent Aden Forecast, last year central bankers became net buyers of gold for the first time in 23 years, and so far this year they've almost tripled their net gold purchases over 2010. Venezuela, Bolivia, Mexico, Russia, Thailand, and South Korea have been major buyers, and central bank demand is ramping up in India and China.
Over the past decade, gold has been the strongest investment through all the ups and downs, bar none, and its fundamental appeal as a safe haven, inflation hedge, and currency of last resort remain intact. As Marcel Kreis, Credit Suisse's head of private banking for Asia-Pacific, told Reuters, last week: "Gold at $2,000 is absolutely…on the uptrack, despite the selloff. That is sort of the immediate target." We completely agree, and would not be surprised to see gold at $2,000 before year-end.
The upward mega-trend for gold is still very much in place, and the recent price correction has created one of the best profit opportunities we've seen since this bull market began. We recommend adding to your core positions before prices recover.
Let's look at the latest charts.
Promising charts for gold and silver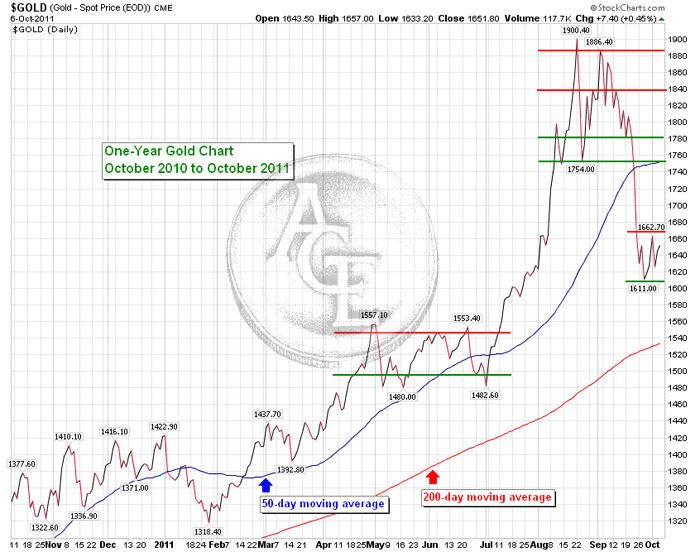 Gold
Its current one-year chart clearly shows gold's recent volatility. From July 1 to September 6, it surged a whopping 29% behind fears of sovereign debt default in Greece and the congressional debt-ceiling stalemate in the U.S. As stop-gap remedies were found, much of the fear began to dissipate from the gold trade but currency investors, nonetheless, continued fleeing the teetering euro for the far more stable Swiss franc, forcing Switzerland to cap its currency, as we described above.
The unprecedented Swiss intervention in turn deflected cash toward the dollar, which, despite its own deep structural problems, is a safer bet than the euro. As the dollar rallied, gold softened and set a series of lower highs and lower lows between September 6 and 21, clearly visible on the chart. And then, as we said, the pessimistic Fed statement and margin hikes by Comex and Shanghai triggered the major sell-off. Gold quickly broke below primary support at $1,780 and secondary support at $1,750, dropping as low as $1,630 on September 23 before closing the Friday session in New York at $1,660. When trading resumed on Sunday night in Asia, gold fell to $1, 535, right at its 200-day moving average, before rebounding sharply. Notably, gold never fell below its 200-day moving, which is an indication of its fundamental support in the market.
On a gradual rebound, gold is trading around $1,650 with support at $1,610 and resistance at $1,670. It looks like a very safe buy now. When market fundamentals fully reassert themselves, we expect to see it move back towards $1,800. In the mean time, expect more near-term volatility with a bias towards the upside. In the mid- and long-term, we see gold resuming its climb toward $2,000 and beyond. Like we said, we think this bull market still has a long way to go.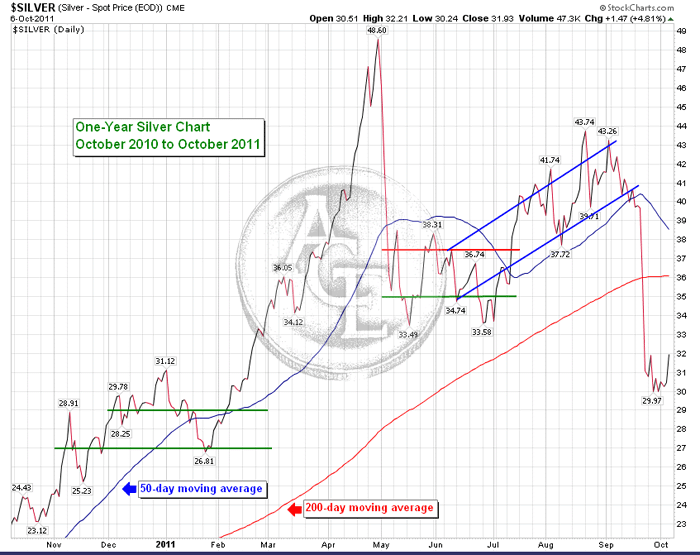 Silver
Since bottoming in May at $33.49, silver rose steadily into mid-September and was looking quite strong before the sell-off. Unlike gold, silver fell steeply through its 200-day moving average to $26.15 in overnight Asian trading on September 25. We've said many times that when silver falls, it often falls harder than gold. In less than six months we've seen two examples of this axiom. The first time it quickly recovered. This time the recovery has just started.
Silver appears to have formed a bottom between $29.50 and $30.50. In the last three trading sessions it has climbed cautiously higher to over $32.00. The bias remains to the upside and we expect to see further, cautious gains in the near future. Technically, however, it could still retest major support at $29.00 and $27.00 in the short-term.
Until the recent market correction works its way through, we expect more volatility—and frankly, in our opinion, that's a good thing. We love the bargain-basement prices offered by silver right now. In the near future, any price under the summer support at $34.00 will probably look cheap. We strongly recommend that you buy the dips, and we are in a dip now. If you intend to buy silver, we recommend spending half of your designated funds now and keeping some in reserve in case of another sell-off under $30.00.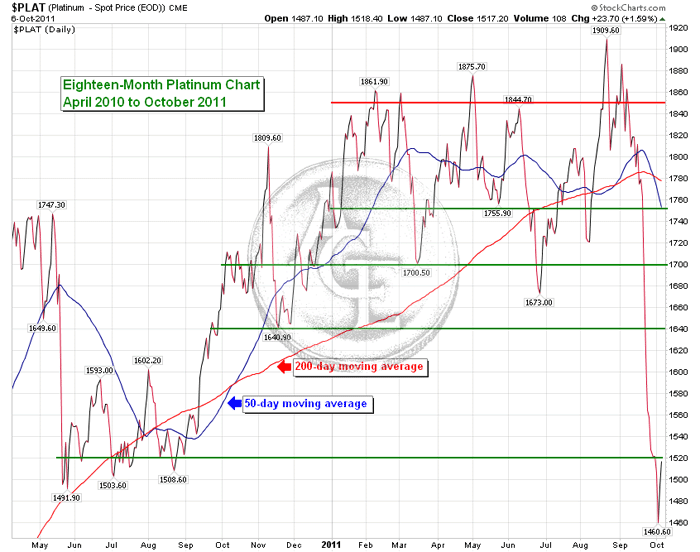 Platinum
To put the current platinum price into perspective, we're using an 18-month platinum chart showing pricing through the summer of 2010, when platinum routinely traded between $1,520 and $1,575. As you can see, it held a rough range from $1,750 to $1,850 for much of 2011, and for the past six months it's been quite volatile, with 7% to 10% swings not uncommon. The recent sell-off, however, was especially brutal. Once platinum broke support at $1,780, it fell like a stone through lower support levels at $1,750, $1,700, and $1,640, all the way to $1,500. Then, on the Comex margin news, it broke even lower to $1,428, which is the low so far.
Like silver, platinum appears to be recovering. During the last three trading sessions it has firmed up in price, moving back over $1,500. Trading remains volatile, with $40 to $50 inter-day swings, but a V-shaped bottom is starting to form. If platinum holds support at $1,500 and moves higher this week we'll be more confident that the worst is over.
Platinum is trading at around a 10% discount to gold, which is extremely unusual. It has comfortably traded at much higher per-ounce prices than gold for most of the last 20 years or so. Indeed, since 2000, the platinum premium over gold has averaged more than 50%, and on three occasions has been 100%, or double the gold price. The last time the gold/platinum ratio broke below parity was following the Lehman Brothers meltdown in 2008. Then, as now, the reversal pointed to severe global economic weakness. Because platinum is used widely in automobile catalytic converters, its price reflects sentiment about the prospects for the auto industry and, by extension, big-ticket manufacturing as a whole. The current reversal of the gold/platinum ratio means that capital is choosing to pursue preservation over growth, which is one more piece of evidence that the outlook is dimming for the world economy.
On the other hand, the current gold/platinum ratio bodes well for arbitragers who wish to sell gold and buy platinum, anticipating that the spread between the two will normalize. This is promising speculative trade right now. Despite its volatility, platinum is a good buy around $1,500 or under, especially relative to gold. It should settle into a $1,500 to $1,570 trading range in the short term if the market behaves as we anticipate. The bias remains to the upside.
Palladium
Like platinum, palladium was hammered by the recent sell-off. All this year it enjoyed support at $760 and $720. Once it fell through $700, however, it plummeted to an inter-day low of $542 on October 4, before bouncing back to $567 at close. As you can see in the 18-month chart above, we have to reach back to June-August 2010 to find any real support for palladium under $720, and that's at $460. After climbing from $520 in September 2010 to $857 in early 2011, it didn't drop below $700 until the sell-off.
Like platinum, palladium has moved higher over the last three trading sessions, forming a V-shaped bottom in the process. It may be premature to call a firm bottom yet, although prices appear to be consolidating around $590, plus or minus $30. We like palladium under $600 but we believe gold is safer and silver potentially more profitable in the short run. Palladium and platinum will probably trade in the same direction in the coming weeks. They have similar industrial applications and their demand will be affected by the outlook for recession. We do think palladium, like platinum, is oversold but the factors favoring a strong price recovery remain in doubt.
In summary, we think gold is currently oversold by 5% to 10% and is a great buy. Silver is oversold by around 10% to 20%. It perhaps has greater upside potential than gold but also carries the risk of greater volatility. Platinum looks to be oversold by 5% to 10%, and palladium by about 5%. We favor silver, gold, and platinum over palladium in the current market.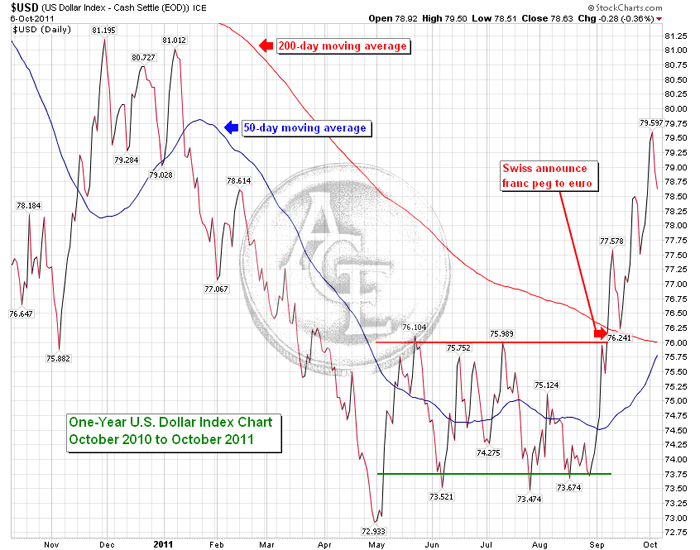 U.S. Dollar
Since September 6, when Switzerland pegged its franc to the euro, the dollar has been surging. Throughout most of this year it was unable break upside resistance at 76 on the index chart, but the Swiss announcement quickly drove it to 79.75. Today, the dollar is range-bound between its new upside resistance at 80 and support at 77. Bias remain to the upside so further gains are possible in the short term.
Burdened by immense long-term national debt problems, a looming double-dip recession, and interest rates that will remain effectively below zero for the foreseeable future, the dollar is fundamentally weak. Yet it is benefiting from flights to safety away from the euro, just as it did during the subprime meltdown in the fall of 2008. At that time, the buck surged 15% as international investors ran to cash and Treasury bonds, while gold plunged from $975 to as low as $750. However, this was a temporary reversal of the larger trends, and created a superb buying opportunity for precious metals. The same thing is happening now. When this panicked surge expires, the dollar should retreat back into its range between 73 and 76 on the index chart before heading lower still. And gold should resume its steady climb above $2,000.
Excellent opportunities in classic gold coins
Classic U.S. gold coin prices have been fluctuating with the volatile gold price. At present, however, many of our favorites are trading at lower-than-normal premiums to their underlying gold value. Premiums are down because so many new buyers have been driven into the market by fears of global recession and financial contagion from the euro crisis. With little awareness of the advantages of classic coins—that they're fundamentally scarce, private and non-reportable by brokers, and can provide increased profits during periods of high demand that bullion cannot—most new buyers have been focused almost exclusively on bullion, bidding up prices for it while many classic gold coins have temporarily lagged. This temporary shift in demand patterns is creating some outstanding values right now.
For example, over the last ten years the premiums for slightly-circulated U.S. $10 and $20 gold coins (XF and AU grades) have averaged 15% to 25% over their melt-value. Today, these premiums are merely 10% to14%. Excellent values are to be had in these lower-grade, uncertifed $10 and $20 gold coins, especially $10 Liberty in AU (Almost Uncirculated) condition. Call your account manager for pricing and availability.
$10 Liberty v. $10 Indian, MS63 and MS64
In addition, several of our favorite investment-quality, certified U.S. gold coins have unusually low price-differentials between grades and types right now, creating excellent opportunities.
For example, $10 Liberty in MS63 is 3% scarcer than its counterpart $10 Indian in MS63, yet it's selling today for 22% less! That's a very strong discount for two coins with almost equal rarity, and $10 Liberty coins are older. Moving up one grade, the value gets even better. $10 Liberty in MS64 coins are more than 55% scarcer than $10 Indian in MS64, yet they're also selling for 22% less making them an outstanding buy.
$20 Liberty MS64 v. $20 Saint-Gaudens MS65
Another great value is the $20 Liberty in MS64 compared to the more popular yet much more common $20 Saint-Gaudens in MS65. Today, the $20 Liberty is twice as scarce yet it's selling for merely a 13% premium to the $20 Saint-Gaudens and offers much better profit-potential from current prices. In 2009, during the recent market peak in classic U.S. coins, the $20 Liberty in MS64 traded for 49% more than today, while the $20 Saint-Gaudens in MS65 traded for 19% more. So, for a modest premium of 13%, you now buy a coin that's older, twice as rare, and has substantially more upside potential. From a market technician's perspective, that's an outstanding opportunity. Please call you account manager for current pricing and availability.
Classic European gold coins
Premiums for classic European gold coins are drifting back to normal after surging in Europe in August. As the euro crisis escalated over the summer, Europeans began buying their own classic gold coins at a frenzied pace. Just as in 2008 during the subprime meltdown, premiums for various 20-franc gold coins and British sovereigns leapt 25-50%. This feverish demand has now subsided somewhat. Supplies are increasing and some excellent values are available. We particularly recommend Switzerland 20 francs right now.
We think classic European gold coins are better than bullion for bulk gold investors. Not only do they offer potential premiums for scarcity that bullion does not, they contain no minting charges embedded in their prices. Modern bullion coins always include a fabrication fee charged by the minting government, which is passed on to the investor. Classic coins, however, were minted for circulation decades ago and contain no fabrication fees. Plus, as collectible coins, they're exempt from broker reporting requirements. The market is quite fluid right now so call your account manager for more information about what's available.
That's it for now. As always, thanks for your time!
Sincerely,
Dana Samuelson, President
Dr. Bill Musgrave, Vice President
Metal
Ask
Change

Gold

$1,818.23
$0.00

Silver

$25.55
$0.00

Platinum

$1,056.77
$0.00

Palladium

$2,726.28
$0.00
In US Dollars
AGE Gold Commentary
AGE Investor Alert!