AGE Gold Commentary is our regular report analyzing trends in precious metals and rare coins. We monitor domestic and international markets and extrapolate from our 30 years in metals to place current events into a hard asset perspective. View archives.
---
2/1/2012: Gold's best start since 1980
Source:
Enormous debt and liquidity
QE3 spells higher gold
Charts bullish for precious metals
Superlative values in U.S. gold coins
Gold's bull market is back with a vengeance. Surging 13.9% from its last close in December to its last close in January on the London fix, spot gold is off to its best start of a year since 1980, when it skyrocketed by 27.5% and set a new all-time high. In nominal dollars, spot gold is enjoying its best start ever with gains of $213 an ounce during this period. And gold isn't the only big winner. Silver jumped 19.2% and platinum 19.9% during the same stretch on the London fix, while laggard palladium added merely 9.8%. If January is any indication, and we think it is, 2012 will be another historic year for precious metals.
The primary drivers behind gold's remarkable rally are threefold: the deepening European debt crisis, the Federal Reserve's pledge to keep interest rates near zero until late 2014, and the near-certainty of a third round of quantitative easing (QE3) by the Fed sometime this spring. A fourth driver, which is only beginning to gain traction, is the specter of long-term inflation when global economies recover. All of these influences are likely to support gold for a long time to come. We'll discuss each in turn.
Enormous debt and liquidity
The eurozone debt crisis has been a wild drama. Unfortunately, for Greece it's looking like a tragedy entering the final act. Despite frantic negotiations, sentiment is growing that Greek default is now inevitable. A litany of influential economists including former IMF chief economist Simon Johnson, Johns Hopkins economist Steve Hanke, Fitch Ratings Managing Director Edward Parker, Moritz Kraemer, head of S&P's sovereign ratings unit, and Harvard's Ken Rogoff, another former IMF chief economist, have concluded that current efforts to save Greece are doomed. The only question is whether it will be a controlled or chaotic default. And Greece is not the only culprit. Other distressed nations like Portugal and perhaps Italy will also need expensive bailouts and debt restructuring. Yields on 10-year Portuguese bonds rose above 17.25 % this week for the first time, and Portuguese credit default swaps spiked to record highs, indicating a 70% chance of default within five years.
Huge increases in liquidity are therefore needed to save the eurozone. These are expected to come from a major expansion of the Long Term Refinance Operation (LTRO) in late February—to 1 trillion euros or more, according to the Financial Times—and the creation of a new bailout facility, the European Stability Mechanism (ESM), later this year. Unlike the LTRO, which must be renewed every three years, the ESM will be permanently funded with 500 billion euros ($661 billion) to start. Struggling nations are likely to need every penny, so mind-boggling numbers of minty-fresh euros will be printed this year, all of which will be bullish for gold because vastly more currency means devalued currency, and gold is a trusted international store of value.
QE3 spells higher gold
Monetary easing is the order of the day on this aide of the Atlantic, too, and gold is clearly benefiting. Following the Fed's pledge on January 25 to hold interest rates near zero until late 2014, gold immediately rallied by 2.8% and silver by 3.6%. Cheap dollars support higher gold prices because gold is denominated in dollars. Further fueling gold demand and higher prices is the increasing likelihood of QE3 as early as the FOMC meeting on March 13. In a news conference last week, Chairman Bernanke all but declared as much, saying the FOMC "is prepared to provide further monetary accommodation" and additional bond buying is "an option that is certainly on the table." Based on analyses of the relative balance sheets of the Fed and ECB, and conventional euro/dollar ratios, Zero Hedge projects QE3 to be in the neighborhood of $750 billion in Mortgage-Backed Securities. Morgan Stanley predicted a similar figure back on January 5.
If history is our guide, QE3 will be very bullish for gold. Following the Fed's QE1 announcement on November 25, 2008, spot gold gained 17% within six months (from $820 to $960) and 44% within a year (to $1,180). Following the QE2 announcement on November 3, 2010, spot gold gained 14% within six months (from $1,345 to $1,540) and 32% within a year (to $1,780). When you consider that QE3 projections of $750 billion easily exceed both QE1 ($500 billion) and QE2 ($600 billion), a seriously higher gold price looks to be in the cards. Even before the Fed rate pledge, Goldman Sachs and Morgan Stanley predicted 2012 gold prices of $1,940 and $2,200, respectively, while UBS predicted prices as high as $2,500 this year. In light of the Fed's rate pledge and the probability of QE3, these projections may be conservative.
Finally, with the oceans of money being printed in the U.S. and eurozone, and with current U.S debt exceeding $15.4 trillion (and with an authorized increase of $1.2 trillion pending), inflation could easily become the genie that refuses to go back in the bottle when economies stabilize. Whereas inflation was the main driver during gold's historic rally in 1980, it has played almost no role in the current bull market—at least, so far. Global Pacific Capital CEO Peter Schiff wrote recently that "the Fed is choosing to ignore all signs that CPI inflation is currently running north of 3%." Similarly, Jeffrey Wright of Global Hunter Securities believes "inflation is in the market [but] just being under-reported" in order to give the Fed cover for continued easing. Schiff concludes that "those wise enough to park savings in gold will likely see continued success." We strongly agree. Investors are already responding to this longer-term possibility, one that could support gold prices for years to come.
For all these reasons global investment demand for gold is skyrocketing. Thomson Reuters GFMS, a leading international precious metals consultancy, published its annual gold survey late last month, finding global investment in gold surged by 20% last year to an all-time high of $80 billion, primarily because of purchases of physical gold coins and bars by small investors. Gold bar sales increased by more than 33% to nearly 1,200 metric tonnes, with investors in Germany, Switzerland, Austria, and China buying the most. Estimated central bank purchases added at least another 470 tonnes, a trend that should grow in 2012 and beyond as governments diversify reserves away from dollar holdings. As we said at the start, gold's bull is back with a vengeance!
Let's look at the latest charts.
Charts bullish for precious metals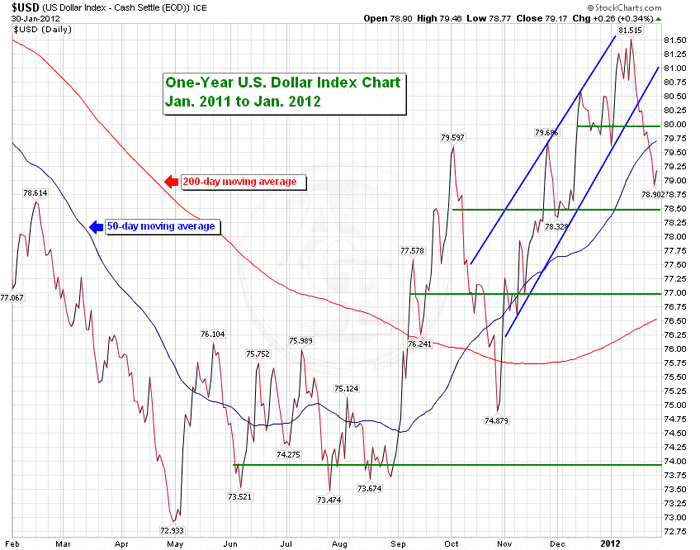 U.S. Dollar
As you can see on the one-year chart above, the dollar gained 10% from August to late December, rising from under 74 to above 81, with volatility in September and October. Its main drivers during this rally were optimism about the U.S. economy and pessimism about the eurozone debt crisis. After peaking at 81.51 on January 16, the dollar weakened and then plummeted on January 25, after the Fed's low-rate pledge, falling through major short-term support at 80 and effectively ending its uptrend. Barring a catastrophic failure in the eurozone, we expect its decline to continue, first with a test of short-term support at 78.50 and then long-term support at 77. A break below 77 would lead to a further decline, perhaps to as low as 74.
Despite last year's rally, the dollar's fundamentals are not strong today. The Fed's commitment to near-zero rates until late 2014, its current $2.9 trillion balance sheet, and the likelihood of QE3 adding perhaps another $750 billion to it this spring, all will weigh heavily on the dollar this year.
Furthermore, the Fed may have no choice but to keep interest rates near zero well beyond 2014, just so we can pay the interest on our immense national debt. AGE senior account manager Matt Warden crunched the official numbers and here's what he found. In the fiscal year 2011, the U.S. paid 21.6% of our annual tax revenue to cover the interest on our national debt. The interest rate was 3.1%, an all-time low. By contrast, the average interest rate paid on our debt over the past 20 years has been 5.7%, and over the past 10 years, 4.2%. If our future rate climbs back to the 20-year average and our tax revenue remains the same, we'd spend 40.1% of total revenue just to cover our debt, which is utterly impossible. If the rate climbs merely to the 10-year average of 4.2%, we'd spend 29.5% of total revenue on debt, which would itself be an all-time record.
Clearly, unless our national coffers explode with newfound revenue, which is highly unlikely given the moribund pace of our economic recovery and the gridlock in Washington, the Fed simply won't be able to afford to raise rates for a very long time to come. In other words, cheap and plentiful dollars are likely to be the norm for many years.
Nonetheless, if the eurozone were to disintegrate—next week, next month, or next year—we'd expect the dollar to rally hard as investors scramble for the cover of U.S. Treasurys. The gold price would probably drop initially, perhaps by quite a bit. But the dollar's hamstrung fundamentals would soon drive investors into the far better opportunities offered by gold, accelerating the gold price, in our opinion, to new all-time highs.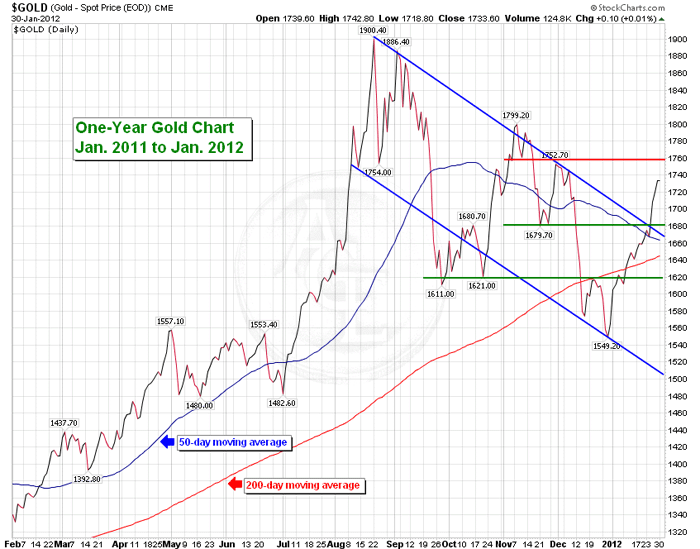 Gold
In our last update, we warned of gold price-volatility toward year-end, and we've certainly seen that happen. What remains a constant, though, is its resilience. From last August through December, movements in gold were the inverse of movements in the dollar. This negative correlation continued until gold hit a low price of $1,549 on December 29. Dollar strength because of U.S. economic optimism, combined with year-end profit-taking by hedge funds and technical weakness when gold fell below its 200-day moving average, pushed gold to this recent low.
But as you can see, gold quickly recovered, forming a V-shaped bottom in early January. Then it began to rally alongside the dollar towards a peak on January 16. This shift out of its typical, negative correlation with dollar is driven by two factors. First, gold was drastically oversold under its major support at $1,620, and traders knew it. Second, increasing eurozone fears over a chaotic Greek default ratcheted up in early January, rallying both gold and the dollar as safe havens. It's a testimony to gold's strong fundamentals (and the dollar's inherent weakness) that it's been rallying as the dollar, too, has gained.
Gold's latest move above major short-term resistance at $1,680 lifts it firmly above its 200-day moving average and signals a solid reversal of the August-December downtrend. The door is wide open for further gains in the coming months. In the short term, we expect gold to enjoy support in the $1,680 to $1,700 range, and encounter upside resistance at $1,780. A move over $1,780 could result in a breakout toward $1,900. A break below $1,680 would signal a likely test of major support at $1,620. We expect the bias to be towards high gold in the short-term, based on general dollar weakness and eurozone instability. In the longer term, we agree with Morgan Stanley, UBS, and GFMS that gold prices between $2,000 and $2,500 an ounce are likely within the next twelve months.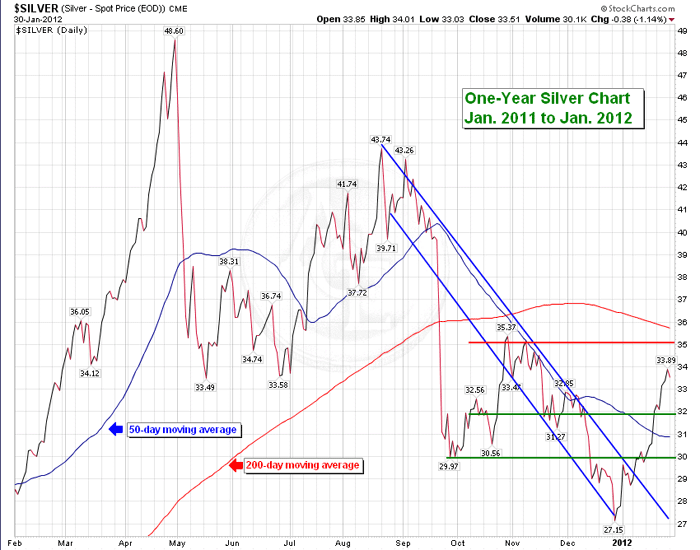 Silver
Silver's chart has been similar to gold's over the last six month but with greater volatility, which is to be expected, as we've said many times, because of silver's greater use in industrial applications. Since peaking in August at $43.74, it followed an overall downtrend through late December, when it fell under major support at $30 and formed a V-shaped bottom at $27.15. Since then it has been climbing steadily. Confirming the trend-reversal was its $1.25 price surge over $33.00 immediately following the Fed's rate pledge on January 25.
In the short term, we expect silver to enjoy initial support at $32 and major support at $30. We see near-term resistance at $34 and major resistance at $35. If silver breaks above $35, it could run as high as $41. The short-term bias is solidly to the upside, and we expect a test of major resistance at $35 in the coming weeks. We recommend buying silver on price weakness and especially under $32 if the opportunity arises.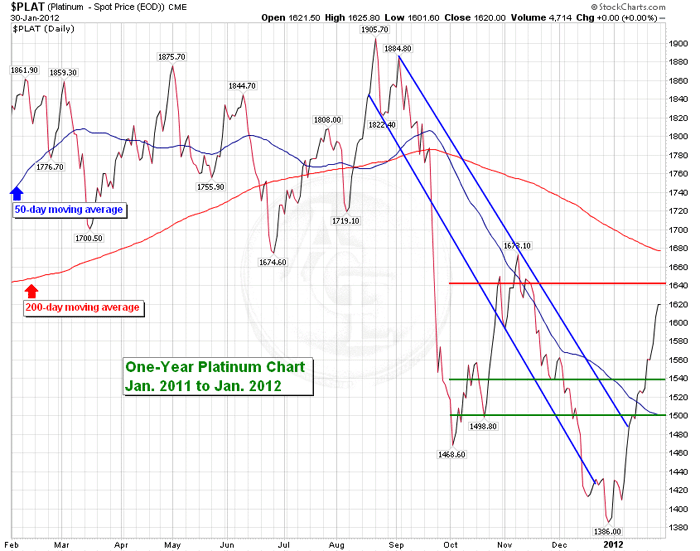 Platinum
Platinum has been tracking gold and silver over the past six months. After bottoming under $1,400 in late December, it's now solidly over $1,600 once again. Platinum has been trading at discount to gold since September, which is unusual. Because platinum and palladium are heavily used for catalytic converters in the auto industry, their prices are more contingent on economic growth than are gold and silver. So we expect 2012 to be a challenging year for both metals.
In the current platinum market, we see firm support at $1,540 and resistance at $1,640, which is quickly approaching. Because of its huge run-up in recent weeks, from $1,420 to $1,620, we'd expect it stall on profit-taking in the coming days or weeks. A move over $1,640 will signal continued strength, however, and lift platinum back towards parity with gold, perhaps even higher. If it fails to break over $1,640, we see a short-term trading range between $1,540 and $1,640, with bias towards the upside. We recommend buying platinum at discounts of $150 or more to gold, when the opportunity arises.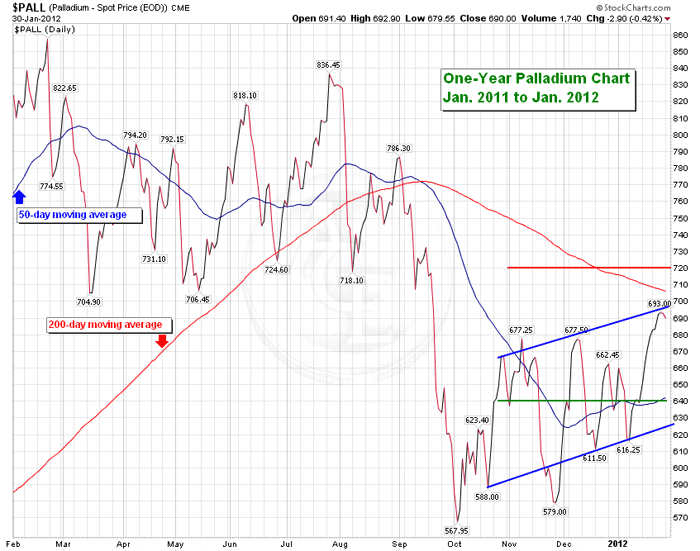 Palladium
Unlike the other three metals, palladium has been slowly grinding higher since its early October low of $567.95. The overall trend is upward but with greater-than-normal price volatility, as you can see in the chart. Trading at just under $700, palladium has been in a technical breakout since it passed $680. Ordinarily, such a breakout would suggest even higher prices in store. But in the current economic environment, we believe palladium may see short-term weakness on profit-taking before it can move firmly over $700.
We should add that Russia, which produces around half of the world's palladium, has signaled its intention to stop selling from its national stockpiles. Such a disruption in supply would drive prices higher. In the short term, palladium should enjoy support at $650 and encounter upside resistance at $720. A move over $720 means a possible retesting of major upside resistance at $800. Expect more volatility and price swings of $75 to $100. Buy palladium under $660 if the opportunity arises.
Superlative values in U.S. gold coins
Some truly excellent values are currently available in the classic U.S. gold coin market. Premiums for many issues are much lower than normal relative to their underlying gold value, which means little downside risk with substantial upside potential. $20 Liberty gold coins in MS64 are especially attractive right now. With fewer than 100,000 known survivors in this near-gem grade, they offer the kind of fundamental scarcity that can result in huge price gains during periods of high demand. Yet their premiums are abnormally low, which makes a solid value and a conservative buy.
The top chart below shows the bi-monthly price of $20 Liberty in MS64 from January 2005 through January 2011, along with the gold spot price. The bottom chart shows their corresponding premium over their gold content.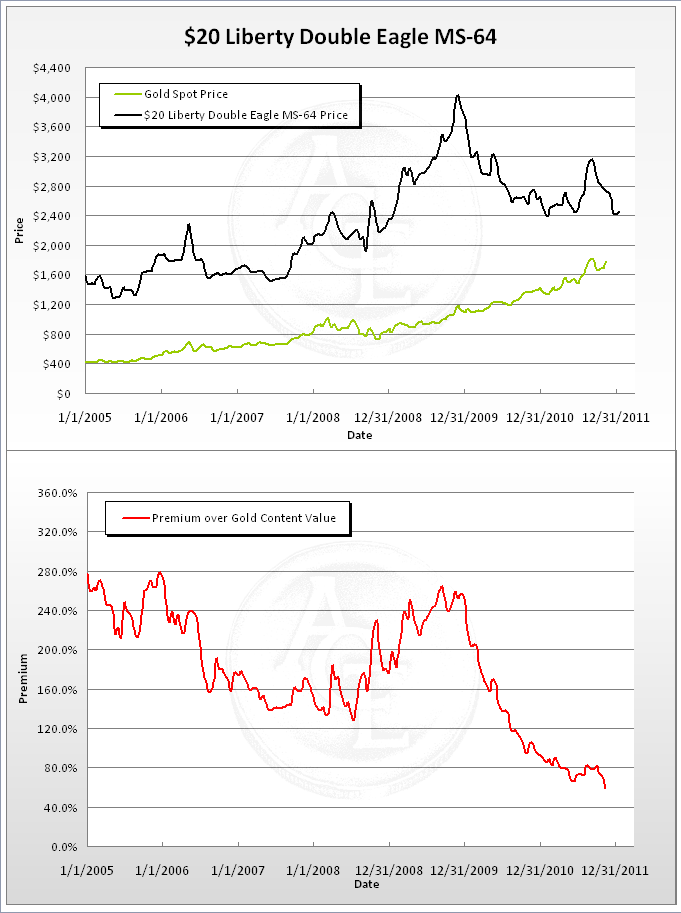 As you can see, until the recession struck in earnest, these coins routinely traded at a minimum of 160% or more over their gold content. Today, premiums are around 60% over gold content, one of the lowest we have seen in a decade. What's more, for the last two years these coins have held a base selling price of about $2,400 per coin. They've risen as high as $3,200 but haven't fallen below $2,400, which is their price today. In other words, these historic coins are at cyclical lows for both premium and base price, which makes them a superlative fundamental buy. The national market is thinly supplied right now, so any surge in demand surge could easily push prices substantially higher. Plus, their underlying gold price has risen by 11% so far in 2012, but prices for these coins have yet to catch up. We think they're ripe for big gains.
At a slightly higher price point, $20 Liberty gold coins in MS65 is also a fundamentally great buy today, trading at cyclical lows and with even greater overall scarcity and investment potential. Please call your account manager at 1-800-613-9323 to discuss what might be most appropriate for your individual account.
In addition, premiums for several circulated U.S. gold coins are now almost as low as modern bullion coins. We especially recommend $10 Liberty gold coins in XF. For bullion buyers, these coins offer the unusual opportunity to buy old, classic coins at tiny premiums over modern bullion prices. Their fundamental scarcity can drive premiums higher during periods of increased demand, and unlike most forms of gold bullion, they're exempt from broker reporting requirements. In our opinion, they're better than bullion for bulk gold buyers. In our 33 years in the gold market, we've seen this opportunity only on a few occasions. We strongly recommend taking advantage now because it certainly won't last.
European gold coins
Many classic European gold coins are in tight supply due to the eurozone crisis, which has dramatically increased demand in Europe for these mostly pre-1933 gold coins. We think these coins, too, are better than bullion for bulk gold buyers, but most types are in spotty supply with elevated premiums right now. One exception is Swiss 20 franc Helvetias, which we've sourced in quantity with low premiums. In the current environment, a major shock in Europe could easily result in a market like 2008, when supplies of European gold coins completely dried up and premiums doubled.
Bullion
The U.S. and Canada Mints have not been regularly producing platinum or palladium bullion coins for the last year or more, so these items are scarce on the national market and premiums are elevated. We're able to source Credit Suisse 1-ounce platinum bars and 1-ounce Australian Platypus platinum coins at normal premiums, however. We have Credit Suisse 1-ounce palladium bars and Canadian palladium Maple Leafs at normal pricing as well.
Of course, if you have any questions, don't hesitate to call us at 1-800-613-9323.
That's it for now. As always, thanks for your time!
Sincerely,
Dana Samuelson, President
Dr. Bill Musgrave, Vice President
P.S.— AGE is now on Facebook! We hope you stop by and "like" what you see!
Join us on Facebook
Metal
Ask
Change

Gold

$1,796.01
$0.00

Silver

$24.45
$0.00

Platinum

$1,050.34
$0.00

Palladium

$2,054.00
$0.00
In US Dollars
AGE Gold Commentary
AGE Investor Alert!