AGE Gold Commentary is our regular report analyzing trends in precious metals and rare coins. We monitor domestic and international markets and extrapolate from our 30 years in metals to place current events into a hard asset perspective. View archives.
---
6/12/2012: Gold turns bullish on QE3 view
Source:
Weakness in May
The Big Easing
Central banks buying
U.S. gold coin premiums rising
After enduring its worst month in a decade, the gold market has turned bullish again. Gold prices surged 3.7% on June 1, after a crushing U.S. non-farms payroll report combined with softer manufacturing data to confirm a slowing trend in the U.S. economy and significantly increase the odds of additional quantitative easing (QE3) by the Federal Reserve. The first two rounds of easing drove gold up by more than 85% to an all-time high over $1,900 an ounce. With other central banks also expected to ramp up their easing programs, another round of QE could drive gold to new all-time highs this year, and the market is already responding. What a difference a month makes!
Weakness in May
Throughout May, investors scrambled for cover from the growing debt crisis and deepening recession in the eurozone. Voters in France and Greece rejected the Germany-led program of austerity, increasing the chances that Greece will default and spread debt-contagion throughout Europe. Conditions in Italy and Spain, the eurozone's third- and fourth-largest economies, also deteriorated dramatically, raising the specter of insolvency in nations that are simply too big to bail out. Italy's benchmark borrowing costs jumped above 6% for the first time since January. Spanish retail sales fell by nearly 10% in April after 22 straight months of declines, while unemployment rose to 25% and youth unemployment hit 50%. Egan-Jones downgraded Spain's credit rating to BB- from B, and Moody's downgraded 16 Spanish banks, driving the cost of insuring Spanish debt to an all-time high. Fears are rising of possible eurozone dissolution.
Greece and Spain are on everyone's mind but the recent, sharp slowdown in China's economy could have equally damaging consequences. For years, China has been the engine of global growth. In the first quarter of 2012, China's economy expanded at 8.1%, year-over-year, which was short of official projections. But almost all of that growth took place in 2011, with very little growth so far this year, according to the New York Times. A crumbling real estate market, flagging exports, mounting job losses, diminishing factory output, and reduced consumer spending are taking their toll. Legendary Swiss investor Marc Faber told CNBC last week that a global recession is a "100% certainty" next year, largely because of the slowdown in China.
With so much instability in the markets last month, investors were eager to shed risk. The Dow plummeted nearly 9% in May, falling into negative territory for the year, and the Global Dow fell nearly 12%. The euro dropped under $1.25 for the first time since July 2010, while the dollar, benefiting from massive fund liquidations and flights to safety, rose to a 22-month high despite its own poor fundamentals. A rising dollar pressures gold by making it more expensive in other currencies. In its largest monthly loss since 2000, gold fell by more than 7% in May, to a 10-month low.
The Big Easing
Last Friday's payrolls report, however, changed the landscape. It was far worse than anyone expected, with only 69,000 jobs added in May, the smallest number in a year and less than half of the amount forecast. April's revised jobs numbers were slashed to 77,000 from 115,000, already abysmal, and March's were also revised lower, driving the unemployment rate back up to 8.2%. Within a few hours, gold recouped more than half of May's losses as traders and economists saw QE3 squarely on the horizon.
The conditions justifying QE3 were clearly spelled out by Fed Chair Ben Bernanke after the last FOMC meeting. Higher unemployment, increased risks to growth, and reduced risk of inflation could tip the balance in favor of new monetary intervention. These criteria were reiterated by New York Fed President William Dudley in a speech just last week. Now, with payrolls in a shocking downtrend, manufacturing slowing, the eurozone debt crisis and recession deepening, China slumping, oil prices falling by 20% in May, and inflation flat, these criteria are easily met. Bank of America economist Michelle Meyer told CNBC that another round of easing "is inevitable" by September. Vincent Reinhart, Morgan Stanley's chief U.S. economist, says there's an 80% chance of QE3 at the June FOMC meeting. He expects new bond purchases of $525 billion over nine months.
The Fed wouldn't be the only central bank to engage in a new round of printing money. Britain's deep manufacturing pullback is expected to push the Bank of England into more stimulus as soon as next week. ECB officials said last week that additional easing via their Long Term Refinancing Operation (LTRO) is back on the table because of record-high unemployment and the deepening economic contraction in the eurozone. Last week, China indicated a possible stimulus of two trillion yuan to reinvigorate its faltering economy. And the Bank of Japan may intervene to weaken its currency further. Everybody's doing it and gold will benefit. Monetary easing drives gold higher because it devalues currencies and increases long-term inflation risk, spurring demand for gold as a long-term store of value and inflation hedge.
Central banks buying
In the mean time, central banks continue to be strong buyers of physical bullion in order to diversify their reserves away from sovereign debt and currency risk, especially in the dollar and euro. New IMF figures show Turkey adding almost 30 metric tons in April, Mexico almost 3 tons, Kazakhstan 2 tons, and Ukraine slightly less. New figures also show the Philippines bought nearly 78 tons of gold in March. A metric ton is roughly equal to 35,275 ounces. Central banks bought more than 430 tons last year, the most since 1964 and nearly five times as much as 2010, and are expected to buy nearly as much this year. This trend alone should provide solid support for gold going forward.
Let's take a look at the latest charts.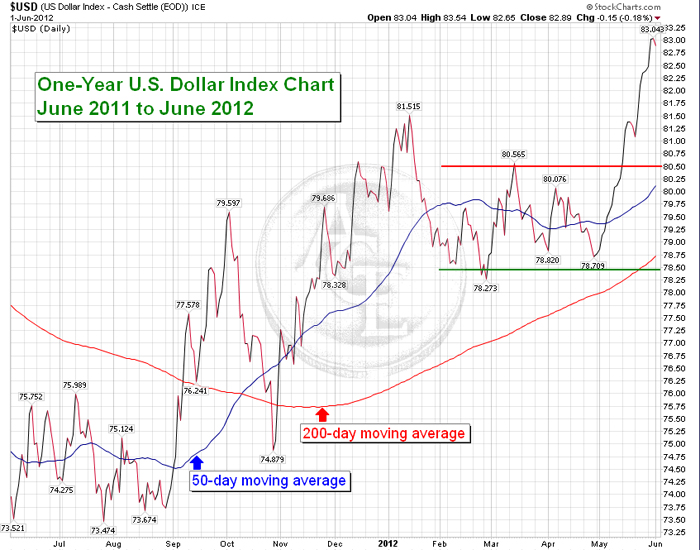 U.S. Dollar
Since bottoming in early May at 78.63 on the index chart, the dollar moved steadily higher as the eurozone crisis ramped up. Following the elections in France and Greece, it surged sharply on safe-haven inflows, punching easily through short-term resistance at 80.50 to a new 2012 high of 83.50. The dollar has gained value in 20 of the last 24 trading sessions, which is very strong and seldom seen.
With U.S. national debt at $15.7 trillion, U.S. economic growth slowing, and negative real interest rates in the U.S. for the foreseeable future, the dollar's recent strength is simply not warranted outside of a global panic. Without the prospect of Greek default pushing the eurozone towards possible dissolution, the dollar index would have probably remained near or below support at 78.50, as we indicated in our last update, rather than above resistance at 80.50.
In some ways, the eurozone debt crisis is an eerie replay of the subprime crisis. When the global financial system started melting down in late 2008, the dollar rallied by 22% and gold fell by 25% over four months as investors and hedge funds scrambled for liquidity. By early 2009, once the initial panic subsided, gold regained all of its losses. Investors piled back into precious metals because they wanted safe havens with stronger upside than cash. In hindsight, that sell-off created the best buying opportunities in gold and silver since the bull market began. We expect the same thing to happen this time.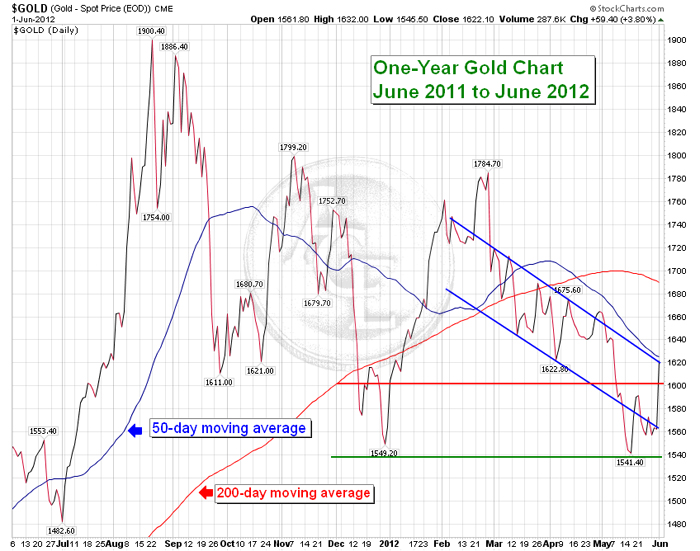 Gold
Falling below $1,600 after the French and Greek elections, gold hit an intra-day low of $1,526.70 on May 16. It then consolidated a short-term trading range between $1,540 and $1,600 with major support at $1,540 and $1,525, and technical resistance at $1,585. Within minutes of last Friday's jobs report, however, gold surged $30 to $1,585, struggled briefly at resistance, and then punched over $1,600 without looking back.
Despite Friday's encouraging rally, gold's trend since the late February has been downward, as the blue lines clearly show. It remains below its 50-day and 200-day moving averages, which indicates technical weakness. But it also remained below these moving averages immediately after the 2008 crisis before stepping dramatically higher.
Gold's recent closes over $1,600 suggest that May's weakness is probably behind us. Although we'll need a few more trading sessions to be sure, a new short-term trading range seems likely between $1,600 and $1,650, with technical resistance now at $1,675 and support at $1,585. If gold closes below $1,585 in the short-term, it would likely mean a reversion to its previous range of $1,540 to $1,585. On the other hand, if it builds mementum and pushes above $1,650, we see psychological resistance at $1,675 and $1,700. If a new round of easing is announced at the FOMC meeting in a few weeks, we'd expect a serious rally with the potential to climb above $1,700 and beyond.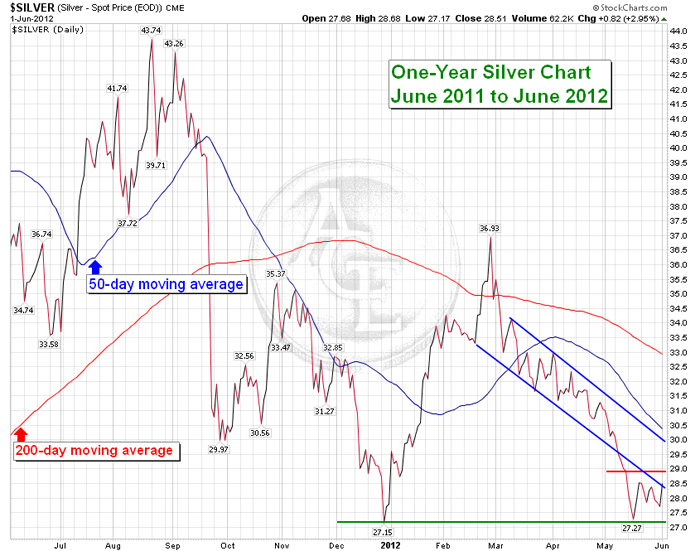 Silver
After breaking below $30 in early May, silver settled into a narrow short-term trading range between $27 and $29. Like gold, silver is now technically weak, trading beneath its 50-day and 200-day moving averages in a downward range, as indicated by the blue trend lines. It currently enjoys support at $27 and, more critically, at $26.15. If silver breaks support at $26.15, it could fall as low as $23 before finding new short-term support. On the upside, silver will find resistance at $29, $32, and $35.
Whereas gold broke out of its downward trend with Friday's surge, silver merely moved back into its established pricing channel. Because it has more industrial uses than gold, silver tends to trade more like a traditional commodity. The global economic slowdown is weighing heavily on all commodities and will continue to do so, which will put pressure on the silver price. Gold gathers more safe-haven inflows than silver and is likely to see a stronger rally if the Fed eases again.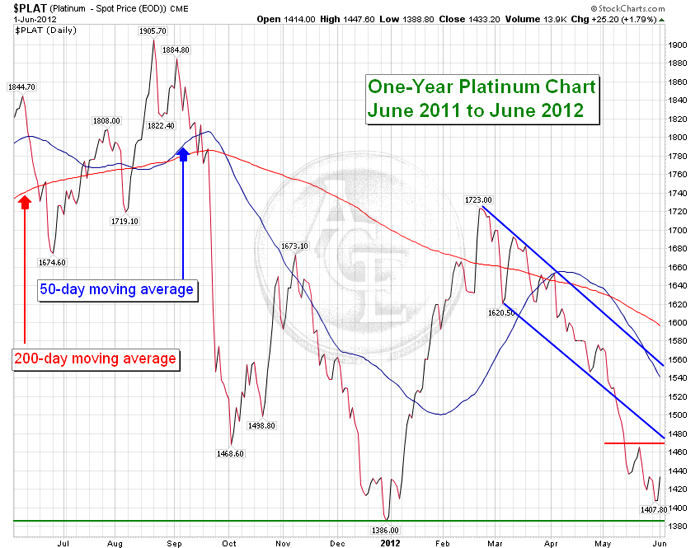 Platinum
As you can see in the chart above, platinum has been quite volatile, making a round-trip from $1,375 to $1,739 and back again since the first of the year. In May it fell sharply through support at $1,550 down to $1,385. On the positive side, it has successfully held above the critical support level of $1,375 established last December.
Technically, platinum looks weak and remains in the downtrend identified by the blue lines on the chart. We expect a short-term trading range between $1,375 and $1,475 with a negative bias. If the downtrend continues and platinum breaks major support at $1,375, it could fall as low as $1,275, its next major support level. Upside resistance can be found at $1,475 and again at $1,550. We favor gold over platinum in the current market because of gold's dual roles as a currency and a commodity, and lower volatility.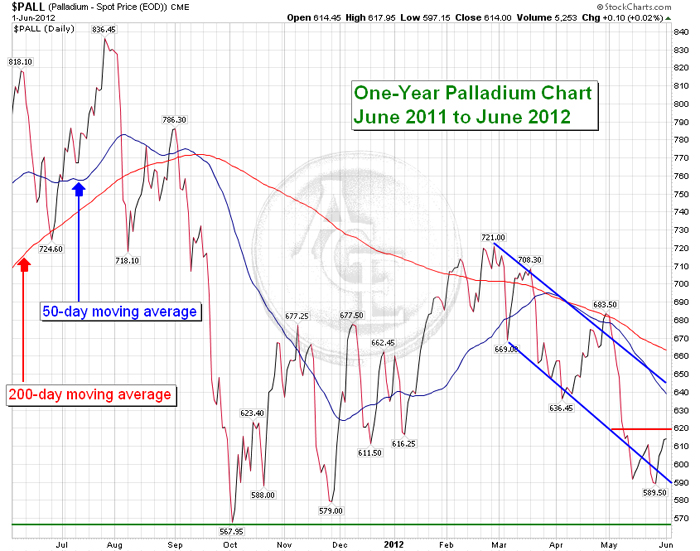 Palladium
After rising in choppy trade from October to March, palladium is now in a clear downtrend. It's made a round-trip from $585 late last year to $727 and back again. Major support for palladium can be found at $565 with upside resistance in the short-term at $620, and then again at $675. If palladium breaks below $565, its next major support is at $500.
U.S. gold coin premiums rising
Premiums for classic U.S. $20 gold coins are on the rise after declining to cyclical lows in the past two months. Because of the sovereign debt crisis, U.S. gold coins have stopped flowing out of Europe, where many have been held in bank vaults for decades. Overall market supplies are now very low and demand is growing, so any substantial rally in the gold price is likely to drive premiums higher.
In the current market, the $20 Liberty in MS63 and $20 Liberty in MS64 offer the best combination and price and performance, in our opinion. The coins are quite scarce, with certified populations of merely 240,000 and 98,000 in MS63 and MS64, respectively, yet their prices and premiums over melt value are extremely low right now.
For conservative buyers, the more common $20 Saint-Gaudens in MS63 and $20 Saint-Gaudens in MS64 are an outstanding value. $20 Saint are often considered the most beautiful of U.S. gold coins. In MS63 and MS64 grades, they are currently at historically low premiums over their melt value. We highly recommend them for bulk gold buyers who are looking for more upside potential than bullion.
Premiums for classic European gold coins have dropped during the past month and are lower than normal, making them an extremely good value. It seems the eurozone crisis is forcing the sale of liquid assets to raise cash, and gold is one of the most liquid. We're offering Switzerland 20 francs for as low as 5.5% over melt, the lowest premiums we've seen in nearly four years. These lovely coins in Brilliant Uncirculated condition are a great deal right now and we expect premiums to firm up again in the next 30 days. And if gold continues to rally over $1,600, demand should build strongly. So get them while you can at today's low prices and premiums!
We also have a few hundred Britain Sovereign Kings in BU to offer. In the current market, these extremely popular gold coins are very difficult to find in quantity and won't last long. Call your account manager at 1-800-613-9323 while supplies last.
That's it for now. As always, thanks for your time.
Respectfully,
Dana Samuelson, President
Dr. Bill Musgrave, Vice President
Metal
Ask
Change

Gold

$1,796.01
$0.00

Silver

$24.45
$0.00

Platinum

$1,050.34
$0.00

Palladium

$2,054.00
$0.00
In US Dollars
AGE Gold Commentary
AGE Investor Alert!