AGE Gold Commentary is our regular report analyzing trends in precious metals and rare coins. We monitor domestic and international markets and extrapolate from our 30 years in metals to place current events into a hard asset perspective. View archives.
---
10/4/2012: Gold's bull resumes its charge
Source:
QE3 and dollar weakness
Yet more easing
Central banks and PIMCO
U.S. gold coins on the rise
After months of relative stillness, the bull market in precious metals has aggressively resumed its charge. All four metals have risen sharply since early August, driven mainly by renewed weakness in the U.S. dollar and the announcement of a third round of quantitative easing, or QE3, by the Federal Reserve. In the last three months, gold has gained 11%, silver 25%, platinum 15%, and palladium 10%—with most of those gains coming in the last six weeks. Overseas, gold is even stronger, hitting new all-time highs in euros and Swiss francs last week as Europeans grow increasingly fearful of currency debasement, inflation, and civil unrest. The consolidation phase of the past year, which followed gold's ascension to a record-high above $1,925 in September 2011, now appears to be over. The fact that all four precious metals have stubbornly held onto these strong, recent gains suggests a new and possibly very bullish phase in this ongoing bull market has begun.
QE3 and dollar weakness
The current rally began in August after the dollar, which had been in an uptrend for most of 2012 because of the deepening eurozone debt crisis, began to weaken after European Central Bank president Mario Draghi promised "to do whatever it takes" to save the euro. Draghi's pledge was soon followed by a new ECB plan to buy the government bonds of beleaguered eurozone nations like Spain and Italy in order to drive down borrowing costs and prevent the spread of debt contagion. World markets cheered the plan, boosting the euro and driving down the dollar. Because precious metals are denominated in dollars internationally, a falling dollar makes them less expensive for holders of other currencies, boosting demand. This dollar weakness was instrumental in helping to push precious metals over resistance levels.
But precious metals really took off when Federal Reserve announced QE3 in mid-September. In this major new easing program, the Fed will buy an unlimited amount of agency mortgage-backed securities at the rate of $40 billion per month until it sees "substantial" improvement in the job market. QE3's surprising scope sent stock markets into euphoria, with the S&P 500 rallying to its highest close since 2007. Gold surged more than 2.2% to a seven-month high when QE3 was announced, and silver jumped by 4.5%.
QE3 is a serious game-changer. Unlike QE1 and QE2, which set limits in advance on the dollar-amount of bond purchases, QE3 will be open-ended and continue every month until unemployment drops to acceptable levels. If the job market doesn't improve fast enough, the Fed will "undertake additional asset purchases and employ other policy tools as appropriate," according to their official statement. In addition, interest rates will remain near-zero through mid-2015. And Operation Twist, the Fed's program of extending the duration of short-term debt on its books, also continues through the end of the year.
Yet more easing
QE1 and QE2 helped to rally the gold price by more than 85% because they devalued the dollar and increased the risk of long-term inflation. With open-ended QE3, those fundamental drivers of higher gold remain firmly in place and should accelerate. What's more, negative real interest rates (rates lower than the rate of inflation) are certain to remain for several more years, at least, making gold more attractive than interest-bearing investments likes bonds and certificates of deposit for individual investors.
But the new easing programs don't stop there. With the printing presses barely inked for QE3, another round of monetary easing, already known as QE3.5, is likely to begin in December. This new phase is expected to include direct purchases of up to $45 billion in Treasury bonds per month, in addition to the monthly $40 billion in mortgage-backed securities under QE3. Obviously, the Fed is pulling out all of the monetary stops and that's extremely good news for gold. Europe, Japan, China, and the U.K. are also ramping up their own easing programs. Many analysts, including Citi and Deutsche Bank, now forecast that QE3 and its offshoots will drive gold prices to new record highs above $2,000 in the next six to twelve months.
Central banks and PIMCO
In light of this accelerated global easing, central banks are adding more gold to their reserves. South Korea, Turkey, Russia, and Kazakhstan all increased gold reserves in July, according to the latest data from the IMF. Turkey led the way by adding more than 44 tons. Russia, a regular buyer, picked up another 18 tons and South Korea added 16 tons. Thomson Reuters GFMS, the respected London-based consultancy, forecasts that central banks overall will increase gold purchases to a record 493 metric tons this year, nearly 8% more than last year, which was itself a record. Like private investors, central banks are flocking to gold in order to diversify away from dollar-risk and guard against inflation brought about by currency debasement. This accelerating sovereign trend should put a solid floor under the gold price for years to come.
Investment giant PIMCO, the world's largest manager of bond funds, published a white paper this week emphatically recommending gold as an investment in the wake of QE3. "Given current valuations and central bank policies," PIMCO says, "we see gold as a compelling inflation hedge and store of value that is potentially superior to fiat currencies." Furthermore, gold should be considered as categorically different from stocks, bonds, and paper currencies because it "maintains its real value over time" and is not devalued by inflation. The report concludes that gold is still undervalued today, as the price remains well-under its inflation-adjusted peak from 1980, which is around $2,200 per ounce; and rising per capita GDP in the U.S. and China since 1980 make it relatively more affordable for individual investors. We highly recommend reading this white paper in its entirety on the PIMCO website.
Let's look at the latest charts.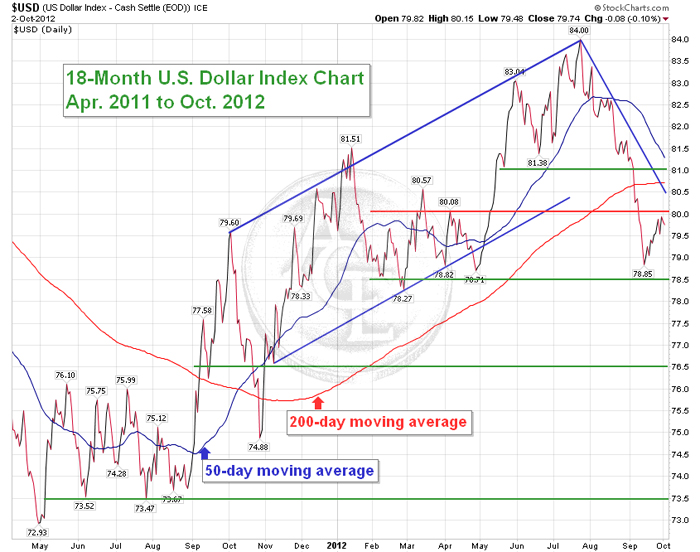 U.S. Dollar
After moving over 76.50 in early November 2011, the dollar was in a steady uptrend through late July, as indicated by the parallel, blue trend lines on the chart above. Much of this strength was attributable to the euro crisis as investors took shelter in the relative safety of the dollar. Throughout August, however, speculation that the ECB would launch its bond-buying program lent support to the euro and took the wind out of the dollar's sails.
During the second week of September, the buck plummeted from above 81 to below 79. This sharp decline came about for two main reasons. First, Moody's Investor Services warned that the U.S. could lose its AAA debt rating if Congress fails to pass a budget decreasing the nation's debt. Second, of course, was the announcement of QE3, which is widely expected to debase the dollar and increase the risk of long-term inflation.
The drop under 79 took the dollar beneath its short-term trend line. At this level, it was oversold, and a modest bounce brought it back to within its recent trading range. But further declines are all but guaranteed by QE3, especially if the ECB follows through with its bond-buying programs. As you can see by the green support lines, if the dollar falls below the next major support level of 78.50, it will have room to fall much further— to major support at 76.50 and then to 73.50.
In the short term, the dollar could move as high as 80.5 and still be within its current downtrend. Support at 78.50 is the key to whether it will decline substantially further. We'll be keeping a close eye on this critical support level in the coming weeks. If the dollar breaks below it, look for strong, short-term gains for gold.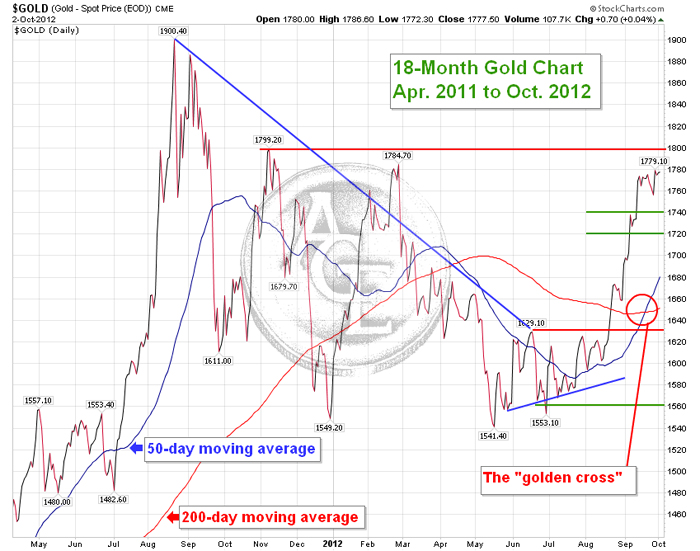 Gold
Nearly mirroring the dollar's decline, gold rallied by 11% from early August to late September, rising from $1,600 to $1,780. After breaking over resistance at $1,630 in mid-August, it has stair-stepped steadily higher. This remarkable run has including three daily advances of $30 to $40, the largest coinciding with the announcement of QE3 by the Fed, when it spiked up more by 2.2%. This has been one of the strongest 30-day rebounds we have seen so far in gold's ten-year bull market.
Gold is now trading in a range between $1,740 to $1,790, with support at $1,720 and upside resistance just under $1,800. Since peaking at $1,923 in early September 2011, it has twice tried to move over $1,800 and failed. In the wake of QE3, however, its fundamentals are much stronger than before, so the third time might well be the charm.
Underscoring its new strength, gold is now presenting a so-called "Golden Cross," in which its 50-day moving average price has crossed above its 200-day moving average. Most market technicians view this event as strongly bullish because it means gold is breaking sharply above its recent trend and gathering momentum.
Since 2005, when gold rose above $500, its 50-day moving average has dipped under its 200-day moving average only three times—in 2006, 2008, and then in 2011, after it peaked at its all-time high of $1,923. Each time signaled an extended consolidation phase following a strong rally. When these consolidation phases ended, the short-term trend rose back above the 200-day moving average, forming a Golden Cross and launching a strong, new bullish phase.
Of course, past performance is no guarantee of future performance. But coming after a record-high gold price and lengthy consolidation, and following the announcement of an unprecedented new easing program, gold's new Golden Cross could signal a bullish phase that takes gold to new record highs and beyond. It is already poised to test upside resistance at $1,800. A move over $1,800, and especially a close over $1,800, would be extremely bullish and signal further gains on the immediate horizon.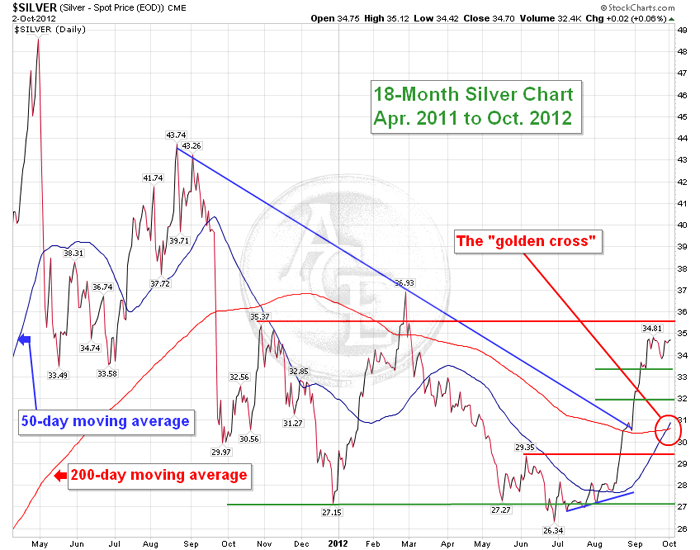 Silver
After firming modestly for six weeks, silver rallied sharply from under $28.00 in mid-August to as high as $35.26 in late September, an impressive 25% gain. Crossing above its blue trend line at $31.00 at the end of August, silver entered a technical breakout. It is now trading in a higher range, with support at $33.50 and again at $32.00. Upside resistance is fairly strong at $35.50.
Like gold, silver established a Golden Cross when its 50-day moving average broke above its 200-day moving average. A close above $35.50 would signal its next big breakout, and could happen anytime. Above $35.50, it has plenty of room to run, perhaps all the way to major resistance at $42.00. Remember, silver has greater volatility than gold, so when silver makes large price moves one way or the other, expect some sharp corrections along the way.
Hedge funds are becoming extremely bullish on silver, speculating that it will outperform gold as monetary easing increases. Wagers on higher silver prices have increased by 10-fold since June. Through exchange-traded products (ETPs) alone, investors bought more than 717 tons of silver last quarter, valued at nearly $800 million, the most in a year. Morgan Stanley predicts silver will rise more than gold on a percentage basis over the next several quarters, gaining both as a monetary hedge and an industrial commodity.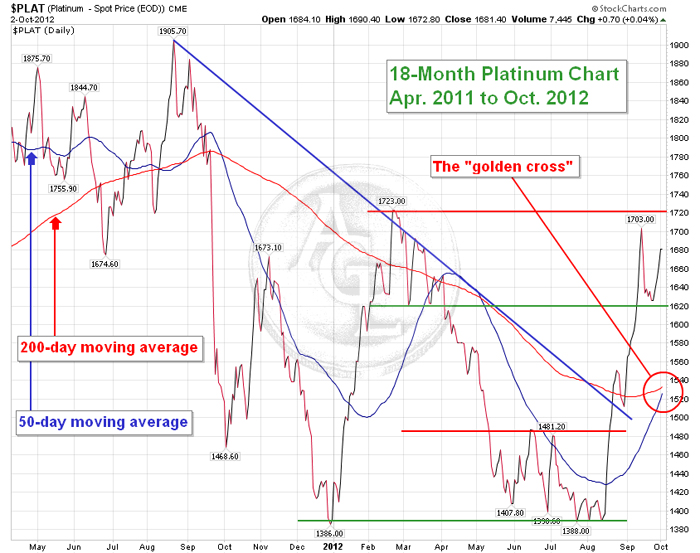 Platinum
Platinum took off like a rocket in mid-August, when strikes at South Africa's Lonmin mine erupted into national headlines. With a rise from under $1,400 to as high as $1,716 in mid-September, a 22% surge, its gains have been enormous. The resolution of the Lonmin strike caused a minor sell-off but most of those gains remain intact.
In the short-term, platinum is enjoying support at $1,620 with upside resistance at $1,720. A move over $1,720 would be very bullish, likely resulting in a run back above $1,800.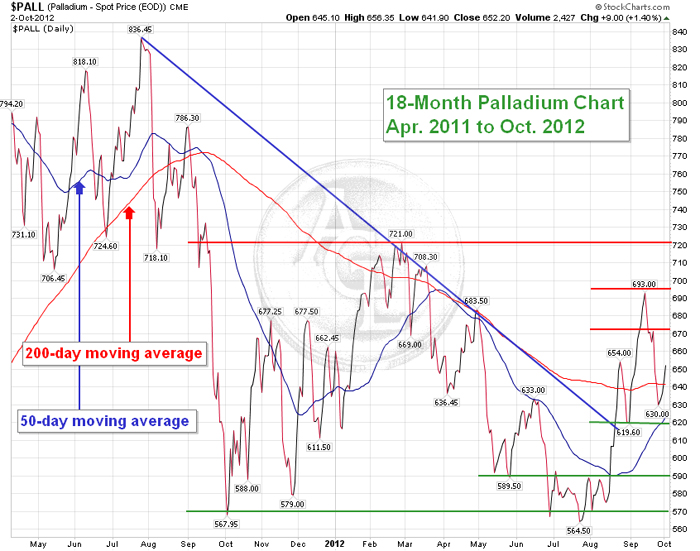 Palladium
Palladium followed platinum's lead, rising from $570 in August to $705 in mid-September for gain of 23%. Unable hold its gains as well, it slipped back into a range between $620 and $670. Palladium will see support at $590 and resistance at $695. A rally above $725 would be very bullish, signaling a likely movement toward or above $800.
U.S. gold coins on the rise
Demand for classic U.S. gold coins is heating up. Dealer inventories are becoming strained and fewer sellers are stepping forward in the U.S. or Europe to meet rising demand. Prices are rising with gold bullion and premiums for many coins are rising, too. The squeeze has started, and dealers have to compete with each other to restock. This is the healthiest environment for rising prices and premiums in a long time.
$20 Saint-Gaudens gold coins in Mint State 64 grade continue to present one of the best opportunities in the market. In late July, we issued an AGE Investor Alert because these coins were trading at historically-low premiums and were ready to rise. Our timing was excellent. Gold bullion has gained $200 since that Alert while $20 Saint-Gaudens in MS64 have gained $300. Premiums have expanded from 27.5% to 31% over gold melt value, and the market is just starting to heat up. This is precisely the kind "double play" we look for in classic U.S. gold coins: their ability to rise by more than their underlying gold price because of fundamental scarcity and restricted supply in the national market. The good news is that premiums remain low and these coins are still a great buy, in our opinion.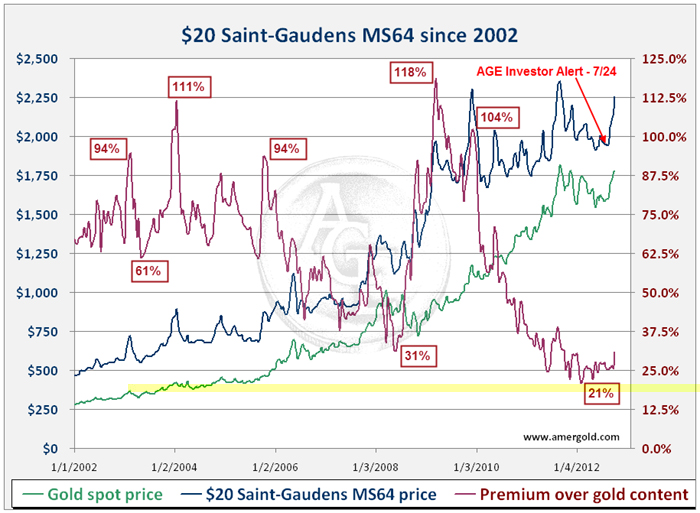 As you can see in the chart above, premiums for $20 Saint-Gaudens in MS64 remain abnormally low at around 31%. Over the past ten years, their average premium (price over gold content) has been 62%. On five occasions since 2003, premiums have climbed to peaks between 94% and 118%—three to four times today's. And keep in mind, three of these premium peaks occurred before the 2008 U.S. fiscal crisis. So, in good times and bad, these large, classic U.S. gold coins have traded at multiples of today's low premiums. They're still a superb buy and receive our highest recommendation!
Demand for classic European gold coins has surged in recent weeks and supplies have fallen below normal levels. Restocking has been a challenge because few coins are coming out of Europe right now, and premiums have risen around 1% across the board as a result. We expect this situation to persist because of the ongoing eurozone debt crisis. We do have modest supplies of Britain gold sovereign "Kings," one of the most popular European gold coins, in Brilliant Uncirculated condition. Get them while they last!
For bulk gold buyers, U.S. $20 Liberty in Almost Uncirculated grade is our top recommendation. These old, slightly circulated coins contain almost a full ounce of gold and are far scarcer than modern bullion coins. Premiums remain abnormally low but they're starting to rise, so now is the time to buy. Unlike most forms of gold bullion, they are exempt from broker reporting requirements. In our opinion, they're better than bullion for bulk gold buyers. Please call our friendly, knowledgeable account managers at 1-800-613-9323 to discuss what's best for you.
That's it for now. As always, thanks for your time.
Respectfully,
Dana Samuelson, President
Dr. Bill Musgrave, Vice President
Metal
Ask
Change

Gold

$1,796.01
$0.00

Silver

$24.45
$0.00

Platinum

$1,050.34
$0.00

Palladium

$2,054.00
$0.00
In US Dollars
AGE Gold Commentary
AGE Investor Alert!