AGE Gold Commentary is our regular report analyzing trends in precious metals and rare coins. We monitor domestic and international markets and extrapolate from our 30 years in metals to place current events into a hard asset perspective. View archives.
---
12/11/2012: Gold's coming Happy New Year
Source:
Short-term technical weakness
Renewed physical demand
More easing on the way
U.S. gold coins on the rise
Following their impressive surges from mid-August to early October, during which gold gained 12% and silver jumped a whopping 26%, precious metals corrected lower through early November as the U.S. dollar rallied on the eurozone debt crisis. Since then, with two noteworthy interruptions that we'll discuss below, gold has resumed its long-term uptrend and the dollar its long-term downtrend. With the presidential election behind us, the "fiscal cliff" in front of us, and expanded monetary easing on the table in the U.S., Japan, China, and Europe, gold and silver are sitting pretty for a bullish New Year.
Short-term technical weakness
Twice in the past two weeks, gold's mid-term rise has been interrupted by a major technical sell-off in markets for paper gold, first on the Comex exchange in Chicago and then in Asia. Both events were initiated by a single, massive liquidation—two million ounces, in the case of Comex—that triggered automatic stop-losses set by algorithm-traders, driving the gold price through successive support levels. Each event resulted in single-day losses of 1.5% and inflicted some technical damage to precious metals, resetting trading ranges lower for now.
Clearly, liquidations like these signaled some short-term weakness in the market. Hedge funds are increasingly nervous about the so-called fiscal cliff, a package of $600 billion in tax increases and spending cuts that will kick in automatically next year if Congress and the President don't reach a settlement, potentially knocking the U.S. recovery back into recession. Because gold and silver surged more than 11% and 25% last quarter, respectively, the metals have been ripe for profit-taking when traders dart to cash.
Renewed physical demand
Commodity demand for physical precious metals, nonetheless, is on the upswing. With fundamentals improving for global growth, hedge funds have increased their long-term bullish bets on commodities by the most since August, according to Bloomberg. Goldman Sachs is forecasting a "renaissance in the commodity megacycle" with 7% return from commodities over the next twelve months and 8% return for precious metals. Morgan Stanley is forecasting gold as the top commodity for 2013. And Deutsche Bank expects gold prices near $2,000 next year.
Investment demand for gold bullion among individuals and institutions like Central Banks is also growing. The U.S. Mint sold 136,500 ounces of American Eagle gold bullion coins in November, the highest monthly total since July 2010 and more than twice as many as October. Holdings in SDDR Gold Trust, the world's largest bullion-backed ETF, increased by 11 tonnes in November, setting new all-time highs almost every day for the past three weeks. Central Banks are on pace to buy a record 450 to 500 tonnes this year, according to the World Gold Council. Demand in India, historically the world's largest gold consumer, is also building again as the rupee recovers from a very weak year.
China looks like it will eclipse India as the dominant gold buyer in 2013 and beyond, if it hasn't already. The People's Bank of China is expected to increase its gold holdings substantially, according to the London Bullion Market Association. While it doesn't disclose its holdings, China currently keeps a mere 2% of its currency reserves in gold, according to recent estimates, compared to 70% to 75% for the U.S., France, and Germany. With the world's largest currency reserves, estimated at around $3.3 trillion, China has the capacity to drive the gold market in a big way if it decides to match the holdings of major developed economies.
Demand from individual Chinese investors is also forecast to rise dramatically. In October, the Chinese government stated its intention to double the per-capita income of urban and rural residents by 2020. A sizeable portion of this new wealth is expected to enter the gold market, according to the Financial Times, because of "the growth of trade on the Shanghai Gold Exchange, the relaxation of gold ownership rules, and the spread of gold-related investment products to the tens of thousands of bank branches across China." In addition, a gold-bullion ETF is expected to launch in China. This explosion of individual wealth and gold investment in the world's most populous nation will be very bullish for the global gold price for a long time to come.
More easing on the way
Gold should receive additional support in 2013 from more quantitative easing (QE), both at home and abroad. The ECB stands ready to begin its QE-styled Outright Monetary Transactions (OMTs), and Japan and China have both signaled their intent to use looser monetary policies to stimulate their economies. Bank of England Governor Mervyn King warned yesterday that 2013 is likely to bring foreign exchange wars, in which major economies compete to depress their currencies in order to become more competitive in trade.
The Wall Street Journal expects the Fed to expand its program of quantitative easing with monthly purchases of up to $45 billion in Treasuries when Operation Twist ends this month. Unlike Operation Twist, in which long-term bonds were exchanged for short-term bonds to maintain a static balance sheet, the new purchases will increase the Fed's balance sheet, like QE3, and be tantamount to printing money. Already known as QE4, these new bond-buys would be in addition to the monthly $40 billion in mortgage-backed securities already being bought under QE3, and should extend through 2013. This additional easing should be quite bullish for gold because it further devalues the dollar and increases the risk of long-term inflation. Three rounds have QE helped the gold price more than double since 2008.
So, despite the recent technical turbulence, gold's fundamentals remain quite promising as we move into the New Year. Negative real interest rates in the U.S. will make gold more attractive than most interest-bearing assets until the Fed's near-zero rate-pledge expires in 2015. Years of loose monetary policies have increased the risk of long-term inflation, and additional monetary easing in the eurozone, Japan, China, and the U.S., will further undermine the value of paper currencies and support higher gold. And our runway national debt and spending will be a drag on the dollar for years to come. In our opinion, these long-term drivers have the potential to push gold above $2,000 in 2013 and towards $2,500 between now and 2015.
Let's look at the latest charts.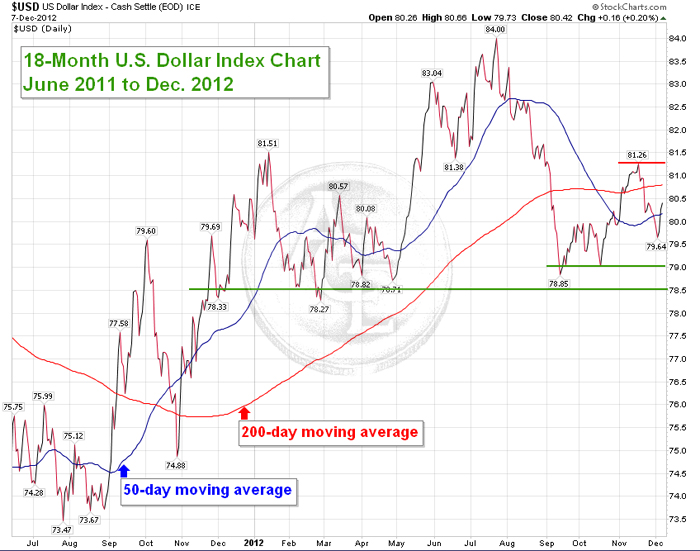 U.S. Dollar
As you can see in the chart above, the dollar's twelve-month uptrend, from August 2011 through August 2012, has clearly been broken. After ECB President Mario Draghi promised in September to do "whatever it takes" to rescue the euro, including QE-style bond purchases, the dollar surrendered some of its safe-haven allure, falling from 84 to 78.85. This tumble coincided almost perfectly with gold's rise to its early-October high of $1,791.80.
In November, as Greece again flirted with default and bickered with the IMF and EU over additional aid, the dollar staged a minor comeback to 81.26 on safe-haven inflows. Greece subsequently received its aid, default-risk receded, and the dollar started losing support, sinking to around 80 on the index chart, right at its 50-day moving average. A decisive break below 80 will be a bearish signal. If QE4 takes place, it is likely to undermine the dollar as the New Year develops.
With short-term support at 79 and long-term support at 78.50, if the dollar falters, it could falter badly. Below 78.5 we see modest support at 76.50 and major support much lower, at 73.50. So, if it drops below 78.50, the dollar has room to fall substantially, which would be very bullish for gold. We'll be watching those critical support levels of 79 and 78.50 closely in coming days.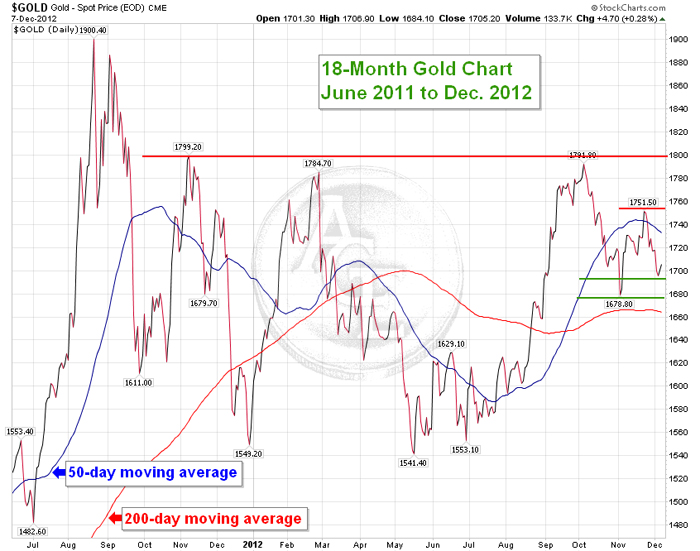 Gold
Gold has been in an uptrend since its mid-May bottom of $1,541, confirmed in August by its rise over resistance at $1,620. As we mentioned above, gold's subsequent August-to-October rally, from $1,620 to $1,791.80, coincided almost perfectly with a sharp fall in the dollar. After hitting that cyclical peak in October, gold corrected to $1,678.80 in early November and then resumed its uptrend, rising along with the dollar on safe-haven inflows as anxiety ratcheted up over Greece's potential default. Because gold is denominated internationally in dollars, they tend to move inversely. When they move together, it's a bullish sign for the metal.
With its renewed rise, gold is in the process of completing a chart-pattern known as the "cup and handle" formation, widely considered a strongly bullish signal. The duration of the pattern can vary from several months to a year, but the form remains the same: an upward movement stalls, recedes, and then resumes, forming what looks like the figure of a teacup. In this case, the "cup" started with the $1,784 high in February and finished with the $1,791 high in October, as you can see in the chart. The "handle" then began to form, a temporary downtrend following the completion of the cup. Now the handle is nearing completion, which usually means a sharp rise to follow, pushing the value high above the rim of the cup—in this case, above long-term resistance at $1,800. Since hitting a new all-time high over $1,900 in August 2011, gold has tested resistance at $1,800 on three occasions and failed. If it completes this formation and breaks $1,800 this time, it will probably do so with conviction.
In the mean time, gold has entered a short-term trading range between $1,700 and $1,750. Under $1,700, we see support at $1,690 and again at $1,675. Short-term resistance is now at $1,750 and strong, long-term resistance remains at $1,800. Gold tends to enjoy its best annual gains between September and February, when physical buying around the world is at its peak, especially in Asia, for various holidays and festivals. So the timing to eclipse $1,800 within this cycle is good, especially with the prospect of QE4 beginning in 2013.
Silver
Charts for the other precious metals, since their highs in March, are similar to gold's. Like gold, silver is completing a cup-and-handle formation. The cup started with the late-February peak of $36.93 and finished with the November peak of $34.99. Silver's handle, like gold's, is now nearing completion. The top of the cup is $35, where silver has encountered strong, long-term resistance since receding from its high of $43.74 in August 2011. If silver moves above this top, a new breakout will have begun.
In the mean time, silver is trading in a range between short-term support at $33 and resistance at $34.50. It has strong support at $31.75 and strong resistance at $35. We expect silver to hold recent gains and climb, and eventually challenging long-term upside resistance at $35, probably in the coming weeks. A breakout above $35 is likely to come on a strong surge.
Above $35, we see modest upside resistance at $38.50 and then again at the psychological-important $40 mark, so there's room to run if silver breaks $35 decisively. In the longer term, silver's prospects are very bullish. According to the Interim Silver Market Review released last month by Thomson Reuters GFMS, a global consultancy, silver prices are set to reach a new all-time high around $50 an ounce in 2013.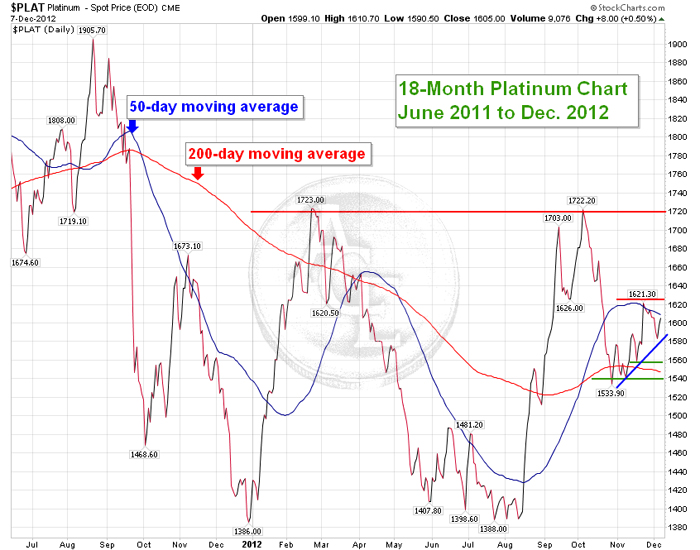 Platinum
Although it remains volatile, platinum is also developing an uptrend after a corrective phase. In the last several weeks, its 50-day moving average has risen well-above its 200-day moving average, which is a bullish indication. Its current range has support at $1,560 and $1,540, and resistance at $1,625, which could be challenged at any time. Platinum can move far and fast, so timing is everything with this metal. A break above $1,625 would give it running room to the next short-term resistance level of $1,660. Long-term resistance remains at $1,725.
Fundamentals for both platinum and palladium are looking stronger. According to a report released last month by Johnson Matthey, one of the world's largest refiners of platinum and palladium, strikes at South African mines are expected to cause a 10% reduction in worldwide platinum supplies, compounded by an 11% decline in recycling production. Demand for platinum for automobile catalytic converters, jewelry, and investment is projected to stay constant at slightly more than 8 million ounces, putting the market into a deficit of 400,000 ounces. Palladium is expected to record its largest deficit since 2000 on mining shortfalls and rising auto demand.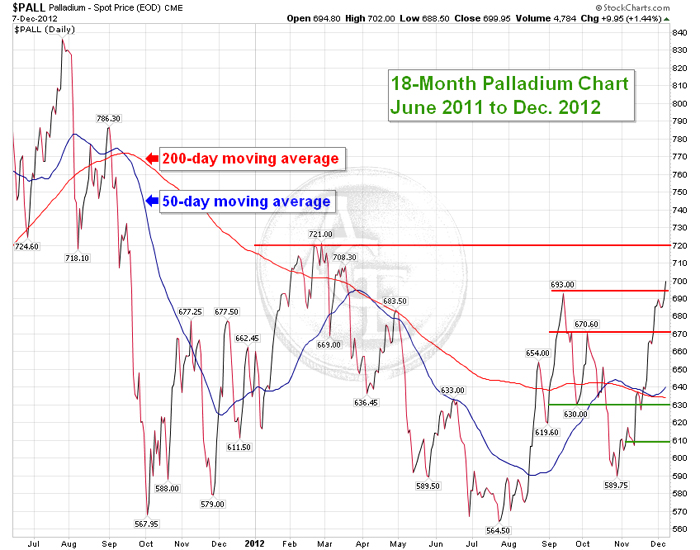 Palladium
Although its chart looks less decisive than the other metals', palladium has been the strongest of the four in recent weeks. With supply deficits buoying the price, it eclipsed short-term resistance at $670 and has just pierced longer-term resistance at $695. We see support for palladium at $630 and $610, and major resistance at $720.
As we said, palladium is currently the strongest of the four precious metals. In the short-term, it has the best chance of shifting into a significantly higher trading range. Above $720 is a true breakout, giving it room to run all the way to $775.
In summary, gold ands silver are offering the best buying opportunities in the current market. They are both trading at or near short-term support levels, and prospects are bullish for 2013. Platinum will continue to be volatile, offering similar rewards to gold and silver but with more risk. Palladium, most likely, will hold its recent gains and continue to probe higher as the new year unfolds.
U.S. gold coins on the rise
Demand for classic U.S. gold coins remains very strong, especially $20 Saint-Gaudens and $20 Liberty coins. Dealer inventories across the country are extremely low, causing premiums to expand as dealers actively compete to restock. New supplies from Europe, where U.S. gold coins have been stashed in bank vaults for more than 50 years, are far below normal. We expect the supply-squeeze to continue for the foreseeable future, making this the healthiest environment for rising prices and premiums in years.
$20 Saint-Gaudens gold coins in Mint State 64 grade continue to present one of the best opportunities in the market. In late-July, we issued an AGE Investor Alert because these coins were trading at historically-low premiums. Our timing was excellent. Gold bullion subsequently gained $150 while these coins have gained $350. Premiums have expanded from 27.5% to more than 40% above gold melt value, and continue to strengthen. This is precisely the kind "double play" we look for in classic U.S. gold coins: their ability to rise by more than their underlying gold price because of fundamental scarcity and restricted supply in the national market. The good news is that premiums remain well below their long-term averages and these coins are still a great buy, in our opinion.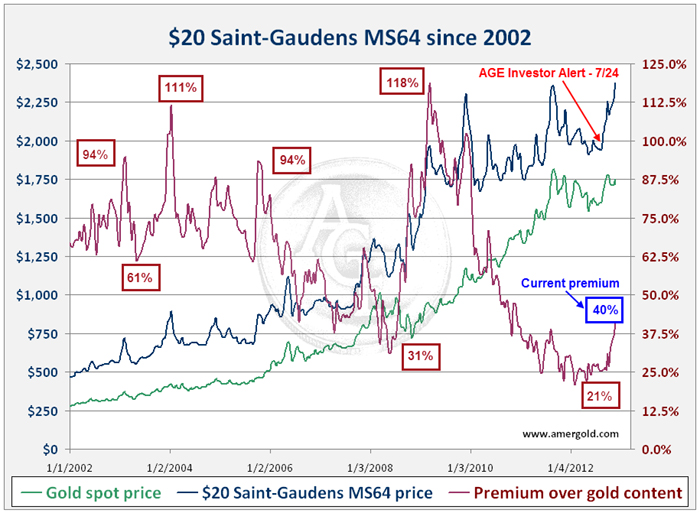 As you can see in the chart, despite their strong recent rise, premiums for $20 Saint-Gaudens in MS64 are still well below normal. Over the past ten years, their average premium (price over gold content) has been 62%. On five occasions since 2003, premiums have climbed to peaks between 94% and 118%—two to three times today's premium. And keep in mind, three of these peaks occurred before the 2008 financial crisis. So, in good times and bad, these large, classic U.S. gold coins have traded at multiples of today's low premiums. They're still a superb buy and receive our highest recommendation.
Other great values in classic U.S. gold coins are also available. The $10 Liberty and $10 Indian series in higher Mint State grades have excellent fundamentals right now. Please call our friendly, knowledgeable account managers at 1-800-613-9323 to discuss what's best for you.
Demand for classic European gold coins continues to be very strong. Because of the ongoing eurozone debt crisis, supplies remain abnormally low and restocking is a challenge. Fortunately, we have modest supplies of Britain gold sovereigns and Switzerland 20 franc "Helvetias" in Brilliant Uncirculated grade, while supplies last. This is a first come, first served market, so get them while you can.
For bulk gold buyers, U.S. $20 Liberty in Almost Uncirculated grade is our top recommendation. These old, slightly circulated coins contain almost a full ounce of gold and are far scarcer than modern bullion coins. Premiums remain low but they're rising again, so now is the time to buy. Unlike most forms of gold bullion, they are exempt from broker reporting requirements. In our opinion, they're better than bullion for bulk gold buyers, offering all the advantages of bullion plus history, scarcity, and privacy.
That's it for now. As always, thanks for your time.
Sincerely,
Dana Samulson, President,
Dr. Bill Musgrave, Vice President
Metal
Ask
Change

Gold

$1,796.01
$0.00

Silver

$24.45
$0.00

Platinum

$1,050.34
$0.00

Palladium

$2,054.00
$0.00
In US Dollars
AGE Gold Commentary
AGE Investor Alert!