AGE Gold Commentary is our regular report analyzing trends in precious metals and rare coins. We monitor domestic and international markets and extrapolate from our 30 years in metals to place current events into a hard asset perspective. View archives.
---
6/11/2013: Gold forms double bottom
Source:
Whether the Fed
Softer economic data
Exploding physical demand
Cushion from classic U.S. gold coins
More than a month after its astonishing mid-April drop of 14%, the gold market is settling back into a semblance of normalcy. The whipsaw volatility of recent weeks, driven by massive outflows from paper-gold vehicles like ETFs on one hand, and equally impressive inflows into physical gold bullion by long-term investors on the other hand, has largely subsided. The gold price has established what technical traders call a double bottom, which typically signifies consolidation and support before a gradual move higher. Gold may channel for a period while the market finds direction, and it may track lower. But its long-term trend is intact, in our opinion, despite the recent shakeout. Gold remains the foremost portfolio insurance against long-term inflation risk and geopolitical uncertainty, both of which sit squarely on the horizon for most investors.
Whether the Fed
The dominant driver in the current market is the question of whether the Federal Reserve will begin to taper quantitative easing, its program of buying $85 billion in long-term bonds each month. Tantamount to printing money, QE has helped gold to surge by 60% since 2008 because it devalues the dollar and increases the risk of long-term inflation. It has also spurred record-high rallies in equities by flooding the markets with cheap cash and encouraging investors to take risk. The tea leaves of economic data are daily sifted by hedge funds and large institutional traders anxious to front-run the withdrawal of stimulus. This trading pressure has had two main effects. First, it has triggered a major rotation of speculative money away from safe havens like gold into hotter assets like stocks. Second, it has helped to bid up the dollar despite the greenback's own queasy fundamentals, further pressuring the gold price.
Softer economic data
We think it unlikely that the Fed will reduce QE before the end of the year. Too much economic data is coming in too soft, and deflation is becoming a prominent worry. The economy created merely 175,000 jobs last month. While this number was slightly more than the 149,000 (revised down from 165,000) created in April, it is well-below the 200,000 per month mentioned by some members of the FOMC as the minimum necessary for a change in monetary policy. The recent trend-line for job gains remains downward, despite May's minor up-tick, and the unemployment rate actually rose to 7.6%, if only because of greater participation in the labor force. More than half of the added jobs pay below-average wages, a development that may constrain consumer spending and therefore the recovery going forward.
Perhaps more alarming, the ISM index of factory output fell into contraction in May, hitting a four-year low after an almost equally soft April. Comprising nearly 12% of the economy, manufacturing was previously a bright spot in the recovery. Consumer inflation fell in April to its lowest level since November 2010, running at merely 1.1% annually, far below the Fed's target rate of 2% to 2.5%. With manufacturing, employment, GDP, and inflation all well below targets, it's probable that the Fed will maintain its ultra-accommodative monetary policies throughout the year. If growth slows further, QE may even increase, and that would be quite bullish for gold.
Let's look at the latest charts.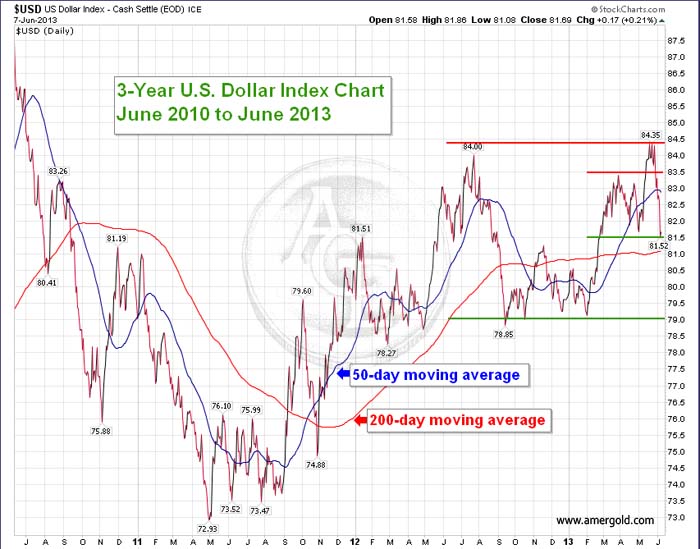 U.S. Dollar
For much of the past couple of months, the U.S. dollar has been in a modest technical breakout, rising above major upside resistance at 83.50 on the Index chart and gaining nearly 2% in May. Typically, a stronger dollar weighs on the gold price because gold is denominated in dollars internationally, making it more expensive for holders of foreign currencies. Conversely, a weaker dollar helps to buoy the gold price, making it less expensive for holders of foreign currencies.
Although beset by its own fundamental problems—a tepid U.S. recovery, high national debt, political gridlock, and a Federal Reserve balance sheet in excess of $3.5 trillion—the dollar has still been the cleanest dirty shirt in the global currency hamper. But that may be changing. As the prospects for the immediate withdrawal of quantitative easing by the Fed have diminished in light of softer data, the dollar has fallen sharply to major support at 81.50. A break below 81.50 would be quite bullish for gold.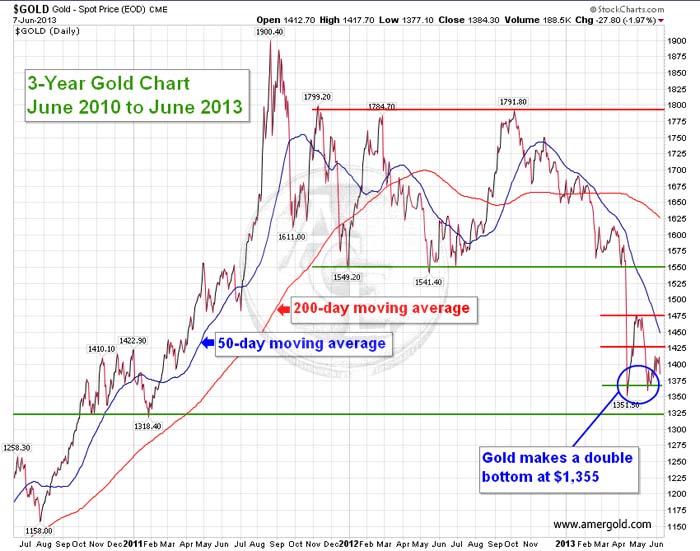 Gold
After peaking at $1,923 in September 2011, gold established technical support at $1,540 and was able to hold it through three separate challenges over the ensuing 16 months. On April 12, however, following a rumored four-million ounce sell order from Merrill Lynch, this crucial support was broken, triggering a series of programmed stop-losses that drove the gold price to $1,491. Three days later, after hedge funds and other large speculators dumped positions in gold-backed ETFs following a call by Goldman Sachs to short the market, gold tumbled another 9.3% to bottom at a fifteen-month low just above $1,351.
Driven by an explosion in global demand for physical bullion, gold came roaring back to just under $1,485 by mid-May. This momentum was lost, however, when Fed Chair Ben Bernanke mentioned in Senate testimony that the Fed could begin tapering stimulus in June if economic conditions improved. It was a hypothetical remark in response to a leading question, but skittish markets over-reacted. Renewed selling pressure drove gold as low as $1,355 on May 20, where it formed a double bottom, a technical formation that typically indicates support and consolidation before a rebound.
Since forming the double bottom, gold has stabilized and firmed up, trading in a range from $1,370 to $1,440. In the short-term, gold will enjoy support at $1,370, at $1,350 and major support at $1,325. Short-term resistance is seen at $1,420 and at $1,450, with major upside resistance at $1,485.
From our perspective, the April drop was primarily a paper sell-off, triggered by gold's inability to hold major support at $1,540. Once this 16-month support level was broken, almost every major trading house—most of them with long positions in gold established over several years—headed for the exit at the same time, generating enormous selling pressure. Many were hedge-fund money managers who accumulated their paper positions at anywhere between $600 and $1,200 an ounce. These traders understood the technical significance of gold breaching major support at $1,540, and they had programmed sell orders. Amid surging stock markets, a stronger dollar, speculation of the Fed might withdraw stimulus sooner than anticipated, and, finally, Goldman Sachs' clarion call to short the gold market, they (and their computers) raced each other to jump ship.
Exploding physical demand
After the price drop, demand for physical gold absolutely exploded around the world, creating a remarkable divergence of the physical gold market from the paper gold market. Holdings in gold-backed ETFs shrank to their lowest level in four years as short-term investors and speculators shifted toward equities. But long term investors, especially in Asia and the Middle East, could not buy bullion fast enough. Shanghai Gold Exchange volume surged to new records and premiums on physical gold in India quintupled. Premiums on physical gold in Dubai, the largest gold-trading center in the Middle East, jumped as much as eighteen-fold for wholesalers and bulk-buyers.
Physical demand was almost as strong in the West. The U.S. Mint sold nearly 210,000 of the one-ounce in April, the second highest monthly total since they were introduced in late 1986, and more than three times the total for March. Production of tenth-ounce Gold Eagles had to be suspended because the Mint simply couldn't keep up with demand. The British Royal Mint tripled its bullion coin sales in April. Physical gold inventory in Comex warehouses dropped near a five-year low as investors scrambled to buy coins and bars.
The huge appetite for physical gold continues, largely offsetting ETF outflows and helping to establish the double bottom under the gold price. The World Gold Council says overall demand for physical gold bullion in Asia will hit a new quarterly record in Q2, while Indian gold imports are projected to reach as much as 400 tons, 200% higher than a year earlier. China imported around 170 tons in April alone, and is on track for 880 tons in 2013, close to India's projected range of 865 to 965 tons. This physical demand is expected to keep a floor under gold prices going forward.
So, while gold's short-term prospects may look a little shaky, its long-term fundamentals look reasonably solid. Currency wars and quantitative easing continue to devalue currencies at home and abroad, adding to the risk of long-term inflation. Ever-morphing European debt problems and recession threaten to dissolve the euro. Geopolitical conflict in Korea, the Middle East, and elsewhere is undermining stability at a time when the global economy is struggling for its footing. This bull market is far from over, in our opinion. Gold, especially physical gold, remains compelling insurance despite April's dramatic correction.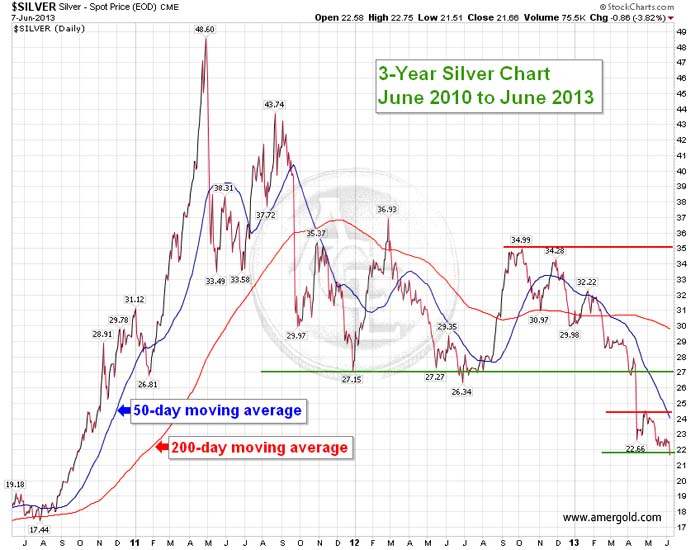 Silver
Silver's recent trend line has been similar to gold's. After topping at just under $35 in October 2012, it began stair-stepping downward, setting a series of lower highs and lows until reaching major support at $27. In sympathy with gold, silver then sold off sharply in mid-April, breaking through its 16-month support and triggering programmed stop-loss selling all the way to $22 before rebounding on heavy physical buying.
Since then, silver has consolidated in a new range with support at $22.00 and resistance at $24.50. If it breaks below current support at $22, it will find initial support just over $20 and major support at $18.
While we find silver attractive at current prices, it looks vulnerable to further price declines and could retest its recent intraday low of $20.25 in the coming weeks. Remember, silver is generally more volatile than gold and prone to sharper movements up and down. With its stronger safe-haven appeal, gold is likely to fare better than silver in coming weeks. If the opportunity arises, look to buy silver under $21.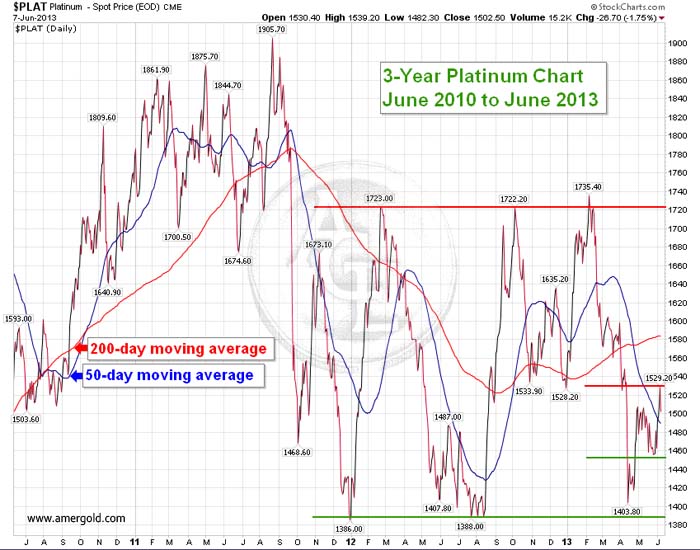 Platinum
As you can see in chart above, platinum has been trading between $1,540 and $1,735 since September of last year. During the panicked sell-off in mid-April, it broke below short-term support at $1,540, trading as low as $1,374.60 before rebounding well above $1,400. Despite strong selling pressure in April, platinum never closed below its major two-year support at $1,388. Since then, it has stabilized between $1,450 and resistance at $1,525.
Although platinum's chart for looks technically weak today, its supply and demand fundamentals are quite strong. Johnson Matthey, one of the world's largest refiners, reports that supply deficits could balloon this year to 760,000 ounces because of mining problems in South Africa, which produces over 70% of the world's platinum. Any further weakness in price is likely to be moderate and temporary.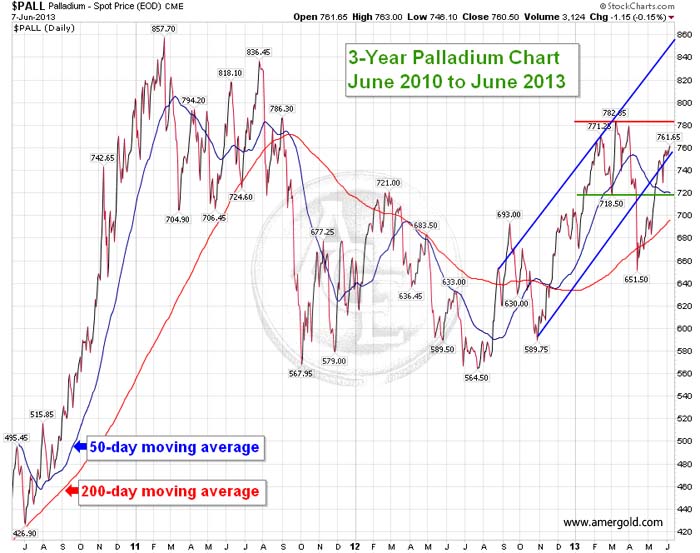 Palladium
Palladium was least affected by the April sell-off. After bottoming at $651.50, it quickly bounced back to its earlier trading range, merely retracing its gains since last November. Today, it sees short-term support at $720 and $650, with major long-term support at $580. Short-term resistance is at $780, with major upside resistance at $835.
Palladium's fundamentals are relatively strong. Supply deficits plague the market, in part because of South African mining problems, while demand from automakers is at record highs. Barclays estimates consumption will beat production by 511,000 ounces in 2013, which is roughly what the car industry uses every seven weeks. Morgan Stanley is forecasting record-high average prices next year, with supply deficits persisting until 2017.
If the automobile industry remains robust, we see no reason why palladium will not test and move through short-term upside resistance at $780 in the coming weeks, with a possible test of major long-term upside resistance at $835 a distinct possibility.
Cushion from classic U.S. gold coins
Classic U.S. gold coins resisted nearly half of the price declines of gold bullion following the April drop, giving investors a nice cushion. Premiums for $10 and $20 gold coins in various Mint State grades expanded and prices held for almost a month before correcting somewhat lower. This is precisely the kind of response we expect from classic gold coins. Their intrinsic scarcity and low availability in the national market typically enable them to rise faster and further than the gold price, and can help cushion against drops in bullion.
The "sweet spot" in the current market for classic U.S. gold coins is the $20 Saint-Gaudens in MS64, which is currently trading near its lowest prices in almost two years. Premiums for these near-gem coins—that is, their value above intrinsic gold content—are rising from a major cyclical bottom of 21% but still remain near historic lows. Over the past decade, their premiums have averaged 59% above gold content. Today, premiums for these coins are merely 34%, little more than half of their 10-year average. We think they offer a buying opportunity that should not be passed up.!
European gold coins remained quite scarce because of the epic demand for physical gold around the world. Premiums have been high, with very few coins coming out of Europe. Fortunately, we do have modest supplies of some of our favorites available at normal market pricing: Switzerland 20 franc "Helvetias", Britain gold sovereign "Kings", and Netherlands 10 guilder "Queens". Sourcing additional stock will be rather difficult in the current market so get them while you can.
Silver has been jumping off dealer shelves, creating delays in delivery of up to four weeks on popular items like U.S. Silver Eagles, Canadian Silver Maple Leafs, and Johnson Matthey 100-oz. silver bars. Premiums also jumped. Demand is returning to normal but premiums remain somewhat elevated. Producers are catching up with backorders but some delays remain. Be sure to call 1-800-613-9323 for current availability on the best-priced items.
As always, thanks for your time.
Sincerely,
Dana Samuelson, President
Dr. Bill Musgrave, Vice President
Metal
Ask
Change

Gold

$1,796.01
$0.00

Silver

$24.45
$0.00

Platinum

$1,050.34
$0.00

Palladium

$2,054.00
$0.00
In US Dollars
AGE Gold Commentary
AGE Investor Alert!